Canford Cliffs and Dick Turpin Give Hannon Palace 1-2
15/06/10
1 Canford Cliffs 11/4J
2 Dick Turpin 5/1
3 Hearts Of Fire 33/1
Trainer Richard Hannon gained a tremendous 1-2 in the third Group One contest of day one of Royal Ascot 2010, the St James's Palace Stakes, with Canford Cliffs and Dick Turpin filling the first two places.
Canford Cliffs


© racing-images.co.uk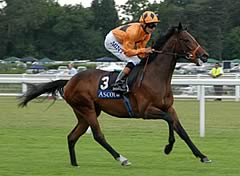 Canford Cliffs was the 11/4 joint favourite while Dick Turpin was a 5/1 chance. It was great compensation for Hannon, after Paco Boy went down by a neck in the opening Queen Anne Stakes.
It was a second success for Canford Cliffs at Royal Ascot, following his six-length victory in last year's Coventry Stakes.

Richard Hannon said: "I was not worried after Paco Boy got beat in the first.

"Canford Cliffs is a horse that just gets better and better and better. He is now settling better in his races.

"It is one thing to win the Coventry Stakes with him last year but to come on and win this year is something else.
Dick Turpin


© racing-images.co.uk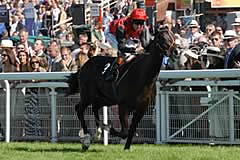 "That is now the third Group One race that Dick Turpin has finished runner-up in after the English and French Guineas. He may be the bridesmaid but is a very good horse and I am lucky to have two horses as good as this pair."
Winning jockey Richard Hughes added: "I thought the race might turn out the way it did. The most important thing for me today was to get the horse to settle.
"I thought I was on the best horse in the race. He just hit a flat spot briefly but then picked up. This horse is like a Rolls-Royce to ride - he is just so smooth and electric. Riding another horse after him is like getting in a Morris Minor!
"I always thought he was a brilliant horse. The only thing different with him now is the way he races - he is settling much better. He needs to be ridden confidently to get him to settle.
"He also needs to come from off the pace so needs some luck in running, but he isn't going to race any other way."
Reflecting on his ride on Paco Boy earlier in the day, Hughes continued: "If I could change the race, I would have gone three strides earlier. But I am still very pleased - Paco Boy is a horse with a huge heart.
"I would like to take on Goldikova again. Ideally, I would like to be drawn a bit closer to her next time but I am not making any excuses and I don't think I was unlucky today."
Position

Horse
Trainer
Jockey
Weight
Starting Price
Beaten Distance
1

Canford Cliffs
R Hannon
R Hughes
9st 0lbs
11 - 4
Winner
2

Dick Turpin
R Hannon
R L Moore
9st 0lbs
5 - 1
1 length
3

Hearts Of Fire
Pat Eddery
J Fortune
9st 0lbs
33 - 1
3/4 length
4

Siyouni
A De Royer Dupre
C P Lemaire
9st 0lbs
5 - 1
1/2 length
5

Noble's Promise
Kenneth McPeek
K Fallon
9st 0lbs
12 - 1
3/4 length
6

Beethoven
A P O'Brien
J P O'Brien
9st 0lbs
50 - 1
1 length
7

Makfi
M Delzangles
O Peslier
9st 0lbs
11 - 4
1/2 length
8

Steinbeck
A P O'Brien
J Murtagh
9st 0lbs
15 - 2
1 1/2 length
9

Encompassing
A P O'Brien
S M Levey
9st 0lbs
200 - 1
25 lengths
HEARTS DELIGHTS CONNECTIONS
Hearts Of Fire


© racing-images.co.uk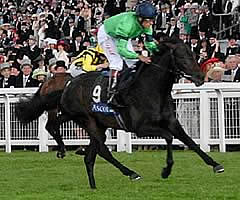 The Pat Eddery-trained Hearts Of Fire belied his 33/1 odds to run a great race when a fast-finishing third in the Group One St James's Palace Stakes.
Eddery watched the race from home and was represented by his brother Robert, who said: "Jimmy (Fortune)'s done what he was told and dropped the horse out. He was ridden to get a place and we're delighted to come third in what was probably the best Group One of the season.
"The horse had been working better of late and we were hopeful of getting a place. We're delighted as this is a big improvement on his Guineas run. He's in the Prix Jean Prat and provided everything is OK then he'll definitely go there."
Alain de Royer Dupre, trainer of fourth-placed Siyouni, said: "It is difficult to race on the outside like he did but he ran well. I am not sure where he will go next."
Second-placed Dick Turpin finished one place behind his stablemate Canford Cliffs and the runner-up's jockey Ryan Moore said: "He showed lots of heart there and really deserves to win a big one."
RESPECTABLE RUN FOR UNLUCKY NOBLE'S PROMISE
Noble's Promise, one of two American raiders in action at Royal Ascot today, posted a decent performance to finish fifth, beaten three lengths, in the St James's Palace Stakes.
His trainer Kenny McPeek said: "He ran a respectable race and was only beaten two or two and a half lengths in total but he really did look like he was a little unlucky.
"Kieren (Fallon) said he felt like Noble's Promise was a little confused on the right-hand turn - we've been working on that but it looked like he had a few jumps where he was thinking of going the other way and he kind of lost his spot."
He added: "If things had gone our way a bit more, perhaps things would be different but that's horse racing."
Olivier Peslier, rider of StanJames.com 2000 Guineas winner Makfi who finished seventh, said: "He was running a good race until turning into the straight. I tried to go on the outside but there was no power there - he found nothing."