Power Strikes in Coventry Stakes
14/06/11
1 Power 4/1F
2 Roman Soldier 10/1
3 St Barths 14/1
23 ran Distances: nk, 1¼l, hd
TIME 1m 13.55s (slow by 0.15s)
Aidan O'Brien landed his sixth win in the Coventry Stakes as Oasis Dream colt Power held on to the line to win by a neck from Roman Soldier.
Power (Ryan Moore) gets up in the dying
strides to beat Roman Soldier (George Baker)


© racing-images.co.uk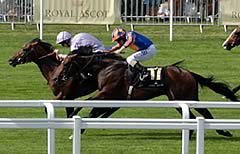 "Ryan was delighted with him and he gave him a great ride. He is a tough horse and he fought hard," said O'Brien.

"He won his maiden over six furlongs at the Curragh under Colm [O'Donoghue] and then Seamus [Heffernan] rode him second time over five furlongs. He is a tough hardy horse and he looked that he would get further than six furlongs today.

He added: "He is a big, powerful horse but he is one of those horses who have peaked already - most horses have to progress at two but he has it already.

"Ryan said that he would stay further and all of the top races will be open to him now - something like the Heinz at the Curragh."

The stewards' enquiry into the Coventry Stakes examined possible interference between the winner and Roman Soldier on the run to the line but the panel considered the interference to be accidental and that it had not improved Power's finishing position. The placings remained unaltered.

Victor Chandler now has Power at 12/1 for next year's 2,000 Guineas.
Position

Horse
Trainer
Jockey
Weight
Starting Price
Beaten Distance
1

Power
A P O'Brien
R L Moore
9st 1lbs
4 - 1
Winner
2

Roman Soldier
J Noseda
G Baker
9st 1lbs
10 - 1
Neck
3

St Barths
B J Meehan
Martin Dwyer
9st 1lbs
14 - 1
1 1/4 length
4

Lethal Force
C G Cox
A Kirby
9st 1lbs
50 - 1
Head
5

Gatepost
M R Channon
J P Spencer
9st 1lbs
7 - 1
1/2 length
6

B Fifty Two
J W Hills
S Sanders
9st 1lbs
25 - 1
3 lengths
7

North Star Boy
R Hannon
J Fortune
9st 1lbs
25 - 1
Neck
8

Jack Who's He
P D Evans
Catherine Gannon
9st 1lbs
50 - 1
3/4 length
9

Red Aggressor
C E Brittain
P Robinson
9st 1lbs
100 - 1
Short Head
10

Mezmaar
B W Hills
R Hills
9st 1lbs
13 - 2
Neck
11

Chandlery
R Hannon
P Dobbs
9st 1lbs
50 - 1
1/2 length
12

Rebellious Guest
G G Margarson
T P Queally
9st 1lbs
20 - 1
3/4 length
13

Campanology
R Hannon
J P Murtagh
9st 1lbs
40 - 1
2 lengths
14

Trumpet Major
R Hannon
R Hughes
9st 1lbs
12 - 1
1 length
15

Barolo Top
Tom Dascombe
R Kingscote
9st 1lbs
66 - 1
1/2 length
16

Fulbright
M Johnston
S De Sousa
9st 1lbs
14 - 1
1 1/4 length
17

Evervescent
J S Moore
N Callan
9st 1lbs
66 - 1
1/2 length
18

Pride And Joy
J A Osborne
D Sweeney
9st 1lbs
100 - 1
1/2 length
19

Mitchum
T D Barron
G Gibbons
9st 1lbs
66 - 1
1 1/2 length
20

Gabrial
R A Fahey
P Hanagan
9st 1lbs
20 - 1
2 1/2 lengths
21

Brocklebank
K A Ryan
P Makin
9st 1lbs
14 - 1
5 lengths
22

Commissar
M Al Zarooni
L Dettori
9st 1lbs
8 - 1
8 lengths
23

Italo
Wesley Ward
Jeffrey Sanchez
9st 1lbs
16 - 1
1 3/4 length
SOLDIER PROVES NO MATCH FOR POWER

Roman Soldier endured a rough finish to the Group Two Coventry Stakes as he went down by a neck to the victorious Power.

Jeremy Noseda's charge was bumped in the closing stages by the Aidan O'Brien-trained winner, who unleashed his challenge inside the distance, but after a stewards' enquiry, the George Baker-ridden Roman Soldier was confirmed as runner-up.

Noseda was pleased with the Holy Roman Emperor colt, a 10/1 shot who had opened his account on his previous start with an easy maiden win at Leicester.

The trainer revealed: "I'm delighted with the horse. I think he has run a huge race. I am frustrated to be so close but it was a lovely ride by George and a great performance from the horse.

"I'd settle if we got it (in the stewards' enquiry) but that's not the way we want to win races."

Another trainer pleased to see his charge make the frame was Brian Meehan, who saddled St Barths to take third after also suffering a troubled passage. The Cadeaux Genereux colt was involved in some scrimmaging towards the rear of the field before closing to finish a length and a half behind the winner at 14/1.

Meehan said: "I'm delighted with that. It's our first runner of the meeting so it's a nice start to the week. He's a nice horse and very progressive.

"Martin (Dwyer) said he was a little bit unlucky at the start, he just had to snatch and come around one, so we could have been closer but that's not to say that we would have troubled the first two.

"We will get him back home and have a chat on Thursday about where to go with him next."