Synchronised On Target for Grand National Run
21/03/12
Trainer Jonjo O'Neill yesterday reported that Betfred Cheltenham Gold Cup winner Synchronised could take his chance in the £975,000 John Smith's Grand National at Aintree on Saturday, April 14.
Tony McCoy and Synchronised after
winning the 2012 Cheltenham Gold Cup
© Caroline Norris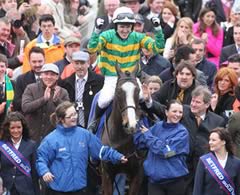 If successful in the world-famous four and a half mile contest, Synchronised would become only the second horse ever - and the first since Golden Miller in 1934 - to win chasing's two biggest prizes in the same season.

Synchronised is 8/1 favourite in the Grand National betting with Betfred to win the John Smith's Grand National and O'Neill reported that both he and owner J P McManus could have two other representatives in the big race. Sunnyhillboy, winner of last week's Fulke Walwyn Kim Muir Handicap Chase at Cheltenham, and Arbor Supreme, who has failed to complete in the last two John Smith's Grand Nationals when trained by Willie Mullins, could both line up on April 14.

Speaking in a telephone interview at today's Northern Media Lunch at Aintree, O'Neill said: "We've got three entries so we'll see how it goes. Synchronised has come out of Cheltenham fine, he seems OK and we'll make a decision nearer the time whether we go or not but there's no reason why not at the moment.

"He's in great form and if he comes back to the form he was in at Cheltenham then why wouldn't you go there?

"Sunnyhillboy is also in good form. He stayed well at Cheltenham the other day and I think he'll probably get the trip. He's a contender hopefully.

"Things have gone wrong the last couple of times with Arbor Supreme, he's a little bit difficult to get it right. He's working well and in good form with himself and if he comes back to his best form then he'd have a chance."

O'Neill could be well-represented throughout the three-day meeting. He added: "Albertas Run, all being well, will head to Aintree again. He's come out of the race at Cheltenham fine but you have to see how they work in between but Aintree's the plan at the moment.

"Get Me Out Of Here will also go if he's sound and well. Hopefully we'll have a good team and I love Aintree, it's a magical place with great racing."

The Malcolm Jefferson-trained According To Pete worked on the track yesterday under Harry Haynes, who will have his first ride in the John Smith's Grand National aboard the 11-year-old.

"I actually thought about running him in the John Smith's Grand National last year but didn't in the end," said Jefferson. "He's been a grand little horse, he has been all his life and he's very willing. He was a decent bumper horse and a good little hurdler, he was third at the Cheltenham Festival (in the 2008 Pertemps Final) and then at Aintree the same year in a big handicap hurdle.

"He went on to win his first three novice chases but then got handicapped up there among the better horses and he isn't very big. In fact the biggest thing about him is his heart.

"You have to be lucky in so many different ways in the John Smith's Grand National, everything has to go right for you. Whether he stays four and a half miles I don't know, but it will be nice for Harry if he does, he'll have a nice ride.

"I remember Graham Lee riding him on his first start over hurdles at Sedgefield. The ground was bottomless that day and Graham said he needed firm ground then and he has won on everything since so it doesn't matter.

"I'd like the ground to be just as it is today, it's like a carpet out there, if they produce that ground everyone will be happy."

Jefferson enjoyed a double at last week's Cheltenham Festival and reported that his two winners could be heading to Aintree.

He added: "The two Cheltenham winners have both come out of their races very well and if everything goes right they will come to Aintree. Attaglance has gone up 5lb and Cape Tribulation 9lb since Cheltenham so they'll have a little bit more to do."

Harry Haynes added: "It was very special for everyone involved when I won on Attaglance at Cheltenham last week. The horse had been mapped out for the race and for him to go and win like he did was brilliant.

"I've only really been with Malcolm Jefferson since the start of the main season and since then I've had a couple of nice wins with According To Pete, who is obviously now heading to the National.

"They always say the Peter Marsh Chase is a race which always has National runners in, so with According To Pete winning that race, the John Smith's Grand National is the race to go for.

"He wasn't full wound up for his last run at Kelso and I know Ballabriggs would not have been either, but it's good form to head to Aintree with.

"The John Smith's Grand National is a massive race. It's unbelievable the amount of people that actually watch it but I wouldn't prepare differently compared to any other race - just make sure I am fit and well and have looked at a few previous runnings of the race.

"I know people who have ridden in the National but, while everyone offers you advice, it's in your hands and you just have to go out and do it."

British Horseracing Authority head of handicapping Phil Smith, who is responsible for framing the John Smith's Grand National weights, was at the lunch and he was impressed by the quality at the top of the handicap.

"I can't remember in my 14 years having the original top 10 still in the race so that's a compliment to the prize money and Aintree that the owners are mad keen to run their horses in the race," said Smith, who highlighted a number of horses who were theoretically well-weighted.

"The slight advantage Synchronised has is that he is now on a mark of 168 after the Gold Cup and he'd be running in this race off a mark of 161 so technically he's 7lb well in.

"I used to panic every year that there were always a lot of horses technically well in at this stage but I'm a bit more relaxed about it all now because I know there will only be one winner.

"Sunnyhillboy was the widest margin handicap winner at Cheltenham and has gone up 10lb so technically he is well in by that amount and the runner-up in his race, Becauseicouldntsee, has gone up 5lb so they would have a different rating now if I reframed the race.

"The Irish look to have a typically strong field and Seabass would be 3lb higher than now. But the one that would be best in would be Prince De Beauchene who would be 10lb well in. But all these so called 'well in' horses do carry a government wealth warning because all their form is over three miles and that is a hugely different task from what they will have at Aintree in April."

LATEST GOING/WEATHER UPDATE

Andrew Tulloch, Clerk of the Course and Director of Racing at Aintree, said today: "We had a wet December. January and February were a bit drier but we still had plenty of rain which is good. I know some people further south have had water shortages but thankfully up here in the north west we haven't had those problems.

"We've extended the watering system and have put in pop-up irrigation sprinklers from the first Grand National fence down to the landing side of Becher's. We are always looking to improve on what we have got.

"At the moment the ground is on the easy side - good to soft with a bit of good. It's warming up a bit and we'll keep an eye on things. If we need to water, we will do. The forecast is for rain at the weekend which will hopefully come and we can work from there.

"I would be happy with the ground as it is today - a mixture of good and good to soft with the National course good to soft. On the easy side of good is where we want to be."

John Smith's Grand National – Betfred bet:
8 Synchronised, 9 Prince de Beauchene, 10 Junior, 12 Burton Port, 16 Ballabriggs, Seabass, West End Rocker, 20 Becauseicouldntsee, Cappa Bleu, Chicago Grey, Giles Cross, Midnight Chase, Neptune Collonges, On His Own, Quel Esprit, Roberto Goldback, Sunnyhillboy, Treacle, 25 Apt Approach, Calgary Bay, Deep Purple, Killyglen, Planet Of Sound, Roulez Cool, Shakalakaboomboom, The Midnight Club, 33 According To Pete, Alfa Beat, Always Right, Always Waining, Le Beau Bai, Organisedconfusion, Pearlysteps, Quiscover Fontaine, State Of Play, The Package, Viking Blond, Weird Al, 40 Arbor Supreme, Ballyvesey, Mon Mome, Postmaster, Rare Bob, Tatenen, Vic Venturi, 50 Another Palm, Any Currency, Black Apalachi, Hello Bud, Midnight Haze, Our Island, Swing Bill, Tharawaat, 66 In Compliance, Psycho, Saddlers Storm, 100 Abbeybraney, Neptune Equester, Smoking Aces.