racing news / angus mcnae's blog /

Angus McNae - Thursday 13th June 2013

It is Cecil the man, not necessarily the trainer, who stands apart

I will miss Sir Henry Cecil, not because he was a superb racehorse trainer who instinctively knew how to train the thoroughbred but because he was a man whose strength of character set him apart.
His achievements as a trainer have been well documented, and with success came much-deserved adulation and a knighthood in 2011, but what sets him apart for me was his ability to handle adversity.

Sir Henry Cecil after Frankel had won the 2012 Qipco Champion Stakes
© Caroline Norris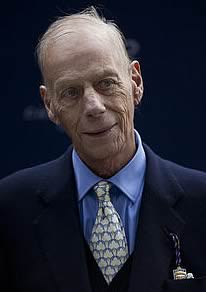 Just for a moment put yourself in his shoes. You are a successful racehorse trainer. You have made the winners' enclosure at Royal Ascot your own. In 1973 you trained your first Classic winner and thereafter for 20 years your name has become synonymous with Group One glory. Then in a dramatic turn of events your career and life falls apart.

You fall out with Sheikh Mohammed and he removes 40 horses from your yard. Lord Howard De Walden, Jim Joel and Louis Freedman, owner-breeders who have sent you regally-bred horses for years pass away.

Your trusted right hand man, Paddy Rudkin, leaves the yard and your wife, Julie goes as well. The winners dry up, indeed for six years you cannot find a Group One winner. Imagine the stress, the worry and the fortitude required to carry on. With just fifty horses in your yard you now hit rock bottom with just 12 winners.

Mere mortals would have given up the unequal struggle in 2005. The fall from grace would have been too much for their weak constitutions, but not this man.

When your second marriage fails and your brother dies, you would be forgiven for thinking that you had no fight left. Bruised and battered both professionally and personally, you are on the ropes, waiting for the knockout punch, because with your luck surely it is just around the corner.

In 2006 it came in the form of stomach cancer. For you, for me, for most of us this would be a knockout blow, but not for Sir Henry.
Despite all the adversity, the stress, the heartache, the worry, and the loss of self-esteem you still have fight left. This in itself is quite remarkable and is what makes Sir Henry a man to be admired. He picked himself up, he found inner strength, he had heart and fight and this drove him on, and on to success in the Oaks in 2007 with Light Shift.

Thereafter the comeback was on and a career that had taken a near total downturn was back on track.

Of course then Frankel came along to tell the world that Sir Henry had never really gone anywhere and that he had always been the master trainer and deep down he knew that even in the darkest of times.

His winners speak for themselves, but for me his strength of character, belief and fight made him a special person, who was an example to all of us who want to down tools when the going gets tough.

A proper man and a damn good trainer.