John Smith's Grand National News From Tuesday Morning
31/03/09
The new order of elimination from the John Smith's Grand National was decided this morning by the British Horseracing Authority's handicappers if more than 40 horses are declared.
Butler's Cabin (8/1)
© racing-images.co.uk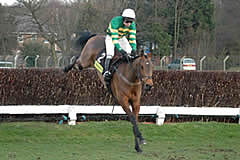 This is based on each horse's current rating when two or more horses were allocated the same weight back on February 8 when the weights were decided.
If there are any drop-outs by the final declaration stage at 10am on Thursday, April 2, then Maljimar will be the next horse to get in the final field followed by Companero, Pomme Tiepy, Niche Market, Mattock Ranger, Iron Man, Flintoff etc.
MALJIMAR (IRE) 9-10-04 Jane Williams Nick Williams Daryl Jacob
COMPANERO (IRE) 9-10-03 W M G Black Howard Johnson -
POMME TIEPY (FR) 6-10-03 Susannah Ricci Willie Mullins IRE -
NICHE MARKET (IRE) 8-10-03 Graham Regan Bob Buckler Harry Skelton
MATTOCK RANGER (IRE) 9-10-03 Barouche Stud Ireland Ltd Noel Meade IRE -
IRON MAN (FR) 8-10-03 Roddy Owen & Paul Fullagar Peter Bowen -
FLINTOFF (USA) 8-10-02 Andrew Flintoff & Paul Beck Venetia Williams -
PATSY HALL (IRE) 9-10-02 C P Byrne Tony Martin IRE -
BIBLE LORD (IRE) 8-10-02 Martin Tedham Andrew Turnell Mark Grant
DIX VILLEZ (FR) 10-10-02 Gigginstown House Stud Paul Nolan IRE -
BAGAN (FR) 10-10-02 The Centaur Group Partnership VII Martin Todhunter -
BEAT THE BOYS (IRE) 8-10-02 New Club Ladies Nigel Twiston-Davies -
IN THE LOOP (IRE) 11-10-01 Ben-Hill Syndicate Roy Wilson IRE -
SEYMOUR WELD 9-10-01 Charles Pogson Charles Pogson -
PAK JACK (FR) 9-10-01 The Pak Jack Partnership Richard Phillips -
NADOVER (FR) 8-10-01 George Storey Charlie Mann -
NINE DE SIVOLA (FR) 8-10-00 The DPRP Sivola Partnership Ferdy Murphy -
TOM SAYERS (IRE) 11-10-00 Capt Bill Edwards-Heathcote Philip Hobbs -
OODACHEE 10-9-12 Modreeny Syndicate Charlie Swan IRE -
KINGS ADVOCATE (IRE) 9-9-11 Conor Clarkson Tom Taaffe IRE -
OUT THE BLACK (IRE) 11-9-10 James Drummond Philip Hobbs -
DUN DOIRE (IRE) 10-9-10 Dunderry Racing Syndicate Tony Martin IRE -
WITHOUT A DOUBT 10-9-10 Malcolm Denmark Carl Llewellyn -
LE TOSCAN (FR) 9-9-10 Judith Wilson David Pipe -
PUNTAL (FR) 13-9-10 Terry Neill David Pipe -
ALEXANDERTHEGREAT (IRE) 11-9-08 Six Blokes Venetia Williams -
MILAN DEUX MILLE (FR) 7-9-08 Judith Wilson David Pipe -
SANDHURST (IRE) 9-9-05 John Duddy Edgar Byrne -
MALKO DE BEAUMONT (FR) 9-9-04 David Sturdy Alan Brown -
LORD KILLESHANRA (IRE) 10-9-04 G F Gingell Colin Tizzard
LYSANDER (GER) 10-9-04 The Piranha Partnership Ian Williams -
PASS ME BY 10-9-02 Paul Beck Suzy Smith -
MONT MISERE (FR) 13-9-01 Judith Wilson Paul Murphy Michael O'Connell
Latest totesport betting:
7 My Will, 9 Butler's Cabin, 10 Rambling Minster, 14 Black Apalachi, Hear The Echo, State Of Play, 16 Big Fella Thanks, Comply Or Die, Southern Vic, 20 L'Ami, Darkness, Irish Invader, 22 Kilbeggan Blade, 25 Snowy Morning, Himalayan Trail, Maljimar, Parsons Legacy, 33 Chelsea Harbour, Cloudy Lane, Brooklyn Brownie, Flintoff, Cornish Sett, 40 bar.
A quarter the odds 1-2-3-4
Non-runner, no bet
STAN TO MISS JAPAN IN FAVOUR OF GRAND DAY OUT
OWNER ALSO HOPING FLINTOFF GETS IN
Connections of enigmatic steeplechaser Stan have elected to stay closer to home and tackle the John Smith's Grand National on Saturday, rather than take up a possible alternative engagement in the Far East.
The 10-year-old was handed an invitation to take part in the Grand Nakayama Jump, a valuable international Grade One contest run over 4,250 metres at Nakayama racecourse in Japan, later this month.
However, Stan's owner Paul Beck and trainer Venetia Williams have instead decided that the horse should take his chance in the world's most famous steeplechase, which this year boasts a record £900,000 in prize money.
"We've turned down the Japanese invitation and we're 100 per cent set for Aintree," Beck said today.
"I don't think he's without a chance, if he stays the trip. I suppose he's a bit of a trip-less horse, but he was staying on when he was fourth behind New Little Bric in the two-and-a-half-mile Grade Three (Totesport.com Gold Cup) at Newbury under a big weight and looked like he might appreciate a greater test of stamina there.
"He's got a bit of class. On his day he's a 160-rated horse at his best who can run off 154 in the John Smith's Grand National and he tends to come good at this time of year. He won the Red Rum Chase (over two miles) at this meeting 12 months ago and then won a Grade Two at Cheltenham less than a fortnight later. If it's good ground on Saturday, he'll love that when it won't suit others so well.
"You never know. If he gets around the first circuit then he could just still be in with a shout at the finish. He's a horse who has kept surprising us.
"The key thing with him is that he gets into a rhythm with his jumping. He's actually a very sound jumper, once he gets into the flow and if he get into that rhythm around the big fences, then I think he'll enjoy himself."
Beck was also hoping to run Stan's stablemate, Flintoff, whom he owns jointly with England all-rounder Andrew Flintoff, but that horse would need a further seven withdrawals to get into the John Smith's Grand National, even after the scratching of War of Attrition yesterday.
"I am hoping that Aidan Coleman will ride Stan - I'd be surprised if he didn't, to be honest - but I don't think that's set in stone yet and I need to talk to Venetia to confirm the situation," commented Beck. "However, if Flintoff was to get into the race then I would expect Aidan to switch to him, because I think he'd have a cracking chance.
"He's quite a well-handicapped horse at present - too well-handicapped to get into the National it would seem - but there will be other days for him and perhaps he will go back to Ayr for the Scottish National, where he was third last year."
Williams confirmed that no final decision regarding jockey bookings had been taken for Stan or her other possible representative in the John Smith's Grand National, Mon Mome.
Stan is a 66/1 chance for the race with Totesport, the official betting partner of the meeting.
WAR OF ATTRITION SCRATCHED FROM JOHN SMITH'S GRAND NATIONAL
A significant gamble on 2006 totesport Cheltenham Gold Cup winner War Of Attrition was derailed last night as trainer Mouse Morris pulled the horse from the John Smith's Grand National after expressing unhappiness with the 10-year-old's well-being.
Totesport, the John Smith's Grand National meeting's official betting partner, had seen a considerable amount of money for the gelding over the weekend - down to 14/1 - but he was officially scratched from the race this morning.
Morris and owner Michael O'Leary who races under the Gigginstown House Stud banner will now rely on last year's Irish Grand National winner Hear The Echo, who shortened to 14/1 from 20/1 and will be partnered by Davy Russell.
Morris said yesterday: "We were just not 100% happy with the horse this morning but at least we have a good second string to our bow."
The defection of War Of Attrition, combined with the news that Ruby Walsh has committed to ride My Will, sees the Paul Nicholls-trained hope shorten to 7/1 clear favourite with totesport.
In further news, Dominic Elsworth's hopes of riding Darkness in Saturday's £900,000 showpiece hang in the balance following a scan on the shoulder he damaged in a fall at Towcester last week. The rider suffered severe bruising and expects to know more tomorrow.
Another jockey hoping to prove his fitness is Denis O'Regan, who heads to Wetherby today for five rides. O'Regan, who is set to partner the well-fancied Black Apalachi in the big one at Aintree, hurt his back in a fall at Ayr and has not ridden in public for a week.
Nigel Twiston-Davies has announced that Sam Waley-Cohen will ride Ollie Magern in the John Smith's Grand National. The amateur has a remarkable record over the big fences, having twice won the John Smith's Foxhunters' on Katarino and landed the Joh Smith's Topham Chase on Liberthine. He also rode the latter to take fifth in the 2007 John Smith's Grand National.