grand national 2009 / result /
1 Mon Mome 100-1
2 Comply Or Die 14-1
3 My Will 8-1
4 State of Play 14-1
40 ran
Also: 7-1 Fav Butler's Cabin
Mon Mome Gives Bookies Best Result Since Foinavon
04/04/09
The Venetia Williams-trained Mon Mome became the fifth horse to win the John Smith's Grand National at odds of 100/1 - the longest starting price in the race's 162-year history.
Mon Mome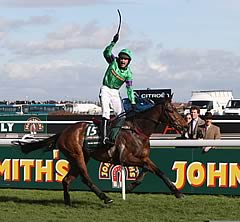 Prior to Mon Mome, Foinavon, who had the distinction of having a fence named after him, was the most recent 100/1 winner in 1967. Others were Caughoo in 1947, while Tipperary Tim and Gregalach won consecutive Nationals in 1927 and 1928.
Mon Mome was the third female-trained winner of the race. Jenny Pitman is the only female other than Venetia Williams to saddle the winner, having sent out Corbiere in 1983 and Royal Athlete in 1995.
'The bookies always expect a nightmare result in the Grand National but we didn't envisage this result in our wildest dreams - we've absolutely cleaned up,' said totesport spokesman George Primarolo.
'We paid out on five places and that spot was filled by Cerium at 100/1 - which didn't go unbacked - but all in all it's been a champagne day for the layers.'
Darkness - 13th
© racing-images.co.uk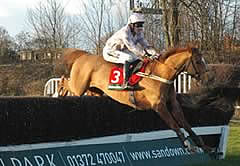 Venetia Williams, the winning trainer, told Racing UK: "You just dream to have one winner when you start training and then, once you have one, you dream about getting to double figures - you don't dream here, this is just beyond dreams.

"My memory is so appalling that I can only remember what happened yesterday and yesterday my horses ran rubbish. I was delighted with how they ran on Thursday and I was hoping that one would run well in a handicap chase and Pretty Star was fifth earlier so I thought that it was kind of a good day, I suppose.
"I don't know how Mon Mome has improved so much and I wish I could tell you, if I knew then I would try and do it to everything. He put up a career best when he won a lovely chase at Cheltenham in the late Autumn and he came into this race 7lb higher than last year as a result. He actually hadn't run too well on his last few runs but he had at least run OK and this is such a phenomenally unique race that anything can happen.
"I was thinking as they came to two fences out and there was a whole pile of horses together, "just kick on Liam, everybody is waiting, just go" and he did.
"When Stan lost his jockey I was thinking "damn, here we are at Aintree with these fences. It's been a great season but, numbers wise, that was only 61st winner of the season, so we are down a bit. Our horses were running so well through the thick of the winter when most of the racing was abandoned so I think we lost the best part of four weeks when out horses were absolutely flying.
"Winning two races at Cheltenham was fantastic and I was thinking that we were having an all right season, but now this.
"I am so pleased for Vida. When I first mentioned running the horse in last year's John Smith's Grand National I think she took three steps backwards and then sat down. She has been with me since my very early days and she hasn't been well all of the time and to get her up onto the roof up the stairs, she was probably blowing more than Mon Mome by the time he got to The Chair. Then she had to run down the stairs as fast as she could when we won.

Winning rider Liam Treadwell said to Racing UK: "Venetia said just get the horse into a rhythm and get him enjoying himself. That's all I have done and it's absolutely smashing, I can't believe it.
"There were a few frights, with loose horses falling underneath me, but he jumped smashing for me and didn't put a foot wrong. The only one he got a bit tight to was the last where he sat back but, on the whole, he a pleasure to ride.
"I wasn't sure crossing the Melling road how many horses were left but I got caught in a little pocket. It wasn't until I got to the second last that I realised how many were in contention.
"It has worked out for me because I got caught in that pocket and the horse has built himself up running down to the second last and he's saved him self until after the last where he has picked up and galloped right to the line.
"Venetia likes her horses to be ridden very positively and she hates to see horses get beat for a bit of toe so I was thinking crossing the Melling road that I needed to kick on but it's all worked out in the end.
"I didn't really realise how far clear I had come but it has probably helped me because I haven't looked round and I have kept driving him out. When I landed at the last and gone for him, he has picked up for me and it was unbelievable."
DAVID JOHNSON PAYS TRIBUTE TO 'ONE OF AINTREE'S HEROES'
Comply Or Die - 2nd
© racing-images.co.uk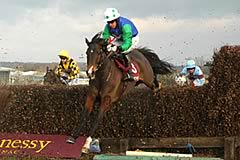 Last year's winner Comply Or Die ran another bold race to finish second, 12 lengths behind 100/1 winner Mon Mome.
Trainer David Pipe, who won the race in only his second season as a licensed trainer, said: "It was an absolutely amazing performance. What a run under that weight. Timmy gave him a fantastic ride again - he jumped, travelled, looked like he was going to win and then Mon Mome just quickened up. In fairness, he did keep galloping - My Will came to challenge him and he kept going. He's a bit tired but he seems okay."
Comply Or Die did not return to the winner's enclosure with Timmy Murphy but was taken straight back to the racecourse stables to be cooled down.
His owner David Johnson said: "He's obviously exhausted and they're cooling him down with water but he's okay. You never presume you have the National in the bag but I thought we had a massive chance in the closing stages. He's run a gallant race and maybe he'll go down as one of Aintree's heroes - he's been first and second.
"I think the winner's won with 11 stone and that's a first since Red Rum. Good luck to his connections, I've had my time and I'm thrilled.
"That was probably an even better performance than when he won last year. He comes alive at Aintree - he jumps brilliantly here and Aintree seems to be his home. We will now look at bringing him back again next year. He'll probably have a couple of runs before he comes back here."
Jockey Timmy Murphy said: "That was absolutely fantastic once again. He probably didn't travel as well as last year but he has given me everything - except about 10 lengths!"
GALLANT THIRD FOR MY WILL
Back in third was My Will, the mount of Ruby Walsh, who finished a further length and a quarteradrift of the winner.
His owner Andy Stewart said: "That was absolutely fantastic.
"He hit Becher's and wasn't great at the Canal Turn second time around, but Ruby was able to get him into a rhythm and he has run a great race. I thought from two fences out that we might just have it, but he has still run a great race
"The Grand National is very much a people's race and how that has been proved today with a 100/1 winner and last year's winner running so well to be second. I am so pleased for Venetia.

"It really was a great day for the sport today. We have had a lovely day in the sunshine and you wouldn't have thought there was a recession on!
"The Grand National works very well in its current format which is like a limited handicap. It is just great for racing."
Ruby Walsh, My Will's jockey, added: "He ran a great race."
EVAN WILLIAMS ENJOYS THRILL OF A LIFETIME
State Of Play had been backed in the week running up to the race and justified his supporters' faith in him when posting a solid effort to finish fourth.
An emotional Evan Williams said: "He's come to win it coming to the second last then the last. He's run a massive race but the winner was very impressive.
The trainer continued: "I did think at one stage he was coming there to win but I'm delighted - you have to just be pleased to get round and he's given us the thrill of a lifetime. He's a wonderful, wonderful horse.
"I'd like to say congratulations to Venetia (Williams)."
State Of Play's jockey Paul Moloney added: "That was absolutely super. He gave me a lovely ride. He's a class horse but I just wish we'd had a little bit less weight."
[full result] [more]