1 Mon Mome 100-1
2 Comply Or Die 14-1
3 My Will 8-1
4 State of Play 14-1
40 ran
Also: 7-1 Fav Butler's Cabin
Jockey Quotes - John Smith's Grand National 2009
04/04/09
Tony McCoy will ride Butler's Cabin 8/1
© racing-images.co.uk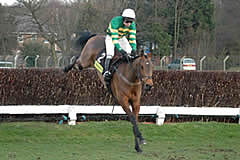 Timmy Murphy (Comply Or Die, 2nd):
"He ran an absolute blinder. He jumped fantastic again and he didn't probably travel quite as well as last year but he had a stone more on his back so you wouldn't expect him to.
"Once again, he gave me everything and, apart from being 10 lengths closer, I couldn't have been happier with him."
Ruby Walsh (My Will, 3rd):
"He's run a cracker. He made four or five mistakes and I was having to use too much then because he hit the fences half way up so I have had to keep squeezing him and kicking up to make the fences which is the wrong thing to do in a four and a half mile race."
Paul Moloney (State Of Play, 4th)
"Turning in, I was saving a little bit up my sleeve and coming to two fences out, I was pretty confident that I would win. Someone said here the other day that you can't do it without the horse and I had a lot of confidence in my horse. "Early in the race, all that was going to worry me was that something was going to fall in front of me - I had that much confidence in him. I was really keen to get a good position and after a circuit, everything had gone to plan. "I made two little mistakes a just before Becher's and it just shuffled me back a little and I sort of had to revert to plan B a little bit. Then he's got his second wind and all that was going though my head was that I didn't want to miss two out or the last."
James Reveley pulled up at the 19th on Rambling Minster said: "He was going grand but then he made a bad mistake and then just looked after himself after that. He just wasn't going after that."
Phil Kinsella on Brooklyn Brownie, who fell at the second, said: "All Sort of things go through your head as you watch them gallop away from you. He was great down to the first and met the first lovely and gave me a lot of confidence but he didn't met the second as well and that was it."
Robbie Power on Silver Birch who fell at Bechers second time around, said: "It's disappointing, he just got a bit to close to Bechers, caught the top and just couldn't get his front end out. But the old lad was travelling really well and jumping for fun and he ran a big race."
Richard Johnson on Parsons Legacy who fell at the 22nd, said: "I wish I hadn't fallen he was dead right but it was to far out to tell where we might have finished."
Ruby Walsh on the third My Will said: "He ran well."
Tony McCoy on the seventh Butler's Cabin: "He ran OK. He's probably still a bit high in the handicap. From Becher's on second circuit he was just starting to get a little bit tired and he a made a lot of little mistakes late on."
Barry Geraghty on Golden Flight who fell at the first: "That was a bit of an anti-climax."
Sam Thomas on Eurotrek who was pulled up before the 17th: "We were never going well and pulled up after the water."
Tom O'Brien on Zabenz: "We fell at the 16th until then we were going fine."
Paul Townend on the 11th Irish Invader: "It was great. I think he just maybe didn't see it out."
Andrew McNamara on the ninth Snowy Morning: "We had a couple of bumps on the way round, but he ran a nice race"
Keith Mercer on the fifth Cerium: "He was brilliant. He jumped magnificently and was in contention on the run to the second-last. It was an amazing feeling. I had just been hoping we would get round he far surpassed my expectations and gave me an amazing spin."
Graham Lee on Kilbeggan Blade (pu 21):"What can you say? Not a lot."
Paddy Brennan on Knowhere (pu 25) said: "All I've got to report is that he was never travelling."
Johnny Farrelly, who pulled up on Arteea, said: "He ran well enough, doesn't get the trip, but first time over those fences he jumped great."
Sam Waley-Cohen, who fell at the second on Ollie Magern, said: "He just got in under it, didn't get high enough, and couldn't get his landing gear down. That's the first time I've failed to get round over these fences so it's very disappointing."
Christian Williams, who finished sixth on Big Fella Thanks, said: "He'll be a year older next year, and perhaps on softer ground you never know. He's only a baby. I had A P [on Butlers Cabin] upsides me so I knew I was in the right place, and although he got a little tired over the last three he was a pleasure to ride. He's got a little cut on his hind leg and that may have made a slight difference, but if he improves again and comes back with a nice weight next year he could go close."
Aidan Coleman, who fell on Stan, said: "He didn't enjoy himself and fell at Foinavon."
Robert Thornton who rode L'Ami: "He gave me a great ride, but just didn't get home and I pulled him up."
Niall Madden, who finished eighth on Southern Vic, commented: "He ran well but the ground was a bit too quick for him."
Davy Russell, who rode Hear The Echo, said: "Very sadly the horse died."
Paddy Brennan who rode Knowhere, said: "He was just never travelling."
Denis O'Regan, who unseated from Black Apalachi, said: "It was very disappointing - he was travelling well and jumping from fence to fence. I don't know what happened until I see a replay."
Paul Moloney, who rode fourth-placed State Of Play, said: "He ran a blinder. Jumped brilliant, travelled great. He made two little mistakes before Becher's, then found a second wind past Valentine's and away I went again and thought I might win two out. He just didn't quite quicken with the winner."
Derek Laverty, who pulled up on Kelami before the 22nd, said: "He gave me a great spin. They went a great gallop early doors and I was handy, but he's an old horse and began to feel the pinch on the second circuit. I noticed three horses disappear at Becher's and thought it best to pull him up."
Noel Fehily, who fell at the 18th on Cant Buy Time, said: "He just got in a bit deep. He jumped well up to that point."
Andrew Tinkler, who unseated from Fleet Street at the 18th, said: "We went a circuit and a bit, then he hit a fence really hard and unseated me. He'd given me a fair ride up to then, but we were middle to back and going no where."
Sam Thomas, who rode Eurotrek, said: "He never travelled. We jumped off reasonably handy, but he was never at the races."
Tom Scudamore, 16th on Battlecry, said: "He gave me a great spin for a circuit and a half, but got tired from Becher's second time. He gave me a great thrill for a long way."
Brian Harding, 12th on Idle Talk, said: "He jumped round, but didn't get home. He gave me a great ride and he was pretty good over the fences, but didn't get home."
Philip Enright, 14th on Preists Leap, said: "He gave me a great ride and jumped fierce well. I thought I would go very close jumping the second last, but he got very tired. I had to use him a bit more than I would have liked early on because of the ground, but he ran well and should be back next year."
David England, who pulled up on Fundamentalist, said: "He was good. He ran well and jumped very well even though he was a big outsider. I pulled him just before Becher's second time, but he's run really well for an old lad."
Emmet Mullins, who fell at the third on Chelsea Harbour, said: "He got his back up too high and came down too steeply. But he's grand and so am I. I'm looking forward to the next time."
Nick Scholfield, who finished 17th and last on Cornish Sett, said: "He got round once again, gave me a great spin and jumped well in the main, but just didn't seem to get the trip this year. He was on his nose once or twice, but he's so clever."
Jason Maguire, who unseated from Cloudy Lane, said: "He unseated me at The Chair when he landed on the fence - but it's the National isn't it? I couldn't have been happier up to that point, because he was jumping well."
Paddy Flood, who fell at the first on Himalayan Trail, said: "We didn't get very far, did we!"
Wayne Hutchinson, 13th on Darkness, said: "He's run well and jumped fine. He was just thinking about it a bit, and while we had a good position going out on the second circuit he just spat the dummy a bit from there and we were going through the motions."
Mark Walsh, rider of Reveillez, who was brought down at the third, said: "It was disappointing to only get as far as the third, but he's a nice horse."
David Casey, rider of Offshore Account, who finished 15th, said: "He was too gassy and too fresh. It was only his second run back after a layoff. But he gave me a great ride and will be back next year."
Philip Carberry, who fell at the 12th on Musica Bella, said: "She just got a bit close, got her hind legs caught and flipped. She's unlucky - she was jumping quite well up to then."