Grand National Jockeys - Reaction
10/04/10
Denis O'Regan, who partnered the second-placed Black Apalachi, said: "He was superb. He jumped from fence to fence. and gave me a super ride. He is a credit to Dessie (Hughes) and all the team. On the day the best horse won. If I was to be beaten by anyone it is great that it was AP (McCoy)."
Joe Lively
© racing-images.co.uk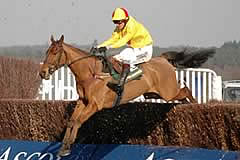 Nick Scholfield, who fell at the fourth on My Will: "He got a bit close to it and couldn't get his landing gear down, but we're both fine."
Johnny Farrelly, who was 13th on Piraya: "He jumped fine, but didn't travel well enough between the fences. It was a brilliant experience."
Joe Tizzard, 10th on Joe Lively: "He got the trip really well, but he had a lot of weight for a little horse. He ran a blinder."
Brian Hughes, who rode Beat The Boys: "He didn't really enjoy it, but he was safe enough."
Tom Molloy, Ollie Magern: "We pulled up before two out, but he ran a great race."
Paul Townend, who unseated from Arbor Supreme: "We went at The Chair."
Richard Johnson, who rode ninth-placed Tricky Trickster: "He gave me a great ride, but the pace just took him off his feet a little bit. I was always just struggling to get competitive, but he's run a fine race and I'm sure he'll be back again."
Philip Enright, who rode Preists Leap to finish 14th and last: "We made a mistake at the water and were never in the race after that."
Wayne Hutchinson, who fell on Eric's Charm: "We only got as far as the first."
Danny Cook, who fell on Pablo Du Charmil: "We came down at the second - too early."
Tom Scudamore, who was unseated from Madison Du Berlais at the 19th: "He gave me a great ride, he made one mistake, frightened himself a little bit and then dropped his hind legs in the last ditch. I wouldn't have won, but thought I was going to be in the first six until that mistake."
Snowy Morning
© racing-images.co.uk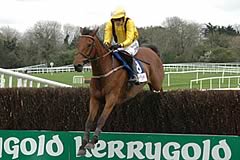 Davy Casey who rode Snowy Morning to finish 6th: "He ran super. Made a couple of mistakes, but jumped great and travelled well."
Jason Maguire, who rode Cloudy Lane to finish 8th: "He's run well and finished well, but was a bit slow over the early fences. I was always struggling to make up ground after that."
Harry Skelton, who pulled up two out on Niche Market: "He just couldn't go with them on the second circuit - you need a real speed horse, but I had a great time."
Mr Sam Twiston-Davies enjoyed a great first ride on Hello Bud, finishing fifth after being up with the pace for most of the race. He said: "That was brilliant. The horse has been a real star and has jumped from fence to fence."
Aidan Coleman, who rode last year's winner Mon Mome (Fell 26th) said: "He was never really travelling today. He fell in the end - I'm not sure where."
Tom O'Brien, rider of Dream Alliance (PU 24th), commented: "He travelled well early but then never really picked up."
Daryl Jacob, rider of Maljimar (Fell 22nd), commented: "He was travelling well, but just got in too close to Becher's second time around."
Andrew Tinkler, rider of Flintoff (PU 21st), said: "He just didn't enjoy it."
Timmy Murphy, who rode the 2008 winner Comply Or Die (12th), said: "He was grand, he gave me a super ride."
Davy Russell, rider of Cerium (11th), said: " Every thing went smashing but they went a little bit too quick and we couldn't get the forward position that I wanted. He made a mistake at the fourth or fifth last and that thumped him and any small chance that we had."
Wilson Renwick, who was unseated from Royal Rosa at the 14th, said: "They were always going too quick for him, he was always flat out and never happy. I had to ask him stupid questions to try and make lengths at the fences."
Wayne Hutchinson, rider of early casualty Eric's Charm, said: "We only got to the first."
Niall Madden, who fell at the fifth on Made In Taipan, said: "He went at the fifth. He jumped the fence OK, but just left his hind legs behind and got too steep."
Graham Lee, who was unseated at the 19th on The Package, commented: "He was never really going and never took to the fences."
Paddy Brennan, rider of Irish Raptor who fell at the 14th: "He just got in too close and fell."
David England, rider of Ballyfitz, who fell at the 22nd (Becher's) said: "He was just unlucky. I guarantee you now that if it's soft ground next year, Ballyfitz will be the horse to be on. He wants soft, heavy ground. He was flat out early and was only just getting into the race when he fell."
Tom Siddall, who fell at the 27th on Palypso De Creek, said: "He was flat to the boards all the way round. Unfortunately, the ground just quickened up. He was unlucky to get so far and not complete."
Aidan Coleman, who fell at the 26th on last year's winner Mon Mome: "I wasn't very happy with him today. They went a stride too quickly for him and he never got into the race. He was good, but out of his comfort zone, and then he got in a bit tight to one and couldn't get his landing gear down."
Liam Treadwell, last year's winning jockey, who was unseated at the 20th fence on Nozic: "It was a bit different this time. I was always flat out and the horse didn't really enjoy it. To be fair he was warming to it when a horse fell in front of me. The result was quite different from last year, but to come back as last year's winning jockey has been a fantastic experience."
Sean Flanagan, who rode long-time leader Conna Castle, eventually pulling up two out: "He was brilliant, but got tired. He doesn't get four miles, and he nodded on landing over Becher's second time around. After that we were struggling."
Barry Geraghty, fourth on Big Fella Thanks: "I had a great ride and he jumped brilliantly, but I'm so pleased for A P [McCoy] and J P [McManus] - they deserve it."
Richie McLernon, who unseated at the Canal Turn first time round on Can't Buy Time: "I'm fine. The horse is fine."
Davy Condon, who was unseated at the 20th on Backstage: "I was hampered by a loose horse when in ninth or tenth position."
David England who fell at the second Becher's Brook on Ballyfitz: "The ground was too quick for him, but he was just starting to get going and was running his best when we came down. Next year he'd have a hell of a chance if the ground is soft."
Roger Loughran who was brought down at the 20th on Vic Venturi: "He did well to stand on his feet at the first, but after jumping two or three more he started giving me a great spin. I was following Tony [McCoy on winner Don't Push It] and Tom Scudamore [on Madison Du Berlais] early on. My lad was really travelling and enjoying it, but then Davy Condon's horse made a mistake, unseated him and I went into the back of them. It was unlucky. I really enjoyed it to that point."
Andrew McNamara, who pulled up before two out on Ballyholland: "He was always just doing too much all the way."
Wilson Renwick, who unseated at the 14th on Royal Rosa: "He was always flat out. They were always going a bit quick for him, and while I wanted to be handy they were that stride too fast. It's a grade up from the Becher Chase [in which he was third last year] and go that little bit quicker. I got a great ride up until the 14th when he stuck me over his head and gave me a kick."
Christian Williams, who was unseated at the 23rd on Ellerslie George, said: "That wasn't bad. He jumped well up to then - we are both all right and that's the main thing."
NINA HAS A CHARACTER BUILDING RIDE
Nina Carberry became the first woman to complete the John Smith's Grand National on more than one occasion, when finishing seventh on the John Quinn-trained Character Building.
Carberry, who finished ninth on Forest Gunner in 2006, said of Character Building: "He was great and gave me an absolutely brilliant ride. They were going a stride too quickly for him early on, so I just tried to get him travelling and keep in touch. I had a real hope of being in the first three after the Canal Turn because he really took off, but he started to feel the pinch jumping the last.
"At that point I still hoped to finish fifth, but we got caught by a couple of horses on the run-in. Despite that he ran a great race, and if the ground had been a bit softer the leaders might have come back to him.
"He really couldn't lie up early on - the plan was to give him a chance of getting into a rhythm over the first half dozen fences, and he didn't get going until after Becher's first time. On softer ground he could do really well next year.
"It felt like a normal race and all the jockeys were great. They're all looking out for each other. I've got round twice from two attempts now, and I just want to get that bit closer."