Vive le John Smith's Grand National
08/12/10
Mon Mome's 100/1 victory in the 2009 John Smith's Grand National added a rare Gallic flavour to the historic Aintree race's roll of honour.
Mon Mome - winner in 2009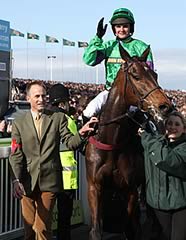 Although trained by Venetia Williams in Hereford for the former England international bridge player Vida Bingham and ridden by Sussex-born Liam Treadwell, Mon Mome, as his name betrays, drew his first breath under French skies.
France, it must be said, has not enjoyed the greatest amount of success in the 163 runnings of the John Smith's Grand National, despite the sterling efforts of several of our cross-Channel neighbours.
Mon Mome, whose first racecourse experience was at Pontivy, Brittany, in May 2004, prior to his arrival at the Williams' stable soon afterwards, became the first French-bred to triumph in the world's greatest jump race since Lutteur III a full 100 years earlier.
Since the initial French challengers lined up for the 1856 Grand National, four French-breds have triumphed - Alcibiade (1865) and Reugny (1874) are the others.
Increasing numbers of French-breds are taking part in the John Smith's Grand National, with 11 representatives among the 40 runners in 2010, so more success looks assured.
Only two winners can be said to have been trained in France at the time of their Aintree successes. Huntsman (1862) and Cortolvin (1867) are listed in the record books as the French heroes of Aintree yet, although prepared in France, they were English-bred chasers trained at Chantilly by a Yorkshire-born ex-pat, Harry Lamplugh.
Lutteur III, noted as a British-trained Grand National victor in 1909, held more allegiance to France, the land of his birth. His jockey Georges Parfremont and owner James Hennessy were Frenchmen, and the horse had only arrived at the Epsom yard of Harry Escott that season to get accustomed to the English style of racing.
By the time April comes around, it will have been 143 years since a horse trained in France last won the Grand National, but in recent times the challenge from French trainers has been full of quality, thanks largely to the Doumen family.
L'Ami (2007 10th)


© racing-images.co.uk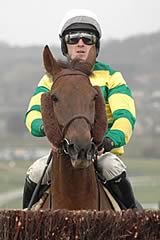 Francois Doumen, confessed Anglophile and trainer of such superstar contenders as The Fellow and First Gold, saddled 14 runners in 11 renewals of the Grand National between 1994 and 2008. His four finishers were Djeddah (2000 9th; 2003 11th), Innox (2005 7th) and L'Ami (2007 10th). With that record, Doumen perhaps knows better than anyone the challenges facing French raiders in the great race.

"It is so difficult to train through the winter in France and prepare horses to run in England," said the trainer, "We have so few long distance races in France, which means a horse must run a few times in England to prepare for the Grand National

"I thought I was clever when The Fellow's weight was published before he won the Cheltenham Gold Cup (1994), so he had an excellent weight in the race.

"I kept trying to win the Grand National and my son (Thierry) fell four times. The best finish I had was Innox, who was seventh for J P (McManus).

"I have a horse in my yard this year, Quolibet, that could well be a Grand National horse - he is in the right area of the handicap - so it could be an option but we will have to see.

"I am giving up training jumpers so this horse will go to Thierry and I will leave it to him whether to go there or not. At least he won't have to ride Quolibet himself!

"It would be an enormous achievement for a French trainer to win the Grand National and good luck to them. I tried with many good horses and never made it. You need an awful lot of luck."