grand national 2011 / result / jockeys
Jockeys Thoughts on Their Rides in the 2011 Grand National
09/04/11
The Midnight Club


© racing-images.co.uk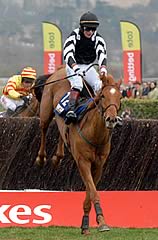 Ruby Walsh, sixth on 15/2 favourite The Midnight Club, said: "He made a bad mistake at the first ditch and that probably put paid to my chances because he was quite careful after that. We weren't going too fast - we were going a sensible gallop - and the starter did a great job as well. We weren't going that fast and the horse has changed his mind and stuck his two feet in the front of the fence - I was expecting a somersault but somehow he stayed galloping. He got very careful after that. There was plenty of carnage but it's the Grand National and that happens. It's a great race to be part of - I missed it last year - but I was glad to ride in it this year."

Daryl Jacob, What A Friend (pulled up before four out), said: "I was getting a great spin off him travelling well and was in a great position, but as we came past Becher's (bypassed on the second circuit) he just got very tired on me so I pulled up and looked after him."

Mr Robbie McNamara, rider of Majestic Concorde (UR 24th), said: "We were too keen early. I was just starting to get him switched off when we came into the Canal Turn and got in too close and tipped up."

Graham Lee, rider of Big Fella Thanks (7th), said: "He gave me an absolutely magnificent ride, but he didn't stay."

Harry Skelton, rider of Niche Market (5th), said: "He ran an absolute blinder and has given me a tremendous ride."



Chief Dan George


© racing-images.co.uk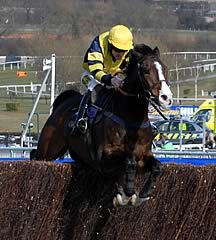 Paddy Aspell, rider of Chief Dan George (17th), said: "It was quite a fast run race. I had a great spin round, but never got competitive."

Robbie Power, jockey of Killyglen (fell 27th), said: "We were very unlucky. He was going well and I was getting a super spin off him. I still had loads of horse left, but he just left his legs in the last ditch."

Richard Johnson, on board Quinz (pulled up before 16th), said: "He burst a blood vessel."

Davy Russell, jockey of Becauseicouldntsee (fell 2nd), said: "I had a brilliant position but then just tipped up."

Mark Walsh, rider of Quolibet (unseated 11th), said: "He was jumping away all right."

Denis O'Regan, on board King Fontaine (11th), said: "My horse ran a blinder. I was a bit slow earlier and nearly got brought down. He jumped like a buck. He's only a novice and will be an ideal spin next year."

Sam Twiston-Davies, partner of Hello Bud (pulled up before two out) said: "I had a great ride from him."

Robert Thornton, rider of West End Rocker (brought down 6th), said: "I got brought down. I was jumping like a buck and thought I was in for some ride but then got brought down."

Andrew McNamara, partner of Bluesea Cracker (14th), said: "The ground was a bit quick for her."

Tom Messenger, jockey of Surface To Air (8th), said: "We went very well for a long while but the lack of a recent run told on him and he got very tired after the last two. But he has run his guts out."

Johnny Farrelly, partner of Piraya (19th and last), said: "He jumped great and travelled away. I am absolutely delighted with him."

Mr Sam Waley-Cohen, jockey of runner-up Oscar Time, said: "The plan was always to come with one smooth run through the race and I knew he had a huge jump on him, so if I wanted to make ground on him I could. I was just trying to prop a little bit and not get too keen. He did everything I asked of him and he's given me the most phenomenal round. The National course is so special, and if a horse takes to it he gives you the best ten minutes of your life, and also the shortest ten minutes."

AP McCoy, third on Don't Push It, said: "He jumped brilliantly and is the dream horse to ride in the [John Smith's] Grand National. Unfortunately the extra weight and another year older he couldn't find that bit extra."


State Of Play


© racing-images.co.uk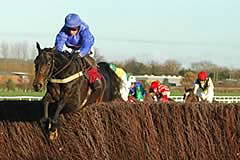 Paul Moloney, 4th on State Of Play, said: "He's an incredible horse - he's just a little bit slower this year because time is catching up with him. He couldn't lay up with the pace and the ground was probably a little slower than ideal, but he's a fabulous horse."
Andrew Lynch, brought down at the second on Vic Venturi, said: "We were brought down at the second - it ended too quickly."

Barry Geraghty, partner of Or Noir De Somoza who fell at the sixth, said: "I'm feeling sore - it was a heavy fall when he turned over at Becher's first time and was falling from the top of the fence. That's the way it goes in the National. I'm thrilled for Jason Maguire, who is a top lad. We went to school together - not very often - and he's a top-class guy. So too is Donald - I'm thrilled for them both."

Mr Patrick Mullins, who fell at the sixth on Dooneys Gate, said: "I would rather not talk about it."

Ruby Walsh, sixth on board The Midnight Club, said: "I was struggling before we were hampered [heading to the final bend]. We nearly fell at the third and after that he was jumping a little too big, but we just weren't good enough."


Niche Market


© racing-images.co.uk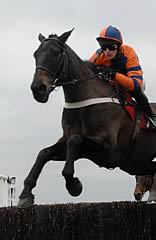 Harry Skelton, rider of Niche Market who was fifth, said: "The horse has run a blinder - he just got tired after the last and there was nothing else he could have done. He was beaten fair and square, but he gave me an unbelievable ride and jumped from fence to fence. Well done to the winners."

Peter Buchanan, 12th on Silver By Nature, said: "He's jumped fantastically well, but I was unable to land a blow."

Paul Carberry, 10th on Backstage, said: "I got a great spin for a circuit, but he got tired on the second circuit. I gave him a bit of a breather and stayed on for home from there."

Hadden Frost, who fell at the 4th on Calgary Bay, said: "He jumped the fence fine, but landed a bit steep, which any horse could do. We were just behind Jason [Maguire on the winner Ballabriggs] at the time so we were in the right place. Maybe we'll come back and try again."

Timmy Murphy, pulled up on Comply Or Die before the 28th, said: "I would say that's his last race. He got very tired and he's not getting any younger, but he's a special horse to me and it's nice to think he's ended up at the course where we achieved our finest hour."

Aidan Coleman, rider of Grand Slam Hero who fell at the 13th, said: "Gee, I got some ride off him. He fell at the 13th, but I don't know how he ended up on the deck because until then he was absolutely brilliant. I'm gutted to fall, but me and him are okay so that's the main thing."

Denis O'Regan, 11th on board King Fontaine, said: "I had a great ride around and he jumped super, but he just wasn't able to go the early speed. We took our time, crept into it as best we could and finished 11th so I'm not too disappointed. He's run a lovely race and is a great prospect for next year."

Leighton Aspell, 13th on In Compliance, said: "I had a lovely round, but he was badly hampered at Becher's and proved a non-stayer, but apart from that he gave me a super ride."

Jamie Moore, who pulled up before the 27th on Santa's Son, said: "I had a great spin but the horse got tired - he's a two-miler."

James Reveley, rider of That's Rhythm who fell at the first, said: "He missed the first by about five foot!"

Tom Messenger, jockey of Surface To Air who was 8th, said: "He ran his heart out, but pulled up just a little unsound which was disappointing. If that's his final race he went out on a high and did me and the yard proud."

Richie McLernon, rider of Can't Buy Time who fell at the 18th, said: "He gave me a good spin, but we came down at the second last."

Miss Nina Carberry, rider of Character Building who was 15th, said: "I was nearly brought down at Becher's and that was his race over."

Nick Scholfield, on board Ornais who fell at the fourth, said: "He went down at the fourth."

David Casey, partner of Arbor Supreme who unseated at the 28th, said: "We made a couple of mistakes on the way round and eventually went at the third-last. It just didn't happen for us."

Paul Gallagher, rider of Royal Rosa who finished 18th, said: "It was the experience of my life - and probably even better than the winner I had in the race before. I got round and that was the horse's last race so he went out on a high."

Dominic Elsworth, on board Skippers Brig who was 9th, said: "He just didn't get home over that distance."

Shane Hassett, partner of Golden Kite who was 16th, said: "He jumped brilliantly and travelled okay - he gave me a great spin, and may be back next year."
DOONEYS GATE & ORNAIS

Two fences were bypassed on the second circuit in the 2011 John Smith's Grand National - the 20th and the 22nd (Becher's).

This was because of two fatalities on the first circuit. Ornais had a fatal fall at the fourth and Dooneys Gate also had a fatal fall at the sixth, Becher's.

Julian Thick, Managing Director of Aintree Racecourse, said: "We are desperately sad at the accidents during the running of the Grand National today and our thoughts go out to the connections of Ornais and Dooneys Gate. When a horse gets hurt, everyone is deeply upset. Safety is the first priority for the organisers of the Grand National meeting and we will redouble our efforts to make sure that everyone involved in the event – the horses, the jockeys, the spectators – is able to participate in safety and comfort.

"Horseracing is a very carefully regulated and monitored sport. All horses and riders in the Grand National have to meet very high standards set by an independent panel of experts. The Grand National is a well-organised and professional race.

"Only the best horses and the best jockeys are allowed to enter and all horses are inspected by the vet when they arrive at Aintree to ensure that they are fit to race.

"This year, we had: 20 horse catchers; at least two fence attendants at each of the National's 16 fences; four stewards to inspect the course; two British Horseracing Authority Course Inspectors; 10 vets; 50 ground staff; and 35 ground repair staff. That's more than 150 specialist staff who are completely focused on making the race as safe as possible.

"Now that the meeting is finished, we will, as always, be looking at all aspects of this year's race to see how we can make the event safer in the future. We work closely with animal welfare organisations, such as the RSPCA and World Horse Welfare to make sure we are up to date with the latest thinking and research regarding welfare and safety. Our job is to make sure that the horses are looked after properly and that the race is run as safely as possible."


BYPASSING BECAME POSSIBLE TWO YEARS AGO

Bypassing of fences in the John Smith's Grand National became possible two years ago for the first time as part of ongoing safety improvements at Aintree.


MAGUIRE BANNED

Jockey Jason Maguire picked up a five-day suspension after winning the John Smith's Grand National on Ballabriggs. Maguire was found to have used his whip with excessive frequency after the last fence. His ban takes place from April 23 to 27.