Big Buck's Secures Record 17th Win in Liverpool Hurdle
12/04/12
1 Big Buck's 2/9F
2 Crack Away Jack 33/1
3 Across The Bay 50/1
8 ran Distances: 9l, 3¼l, 7l
TIME 6m 17.20s (slow by 23.20s)
Big Buck's created history in the BGC Partners Liverpool Hurdle at Aintree by winning his 17th successive race, breaking the modern-day jumps total of Sir Ken.
Big Buck's
© racing-images.co.uk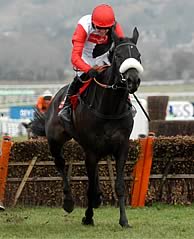 Big Buck's equalled the 16 in a row set by another top-class hurdler, Sir Ken, in the Ladbrokes World Hurdle at the Cheltenham Festival last month.
Sir Ken won his first 16 races over hurdles after his transfer from France to trainer Willie Stephenson. In his era, there were not many valuable prizes for hurdlers and many of his victories came in uncompetitive minor contests. Big Buck's was diverted to hurdles by Paul Nicholls after a series of clumsy efforts over fences and, since the start of his win streak in a handicap at Cheltenham, has raced only in Grade One and Grade Two contests.
Andy Stewart, the owner of Big Buck's, said: "He seemed to be idling a little bit in front. Alan King's horse was right behind until he unfortunately came to grief and I am glad to see them all getting up.

"I think it's so flattering that people here today at the start of the Grand National meeting are coming up to ask for autographs - my autograph, not the horse's - and the horse is more newsworthy than I am. It's a privilege and a pleasure to be here.

"Next year we will go exactly the same order with him as we did the previous season. I would have thought that, because he is that much older, that we might go for the Cleeve Hurdle again."

Paul Nicholls, the trainer of Big Buck's, declared: "It was straightforward today. He jumped, travelled, did everything right and we are very happy with him. It was a great ride again by Ruby but I said that I could have ridden him today!

"It will be the same routine with him next season. I think that, now he is getting a bit older, it pays to give him a run between the Long Walk Hurdle and Cheltenham, so the Cleeve Hurdle is ideal. It worked well this season and he has come here in good form., so we will follow the same route."

Ruby Walsh, the winning rider, added: "The hardest part is getting on him, the easiest part is riding him! He is an incredible horse. He absolutely skated in today - it wasn't as competitive race as Cheltenham - but he has bolted in.

"He has probably been better here than at Cheltenham in the last couple of years. I don't know whether it is the better ground, the flat track or maybe it's the sun on his back.

"He was still going with his ears pricked at Cheltenham and we are lucky that we have never got to the bottom of him.

"We don't know how good he really is because he has never been really extended over hurdles. I would say that there is a bit more there."

William Hill price Big Buck's at 7/4 to win next year's Ladbrokes World Hurdle at Cheltenham. He is also 5/2 to end his career unbeaten over hurdles (must run at least once more).
Position

Horse
Trainer
Jockey
Weight
Starting Price
Beaten Distance
1

Big Buck's
P F Nicholls
R Walsh
11st 7lbs
2 - 9
Winner
2

Crack Away Jack
T R George
N Fehily
11st 7lbs
33 - 1
9 lengths
3

Across The Bay
D McCain Jnr
J M Maguire
11st 7lbs
50 - 1
3 1/4 lengths
4

Tidal Bay
P F Nicholls
Nick Scholfield
11st 7lbs
14 - 1
7 lengths
5

Poungach
P F Nicholls
D A Jacob
11st 7lbs
12 - 1
3 3/4 lengths
Fell

Restless Harry
R Dickin
C Poste
11st 7lbs
20 - 1

Fell

Smad Place
A King
R Thornton
11st 7lbs
5 - 1

BroughtDown

Won In The Dark
Miss S J Harty
A E Lynch
11st 7lbs
33 - 1

BUCK'S THE RECORD BREAKER

Paul Nicholls could hardly bear to look at the big screen in the parade ring during the running of the BGC Partners Liverpool Hurdle, in which his charge Big Buck's was going for a world record 17 races in a row over jumps. He paced this way and that in the sunshine, looking at the grass, the grandstands, only occasionally glancing at the screen to see Big Buck's moving smoothly as rivals stumbled behind him. It was not until the gelding and Ruby Walsh sprang gaily over the final obstacle that he allowed the pent-up emotion to show with a roar of "Come on, my son!"

As Big Buck's strode into the history books, he accepted congratulations from all within handshaking distance. "We are so lucky to have horse like him," he said. "Horses that are just sheer class. It's extraordinary that he has not only won 17 times, but has been ready to run, sound and healthy without a hiccup, on every one of the occasions we've wanted him to. That itself is a remarkable thing but with a horse like him, maybe it's his class that enables him to dance to every beat. He's a real model of a racehorse, really well made.

"He's a beautiful free mover - you've only got to see him walking round here today - and although perhaps he doesn't trot very well, there aren't many trotting races, are there?

"As long as a horse stays sound and injury-free, you've got a chance to do these things with them. And although he's a bit quirky at home, he's getting more and more professional in his races. Ruby [Walsh] used to have to keep him covered up as he'd start to pull up if he was in front too soon. But now he can ride him close to the pace or even from the front and he just gets on with the job. And he doesn't make mistakes at his hurdles."

Big Buck's will now have a summer holiday before resuming in the Long Distance Hurdle at Newbury in November with his season culminating at Cheltenham and Aintree. "He will get beat, all horses do," added Nicholls. "But not today. Not yet."

Nicholls felt that Big Buck's, like many others in his string, was in better form today than he had been at Cheltenham, where he prefaced his fourth win in today's BGC Partners Liverpool Hurdle with a fourth Ladbrokes World Hurdle. "We were under a bit of a cloud," he said, "and we thought we'd be over it in a few weeks, but it's taken a bit longer. He wasn't absolutely A1 at Cheltenham, but we were able to give him quite a bit of work since and he was spot-on today."