cheltenham festival / news /

BetVictor to Sponsor Queen Mother Champion Chase
16/10/13

BetVictor is today announced as the new sponsor of three top two-mile chases run in Britain, to include races run at three Jockey Club Racecourses, Cheltenham (Queen Mother Champion Chase), Sandown Park (Tingle Creek Chase) and Exeter (Haldon Gold Cup).



Sprinter Sacre & Barry Geraghty after winning the 2013 Queen Mother Champion Chase
© Caroline Norris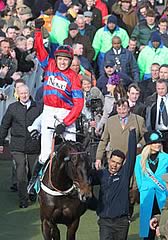 The Grade One Queen Mother Champion Chase is the highlight of the second day of The Festival, Ladies Day, and was won in imperious fashion by Sprinter Sacre in 2013. This season's renewal is on Wednesday, March 12, 2014.

Bet Victor is also sponsoring two races on the road to Cheltenham – the Grade Two Haldon Gold Cup at Exeter on Tuesday, November 5 and the Grade One Tingle Creek Chase at Sandown Park on Saturday, December 7. Sprinter Sacre also won the Tingle Creek Chase last season, while the 2012 Haldon Gold Cup scorer, Cue Card, took the Grade One Ryanair Chase at The Festival.

Peter McNeile, Head of Sponsorship at Cheltenham Racecourse, said: "I am thrilled that BetVictor will be sponsoring three such tremendous two-mile chases during the Jump season.

"The Haldon Gold Cup is the first of the major races over this distance and, with the BetVictor Tingle Creek being a primary target for Sprinter Sacre in December, it's a great time for BetVictor to get involved in these type of races.

"Sprinter Sacre has the potential to become one of the most high-profile champions of the Jump racing world. I hope that we will be witnessing more impressive performances from him over the season, culminating in him going for successive BetVictor Queen Mother Champion Chases at The Festival."

Rupert Trevelyan, Regional Director of the London Region of Jockey Club Racecourses, added: "The Tingle Creek is one of the most high-profile Jump races that Sandown Park hosts during the season and it is great news that BetVictor are sponsoring the race in December.

"With the BetVictor Tingle Creek Chase being a target for back-to-back victories for Sprinter Sacre it looks set to be as thrilling as ever. The last horse to accomplish this was Kauto Star and we all know what he went on to do!"

Charlie McCann of BetVictor commented: "We are delighted to lend our name and support to three such fantastic and prestigious races culminating in the BetVictor Queen Mother Champion Chase next March.

"We are looking forward to the likelihood of seeing Colin Tizzard's star Cue Card make his reappearance in the BetVictor Haldon Gold Cup at Exeter next month, and that of the Champion Chaser Sprinter Sacre in the BetVictor Tingle Creek in December.

"The latter is looking to join such greats of the turf as Moscow Flyer and Kauto Star to win the Sandown feature back-to-back and we can't wait to begin what we hope will be a long and happy association with all three tracks."
Queen Mother Champion Chase
The National Hunt Two-Mile Champion Chase was first run in 1959 and the Queen Mother's name was added to the race title in 1980, the year of her 80th birthday. Bet Victor will back the race for the first time in 2014.

The race's roll of honour includes many multiple winners. Badsworth Boy (1983-85) is the only three-time scorer. The double winners are Fortria (1960 and 1961), Drinny's Double (1967 and 1968), Royal Relief (1972 and 1974), Skymas (1976 and 1977), Hilly Way (1978 and 1979), Pearlyman (1987 and 1988), Barnbrook Again (1989 and 1990), Viking Flagship (1994 and 1995), Moscow Flyer (2003 and 2005) and Master Minded (2008 and 2009).

Tom Dreaper had the best record of any trainer in the race, winning six runnings with Fortria (1960 and 1961), Ben Stack (1964), Flyingbolt (1966), Muir (1969) and Straight Fort (1970). Of current trainers, Paul Nicholls (1999 Call Equiname, 2004 Azertyuiop and the 2008 & 2009 winner Master Minded) is leading the way with four wins.

The most successful jockeys are Pat Taaffe and Barry Geraghty with five wins each. Taaffe's wins came on Fortria (1960, 1961), Ben Stack (1964), Flyingbolt (1966) and Straight Fort (1970). Geraghty, still riding, has won on Moscow Flyer (2003 & 2005), Big Zeb (2010), Finian's Rainbow (2012) and Sprinter Sacre (2013) so far.

Flyingbolt was the shortest-priced winner when succeeding at 1/5 in 1966. Sprinter Sacre was 1/4 last year.



Tingle Creek Chase
The Tingle Creek Chase commemorates the Tom Jones-trained Tingle Creek, a Sandown Park specialist in the 1970s known for his flamboyant jumping.

The most successful horse is Flagship Uberalles, the only three-time winner in 1999, 2000 and 2001.

Dual winners of the race are headed by the great Kauto Star (2005 and 2006) and also include Master Minded (2008 and 2010), Twist Magic (2007 and 2009), Moscow Flyer (2003 and 2004), Sound Man (1995 and 1996), Waterloo Boy (1991 and 1992), Long Engagement (1987 and 1989) and News King (1981 and 1982).

Horses to have won both the Tingle Creek Chase and the Queen Mother Champion Chase are Flagship Uberalles, Master Minded, Moscow Flyer, Sizing Europe, Sprinter Sacre and Viking Flagship.

The great Desert Orchid won the 1988 renewal.


Haldon Gold Cup
Named after Haldon, the ridge of high ground on which Exeter Racecourse is situated.

It has proven to be a popular early-season target for the very best chasers with Best Mate, Cue Card, Edredon Bleu, Flagship Uberalles and Viking Flagship all featuring on the roll of honour.