Cheltenham Festival News

Thursday 23rd February 2017
TVV Capital to sponsor year two of Iroquois Cheltenham Challenge
Sun Bets Stayers' Hurdle kicks off transatlantic race for $500,000 bonus
When Rawnaq won the US$200,000 Calvin Houghland Iroquois Steeplechase last May, he not only notched his first G1 success by edging out Irish invaders Shaneshill and Nichols Canyon, but he also catapulted himself into the 2016 Eclipse Award by qualifying to run for the $500,000 Brown Advisory Iroquois Cheltenham Challenge.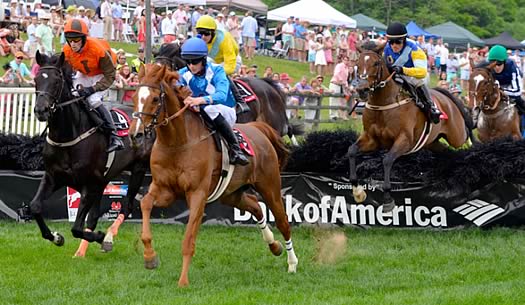 Rawnaq's training injury in January has effectively eliminated him from the competition, meaning the winner of the G1 Sun Bets Stayers' Hurdle at The Festival on St Patrick's Thursday, March 16, will now be qualified to run for the half million-dollar bonus at Nashville's Iroquois Steeplechase on Saturday, May 13.

The terms of the Challenge are simple: win the Sun Bets Stayers' Hurdle at The Festival in England in March and the Iroquois Hurdle Stakes in Nashville, USA, in May, or vice versa, within a 12-month time span and gain a $500,000 bonus. With combined purses and bonus, a horse completing the Challenge could earn close to $1 million.

Launched in 2016 to celebrate the 75th anniversary of the Iroquois Steeplechase and sponsored with great success by Brown Advisory, who continue to be an important sponsor at Nashville, other race meets in America and at Cheltenham, the Challenge is an effort to re-establish the historical transatlantic racing rivalry.

Building upon the momentum, private equity firm TVV Capital of Nashville, Tennessee has agreed to carry the banner as presenting sponsor for 2017.

Brown Advisory CEO Mike Hankin commented: "The Challenge is a tremendous thing for international Jump Racing, and as horse owners we're looking forward to having an opportunity to pursue it ourselves, whilst continuing to support both the Cheltenham Festival and Iroquois Steeplechase."

TVV Capital Founder and President Andrew Byrd says the Challenge has elevated the sport across borders and continents in a way that truly connects Irish and UK racing with the best of American steeplechasing.

He said: "That historical connection is strong, as is our longstanding relationship with the Iroquois, and so we are very pleased to announce the TVV Capital Iroquois Cheltenham Challenge.

"We wish to thank Mike Hankin and Brown Advisory, who first introduced us to the Cheltenham Festival and without whom the Challenge would have been impossible."

TVV Capital is a Nashville-based private equity firm that acquires and grows businesses in the manufacturing, distribution and service industries across the Eastern United States. The hallmarks of TVV Capital companies are strong management teams, consistent profitability, a defensible market niche, and an identifiable growth path, either through organic, internal growth or through acquisition.

Iroquois Chairman Dwight Hall, who also serves on the Board of Directors for the National Steeplechase Association, sees the Challenge as an opportunity to showcase the best of Jump Racing in the United States.

Hall said: "The Iroquois last year was a race for the ages, and we fully anticipate the top trainers in Europe entering their best horses again here in May.

"Our intent was to reignite that overseas rivalry, and I believe we succeeded in doing that. They've seen how our tracks run and they have experienced our hospitality, and we expect the word to spread."

About the Iroquois Steeplechase
The Iroquois Steeplechase is an iconic sporting event that has been Nashville's rite of spring since 1941, attracting more than 25,000 spectators to watch the best horses and riders in the world race over hurdles on a 1.5-mile turf track. Held the second Saturday of each May at Percy Warner Park, the Iroquois Steeplechase is Music City's annual celebration of time-honored traditions, Tennessee hospitality and Southern fashions.

Those who attend enjoy areas for families, well-appointed tents and individually organized tailgates where the emphasis is on race day pickings, larger-than-life hats, specialty drinks by Jack Daniel's Tennessee Whiskey and crowd-pleasing recipes. More importantly, guests support a cause at the heart of the event: Since being designated as the official charity in 1981, the Monroe Carell Jr. Children's Hospital at Vanderbilt has received more than $10 million from Iroquois Steeplechase proceeds.

For information on tickets and other race day details, visit www.iroquoissteeplechase.org.