William Hill St Leger

Group 1, Doncaster
£700,000 added,
3yo only,
1m 6f 115y, Class 1  
Saturday 15th September 2018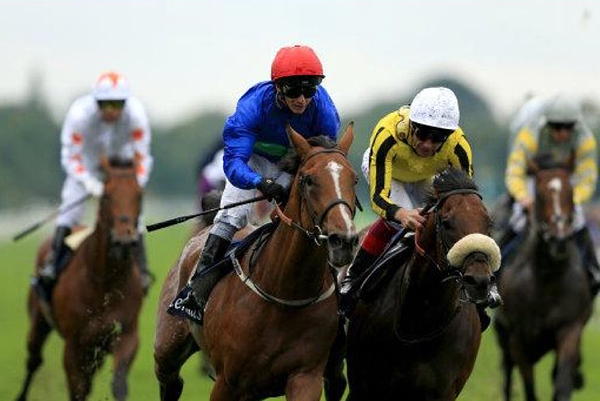 Wells Farhh Go was brought into 10/1 from 25/1 to win the St Leger at Doncaster after a storming performance in the Bahrain Trophy Stakes at Newmarket.
Tim Easterby's three-year-old made all over the 1m5f distance to take the Group 3 contest ahead of favourites Loxley and Giuseppe Garibaldi.
Our traders have cut his odds for the final Classic of the season as a result.
The Mowazana colt is now the joint-third favourite for the Doncaster renewal behind Kew Gardens (5/1) and Irish Derby winner Latrobe (7/1).
Connections of Dee Ex Bee admit there is "no obvious target" ahead of his planned outing in the St Leger.
The Mark Johnston-trained colt finished second behind Masar in the Derby in June, but has been below that form in two subsequent runs.
He was well beaten in the Irish Derby and could only finish third to Kew Gardens in the Grand Prix de Paris last weekend, but on both occasions the ground was quicker than he would prefer.
"He's come out of the race fine, but obviously it was not the result we wanted," said assistant trainer Charlie Johnston.
"At declaration time on Thursday they said the ground would be good to soft, but when I got there and walked it, it was good to firm.
"As we saw in the Irish Derby, over a mile and a half on quick ground, things just happen too quick for him – he needs further on that ground.
"There is no obvious target for him between now and the St Leger. There's the Great Voltigeur, but that's another mile-and-a-half race on likely quick ground.
"Come the Leger, over further and hopefully on ground with a bit of give by then, he should be more at home."
Ladbrokes Latest Betting
Kew Gardens – 5/1
Latrobe – 7/1
Wells Farhh Go – 10/1
Southern France – 10/1
Dee Ex Bee – 10/1
Forever Together – 12/1
The Pentagon – 12/1
Loxley – 14/1
Delano Roosevelt – 14/1
Old Persian – 14/1
Click here for the latest St Leger odds.
All Odds and Markets are correct as of the date of publishing
Ladbrokes St Leger Stakes 2017
£700,000 added, 3yo only, 1m 6f 115y, Class 1
11 ran
Going: Good to Soft
Pos
Dr
D
Horse SP
Jockey Weight
Trainer
Age
1st
(9)
Capri (IRE) 3/1f
R L Moore
9-1
A P O'Brien
3
2nd
(1)
&frac12
Crystal Ocean 5/1
Jim Crowley
9-1
Sir Michael Stoute
3
3rd
(6)
s.h
Stradivarius (IRE) 9/2
James Doyle
9-1
J H M Gosden
3
4th
(10)
1&frac12
Rekindling 10/1
D O'Brien
9-1
Joseph P O'Brien
3
5th
(7)
1&frac14
Coronet 8/1
L Dettori
8-12
J H M Gosden
3
6th
(8)
2&frac14
Count Octave 20/1
Oisin Murphy
9-1
A M Balding
3
7th
(11)
11
Raheen House (IRE) 14/1
A Kirby
9-1
B J Meehan
3
8th
(3)
9
Venice Beach (IRE) 12/1
J A Heffernan
9-1
A P O'Brien
3
9th
(5)
1&frac12
Douglas Macarthur (IRE) 33/1
E J McNamara
9-1
A P O'Brien
3
10th
(2)
1&frac34
Defoe (IRE) 6/1
Andrea Atzeni
9-1
R Varian
3
11th
(4)
31
The Anvil (IRE) 66/1
M C Hussey
9-1
A P O'Brien
3
ST LEGER ROLL OF HONOUR (1946-2014)
Year Horse Trainer Jockey Owner SP Ran
2017 CAPRI
2016 HARBOUR LAW Mrs LJ Mongan George Baker Mrs Jackie Cornwell 22/1 8
2015 SIMPLE VERSE Ralph Beckett Andrea Atzeni QRL/Sheikh Suhaim Al Thani/M Al Kubaisi 8/1 7
2014 KINGSTON HILL Roger Varian Andrea Atzeni Paul Smith 9/4F 12
2013 LEADING LIGHT Aidan O'Brien Joseph O'Brien Derrick Smith, Sue Magnier, Michael Tabor 7/2F 11
2012 ENCKE Mahmood Al Zarooni Mickael Barzalona Godolphin 25/1 9
2011 MASKED MARVEL John Gosden William Buick Bjorn Nielsen 15/2 9
2010 ARCTIC COSMOS John Gosden William Buick Rachel Hood & Robin Geffen 12/1 10
2009 MASTERY Saeed bin Suroor Ted Durcan Godolphin 14/1 8
2008 CONDUIT Sir Michael Stoute Frankie Dettori Ballymacoll Stud 8/1 14
2007 LUCARNO John Gosden Jimmy Fortune George Strawbridge 7/2 10
2006** SIXTIES ICON Jeremy Noseda Frankie Dettori Susan Roy 11/8F 11
2005 SCORPION Aidan O'Brien IRE Frankie Dettori Sue Magnier & Michael Tabor 10/11F 6
2004 RULE OF LAW Saeed bin Suroor Kerrin McEvoy Godolphin 3/1JF 9
2003 BRIAN BORU Aidan O'Brien IRE Jamie Spencer Sue Magnier 5/4F 12
2002 BOLLIN ERIC Tim Easterby Kevin Darley Sir Neil & Lady Westbrook 7/1 8
2001 MILAN Aidan O'Brien IRE Michael Kinane Michael Tabor & Sue Magnier 13/8F 10
2000 MILLENARY John Dunlop Richard Quinn Neil Jones 11/4F 11
1999 MUTAFAWEQ Saeed bin Suroor Richard Hills Godolphin 11/2 9
1998 NEDAWI Saeed bin Suroor John Reid Godolphin 5/2F 9
1997 SILVER PATRIARCH John Dunlop Pat Eddery Peter Winfield 5/4F 10
1996 SHANTOU John Gosden Frankie Dettori Sheikh Mohammed 8/1 11
1995 CLASSIC CLICHE Saeed bin Suroor Frankie Dettori Godolphin 100/30F 10
1994 MOONAX Barry Hills Pat Eddery Sheikh Mohammed 40/1 8
1993 BOB'S RETURN Mark Tompkins Philip Robinson Jackie Smith 3/1F 9
1992 USER FRIENDLY Clive Brittain George Duffield Bill Gredley 7/4F 7
1991 TOULON Andre Fabre FR Pat Eddery Khalid Abdullah 5/2F 10
1990 SNURGE Paul Cole Richard Quinn Martyn Arbib 7/2 8
1989* MICHELOZZO Henry Cecil Steve Cauthen Charles St George 6/4F 8
1988 MINSTER SON Neil Graham Willie Carson Lady Beaverbrook 15/2 6
1987 REFERENCE POINT Henry Cecil Steve Cauthen Louis Freedman 4/11F 7
1986 MOON MADNESS John Dunlop Pat Eddery Duchess of Norfolk 9/2 8
1985 OH SO SHARP Henry Cecil Steve Cauthen Sheikh Mohammed 8/11F 6
1984 COMMANCHE RUN Luca Cumani Lester Piggott Ivan Allan 7/4F 11
1983 SUN PRINCESS Dick Hern Willie Carson Sir Michael Sobell 11/8F 10
1982 TOUCHING WOOD Tom Jones Paul Cook Maktoum Al Maktoum 7/1 15
1981 CUT ABOVE Dick Hern Joe Mercer Sir John Astor 28/1 7
1980 LIGHT CAVALRY Henry Cecil Joe Mercer Jim Joel 3/1 7
1979 SON OF LOVE Robert Collet FR Alain Lequeux A Rolland 20/1 17
1978 JULIO MARINER Clive Brittain Edward Hide Marcos Lemos 28/1 14
1977 DUNFERMLINE Dick Hern Willie Carson The Queen 10/1 13
1976 CROW Angel Penna FR Yves Saint-Martin Daniel Wildenstein 6/1CF 15
1975 BRUNI Ryan Price Tony Murray Charles St George 9/1 12
1974 BUSTINO Dick Hern Joe Mercer Lady Beaverbrook 11/10F 10
1973 PELEID Bill Elsey Frankie Durr Bill Behrens 28/1 13
1972 BOUCHER Vincent O'Brien IRE Lester Piggott Ogden Phipps 3/1 7
1971 ATHENS WOOD Tom Jones Lester Piggott Mrs John Rogerson 5/2 8
1970 NIJINSKY Vincent O'Brien IRE Lester Piggott Charles Engelhard 2/7F 9
1969 INTERMEZZO Harry Wragg Ron Hutchinson Gerry Oldham 7/1 11
1968 RIBERO Fulke Johnson Houghton Lester Piggott Charles Engelhard 100/30 8
1967 RIBOCCO Fulke Johnson Houghton Lester Piggott Charles Engelhard 7/2 9
1966 SODIUM George Todd Frankie Durr R J Sigita 7/1 9
1965 PROVOKE Dick Hern Joe Mercer John Astor 28/1 11
1964 INDIANA Jack Watts Jimmy Lindley Charles Engelhard 100/7 15
1963 RAGUSA Paddy Prendergast IRE Garnet Bougoure Jim Mullion 2/5F 7
1962 HETHERSETT Dick Hern Harry Carr Major Lionel Holliday 100/8 15
1961 AURELIUS Noel Murless Lester Piggott Mrs V Lilley 9/2 13
1960 ST PADDY Noel Murless Lester Piggott Sir Victor Sassoon 4/6F 9
1959 CANTELO Charles Elsey Edward Hide William Hill 100/7 11
1958 ALCIDE Cecil Boyd-Rochfort Harry Carr Sir Humphrey de Trafford 4/9F 8
1957 BALLYMOSS Vincent O'Brien IRE T P Burns Jock McShain 8/1 16
1956 CAMBREMER George Bridgland FR Freddie Palmer R B Strassburger 8/1 13
1955 MELD Cecil Boyd-Rochfort Harry Carr Lady Zia Wernher 10/11F 8
1954 NEVER SAY DIE Joe Lawson Charlie Smirke Robert Sterling Clark 100/30 16
1953 PREMONITION Cecil Boyd-Rochfort Eph Smith W P Wyatt 10/1 11
1952 TULYAR Marcus Marsh Charlie Smirke H H Aga Khan III 10/11F 12
1951 TALMA II Charles Semblat FR Rae Johnstone Marcel Boussac 7/1 18
1950 SCRATCH II Charles Semblat FR Rae Johnstone Marcel Boussac 9/2 15
1949 RIDGE WOOD Noel Murless Michael Beary G R H Smith 100/7 16
1948 BLACK TARQUIN Cecil Boyd-Rochfort Edgar Britt W Woodward 15/2 14
1947 SAYAJIRAO Fred Armstrong Edgar Britt Maharaja Of Baroda 9/2 11
1946 AIRBOURNE Dick Perryman Tommy Lowrey Jock Ferguson 3/1 11
* Run at Ayr
** Run at York