Virgin Bet Ayr Gold Cup

Heritage Handicap, Ayr 15:35
£180,000 added,
3yo plus,
6f, Class 2  
Saturday 23rd September 2023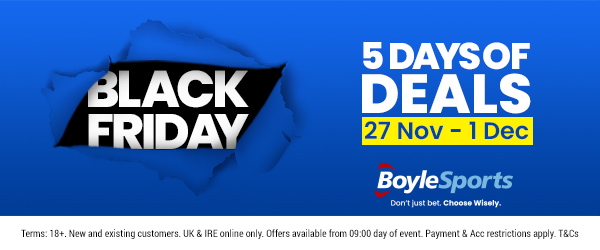 1 Significantly 8/1J
2 Ramazan 16/1
3 Gweedore 11/1
4 Albasheer 12/1
24 ran NR: Juan Les Pins Distances: nk, ½l, nse
Time: 1m 10.77s (slow by 1.57s)
Joe Fanning produces Significantly with a late run to win the @VirginBet Ayr Gold Cup for @JCamachoRacing @ayrracecourse pic.twitter.com/h5HrOVpDxk https://t.co/UwHZmFnGBC via @RacingBetter

— RacingBetter (@RacingBetter) September 24, 2023
Julie Camacho's Significantly was rolling the dice again after just missing out on the Portland Handicap at the St Leger meeting exactly a week ago.
The race was a return to six furlongs and at several points it seemed that luck had deserted him once again as his progress was abruptly stopped by other horses in the 24-runner handicap.
He was brought almost to a halt as another horse crossed his path in the final furlong, but showed great tenacity under Joe Fanning to renew his attack and lunge at the line to win by a neck from Ramazan and justify 8-1 favouritism.
"We're thrilled, he's a decent horse and it's a bit of compensation for last week when he ran so well and he just didn't quite make it," said Steve Brown, Camacho's husband and assistant.
"He's a horse that was very good in his younger days when he was produced by Karl (Burke) and he's just slowly working his way back to that level."
Of the decision to run him again a week after Doncaster, Brown added: "There's always a little bit of trepidation because you're never quite sure if they're in the same form, he's just had a quiet week.
"He did a couple of canters and he didn't give us any indication that he wasn't well, we were happy to take our chances and I think we had to go for it with him being such a fancied runner.
"I think he'd have been an unlucky loser but it worked out and I'm thrilled for Niall (O'Keeffe, owner), it's his first year with horses with us and it's great to win a big one for him."
Ramazan hit the front with two furlongs to run but Fanning could be spotted going well in behind with nowhere to go.
When he eventually did see daylight the response was immediate and while he would have been an unlucky loser, there were plenty of other hard luck tales.
Gweedore finished third but fourth home was Hollie Doyle and Albasheer, who was stone last with a furlong to run.

Virgin Bet Ayr Gold Cup
£180,000 guaranteed, 3yo plus, 6f, Class 2
24 ran
Going: Good to Soft
POS. (DRAW) DIST HORSE AGE WGT TRAINER JOCKEY SP
1 (14) Significantly 5 9-2 Julie Camacho Joe Fanning 8/1J
2 (12) nk Ramazan 3 9-7 Richard Fahey Oisin Orr 16/1
3 (8) ½ Gweedore 6 9-8 Katie Scott William Pyle 11/1
4 (13) nse Albasheer 5 9-8 5ex Archie Watson Hollie Doyle 12/1
5 (10) ½ Montassib 5 9-9 William Haggas Cieren Fallon 10/1
6 (3) hd Fast Response 4 9-11 K R Burke Brandon Wilkie 12/1
7 (25) nk Rohaan 5 9-12 David Evans Ben Curtis 17/2
8 (21) ¾ Mr Wagyu 8 9-3 John Quinn Jason Hart 14/1
9 (6) nse Lethal Levi 4 9-4 K R Burke Clifford Lee 18/1
10 (1) shd Bielsa 8 9-7 Kevin Ryan Rowan Scott 12/1
11 (23) shd Orazio 4 9-9 Charles Hills Jim Crowley 8/1J
12 (5) shd Aleezdancer 4 9-3 Kevin Ryan Shane Gray 14/1
13 (24) shd It Just Takes Time 5 8-13 Mark Walford Dougie Costello 80/1
14 (16) nk Aberama Gold 6 9-8 David O'Meara Mark Winn 33/1
15 (22) nk Lequinto 6 8-13 Tony Carroll Connor Beasley 80/1
16 (17) shd Escobar 9 9-8 David O'Meara David Allan 50/1
17 (4) nk Probe 5 9-3 Jennie Candlish Frederick Larson 11/1
18 (19) shd Northern Express 5 9-11 Michael Dods Paul Mulrennan 18/1
19 (11) ½ Gorak 4 9-8 Charlie Fellowes Mikkel Mortensen 50/1
20 (2) 2 Mondammej 6 9-2 Antony Brittain Cam Hardie 80/1
21 (18) nk Magical Spirit 7 9-3 Kevin Ryan Tom Eaves 50/1
22 (9) ½ Desert Cop 3 9-10 Andrew Balding P J McDonald 40/1
23 (7) 2¼ Paws For Thought 5 9-2 Donald McCain Robert Whearty 28/1
24 (15) ½ Summerghand 9 10-1 5ex David O'Meara Daniel Tudhope 10/1
NR 15 (20) Juan Les Pins 6 9-6 Michael Appleby NON RUNNER