Angus McNae's Racing UK Blog

Saturday 7th March 2015

My Shorties to Oppose at the Cheltenham Festival
Last year in this column we managed to make a profit by finding horses to oppose at the Cheltenham Festival and I am going to attempt to repeat the dose this year.
The problem is that the majority of the short-priced favourites from the Willie Mullins yard look like they will win so creativity is going to have to be the name of the game if we are going to lay our way to a profit this year.
Lay Sprinter Sacre in the win and place markets in the Betway Queen Mother Champion Chase.
Let's start with one of the most popular horses in training and indeed one of the best chasers we have ever seen in Sprinter Sacre. Surely he has to be opposed in the win and place markets on the exchanges for the Queen Mother Champion Chase.
To say that's he is not the horse he was is an understatement. The evidence of his comeback run at Ascot tells us that he is miles away from being the horse that devastated the Queen Mother field in 2013. Connections are adamant he will improve for that comeback effort, but he was heavily backed that day suggesting he was spot on, and quite simply, he succumbed tamely not just to good horses but to his physical infirmities.
We all know about his well-publicized heart condition. With that lurking in the background he is worthy of opposition, but he also bled at Ascot which may or may not be related. Either way as punters we have no guarantee that one or both of these problems will not resurface in the race. If you back him you need him to run to 165-plus to beat strong opposition in the form of Sire De Grugy, Dodging Bullets and others and you need this to happen without him being under maximum pressure or his heart or bleeding issues could re-occur.
Many punters will back him with their hearts set on victory but has he the heart for it now? My head says no and all things considered he has to be opposed. I would not be surprised if he finished out of the frame.
Lay Silviniaco Conti in the win market for the Betfred Cheltenham Gold Cup:
My second lay is Silviniaco Conti in the win market for the Gold Cup. This horse has been impressive this year especially when winning the King George at Kempton and collateral form students are rightly happy to make him favourite on the balance of his form. My problems with his Gold Cup chances are based on stamina and his Cheltenham record. The Gold Cup is a stayers' race; speed horses do win it as Kauto Star and Desert Orchid proved but they are an exception. It is by and large won by stout grinding stayers. Synchronised, Lord Windermere and Denman are but three recent examples.
Last year Silviniaco had every chance. In fact, he looked like winning for much of the home straight, but he could only finish fourth. To my eye he did not get home. I know he was found to have physical issues with ulcers after Aintree last year, but we, as punters, simply cannot say he lost the Gold Cup because of that issue. He is the classiest horse in the race, the fastest at three miles, but this race is won by proper stayers and I have my doubts about his credentials when it comes to a real grind.
He has run three times at Cheltenham. He finished third in the International Hurdle to Menorah, fell when going well in Bobs Worth's Gold Cup and then was fourth in the race last year. It is my guess he finds the track too demanding. A lot of his wins have been achieved on flat tracks where his speed has allowed him to dominate.
If he was a world-class cyclist in the Tour de France he may win the Maillot Jaune and prove himself best around over the course of the race but I suspect the King of the Mountains title would not go his way.
All in all at his price he should be laid in the win market with some confidence.
Lay Peace And Co in the win market for the JCB Triumph Hurdle:
My third lay is one that I do not sit quite so comfortably with but nonetheless at 9-4 we should surely be opposing Peace and Co in the Triumph Hurdle. Plenty of judges have fancy prices about this horse after his impressive Doncaster success and there is no way I would be laying him at 5-1 or bigger but at his current price I cannot have him.
Peace And Co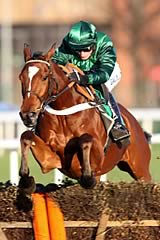 Aside from pure form analysis two things strike me as a worry for his backers. Firstly he is very keen in his races. Both at Doncaster and Cheltenham he took a very strong hold. On both occasions he got away with the likely consequences of such behaviour because he was far too good for the opposition. He may find that in a better race if he pulls as hard, the petrol gauge will be on empty late in the piece in the Triumph and that will leave him vulnerable.
Secondly when he won comfortably at Cheltenham - after being keen early on - he then began to put his head in the air in the closing stages suggesting he was coming to the end of his tether even if the jockey's body language did not intimate as much. This is a minor point as he has a big engine and is very talented, but, as a general rule, horses that pull hard and then start to get tired will put their heads up seeking oxygen. It is possible going up the much talked about Cheltenham hill, Peace And Co will be running on empty. I just wonder if he would be a much better Aintree horse than a Cheltenham one?
In terms of form analysis he has a very sound chance, but Hargam has similar credentials, Beltor has been impressive in his two wins and Petite Parisienne looks to be a smart prospect for Willie Mullins. In short there is plenty of strength in depth in this field so as a layer we have plenty running for us against Peace And Co.
I am not one to make much of what is said on preview panels or indeed what trainers say before Festivals but at a recent press day at Nicky Henderson's it was reported that the staff are divided about whether Peace And Co is better than Hargam or indeed Top Notch who is also in the race. It adds some fuel to my fire that 9/4 is a silly price.

Lay Kings Palace in the win market for the RSA Chase.
Finally, we should be laying Kings Palace in the RSA chase. This horse is an exuberant, bold galloper with a big engine, but with a number of things to prove which makes his price of 4/1 too short.
Firstly, I implore you to watch his latest win at Newbury where he won nicely but nearly fell three times. The mistakes he made came the three times he had to jump an open ditch. Now I am not saying the same will happen at the open ditches in the RSA chase but it has to be a worry for his backers.
Secondly, he has only faced small fields and has been able to dominate in his three chases so far. In those three runs he has beaten just eight horses. In the RSA he will face more rivals in one race than in all of those put together and consequently the rhythm of the race will be something completely different for him and is may just induce open ditch style mistakes like he made at Newbury.
Last year in the competitive Albert Bartlett he was beaten when taking a bad fall and it may just be that big-field competitive scenarios do not suit him.
The race itself looks very competitive so if you do lay him you have plenty running for you. I reckon the close-up comment for his race may read something like: Led at good pace, mistakes under pressure when pressed from four out, weakened two out! That of course is pure conjecture on my part but sometimes it is good to have a vision in your head of how a horse may run and how the race may pan out for them.
There you have it five lays for the Festival. None are made with an agenda attached, and I would be delighted as anybody else if Sprinter Sacre lit up Cheltenham on the second day and if Rock On Ruby completed a Champion Hurdle - World Hurdle double, but I believe there are reasons for writing that those things, amongst others, will not happen. I hope these thoughts, if nothing else, help you to crystallize your thoughts for the Festival.