RacingBetter News

Tuesday 26th July 2022
Can Romeo Magico Repeat his English Derby Success?
With the Irish Greyhound Derby just around the corner, discussion is well and truly heating up amongst fans and pundits of the sport as to who they believe will reign supreme in the premier greyhound racing competition come August and September.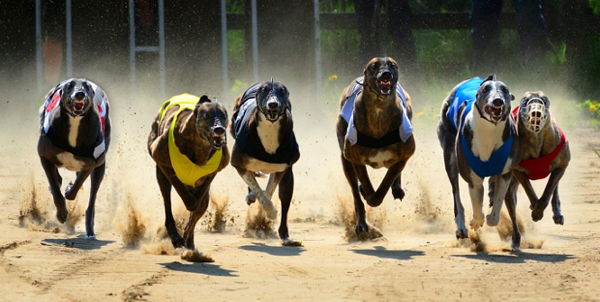 While there a number of in-form dogs that are proving they will be hard to beat, one entry's recent high-profile performances appear to be a cut above the rest. That particular greyhound is Romeo Magico. The Graham Holland-trained two-year-old has had an exceptional calendar year, most notably of which includes his impressive triumph in the English Derby at Towcester in June.
Despite putting forth definitive wins in the competition's quarter and semi-finals the two weekends prior, there were many industry experts who felt the final's talented field of runners would prevent Romeo Magico from emulating the success he had achieved in the earlier fixtures.
Write him off at your peril. His victory in the final was an unimpeachable run that saw him upset heavy hitter and pre-race greyhound betting favourite Kildare. Although he missed the break, Romeo Magico displayed an impressive turn of foot to reestablish himself in the race just shy of the first turn.
He then made arguably his most crucial move of the run, undercutting the leaders and asserting control via the inside rail.
After building on his lead over the remaining two turns, Romeo Magico held his nerve and stormed home down the straight to win in emphatic fashion. The win marks the first time in eight years that an English bred greyhound has taken out the Derby - and his owner Dave Firmager couldn't have been happier with the result.
"We could've never imagined Romeo (Magico) would win the competition when it started five weeks ago," he said.
"We were full of hope of course. But he grew into the competition so well – his times from Round Three onwards just got faster.
"He deserves the win, we're so pleased. It was particularly special to have all my family trackside too – it was a great occasion and a real thrill to breed a greyhound derby winner."
Firmager's point regarding Romeo Magico's progression throughout the meet is a pertinent one, as a trainer's ability to get their greyhound peaking at the right time is of the upmost importance – a hallmark his trainer Holland is often known for.
Holland has trained three winners in the Irish Greyhound Derby in the past six years, and he will be hoping this year's campaign with Romeo Magico will replicate the legacy-defining meets he experienced when training Rural Hawaii, Lenson Bocko and Newinn Taylor to glory at Shelbourne Park.
Romeo Magico's 2022 Irish Derby won't be without its fair share of stiff competition however, with a 192-strong list of entries that could very well foil Holland's chance at securing a coveted fourth title. Some notable Betdaq greyhound tips threats include Ballinabola Ed, Swords Rex and Coolavanny Calvn.
All three greyhounds are in exceptional form, with Ballinabola Ed and Swords Rex both winning four of their last five races, while Coolavanny Calvn has secured two wins and a second-place finish in three of his last four outings.
With an incredible crop of greyhounds and an abundance of intriguing storylines to match, this year's Irish Greyhound Derby has the potential to be remembered as one of the best in its storied history.