---
St Patrick's Derby

Charity Race
Cheltenham 17:15
1m 5f  
Thursday 12th March 2015
1st Knights Parade (James Collins)
2nd Hurricane Ridge (Hayley O'Connor)
3rd Monarch's Way (Jonathan Mills)
12 ran
The charity Flat race run during The Festival at Cheltenham this year generated just over £230,000 for the Injured Jockeys Fund .
The St Patrick's Derby, whose 12 amateur riders agreed to raise at least £5,000 each for the charity, took place over 13 furlongs, and was won by James Collins on Knight's Parade.

Ian Renton, Regional Director of Jockey Club Racecourses South West, commented: "The amount of money raised by this year's St Patrick's Derby was astounding and I am delighted that so much has been provided for such a worthwhile charity.

"I am sure that over £230,000 will go a long way to helping injured jockeys and I would like to thank all those selected to ride for their hard work regarding training and fundraising for the race. The whole team at Cheltenham is delighted we have been able to offer the platform of a race at The Festival to charity."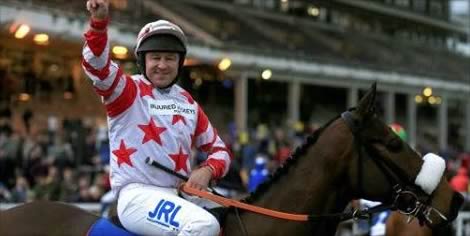 photo courtesy of West End Service Station
James Collins was Champion Conditional Jockey in Ireland in 1989 and his class showed in the saddle, bringing the Gordon Elliott-trained five-year-old through with a smooth run to collar Hayley Ó'Connor and Hurricane Ridge as the pair battled up the hill.
"That was great," said Collins. "He's a great horse. I need to thank Gordon Elliott and the Bodhran Syndicate for letting me ride him. It was easy!
"There was no better man to get him ready. It's fantastic and even sweeter as I was riding for my old boss Dessie Hughes and also Patsy Byrne, two great people at Cheltenham for years. We've been coming here for years as punters - it's brilliant. What a day! I'd like to thanks the Injured Jockeys Fund, my wife and my two children, Grace and Molly, and everybody else. It's great to raise money for such a good cause.
"I'd also like to thank Tony Martin and Eric McNamara who let me ride out to get fit. It was a fabulous day. Anyone who is thinking about riding in a charity race, they should definitely do it because there's no better feeling. I didn't want to tell my trainer beforehand but I've had bad 'flu for the past few days and I thought I better hide it! We're definitely going to be partying tonight!"
O'Connor, who works as a member of Ladbrokes' PR team, was over the moon with the performance of Hurricane Ridge.
"That was brilliant - I had so much fun!" she enthused.
"I didn't think I was going to win as I could hear your man come up behind me and when I saw him, I knew it was the favourite. My lad was getting tired and I was tired but he kept on well and he's got loads of courage."
Jono Mills, bloodstock manager of Darley and Godolphin, who rode Monarchs Way into third place for John Ferguson: "Awesome. Simply the best thing!"
New Zealand international event rider Andrew Nicholson, fourth on the Nigel Twiston-Davies-trained Golden Jubilee: "Much better than doing dressage! Very exciting. It's a shame the start was a little bit slow because I was in a good position the first time. But I think I would have had a job to catch the first two. I really enjoyed it."
Coral PR director Simon Clare, sixth on the Richard Fahey-trained Lexington Bay: "Great fun, the best thing ever. I fluffed the start - it was all a bit too mad, and they let them go and I was way at the back. But everything from that point on was fantastic and I'd love to do it again."
5.15pm The St Patrick's Derby
1) KNIGHT'S PARADE (IRE) (Bodhran Makers Syndicate) Gordon Elliott IRE 5-12-00 James Collins
2) HURRICANE RIDGE (IRE) (Lakeside Racing Syndicate) Jessica Harrington IRE 6-11-10 Hayley O'Connor
3) MONARCHS WAY (Bloomfields) John Ferguson 8-11-10 Jono Mills
4) GOLDEN JUBILEE (USA) (Mrs J Powell) Nigel Twiston-Davies 6-11-10 Andrew Nicholson
5) RAINY CITY (IRE) (Sir Alex Ferguson, Ged Mason, R Wood & P Doe) Paul Nicholls 5-11-10 Clifford Baker
6) LEXINGTON BAY (IRE) (Keith & Tony Denham) Richard Fahey 7-11-10 Simon Clare
7) BOMBADERO (IRE) (The Berrow Hill Partnership) Dr Richard Newland 8-11-10 Rod Trow
8) RED FOUR (Lady Cobham) George Baker 5-11-10 Thomas Williams
9) CHURCH FIELD (IRE) (J P McManus) Jonjo O'Neill 7-11-10 Olive Murphy
10) NO LIKEY (IRE) (The Country Side) Philip Hobbs 8-11-10 Emily Scott
11) ARLECCHINO (IRE) (R Anderson) Gary Moore 5-11-10 Lucy Charnock
12) JAVA ROSE (Mildmay Racing & Mark Smith) Charlie Longsdon 6-11-10 Phillip Clark
12 ran
Distances: 1¾, 10, ½, hd, 5, ½, 3¼, ½, 10, 3¾, 55

Dec 04 The dozen lucky riders selected to ride in the 2015 St Patrick's Derby charity race at The Festival were revealed today.
The charity Flat race, being run for the sixth time, is staged as the final contest on the third day of The Festival, St Patrick's Thursday, March 12, 2015.
There was tremendous interest in taking part, with the number of applications significantly up for the contest over a mile and five furlongs on the flat.
The charity event was open to any amateur rider who felt they could raise the required amount of at least £5,000 in sponsorship. Participants provide their own mount, who must have run at least twice under the recognised Rules of Racing.
The 12 riders selected for 2015 are a mix of well-known people in the racing world and others keen to take part - Clifford Baker, Lucy Charnock, Simon Clare, Phillip Clark, James Collins, Jonathan Mills, Olive Murphy, Andrew Nicholson, Hayley O'Connor, Emily Scott, Mike Symons and Thomas Williams. The two reserves are Rod Trow and Hannah Walker.
Cheltenham Racecourse's chosen charity for the 2015 renewal is the Injured Jockeys Fund.
Previous winners of the St Patrick's Derby have been racing TV presenter Lorna Fowler, Orna Madden, Brian Bunyan, Vicky Laing and Olympic silver medallist Tina Cook in 2012, just prior to her London glory.
Lisa Hancock, Chief Executive of the Injured Jockeys Fund and a member of the Cheltenham Racecourse committee, commented: "We are delighted with the line-up for the St Patrick's Derby and thrilled that so many people wanted to take part.
"This enthusiasm bodes well for the chosen riders' training and fundraising, and we wish them good luck with their preparations.
"It will be almost two years to the day that J T McNamara had his tragic accident at The Festival which makes being involved in this charity race particularly poignant.
"We are dependent on the ongoing goodwill and financial aid from the industry to fund the vital work that we do, and would like to thank everyone in advance for their support of the riders."
The Injured Jockeys Fund is a registered charity and celebrates its 50th anniversary this year.
Cancer Research UK benefitted from the first five St Patrick's Derbys, raising over £1.1 million.
The 2015 Festival is on Tuesday, March 10 (Champion Day); Wednesday, March 11 (Ladies Day); Thursday, March 12 (St Patrick's Thursday) & Friday, March 13 (Cheltenham Gold Cup Day).
12 riders for 2015 and the two reserves:
Name: Clifford Baker
Date Of Birth: 1961
From: Ditcheat, Somerset
Background: Head Lad to eight-time champion Jump trainer Paul Nicholls. Started working in racing as a 16-year-old at David Nicholson's Condicate stables. He had 17 rides and one winner as a Jump jockey. He became Nicholson's head lad in 1988 and joined Nicholls in 1996. He won the Employee of the Year Award at the eighth annual Godolphin Stud & Stable Staff Awards in 2012.
Name: Lucy Charnock
Date Of Birth: May 14, 1976
From: Arundel, Sussex
Background: Injured Jockeys Fund Almoner for the South East. Has ridden in point-to-points, securing a winner and some places in the 1990s. Worked for trainers John Dunlop and Diana Grissell. Continues to ride out.
Name: Simon Clare
Date Of Birth: June 9, 1970
From: Purley, Surrey
Background: PR & Broadcast Director for Coral bookmakers. Simon has no almost no riding experience but is currently embarking on an extensive tuition programme. He is not afraid of a challenge, having completed two London Marathons and the Three Peaks Challenge.
Name: Phillip Clark
Date Of Birth: August 7, 1972
From: Kibworth, Leicestershire
Background: Longstanding cameraman for Racing UK. He competed in a charity race at Doncaster in 2003 and has ridden out for trainers over the years. It has always been an ambition to ride in a race at Cheltenham.
Name: James Collins
Date Of Birth: August 7, 1968
From: Killarney, Co Kerry, Ireland
Background: Company Director. James rode as a Jump jockey between 1987 and 1996, and was champion conditional in Ireland in 1989. Worked for the late Dessie Hughes. Keeps fit and hunts.
Name: Jonathan Mills
Date Of Birth: May 15, 1975
From: Newmarket, Suffolk
Background: Bloodstock Manager at Darley in Newmarket. Jonathan rides out for trainer John Ferguson and has worked with horses all his life. Also had a spell as assistant trainer to Nicky Henderson, the most successful trainer of all time at The Festival.
Name: Olive Murphy
Date Of Birth: February 12, 1974
From: Patrickswell, Co Limerick, Ireland
Background: Senior cabin crew with Aer Lingus. Held an amateur licence in Ireland from 1993 to 1996 and has ridden since the age of five. Rides out regularly and is a lifelong friend of J T McNamara.
Name: Andrew Nicholson
Date Of Birth: August 1, 1961
From: Marlborough, Wiltshire
Background: New Zealand-born Andrew is one of the world's top equestrian riders, having represented his home country at six Olympics (taking silver as part in the team eventing competition in 1992 as well as bronze in 1996 and 2012) and seven world championships (taking a gold medal in the 1990 team eventing competition). Andrew made history in 2014 by winning Burghley International Horse Trials on Amesbury for the third consecutive year. He has been based in Britain since the 1980s and has a strong connection with local (to Cheltenham) trainer Nigel Twiston-Davies whom he schools horses for. His book, Focused - My Life in Pictures, has just been published.
Name: Hayley O'Connor
Date Of Birth: December 23, 1982
From: Mount Merrion, Co Dublin, Ireland
Background: PR Manager for Ladbrokes in Ireland. A lifelong show jumper, Hayley has competed in a charity race at Naas and run in the London Marathon. Been riding out for Jessica Harrington at weekends.
Name: Emily Scott
Date Of Birth: February 10, 1990
From: Lambourn, Berkshire
Background: Works as a racing assistant at Highclere Thoroughbred Racing. Has ridden all her life including Pony Club, eventing and riding out for leading trainers in Britain, Ireland, the USA and Australia. Emily has undertaken the Darley Flying Start programme and completed three half-marathons.
Name: Mike Symons
Date Of Birth: August 28, 1969
From: Melbourne, Australia
Background: Director and founding partner of Canterbury Partners, a corporate advisory firm, specialising in the provision of financial and strategic advice. Chairman of the Melbourne Racing Club and owner of star Australian Jump horses Some Are Bent and Black And Bent. Mike only began riding in 2014 and will prepare for the St Patrick's Derby at Willie Mullins' yard in Ireland.
Name: Thomas Williams
Date Of Birth: January 5, 1993
From: Warwick, Warwickshire
Background: Student at Loughborough University and pupil assistant to trainer Violent Jordan. He has been riding work for eight years. Taken part in charity races at Warwick and Newbury, plus twice rode in the Newmarket Town Plate.
Name: Rod Trow (1st Reserve)
Date Of Birth: June 22, 1962
From: Worcester, Worcestershire
Background: Assistant trainer since 2006 to Dr Richard Newland who sent out the 2014 Crabbie's Grand National winner Pineau De Re. Rod rode around 10 winners in point-to-points between 1979 and 1990. He had two spinal fusion operations between 2000 and 2002 but resumed riding out in 2009 and does so twice a week. He also cycles and speed walks.
Name: Hannah Walker (2nd Reserve)
Date Of Birth: November 17, 1974
From: West Cranmore, Somerset
Background: Senior Publicity Manager, Channel 4 Racing. Hannah has ridden all her life, including when her husband Nick was a trainer. She is no stranger to training hard, having competed in two London Marathons. It is a lifelong ambition to take part in the St Patrick's Derby.
The race conditions for St Patrick's Derby are as follows:
The British Horseracing Authority has granted exemptions from the effects of Rule A38 for this race as it is run outside the Rules of Racing. Therefore, it will not count for any purposes on the horse's career record.
For four-year-olds and upwards who have run at least twice under the recognised Rules of Racing.
Distance – one mile and five furlongs – to be started by flag. Weight – 11st 10lb.
All horses to be rated: 
0-125 for hurdlers/chasers
0-85 for Flat horses
Point-to-pointers can also run subject to individual clearance.
Please note: Any horse that does not fit the above criteria will be subject to a handicapping system at the discretion of Cheltenham Racecourse.
All horses to be vaccinated in accordance with Rule E18/19 of the Rules of Racing.
This is an invitation race but riders are responsible for finding their own horses. All riders must be passed fit to ride by the racecourse doctor on the day of the race and must agree to receive medical attention should it be deemed necessary. Riders must provide their own equipment including the mandatory back protector and skull cap as laid down under the recently revised Rules of Racing which require new standards for skull caps (see AJA website).
Please note:  Any rider offered a place may be subject to a mandatory assessment and fitness test hosted by either the British Racing School or the Northern Racing College before the end of 2014 at the discretion of Cheltenham Racecourse.
Each rider will be insured by Cheltenham Racecourse for Personal Accident & Public Liability from weighing out until weighing in.
Each rider is requested to join the Amateur Jockeys Association and to raise at least a minimum of £5,000 in sponsorship
Any rider offered a place and subsequently withdrawing their entry from this race at any time and for any reason will forfeit any sponsorship monies already lodged.
A maximum of 12 riders.