Betfred Cesarewitch

Heritage Handicap,
Newmarket 16:10
£250,000 added, 3yo plus,
2m 2f, Class 2  
Saturday 8th October 2016
1 Sweet Selection 7/1
2 First Mohican 50/1
3 Sea Of Heaven 8/1
4 The Cashel Man 9/1
5 Golden Spear 16/1
NR: Life Less Ordinary (IRE), Montaly, Renneti (FR)
33 ran Distances: 3l, 1¼l, ½l
TIME 3m 53.41s (slow by 8.41s)
Sweet Selection wins the Cesarewitch Handicap at Newmarket for trainer Hughie Morrison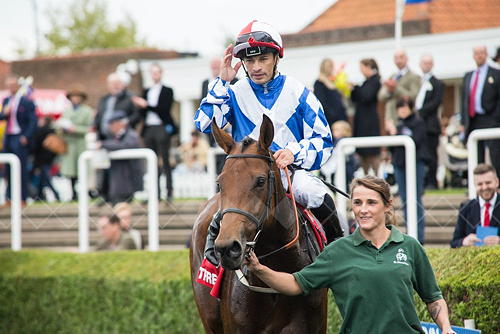 Sweet Selection was well-backed in the build-up to the race for obvious reasons, the handicapper having raised her up more than a stone up the ratings since the weights for this £250,000 handicap were published.
Being well treated on paper and proving it in a race are two very different things, but jockey Silvestre de Sousa booted her to the front past the frontrunning Starchitect well over a furlong out and the pair simply galloped clear.
First Mohican, hampered when Seismos stumbled and unseated his rider in the very early stages of the race, ran an astonishing race to finish second at 50/1, clear of Sea Of Heaven (8/1) and The Cashel Man (9/1), who kept on late down the centre of the track to finish in fourth.
Those who played with Sky Bet, who paid out on six places in the race, were also paid out on Golden Spear (16/1), fifth for Tony Martin, and Blue Rambler (16/1) in sixth.
"She showed a remarkable amount of speed to get into a good position from a wide drawn," said trainer Hughie Morrison.
"To coin a phrase, that was the plan, but she'll stay in training and we'll have fun with her next year.
"She just outstayed them. There are not many races beyond two miles. We will keep her in training and have some fun next year.
"The great thing about her is she is so relaxed and takes nothing out of herself. We do very little with her at home."
Morrison went on: "I'm a shocking judge. I spent the whole of last year thinking that she was a mile-and-a-quarter filly. This time last year she was rated 65 and had only won once!
"We put her over two miles and she hasn't looked back. At York, she probably wasn't 100 per cent and at Doncaster (Doncaster Cup) she was probably a bit out of her comfort zone and may not have been 100 per cent that day, but when she is good, she is very good.
"It is obscure that these big handicaps don't get some recognition for black type. A race like this, you need an incredibly sound, tough, healthy horse, which you don't necessarily need winning over five furlongs with a two-year-old in May.
"We will give her a holiday now. She spent last winter down with my bother at Fonthill Stud and she'll probably do the same.
"Probably we will put her in the Ascot Gold Cup, but I wouldn't be surprised if it wasn't the Queen Alexandra we went for."
Alan King just failed to scoop the race for the second year running after First Mohican finished three lengths adrift in second.
King's assistant Ollie Wardle said: "We're absolutely delighted with him and Hollie [Doyle, jockey] gets on great with him and they're a good partnership now.
"The plan was to sit handy but they broke slowly and Hollie used her head gradually creeping into it and he seemed to enjoy passing horses.
"The winner has done it well but I don't know what the plan is now and that will be up to the boss and Henry Ponsonby. I guess it will be more staying handicaps for him."
Local trainer Sir Mark Prescott saddled third-placed Sea Of Heaven (8/1), as well as the disappointing joint-favourite St Michel, who finished back in 17th.
He said: "I thought he ran a marvellous race and has improved all year. The ones on the rail got away but he quickened a step and stayed on well.
"I was disappointed that St Michel went out so quickly after travelling well but it's probably the end of a busy season. I have every doubt that the handicapper will now let him down the 13lb he put him up!"
In an incident-packed race, Sweet Selection was followed home by the riderless Seismos, but Leah Freya sustained a fractured leg and lost her life in the race, while The Minch was also reportedly receiving veterinary treatment at the Newmarket Equine Hospital to a tendon injury.
Betfred Cesarewitch (Heritage Handicap)
£250,000 added, 3yo plus, 2m 2f, Class 2
33 ran
Going: Good (Good to Firm in places)
Pos
Dr
D
Horse SP
Jockey Weight
Trainer
Age
1st
(23)
Sweet Selection 7/1
S De Sousa
8-8
H Morrison
4
2nd
(16)
3
First Mohican 50/1
Hollie Doyle (5)
9-5
A King
8
3rd
(1)
1&frac14
Sea Of Heaven (IRE) 8/1
Andrea Atzeni
9-1
Sir Mark Prescott
4
4th
(8)
&frac12
The Cashel Man (IRE) 9/1
W Buick
8-10
D M Simcock
4
5th
(15)
2
Golden Spear 16/1
Tom Marquand
8-7
A J Martin
5
6th
(4)
&frac34
Blue Rambler 16/1
George Downing (3)
9-6
Ian Williams
6
7th
(34)
&frac34
Yorkidding 40/1
A Kirby
9-5
M Johnston
4
8th
(27)
1
Star Rider 33/1
J Fortune
8-12
H Morrison
4
9th
(7)
1&frac14
Grumeti 25/1
Martin Lane
8-6
A King
8
10th
(25)
1
Moonmeister (IRE) 25/1
M Barzalona
8-7
A J Martin
5
11th
(36)
1&frac12
Always Resolute 50/1
J Quinn
8-1
B Ellison
5
12th
(28)
1
Shrewd 40/1
Donagh O'Connor (5)
9-9
I Jardine
6
13th
(31)
nk
Teak (IRE) 100/1
K T O'Neill
8-1
Ian Williams
9
14th
(22)
2&frac34
Gabrial's Star 100/1
P J Dobbs
8-9
R A Fahey
7
15th
(11)
s.h
Angel Gabrial (IRE) 33/1
F M Berry
9-7
R A Fahey
7
16th
(21)
&frac34
Nakeeta 20/1
P McDonald
9-6
I Jardine
5
17th
(32)
1&frac34
St Michel (ex4) 13/2j
L Morris
8-6
Sir Mark Prescott
3
18th
(12)
8
Mistiroc 50/1
M Harley
9-3
J J Quinn
5
19th
(10)
6
The Twisler 100/1
Charlie Bennett (5)
9-7
Jane Chapple-Hyam
4
20th
(33)
1&frac12
Fun Mac (GER) (ex4) 33/1
Jim Crowley
9-11
H Morrison
5
21st
(19)
1&frac12
Gabrial The Hero (USA) 66/1
P Hanagan
9-4
R A Fahey
7
22nd
(29)
1
Ennistown 20/1
R L Moore
9-7
D Pipe
6
23rd
(26)
&frac34
Starchitect (IRE) 13/2j
J P Spencer
8-10
D Pipe
5
24th
(17)
1&frac34
Mill Springs 25/1
L Dettori
9-6
J H M Gosden
4
25th
(14)
3&frac12
Wind Place And Sho 66/1
Ryan Tate
8-11
J M P Eustace
4
26th
(2)
2
Modem 40/1
C O'Donoghue
8-11
Mrs J Harrington
6
27th
(35)
4
Havana Beat (IRE) 25/1
R Winston
9-1
B R Millman
6
28th
(6)
&frac12
Oriental Fox (GER) 16/1
J Fanning
9-10
M Johnston
8
29th
(20)
12
My Reward 66/1
G Lee
9-2
T D Easterby
4
30th
(13)
10
Graasten (GER) 50/1
Adam Beschizza
8-5
G L Moore
4
PU
(9)
The Minch (IRE) 33/1
William Carson
8-13
J S Goldie
5
PU
(5)
Leah Freya (IRE) (ex4) 66/1
J F Egan
8-11
P Phelan
5
UR
(18)
Seismos (IRE) 50/1
M M Monaghan (3)
9-9
M Botti
8
NR
(24)
Montaly 20/1
Non Runner
9-1
A M Balding
5
NR
(3)
Life Less Ordinary (IRE) (ex4) 25/1
Non Runner
8-13
J A Osborne
4
NR
(30)
Renneti (FR) 25/1
Non Runner
8-12
W P Mullins
7