Cheltenham Festival Betting News

Tuesday 16th - Friday 19th March 2021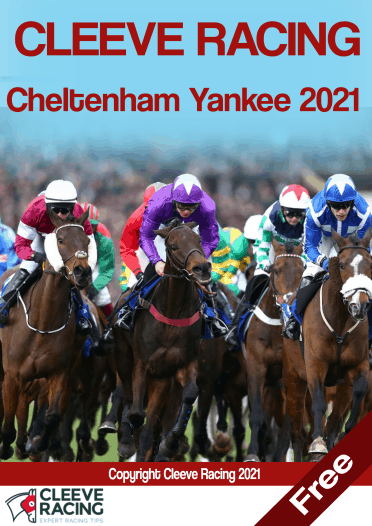 Cleeve Racing has just published their annual Cheltenham Yankee PDF...TOTALLY FREE OF CHARGE!
For the past few years, the free Yankee PDF from Cleeve has marked the start of my Cheltenham build-up...and this year in no exception.
I've just got my hands on a copy and it has really whetted my appetite for next month...HURRY UP MARCH 16TH!!!
As always, the PDF is very well put together and there is full reasoning, and deep analysis, behind all four selections.
https://www.cleeveracing.com/cleeve-racing-cheltenham-yankee/?ap_id=racingbetter
Their award-winning tipster panel has had another tilt at landing a jackpot pay-out for minimal outlay...after going close in recent years!
I'm already convinced that all four selections will win...and I'll be £80,000 better off by the end of the festival!
Obviously, that's a bit tongue in cheek (although, you've got to be in it to win it right?)...but even if all four selections place...the return is still a not too shabby £569.26!
Click here to download your free copy and add a bit of extra excitement to your 2021 Cheltenham Festival experience.
Every day closer we get to the tapes going up at Cheltenham, more money will be going on these selections...and the prices will shorten!
Act now to get the best possible value out of your FREE Cheltenham Yankee PDF!