Cheltenham Festival News

Tuesday 20th February 2018
Nicky Henderson talks stable stars ahead of The Festival 
Tuesday, February 20, 2018 - Nicky Henderson, the winning-most trainer in the history of The Festival, hosted a well-attended media visit organised by Cheltenham Racecourse today at his Seven Barrows Stables just to the north of Lambourn, Berkshire.
Altior (IRE)
Henderson is looking forward to Altior running again after the star chaser's successful comeback at Newbury earlier this month.
He said: "Altior is very, very good after Newbury. He hasn't done anything serious yet - he had two good strong canters today. He will work at the weekend at home - he has three bits of work to do between now and The Festival. I will school him a couple of times too - he likes his jumping and it will keep his eye in. Newbury was as a good as one could have possibly hoped for. The timing of the race was fantastic.
"He dropped his bridle and, while the ground was plenty soft enough for him, he was just very sensible the whole way. He raced sweetly and jumped beautifully - you just couldn't have written the script. From a weight point of view going into Newbury, he wasn't far off his usual weight so to his credit, he held onto his condition very well after his wind operation. If you take a fit horse and go from training to zero in one move, you are stopping on one date and that was it for a month and very often they will fall to pieces on you.
"When he is cantering, he finds everything so easy. He is just actually different class. I think that is what it was at Newbury and that gets you a long way. He looked great and we could crack straight on. Nico (de Boinville) gave him a great ride at Newbury and Sam (Twiston-Davies) gave us a great lead."
Born : May 6, 2010
Breeding : b g High Chaparral (IRE) - Monte Solaro (IRE) (Key Of Luck (USA))
Owner : Patricia Pugh
Form : 13/611111/111111-1
*8/11 favourite with Betway for the G1 Betway Queen Mother Champion Chase.
*Missed first half of this season after undergoing a wind operation in November.
*Impressed on his comeback when not hard pushed to beat Politilogue in the G2
Betfair Exchange Chase
at Newbury on February 10.
Race record: Starts: 15; Wins: 13; 2nd: -; 3rd: 1; Win & Place Prize Money: £394,211
Henderson, going after his seventh Unibet Champion Hurdle, said: "Buveur D'Air takes an awful lot of work. He hasn't really had a race yet - he didn't at Sandown the other day, but he worked this morning and I would like to go to Kempton Park to work him on Saturday during racing if possible to get him pysched up. Another whole lot of horses will go to Kempton on Monday or Tuesday to work on the All-Weather - last year we took 14.
"I would not mind taking Might Bite to Kempton on Saturday too - they won't work together though. As far as the Unibet Champion Hurdle is concerned, if all goes well, Buveur D'Air will run along with My Tent Or Yours, maybe Charlie Parcs, while the owners are very keen to run Verdana Blue if it is good ground, which she needs. Call Me Lord won't join them.
"Buveur D'Air is better than some of my Champion Hurdlers.
Binocular
was a very good horse, while
Punjabi
was probably not the greatest Champion Hurdler. See You Then won the Champion Hurdle three times.
"Buveur D'Air's greatest asset is his jumping - he is so quick it is frightening. He measures them so precisely - it is like hurdlers in athletics - absolute precision.
"He is just very good at jumping. I think he is improving - he is getting stronger. When he was third in the Supreme Hurdle to Altior at The Festival two years ago, we knew he was a good horse on the way-up. 
"My Tent Or Yours was runner-up in the Unibet Champion Hurdle for a third time 12 months ago and earned another tilt by winning the
International Hurdle
at Cheltenham in December. Tent is on old legs, bless him. He is spectacular. He worked this morning and he will probably go to Kempton next Tuesday, I would suggest.
"He has been second in three Champion Hurdles and had his day in the sunshine in the International. He is not going without reward and we have literally kept him for this. Charli Parcs ran a very good race in the Gerry Feilden. I genuinely think he just wants good ground and, as you know, I think he's a talented horse. Poor old Charli might have to lead Buveur on Saturday as you have got to find a pacemaker for him.
"These races at The Festival are going to be very competitive and our job is to concentrate on what we are doing. There is no point worrying about what Willie (Mullins) or Gordon (Elliott) is doing - we have got to keep our heads down for three more weeks and try and make sure we don't make any mistakes. Cross our fingers, we don't get any hiccups.
"If every single one of the 40-odd horses we are aiming at The Festival get there, it will be a miracle. Anything can happen."
Born: May 12, 2011
Breeding: b g Crillon (FR) - History (FR) (Alesso (USA))
Owner: J P McManus
Form: 1124/1131/11111-111
*4/9 favourite with Unibet for the defence of his G1 Unibet Champion Hurdle crown.
*Trying to become the first back-to-back winner of the two-mile championship contest since Hardy Eustace in 2004 and 2005.
*Unbeaten this season with three easy victories in the G1 Unibet Fighting Fifth Hurdle, G1 Unibet Christmas Hurdle and latterly the Listed Contenders' Hurdle at Sandown Park on February 3.
*Sole defeat in 10 hurdle races came when third behind stable companion Altior in the 2016 Sky Bet Supreme Novices' Hurdle at The Festival.
Race record: Starts: 16; Wins: 13; 2nd: 1; 3rd: 1; Win & Place Prize Money: £599,462
Might Bite (IRE)
The trainer reported: " Might Bite has two more bits of work to do. He worked this morning, he's in good form and his work has been excellent. His work is vastly superior to anything he did at home last year - he's a better horse this year at home anyway. 
"I'm not going to tell you he's a better horse on the racecourse, but he is definitely a better workhorse at home. He's been round Cheltenham in the RSA Chase last year and the fact that he was able to essentially come to a complete standstill in the RSA and then get going again, means he must stay pretty well as that is an extraordinary thing to do. He idled in the King George, but he definitely stayed and he did go very quick that day. He took
Bristol De Mai
on early on and he then galloped away from them - his pace is phenomenal.
"The big question in the King George was that we knew Bristol De Mai was going to make the running, it was just a question of when we went and asked Bristol De Mai a question. It was a little bit earlier than I expected Nico (de Boinville) to do it, but it didn't take long for Might Bite to say 'goodbye' to poor old Bristol De Mai. He is a more mature horse and he possibly looks more professional, but his work is certainly better. It is just of a higher standard.
"He has been three miles round Cheltenham and he has got up the hill. I see no reason why he won't get it (the distance of the Timico Cheltenham Gold Cup). It's not much further (two extra furlongs) and he is another year stronger. The better the ground, the better he will be. The New Course is the stiffer track. It is further to come to the paddock, I know that. I shall be further away than I was last year, so it is not me that he is after or the Guinness tent either!"
Born: June 20, 2009
Breeding: b g Scorpion (IRE) - Knotted Midge (IRE) (Presenting (GB))
Owner: The Knot Again Partnership
Form: 311/517/21F111-11
*General 3/1 favourite for the highlight of The Festival, the G1 Timico Cheltenham Gold Cup.
*Rallied to win last year's RSA Novices' Chase by a nose from stable companion Whisper at The Festival, having veered sharply right after the final fence when 15 lengths clear.
*Unbeaten in two starts this season, latterly defeating Double Shuffle by a length in the G1
32Red King George VI Chase
at Kempton Park on December 26.
*Due to have a racecourse gallop within the next fortnight.
Race record: Starts: 14; Wins: 9; 2nd: 1; 3rd: 1; Win & Place Prize Money: £348,207
Apple's Shakira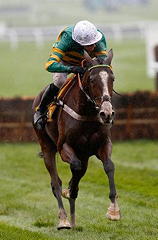 Apple's Shakira (FR)
Henderson commented: "I'm pretty sure that Apple's Shakira will run in the Triumph Hurdle, I can't promise that, but talking to Frank [Berry, owner J P McManus' racing manager], that looks likely. We Have A Dream will run in the race as well. 
"Apple's Shikira won one race in France which was hardly a Triumph Hurdle trial or anything and she is very lazy at home. I did however enquire into
Apple's Jade
(Apple's Shakira sister) and what she was like, and they told me that she doesn't do a tap at home so that's all I wanted to hear.
"She has learnt to race and Barry (Geraghty, jockey) has been at pains to ensure that she has learned how to race. He has held her up in behind horses and last time, he jumped the second last and didn't necessarily take a pull, but left her with some work to do and she came right away up the hill - the further she went, the better she was.
"I'd love to see her and We Have A Dream on good ground. With regards to We Have A Dream, we made a very late decision to go up to Musselburgh to run there last time out (won the Listed bet365 Scottish Triumph Hurdle Trial Juvenile Hurdle on February 4) as we were initially going to target the Victor Ludorum at Haydock, but I thought the ground could be bottomless and it was too close to Cheltenham so we went to Musselburgh to try and get good ground but of course we didn't get it in the end. I hadn't prepared him for a race on very soft ground and he blew up so that's why he looked a bit messy at three and two out, before he then picked up again and he won impressively in the end."
Born: April 30, 2014
Breeding: b f Saddler Maker (IRE) - Apple's For Ever (FR) (Nikos (GB))
Owner: J P McManus
Form: 1111
*Clear favourite for the G1 JCB Triumph Hurdle. No filly has won the race since French raider Snowdrop in 2000.
*Three from three at Cheltenham since joining Nicky Henderson, most recently taking the G2 JCB Triumph Hurdle Trial by eight lengths on Festival Trials Day. 
*Full-sister to multiple G1 scorer Apple's Jade (successful at The Festival last year in the
OLBG Mares' Hurdle
) and won her only start in France for trainer Emmanuel Clayeux in May.
Race record: Starts: 4; Wins: 4; 2nd: -; 3rd: -; Win & Place Prize Money: £56,436
Brain Power
Henderson added: "I'm very pleased with
Brain Power
. He's had a wind op and is in good form. What he had done and what Altior had done are two completely different things and that's something that people don't realise. They are not remotely the same operations, Brain Power had five days box rest, while Altior had a month - that's a big difference.
"Brain Power has been forgotten for the Arkle. Nothing went right for him at Sandown in the G1
Henry VIII Novices' Chase
as we didn't want to make the running with him so that was a bit of a disaster (unseated rider). We then went to Ascot for the G1
Clarence House Chase
and I wasn't saying we were going to beat
Un De Sceaux
, but what I wanted was a really good gallop. He was going great until he came out of Swinley Bottom and up the hill and he just choked. That was his palate and he's been cauterised and he's galloped well since. He's a very talented horse - seriously talented."
Nicky Henderson - trainer 
Synopsis -  Nicky Henderson is the most successful trainer of all time at The Festival, with 58 victories, which include a record six winners in each of the Unibet Champion Hurdle, JCB Triumph Hurdle & Racing Post Arkle Novices' Chase. He gained three winners at The Festival last year, and is four ahead of Ireland's champion Jump trainer Willie Mullins, who has had 54 wins at The Festival.
Unibet Champion Hurdle Challenge Trophy (6): 1985, 1986 & 1987 See You Then; 2009 Punjabi, 2010 Binocular; 2017 Buveur D'Air
JCB Triumph Hurdle (6): 1985 First Bout; 1987 Alone Success; 1999 Katarino; 2009 Zaynar; 2010 Soldatino; 2015 Peace And Co
Racing Post Arkle Challenge Trophy Novices' Chase (6): 1991 Remittance Man; 1993 Travado; 2000 Tiutchev; 2012 Sprinter Sacre; 2013 Simonsig; 2017 Altior 
Betway Queen Mother Champion Chase (4): 1992 Remittance Man; 2012 Finian's Rainbow; 2013 & 2016 Sprinter Sacre 
Brown Advisory & Merriebelle Stable Plate Handicap Chase (4): 1985 & 1986 The Tsarevich; 2005 Liberthine; 2006 Non So
Cathcart Chase (4): 1990 Brown Windsor; 1994 Raymylette; 1999 & 2000 Stormyfairweather
Sky Bet Supreme Novices' Hurdle (3): 1986 River Ceiriog; 1992 Flown; 2016 Altior 
RSA Insurance Novices' Chase (3): 2005 Trabolgan; 2012 Bobs Worth; 2017 Might Bite 
Fulke Walwyn Kim Muir Handicap Chase (3): 1990 Master Bob; 2002 The Bushkeeper; 2005 Juveigneur               
Timico Cheltenham Gold Cup (2): 2011 Long Run; 2013 Bobs Worth 
Ryanair Chase (2): 2006 Fondmort; 2012 Riverside Theatre 
Sun Bets Stayers' Hurdle (2): 1989 Rustle; 2000 Bacchanal
Johnny Henderson Grand Annual Handicap Chase (2): 2006 Greenhope; 2012 Bellvano
Randox Health County Handicap Hurdle (2): 1993 Thumbs Up; 1997 Barna Boy 
Coral Cup Handicap Hurdle (2): 2010 Spirit River; 2014 Whisper
Ultima Handicap Chase (1): 2000 Marlborough 
Martin Pipe Conditional Jockeys Handicap Hurdle (1): 2009 Andytown 
Albert Bartlett Novices' Hurdle (1): 2011 Bobs Worth 
Ballymore Novices' Hurdle (1): 2012 Simonsig 
Boodles Fred Winter Juvenile Handicap Hurdle (1): 2012 Une Artiste 
Close Brothers Novices' Handicap Chase (1): 2013 Rajdhani Express 
Pertemps Network Final Handicap Chase (1): 2015 Call The Cops   
Nicky Henderson has been The Irish Independent Leading Trainer at The Festival (9 times)
1985 (3 wins)
1986 (3 wins)
1987 (2 winners - jointly with Toby Balding & Fred Winter)
1990 (2 winners)
1992 (2 winners - jointly with David Nicholson & Simon Sherwood)
1993 (2 winners - jointly with Martin Pipe & Nigel Twiston-Davies)
2000 (4 winners)
2010 (3 winners)
2012 (7 winners)
First winner as a trainer  - Dukery at Uttoxeter, October 14, 1978
Born  - Lambeth, London, on December 10, 1950
Background  - The son of financier and amateur jockey John Henderson MBE, who founded Racecourse Holdings Trust, the forerunner for Jockey Club Racecourses and the owner of Cheltenham Racecourse, he was educated at Eton and the Royal Agricultural College.
He worked for stockbrokers Cazenove in London and Australia, where he gained experience riding work at Randwick, before devoting himself full-time to racing.
Henderson first made his name in Britain as an amateur rider, finishing runner-up three times in the non-professional championship. 
His main wins as a jockey came on Happy Warrior in the 1977 Fox Hunters Chase at Aintree and on Acquaint in Sandown's Imperial Cup in the same year. Henderson recorded his 78th and final win on Rolls Rambler in the Horse & Hound Cup at Stratford in June, 1978.
He became assistant trainer to Fred Winter in 1974 and received his own training licence in July, 1978, taking over from Roger Charlton at Windsor House Stables in Lambourn, Berkshire. 
He moved to Seven Barrows, to the north of the village, in 1992, after swapping yards with Peter Walwyn.
One of Britain's leading Jump trainers, Henderson has sent out well over 2,500 winners and, with 58 successes, is the all-time leading trainer at the Cheltenham Festival. 
His unprecedented tally includes a record six Unibet Champion Hurdles, two Timico Cheltenham Gold Cups, four Betway Queen Mother Champion Chases, two Sun Bets Stayers' Hurdles, and two Ryanair Chases.
Henderson has won the Jump trainers' championship four times - 1985/86, 1986/87, 2012/2013, 2016/2017 - and is on course to retain the title this season.
He was made a Lieutenant of the Royal Victorian Order in the 2018 New Year's Honours List, reflecting his role as principal Jump trainer to the late Queen Mother and Her Majesty The Queen.
Nicky Henderson - entries at The Festival so far
Champion Day - Tuesday, March 13
1.30pm Sky Bet Supreme Novices' Hurdle (Grade 1)
Apple's Shakira, Claimantakinforgan, Countister, Dame De Compagnie
2.10pm Racing Post Arkle Challenge Trophy Novices' Chase (Grade 1)
Brain Power, River Wylde
3.30pm Unibet Champion Hurdle Challenge Trophy (Grade 1)
Buveur D'Air, Call Me Lord, Charli Parcs, My Tent Or Yours, Verdana Blue
4.10pm OLBG Mares' Hurdle (Grade 1)
Kayf Grace, Verdana Blue
4.50pm National Hunt Challenge Cup Amateur Riders' Novices' Chase (Grade 2)
Baden, Reigning Supreme
Ladies Day - Wednesday, March 14
1.30pm Ballymore Novices' Hurdle (Grade 1)
Champ, Dame De Compagnie, Mr Whipped, Ok Corral, On The Blind Side
2.10pm RSA Insurance Novices' Chase (Grade 1)
Terrefort
3.30pm Betway Queen Mother Champion Chase (Grade 1)
Altior, Top Notch
St Patrick's Thursday - March 15
1.30pm JLT Novices' Chase (Grade 1)
Divine Spear, Terrefort
2.50pm Ryanair Chase (Grade 1)
Gold Present, L'Ami Serge, Top Notch
3.30pm Sun Bets Stayers' Hurdle (Grade 1)
Thomas Campbell, L'Ami Serge
Gold Cup Day - Friday, March 16
1.30pm JCB Triumph Hurdle (Grade 1)
Apple's Shakira, Style De Garde, We Have A Dream
2.50pm Albert Bartlett Novices' Hurdle (Grade 1)
Chef Des Obeaux, Mr Whipped, Santini, Terrefort
3.30pm Cheltenham Timico Cheltenham Gold Cup (Grade 1)
Might Bite
Leading trainers and owners at The Festival
The Irish Independent Leading Trainer Award at The Festival went to Ireland's Gordon Elliott for the first time in 2017. Elliott sent out six winners across the four days to edge out narrowly Ireland's champion Jump trainer, Willie Mullins, who also had six successes but one less runner-up.
Mullins is the second most successful trainer of all time at The Festival, with 54 victories, four behind Lambourn-based Nicky Henderson, who enjoyed three wins in 2017. Four trainers gained their first success at The Festival 2017 - Stuart Edmunds, Alan Fleming, Ben Pauling and Nick Williams.
An award for the leading owner at The Festival was instigated in 2017. This award, sponsored by NetJets in 2018, went to Michael O'Leary's Gigginstown House Stud with four winners. J P McManus was next with three successes and he broke the 50-winner mark at The Festival. He is the winning-most owner ever at The Festival with 52 victories.
The most successful trainers of all time at The Festival
| | | | |
| --- | --- | --- | --- |
| Wins | Trainer | Wins | Trainer |
| 58 | Nicky Henderson (1985-present) | 17 | David Nicholson (1986-1999) |
| 54 | Willie Mullins IRE (1995-present) | 17 | Nigel Twiston-Davies (1992-present) |
| 41 | Paul Nicholls (1999-present) | 15 | Harry Brown (1920-1938) |
| 40 | Fulke Walwyn (1946-86) | 15 | Tom Coulthwaite (1911-1936) |
| 34 | Martin Pipe (1981-2006) | 15 | Alan King (2004-present) |
| 28 | Fred Winter (1970-1988) | 15 | David Pipe (2007-present) |
| 27 | Fred Rimell (1948-1981) | 15 | Tom Rimell (1927-1949) |
| 26 | Tom Dreaper IRE (1946-1971) | 14 | Gordon Elliott IRE (2011-present) |
| 26 | Jonjo O'Neill (1991-present) | 14 | Dan Moore IRE (1953-1979) |
| 23 | Vincent O'Brien IRE (1948-1959) | 13 | Jack Anthony (1929-1950) |
| 23 | Bob Turnell (1956-1980) | 13 | Peter Easterby (1967-1986) |
| 22 | Ivor Anthony (1930-1952) | 13 | Tim Forster (1963-1998) |
| 19 | George Beeby (1930-1959) | 12 | John Edwards (1969-1994) |
| 19 | Philip Hobbs (1990-present) | 12 | Tom Jones (1965-1978) |
| 18 | Edward O'Grady IRE (1974-present) |   |   |
|   |   |   |   |
Current trainers in bold
(NB trainers of some of the earliest winners were not recorded)


The most successful current trainers at The Festival
| | | | |
| --- | --- | --- | --- |
| Wins | Trainer | Wins | Trainer |
| 58 | Nicky Henderson | 9 | David Elsworth |
| 54 | Willie Mullins IRE | 8 | Enda Bolger IRE  |
| 41 | Paul Nicholls | 8 | Arthur Moore IRE |
| 26 | Jonjo O'Neill | 7 | Mouse Morris IRE  |
| 19 | Philip Hobbs | 6 | Tony Martin IRE  |
| 18 | Edward O'Grady IRE | 6  | Donald McCain  |
| 17 | Nigel Twiston-Davies | 6 | Aidan O'Brien IRE |
| 15 | Alan King | 6 | Oliver Sherwood  |
| 15 | David Pipe | 6 | Venetia Williams |
| 14 | Gordon Elliott IRE  | 5 | Noel Meade IRE |
| 11 | Jessica Harrington IRE | 5 | Colin Tizzard |
| 10 | Ferdy Murphy FR |   |   |