Racing News

Wednesday 27th August 2014
Glenfarclas Renews Sponsorship of the Three Cross Country Contests at Cheltenham
Cheltenham Racecourse has announced that Glenfarclas has renewed its association with Cross Country racing at the Home of Jump Racing for a further three years.

Glenfarclas, the family-owned producer of award-winning Single Highland Malt Scotch Whisky, first backed the three Cross Country Steeplechases at Cheltenham in the 2008/2009 season. The trio of contests take place at The Open, The International and The Festival. During the 2014/15 season, they will happen on November 14 (Friday), December 12 (Friday) and March 11 (Wednesday).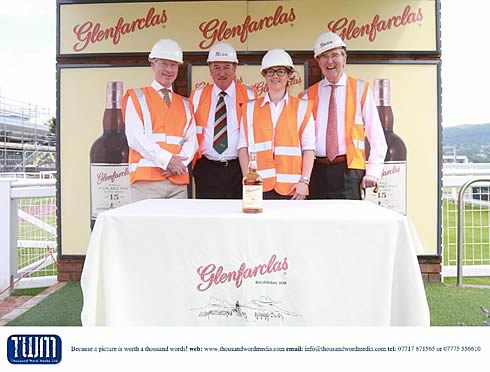 Ian Renton, Regional MD The Jockey Club, John Grant, Chairman of Glenfarclas, Carey Buckler, Regional Sponsorship Manager The Jockey Club and Charles Hamer, Director of Racing for Pol Roger Portfolio (the UK distributor for Glenfarclas), celebrate the signing of the new three-year race sponsorship. Cheltenham Racecourse is currently a building site as the new £45-millon grandstand development progresses.
In addition, the Glenfarclas Cross Country Handicap Chase at The Festival will see its prize fund increased to £60,000 (up from £50,000 last season).

The three Glenfarclas Cross Country Steeplechases are unique races, not duplicated anywhere else in the UK with a twisting and turning course of banks, ditches and rails. All three races take place over three miles and seven furlongs, with the contest at The Open a conditions event and the other two races run as handicaps. Cross Country racing was introduced to Cheltenham in 1995 with the advent of Sunday racing.

Balthazar King, trained by Philip Hobbs, has been one of the stars of Cross County racing during Glenfarclas' sponsorship, taking the race at The Festival in both 2012 and 2014 as well as the contest at The Open in 2013 while Garde Champetre won five times over the course between 2008 and 2011.

John Grant, Chairman of Glenfarclas, said: "We are delighted to renew our contract to sponsor the three Cross Country races at Cheltenham.

"We have been sponsoring these races now for six years and the results have been very gratifying.

"Hopefully, by the end of the nine years, we will have finally persuaded people to refer to 'The Glenfarclas' as they do with other longstanding race sponsorships."

Carey Buckler, Regional Sponsorship Manager for the South West region of Jockey Club Racecourses, added: "Over recent years, the Cross Country races at Cheltenham have seen many fabulous moments, with the likes of Garde Champetre and more recently Balthazar King, springing to mind.

"I am therefore delighted that Glenfarclas has extended its sponsorship of the three races each season for a further three years and I look forward to working with them on making the partnership successful and rewarding."