Horse Race Betting in UK,
Ireland and South Africa

Monday 9th March 2015
There are very few sports in the world in which betting plays such an important role as horse racing. In fact, it is hard to imagine any kind of horse race being held without some kind of gambling element being attached - such is the intrinsic link between the two activities. It is for this reason that horse racing is seen by many bettors as the purest form of sports betting.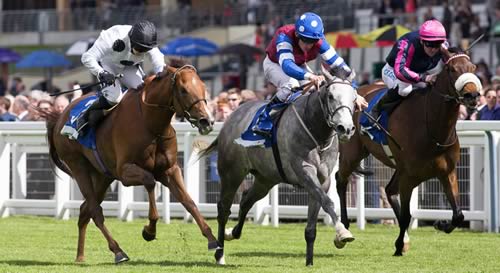 This mutual dependence has led to the betting industry being the major funding source of modern horse racing. Through sponsorship and media rights, the major betting companies inject huge sums of money into the sport each year in exchange for massive exposure to their target market.
Some of the world's biggest horse races attract a global audience and can lure even the most reluctant punters into the betting market. If a person only ever bets once a year, the chances are it will be on a horse race, and most non-gamblers will be familiar with the names of legendary horses such as Red Rum and Desert Orchid.
Betting is so important to horse racing that many systems have been established to make life as easy as possible for race track punters. On-course betting facilities have long been the norm and form guides have been available since well before the modern trend for compiling statistics in other sports began.
It is in the area of data and statistics that horse racing punters have helped to shape the way in which we gamble on all sports today. The growth of the internet has made it even easier for bettors of all levels to research trends and analyse data across a range of sports. More recently, the introduction of betting exchanges have given punters even more power to exploit the betting markets by giving them the option to lay as well as back bets.
World Bet Exchange (WBX) is one such exchange and offers daily betting opportunities in many horse racing markets including the UK, Ireland and South Africa. With that in mind, let's take a look at some famous horse races from those countries.
United Kingdom
Horse racing in the United Kingdom has a long history that dates back to Roman times. Today, the nation hosts many of the world's most popular horse races.
1. The Cheltenham Festival: In the second week of March each year, more than 250,000 race fans gather at Prestbury Park in the English county of Gloucestershire for this popular four-day festival. Only the Grand National at Aintree offers more total prize money than this National Hunt gathering and over 250 million pounds is gambled by eager punters each year. The festival consists of 11 Grade 1 and four Championship races, including the world famous Cheltenham Gold Cup. Few jump races can match the prestige of the 3 mile 2½ furlong (5,331 m) Gold Cup steeplechase - a race that has catapulted many horses including Arkle, Kauto Star and Best Mate to sporting stardom.
2. The Grand National: The Grand National has been run at the Aintree race track in Liverpool since 1839 and has subsequently grown into one of the most famous horse races in the world. The race is the showpiece of a three-day festival that takes place every April and draws in crowds from all corners of the globe. During this gruelling 4 mile 3½ furlong (7,141 m) steeplechase, competitors must attempt to clear 30 fences and complete two circuits of the Aintree track. A total prize fund in excess of £1 million makes the event one of the richest in Europe. The race is so popular that even some of the fences such as the Chair and Becher's Brook have become famous. If you ask most people to name a famous Grand National horse, they will probably say 'Red Rum' without any hesitation. Between 1973 and 1976, the Ginger McCain-trained horse won the race three times and finished second twice making him the most successful Grand National runner in history.
3. The Epsom Derby: Britain's richest horse race takes place over a distance of 1 mile, 4 furlongs and 10 yards (2,423 metres) at Epsom race course in June each year. This Group 1 flat horse race is open to three-year-old thoroughbred colts and fillies and is the most famous of the five classics. It also forms part of the famous - but rarely attempted - Triple Crown, along with the 2,000 Guineas and the St Leger. The fame of the 'Derby' has prompted many other races around the world to adopt the same title including the Irish Derby and the Kentucky Derby in the USA. The most successful jockey in Derby history was Englishman Lester Piggott who rode a total of nine winners between 1954 and 1983. The widest ever winning margin was the 10 lengths recorded by Shergar in 1981.
Ireland
Irish trainers are regarded as some of the best in the world and their horses can be seen racing at many of the world's top events. Ireland also has a significant horse racing program of its own featuring some top races. Here are just a few examples.
1. Irish Champion Stakes: The Irish Champion Stakes was first held in 1976 in memory of former racehorse owner Joe McGrath. The Group 1 flat race for horses aged three years and over is run over a distance of 1 mile and 2 furlongs (2,012 metres) at Leopardstown race course in September. The race is second only to the Irish Derby in prize money and always attracts a strong field. The only horse to win the race twice was Dylan Thomas who completed back-to-back wins in 2006 and 2007. Jockey Michael Kinane holds the record for the most wins with a total of seven recorded between 1989 and 2009.
2. Irish Derby: Just three weeks after the Epsom Derby in England, Ireland hosts its own Derby at the Curragh racecourse in County Kildare. This 1 mile and 4 furlong (2,414 metre) Group 1 flat race is open to three-year-old thoroughbred colts and fillies. The race has been run in its current form since 1866 although the distance was reduced in 1872.The race often attracts winners of the Epsom Derby and a total of 17 horses have completed the double including last year's winner Australia.
3. The Irish Grand National: Ireland has long history of jump racing and is the birthplace of point-to-pointing. One of the biggest jump races is this 3 mile 5 furlong National Hunt chase that is open to horses aged five years and over. It is run at Fairyhouse on Easter Monday and is Ireland's equivalent of the Grand National held in Aintree. The race was first held in 1870 but it wasn't until Ascetic Silver won in 1906 that the first UK and Irish Grand National double was recorded. Brown lad was the most successful horse in the event's history with a total of three wins during the 1970's.
South Africa:
Horse racing is extremely popular in South Africa and features heavily on the countries sporting calendar. As with all racing nations, the country plays host to several highly prestigious race meetings each year. It is worth noting that WBX is the only betting exchange to offer South African exchange betting to South African customers.
1. J&B Met: Every January, race goers in Cape Town meet up at the Kenilworth Racecourse to rub shoulders with celebrities and watch some top class racing. A colourful mixture of fashion and sport, this event has become one of the most important on both the sporting and social calendars of Cape Town residents. A total of 50,000 or more spectators turn up each year to enjoy a weekend of wild partying and explosive horse racing. The feature race is held over a distance of 1 mile 1 furlong and 208 yards (2,000 metre) and offers one of the richest prize funds in South African racing. Pocket Power became the only horse to win the race three times with consecutive triumphs between 2007 and 2009.
2. Durban July Handicap: The second and arguably biggest of South Africa's big three races, the Durban July Handicap is a thoroughbred race for horses of all ages. It is held each July at Greyville Racecourse and offers a prize fund of more than £150,000. Since it's inauguration in 1897, a total of five horses have managed to win the race twice - a feat was last achieved by El Picha in 1999 and 2000.
3. Summer Cup: The last of South Africa's trio of racing showpieces takes place each November at Turffontein Racecourse in Johannesburg. This 11-race Summer Cup meeting includes a Grade 1 thoroughbred feature race with a £110,000 prize. This annual day of racing has been held since 1887 - although the modern format was established in 1999. Only two horses have won the event three times: Java in 1956, 1957 and 1958 and Elevation in 1972. 1973 and 1974.
To find the best odds on all these horse racing markets and more, try using a betting exchange. World Bet Exchange offers low commissions, no premium charges and better odds than standard bookmakers. You also have to option to back and lay bets and bet in-play.
Once you get used to betting on an exchange, you will find yourself spending less and less time on traditional bookmaker websites. You will soon learn how to back and lay bets at optimum times to lock in profits.
WBX has a great loyalty scheme and will never punish you for being successful, unlike many other bookmakers and betting exchange companies. Sign up and get up to £25/€25/$35 in free bets for the first month.