JLT Reve De Sivola Long Walk Hurdle

Grade 1, Ascot 14:25
£100,000 added,
4yo plus,
3m 1f 110y, Class 1
Saturday 23rd December 2017

1 Sam Spinner 9-2
2 L'Ami Serge 5-1
3 Unowhatimeanharry 6-4F
8 ran NR: Agrapart Distances: 2¾l, 8l, nk
Time: 6m 2.90s (slow by 16.90s)
Sam Spinner wins the JLT Reve De Sivola Long Walk Hurdle
Sam Spinner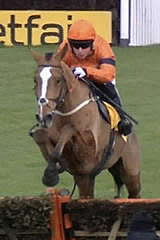 Jedd O'Keeffe thinks he has "quite a nice horse" on his hands after Sam Spinner made all the running to provide the North Yorkshire trainer with a first Grade One winner.
Successful in a handicap at Haydock last time out, the five-year-old was stepping up markedly in class and duly fended off all-comers as a well-backed 9-2 chance in the hands of Joe Colliver.
Big leaps at the last two flights meant Colliver was able to keep the revs up, and L'Ami Serge, the last to challenge having travelled up strongly on the bridle, could never quite get on terms. Unowhatimeanharry, the 6-4 favourite, was third.
In 2011 O'Keeffe was diagnosed with cancer in his throat and neck and almost gave up training.
"I can't quite believe it and needless to say I'm absolutely thrilled. I'm thrilled for the jockey, thrilled for Paul and Karen (Chapman, owners) and thrilled for us. It is really special," said O'Keeffe.
"He has shot up the rankings and we had to take a little bit of a leap of faith coming here, but it has paid off. We've got quite a nice horse, I think.
"I didn't think his jumping was as slick as I have seen it. I feel we can tidy that up a little bit and we could get a pound or two improvement.
"When I saw L'Ami Serge coming up I was gravely worried. As we watched the race gradually we could see Lil Rockerfeller weaken a little bit and then Unowhatimeanharry coming under pressure. I then started to think 'this might happen', then L'Ami Serge came and I thought 'it's not going to happen', but it did.
"It's a landmark victory for us. People have said to me what is my ambition in racing and I've said I'd love to train a domestic Group One winner on the Flat, but this feels pretty good, a Grade One winner jumping.
"He is the best jumper I've had by a long way and overall I would have to say he is the best I've had. We are lucky, last year we had a couple of nice Flat horses but he probably is the best overall."
Ladbrokes cut Sam Spinner to 4-1 from 25-1 for the Stayers' Hurdle at the Cheltenham Festival in March and O'Keeffe raised the possibility of that being his next race.
He said: "We'll have a discussion with the owners. He's a very easy horse to keep fit and fresh, so I'd personally be quite happy if we made Cheltenham our target now.
"There aren't too many options now and possibly Cheltenham will be the next target."
The victory completed a remarkable career turnaround for Colliver, who was jailed for 10 months last year after lying about the circumstances of a car crash over the Christmas period two years ago, being released early after serving almost three months of the sentence.
Colliver said: "The last time I rode him it was the biggest winner of my career and it just keeps getting better on this lad.
"It didn't feel like we were going that fast until we started to turn in (to the home straight). He just loves being out in front and jumps so good.
"I felt like he was idling a little bit on his own and every time something has jumped up to him he's gone on. I was hopeful he was holding a bit back." 
Nicky Henderson said of L'Ami Serge: "He has done everything right. He has got there and just couldn't get past him, it was as simple as that. He likes good ground, but this isn't bad ground. He has run a great race.
"He does finish second a lot. You think you have got there and will get past, but that is a tough horse, fair credit to them.
"I don't know where we will go next."
Harry Fry said of Unowhatimeanharry: "He was not good enough. He was beaten by younger legs. There were no excuses. The winner is a five-year-old going the right way and he couldn't live with him.
"We are obviously not getting any younger and we are naturally disappointed. There are no excuses and he was beaten by a better horse on the day."

JLT Long Walk Hurdle
£100,000 added, 4yo plus, 3m 97y, Class 1
8 ran
Going: Good to Soft, Soft in places
Pos
D
Horse SP
Jockey Weight
Trainer
Age
1st
Sam Spinner 9/2
Joe Colliver
11-7
Jedd O'Keeffe
5
2nd
2&frac34
L'Ami Serge (IRE) 5/1
D A Jacob
11-7
N J Henderson
7
3rd
8
Unowhatimeanharry 6/4f
B J Geraghty
11-7
H Fry
9
4th
nk
The Worlds End (IRE) 10/1
A P Heskin
11-7
T R George
6
5th
2&frac14
Thomas Campbell 15/2
Nico de Boinville
11-7
N J Henderson
5
6th
10
Lil Rockerfeller (USA) 7/1
T E Whelan
11-7
N B King
6
7th
9
Ubak (FR) 66/1
Joshua Moore
11-7
G L Moore
9
8th
9
Taquin Du Seuil (FR) 20/1
Aidan Coleman
11-7
Jonjo O'Neill
10
NR
Agrapart (FR)
Lizzie Kelly
11-7
Nick Williams
6

LONG WALK HURDLE ROLL OF HONOUR (1965-2012)
Race run as a handicap prior to 1971
(run at Newbury in 2009, Chepstow in 2005 and Windsor in 2004)
Year Winner Age/Wt Owner Trainer Jockey SP
2016 UNOWHATIMEANHARRY
2015 THISTLECRACK
2014 REVE DE SIVOLA
2013 REVE DE SIVOLA
2012 REVE DE SIVOLA
2011 BIG BUCK'S 8-11-07 The Stewart Family Paul Nicholls AP McCoy 3/10F
2010 BIG BUCK'S 7-11-07 The Stewart Family Paul Nicholls AP McCoy 2/13F
2009 BIG BUCK'S 6-11-07 The Stewart Family Paul Nicholls Ruby Walsh 1/2F
2008 PUNCHESTOWNS 5-11-07 Judy Wilson Nicky Henderson Barry Geraghty 3/1F
2007 LOUGH DERG 7-11-07 W Frewen David Pipe Tom Scudamore 14/1
2006 MIGHTY MAN 6-11-07 Joss Hanbury Henry Daly Richard Johnson 11/8F
2005 MY WAY DE SOLZEN 5-11-07 B Windfield, A Longman, J Wright, C Fenton; Alan King Robert Thornton 12/1
2004 BARACOUDA 9-11-07 J P McManus Francois Doumen FR Tony McCoy 8/13F
2003 BARACOUDA 8-11-07 J P McManus Francois Doumen FR Thierry Doumen 2/7F
2002 DEANO'S BEENO 10-11-07 Axom Martin Pipe Tony McCoy 14/1
2001 BARACOUDA 6-11-07 J P McManus Francois Doumen FR Thierry Doumen 2/5F
2000 BARACOUDA 5-11-07 Roger Barby Francois Doumen FR Thierry Doumen 11/4
1999 ANZUM 8-11-07 Old Foresters P'ship Alan King Richard Johnson 4/1
1998 PRINCEFUL 7-11-07 Robert Hitchins Jenny Pitman Richard Dunwoody 11/4F
1997 PADDY'S RETURN 5-11-07 Paddy O'Donnell Ferdy Murphy Norman Williamson 8/1
1996 OCEAN HAWK 4-11-07 Matt Archer/Jean Broadhurst Nigel Twiston-Davies Carl Llewellyn 7/1
1995 SILVER WEDGE 4-11-07 Shirley & Bill Robins Oliver Sherwood Jamie Osborne 7/1
1994 HEBRIDEAN 7-11-07 Peter Deal David Nicholson Adrian Maguire 100/30
1993 SWEET DUKE 6-11-07 Andy Mavrou Nigel Twiston-Davies Carl Llewellyn 7/2
1992 VAGOG 7-11-07 M A Swift Martin Pipe Martin Foster 15/2
1991 Abandoned due to frost
1990 FLOYD 10-11-07 Mike Walsh David Elsworth Graham Bradley 10/1
1989 ROYAL ATHLETE 6-10-08 Gary Johnson Jenny Pitman Dean Gallagher 33/1
1988 FRENCH GOBLIN 5-11-01 Maurice Pinto Josh Gifford Peter Hobbs 3/1
1987 BLUFF COVE 5-10-08 Dickins Ltd Reg Hollinshead Richard Dunwoody 14/1
1986 OUT OF THE GLOOM 5-10-08 Paul Green Reg Hollinshead Peter Scudamore 4/1
1985 MISTY DALE 7-10-08 David Rose Jenny Pitman Phil Tuck 9/4F
1984 KRISTENSON 7-10-08 Ursula Fantasia Roger Fisher Michael Williams 7/2
1983 CRIMSON EMBERS 8-10-11 Pam Smart Fulke Walwyn Stuart Shilston 14/1
1982 MAYOTTE 7-10-11 B Davies Richard Holder Paul Richards 15/8F
1981 Abandoned due to snow
1980 DERRING ROSE 5-11-11 Peter Savill Fred Winter John Francome 7/1
1979 JOHN CHERRY 8-10-11 Milton Ritzenberg Tom Jones Steve Smith Eccles 6/1
1978 KELSO CHANT 6-11-07 Mrs M Richardson Jumbo Wilkinson Steve Charlton 10/1
1977 JOHN CHERRY 6-10-11 Milton Ritzenberg Tom Jones Steve Smith Eccles 11/8F
1976 Abandoned due to frost
1975 LANZAROTE 7-12-05 Lord Howard de Walden Fred Winter John Francome 4/9F
1974 GO BINGO 5-11-12 Guy Reed Sam Hall David Munro 9/4
1973 SOLONING 8-11-08 Mrs C Thornton Fred Winter Richard Pitman 9/2
1972 HIGHLAND ABBE 6-11-12 Mrs K Hankey Les Kennard Mr R Smith 11/1
1971 ST PATRICK'S BLUE 6-11-12 P Aunger David Tatlow Bill Smith 7/2F
1970 ROUGE AUTUMN 6-10-05 Bryan Jenks Fred Rimell Ken White 9/2F
1969 CANDID CAMERA 6-10-06 R F P Ross Ted Goddard Joe Guest 100/8
1968 Abandoned due to waterlogging
1967 Abandoned due to foot and mouth epidemic
1966 SIR EDWARD 6-10-09 R Heaton Ryan Price Josh Gifford 7/2F
1965 MINUTE GUN 8-10-04 Bill Shand Kydd Bill Shand Kydd Richard Pitman 100/8