Socialites Electric Cigarettes Doncaster Cup

Group 2, Doncaster 14:40
£100,000 added,
3yo plus,
2m 2f, Class 1
Friday 12th September 2014

1 Estimate 11-8F
2 Whiplash Willie13/2
3 Kalaan 80/1
12 ran Distances: 1¼l, nk, ½l
TIME 3m 55.91s (slow by 3.91s)
Estimate powers to victory in the Doncaster Cup. Will Her Majesty dispatch her to Australia for the Melbourne Cup?
"She can be a bit narky. It was great seeing her win. Goodwood didn't suit her, it was a bit too firm for her."
John Warren: "The Queen will think about her as future broodmare. It's important to protect her breeding career."
Estimate for Melbourne? "We'll talk to Ryan, Michael will have a view and we'll put a proposition forward for the Queen to consider."
Estimate won her first race since landing the 2013 Gold Cup at Royal Ascot when achieving a length-and-a-quarter success for owner Her Majesty The Queen this afternoon.

The 11/8 favourite was always prominent under a confident ride from jockey Ryan Moore and, although she had to battle in the latter stages of the race, it always looked like she'd get up and she repelled the challenge of runner-up Whiplash Willie and third-placed Kalann to record another Group race victory.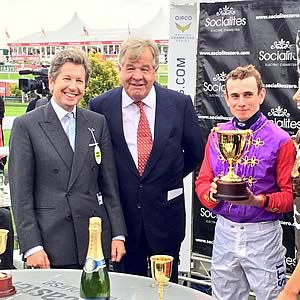 Trainer Sir Michael Stoute was delighted that the mare was back in the winner's enclosure.
"It was great seeing her win because she ran such a blinder in the Gold Cup and Goodwood didn't suit her - it was just too firm for her there," he said.

"Michelle, who does her, has made a great effort as well as Kerry, the head lass, and I must mention Pascal and Dave, who ride her."

"She is a lively filly that has a lot of energy and gets bored every now and again. She can be a little bit narky. Her resolution can never be questioned but she is a character and they do a great job with her.

"I would think that we have to consider the Melbourne Cup but I won't make the final decision - I am not paying! You wonder a little bit about the ground at Flemington because she does like a little bit of forgiveness in it. We will think about it and discuss it with The Queen and John Warren (Her Majesty's racing advisor)."
Moore was also quick to pay tribute to the mare's battling qualities.

"She was never going to get beaten today," said the jockey.

"She travelled sweetly and I didn't have enough to really bring me along enough and, when she was in front there, she just waited a bit. When she feels them coming, she battles away.

"I hadn't really asked her a serious question and there is plenty in the tank always with her."

Warren was immediately thinking of the mare's future following the race.

"I should think The Queen would quite happily sit there thinking about her as a future broodmare now, which is so exciting. She has been so game and so tough and I don't think any breeder could ever wish to own something as game.

"I wondered two out whether she was going to get caught a bit but she is so gutsy, she always puts her best foot forward. I think when she was second in the Gold Cup and was so gutsy - she doesn't give in, which is fantastic.

"I would say that if I asked The Queen the direct question (about retiring Estimate at the end of the year), she would almost for sure say 'don't you think that she has done us well enough?' - it will be her decision but I would say it's almost sure.

"I think the most important thing would be the welfare of the filly herself. She fundamentally now has her breeding career in front of her. It's very important to protect the process of that. If you get a filly to stud off on the wrong leg in her first year, she is not cycling correctly, you end up with a very late foal and you have to miss a year the following year.

"There are a lot of complexities that have to be taken into account regarding the welfare of the filly in terms of her breeding prospects. Obviously, the travelling is a huge big ask as well so there are many complexities and the tempo of the race in Australia is not quite what this filly is about - this filly is about sticking it out, getting down to the nitty-gritty - and I think that Australia can be a little bit stop and start.

"I know that there has been huge pressure from the Australians for The Queen to have a runner, which would be amazing to do, and it's good for so many reasons. I would say today, another element was that the ground was kind to her and she was able to let down whereas Goodwood was quite fast and I think Australia probably has quick ground.

"I think there are a number of people that will have an input. We will talk to Ryan, obviously Michael will have a few thoughts and we will stick all the heads together and make a proposition to The Queen and see which way she feels it will go forward. I know the most important thing is the welfare of the filly."
Whiplash Willie proved a credit to his trainer Andrew Balding [at Sandown] with his brave runner-up spot. The talented but delicate six-year-old came back this season after two years off with leg problems and, after three most creditable runs, posted a personal best in today's Group Two marathon.
The gelding, in the Hitchins family colours, won a 14-furlong handicap on his comeback at Salisbury in May, but this was his first try at as far as two and a quarter miles. He saw out the trip stoutly for rider David Probert, staying on to get within a length and a quarter of the winner Estimate.

"He may have been beaten, but to be fair to him he did his job very well," said Probert. "The mare is a bit special but he stuck with her for a long way and galloped all the way to the line for me.

"They went a good pace, which is always a help, and he was definitely second best, and deserved his place. He'd been off a long time before this season and he's come back stronger."
Socialites Electric Cigarettes Doncaster Cup
(British Champions Series) (Group 2)
£100,000 added, 3yo plus, 2m 2f, Class 1
12 ran
Going: Good to Soft, Good in places
Pos
Dr
Dist
Horse SP Jockey
Wgt
Trainer
Age
1st
(10)
Estimate (IRE) 11/8f
R L Moore
9-0
Sir Michael Stoute
5
2nd
(5)
1&frac14
Whiplash Willie 13/2
David Probert
9-3
A M Balding
6
3rd
(12)
nk
Kalann (IRE) 80/1
L F Roche
9-3
Miss S J Harty
7
4th
(4)
&frac12
Clever Cookie 17/2
G Lee
9-3
P D Niven
6
5th
(9)
&frac34
Biographer 20/1
G Baker
9-3
D R Lanigan
5
6th
(6)
s.h
Brass Ring 12/1
James Doyle
9-3
J H M Gosden
4
7th
(7)
3&frac14
Angel Gabrial (IRE) 10/1
P Hanagan
9-3
R A Fahey
5
8th
(11)
6
Times Up 9/2
William Buick
9-3
E A L Dunlop
8
9th
(3)
4&frac12
Alwilda 100/1
L Morris
9-0
Sir Mark Prescott
4
10th
(1)
6
Repeater 25/1
D Tudhope
9-3
D O'Meara
5
11th
(8)
7
Battle Of Marengo (IRE)
50/1
J P Spencer
9-3
D M Simcock
4
12th
(2)
8
Very Good Day (FR) 100/1
T Hamilton
9-3
R A Fahey
7

RECENT WINNERS
Year Horse Trainer Jockey Owner SP
2013 Times Up Ed Dunlop Ryan Moore Mrs I Stewart & M Meacock 3/1
2012 Times Up John Dunlop Eddie Ahern Mrs I Stewart & M Meacock 5/1
2011 Saddler's Rock John Oxx IRE Niall McCullagh Michael O'Flynn 11/2
2010 Samuel John Gosden William Buick Normandie Stud Ltd 5/1
2009 Askar Tau Marcus Tregoning Ryan Moore Nurlan Bizakov 5/2
2008 Honolulu Aidan O'Brien IRE Johnny Murtagh Derrick Smith, Sue Magnier, Michael Tabor 15/8 fav
2007 Septimus Aidan O'Brien IRE Johnny Murtagh Derrick Smith, Sue Magnier, Michael Tabor 11/10 fav
2006 Sergeant Cecil Rod Millman Frankie Dettori Terry Cooper Evens fav
2005 Millenary John Dunlop Richard Quinn Neil Jones 11/4
2004 DH Kasthari Howard Johnson Johnny Murtagh Elliott Bros 14/1
DH Millenary John Dunlop Richard Quinn Neil Jones 7/1
2003 Persian Punch David Elsworth Martin Dwyer Jeff Smith 3/1
2002 Boreas Luca Cumani Jamie Spencer Aston House Stud 7/2
2001 Alleluia Sir Mark Prescott Jamie Mackay Sonia Rogers 14/1
2000 Enzeli John Oxx IRE Johnny Murtagh H H Aga Khan 15/2
1999 Far Cry Martin Pipe Kevin Darley Nicky Chambers 6/1