Betfred Cambridgeshire

Heritage Handicap, Newmarket 15:35
£160,000 added,
3yo plus,
1m 1f, Class 2  
Saturday 29th September 2018
1 Wissahickon 11/1
2 Mordin 16/1
3 Via Via 33/1
4 Sabador 25/1
5 UAE Prince 14/1
33 ran NR: Kings Gift, Restorer
Distances: 3¾l, ½l, ¾l Time: 1m 48.01s (slow by 0.21s)
Wissahickon Provides John Gosden with a fourth Cambridgeshire under Frankie Dettori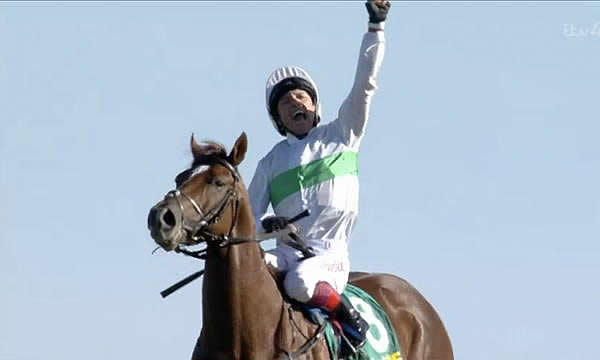 Wissahickon had won three of his previous four starts this season and was an 11-1 shot to provide trainer John Gosden with a fourth victory in the first leg of the autumn double.
Frankie Dettori, bidding for his first victory in the race since scoring aboard the Gosden-trained Halling in 1994, cut a confident figure in the saddle for much of the nine-furlong journey, settling Wissahickon towards the rear of the larger group that raced on the far side of the track.
Dettori angled his mount towards the centre of the course with a couple of furlongs to run and he quickly made his way through the field, taking over the lead from Via Via passing the final furlong marker.
From there the result was never in doubt, with Dettori only having to push Wissahickon out to the line to score by three and three-quarter lengths.
Gosden said: "Frankie said they went too hard. He said he dropped the bit on him, let him coast for three furlongs and then picked him up again. It was a very clever ride.
"That's experience. There is no other word for it. Full marks to the jockey."
He added: "I think we will have to go for a Listed race now. He will be fine, but he likes this ground."
Mordin, Via Via and Sabador were second, third and fourth respectively.
Irish Cambridgeshire winner Kenya was the 8-1 favourite to provide trainer Aidan O'Brien with a big-race four-timer on the day, but finished well-beaten after racing prominently.
Betfred Cambridgeshire
£160,000 added, 3yo plus, 1m 1f, Class 2
33 ran
Going: Good to Firm
Pos
Dr
D
Horse SP
Jockey Weight
Trainer
Age
1st
(21)
Wissahickon (USA) 11/1
L Dettori
9-5
J H M Gosden
3
2nd
(25)
3&frac34
Mordin (IRE) 16/1
P Cosgrave
8-12
S Crisford
4
3rd
(26)
&frac12
Via Via (IRE) 33/1
Tom Marquand
9-2
J Tate
6
4th
(3)
&frac34
Sabador (FR) 25/1
J P Spencer
8-13
Ed Walker
4
5th
(13)
s.h
Uae Prince (IRE) 14/1
Andrea Atzeni
9-2
R Varian
5
6th
(22)
2&frac34
Kynren (IRE) 14/1
W Buick
9-3
T D Barron
4
7th
(11)
s.h
Sharja Bridge 10/1
S De Sousa
9-9
R Varian
4
8th
(35)
&frac34
Raising Sand 40/1
Nicola Currie (3)
9-1
J A Osborne
6
9th
(10)
s.h
Danceteria (FR) 12/1
Fran Berry
9-1
D Menuisier
3
10th
(14)
&frac34
Pivoine (IRE) 16/1
Oisin Murphy
9-9
A M Balding
4
11th
(32)
1&frac14
Stylehunter 16/1
R Havlin
8-12
J H M Gosden
3
12th
(30)
1&frac34
Masham Star (IRE) 50/1
Andrew Breslin (5)
8-12
M Johnston
4
13th
(33)
nse
Via Serendipity 20/1
G Mosse
9-1
S C Williams
4
14th
(31)
1
Third Time Lucky (IRE) 40/1
J Garritty
9-0
R A Fahey
6
15th
(23)
1&frac14
Alfarris (FR) 12/1
Jim Crowley
9-7
W J Haggas
4
16th
(19)
1&frac14
Zwayyan 33/1
Jason Watson (3)
9-1
A M Balding
5
17th
(4)
1&frac34
Waarif (IRE) (ex4) 33/1
C J McGovern (3)
9-2
D O'Meara
5
18th
(28)
hd
Mistiroc 66/1
S P Davis (5)
9-2
J J Quinn
7
19th
(24)
&frac12
Very Talented (IRE) (ex4) 9/1
Rossa Ryan (3)
9-5
S bin Suroor
5
20th
(18)
3&frac34
Mythical Madness 66/1
Cameron Noble (5)
9-0
D O'Meara
7
21st
(15)
5
Sands Chorus 66/1
W M Lordan
8-11
J G Given
6
22nd
(27)
1&frac34
Seniority 25/1
D Tudhope
9-7
W J Haggas
4
23rd
(16)
&frac12
Abe Lincoln (USA) 50/1
L Morris
9-4
J Noseda
5
24th
(7)
&frac12
Ventura Knight (IRE) 100/1
Ben Curtis
9-1
M Johnston
3
25th
(6)
2
Afaak 25/1
Dane O'Neill
9-7
C Hills
4
26th
(2)
5
What's The Story 40/1
T P Queally
9-1
K Dalgleish
4
27th
(29)
5
Examiner (IRE) 66/1
Sebastian Woods (5)
9-0
S C Williams
7
28th
(34)
&frac34
Tricorn (IRE) 14/1
James Doyle
9-4
J H M Gosden
4
29th
(5)
1&frac12
Circus Couture (IRE) 40/1
J F Egan
9-10
Jane Chapple-Hyam
6
30th
(12)
1&frac12
Bravery (IRE) 50/1
Gabriele Malune (5)
8-10
D O'Meara
5
31st
(8)
11
Mountain Hunter (USA) 33/1
Hector Crouch
9-8
S bin Suroor
4
32nd
(1)
3&frac12
Euro Nightmare (IRE) 66/1
M Harley
9-1
K Dalgleish
4
33rd
(17)
1&frac14
Kenya (IRE) 8/1f
J A Heffernan
9-4
A P O'Brien
3
NR
(9)
Kings Gift (IRE)
S W Kelly
9-0
M Dods
4
NR
(20)
Restorer
R Kingscote
9-0
Ian Williams
6