Grand National News

AP McCoy On A Woman Winning The Grand National

"I Think It's Only A Matter Of Time"
8th April 2015
The
Grand National
is the most famous horse race because it is the most daunting. The fences are bigger and there are more of them, there are 40 runners and it is run over the furthest distance. There's no doubt in my mind it's the most challenging horse race anywhere in the world.
While the Cheltenham Gold Cup probably decides who has got the best horse and is the most prestigious in that sense, in the Grand National it's not always the best horse and not always the best jockey who gets to win it. It's the sort of race that can make someone's career and make someone's life a whole lot better.
With that sort of pressure, in the Aintree weighing room you obviously get an altercation now and then, but it is a pretty fair place, all the jockeys know how much of a challenge it is. There's nothing too serious because they're all very well aware that those two ambulances that are following you around are following you because you could end up in one of them at some point. There's more of a camaraderie because there's a lot of reality to being a jump jockey, we all know the dangers.
Some of the lads talk to each other on the way round during the Grand National. Not a full blown conversation that's for sure, but not a lot of them want to talk to me at the best of times! So I shouldn't think they want to talk to me during the Grand National!
Katie Walsh with the trophy for the 2015 Irish Grand National
© Caroline Norris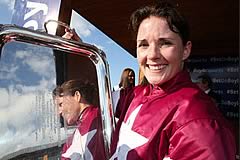 There are more female jockeys competing now, the likes of Nina Carberry, Katie Walsh and Lucy Alexander. They are three to name who have done well over the jumps, so I think it's only a matter of time before a woman wins the Grand National. I think they are very capable, those three in particular and there's no reason they can't win the Grand National if they get on the right horse.
William Hill Odds
Female Jockey To Win The Grand National By End Of 2020: 6/1
All Odds and Markets are correct as of the date of publishing.