Grand National Sweepstake Kit 2022

Saturday 9th April 2022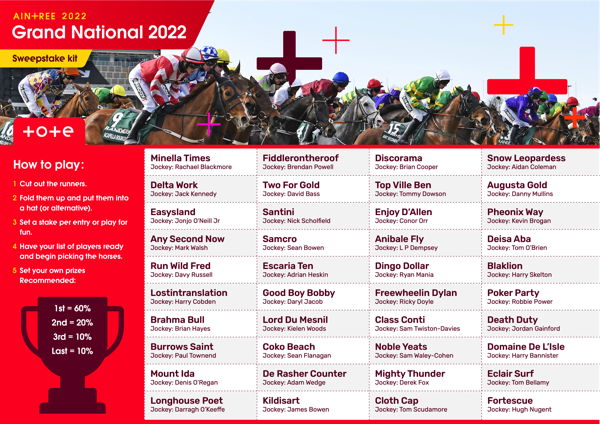 This is a fun way to include family and friends on the big day.
All you need to do is:
Cut out the horses and put them in a hat. Randomly take it in turns to draw a horse out of the hat and that is your selection.
If you are playing with colleagues, family, friends or neighbours you can record yourself pulling horses out of the hat and send the video round to each person.
Put the forty names of the players in a hat. When they are drawn, put their name beside the horse, and that is their selection.
There are many more ways to play, and we have recommended the best way to divvy up the money at the end.
1st = 60%
2nd = 20%
3rd = 10%
Last to finish = 10%
The race will be shown on ITV on Saturday 9th April at 5:15pm, and you can also live stream the race at Tote.co.uk.