---
Brown Advisory & Merriebelle Stable Plate

Grade 3, Cheltenham 16:10
£105,000 added, 5yo plus,
2m 4f 166y, Class 1  
Thursday 15th March 2018
The Storyteller wins the Brown Advisory Plate!
1 The Storyteller 5/1F
2 Splash of Ginge 25/1
3 King's Odyssey 14/1
4 Ballyalton 16/1
22 ran NR: Go Conquer, Tully East Distances: 1¾l, 5l, 1l
Time: 5m 28.20s (slow by 25.20s)
Gordon Elliott completed a 209/1 treble on day three of the Cheltenham Festival following The Storyteller's (5/1 favourite) success in the Brown Advisory & Merriebelle Stable Plate over two miles and five furlongs.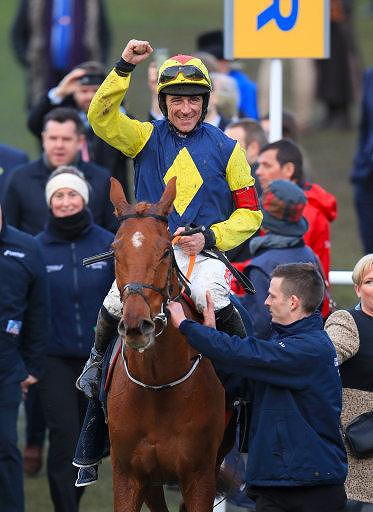 Ridden by Davy Russell, registering a 377/1 treble, the seven-year-old son of Shantou veered to his right after the final fence but kept on to score by one and three-quarter lengths from Nigel Twiston-Davies'
Splash Of Ginge
(25/1) in second.
Elliott, landing his sixth contest of the week at Prestbury Park, emulating last year's total, which saw him land The Irish Independent Leading Trainer Award at The Festival, was also landing his 20th Cheltenham Festival winner overall. 
He said: "Joe and Pat Sloan [owners] are big supporters of my yard and have been with me since I started, so for them to get a Cheltenham Festival winner is great. Davy gave the horse a peach of a ride.
"I thought that The Storyteller was one of my naps of the week last year and he pulled a muscle a week before Cheltenham. This was my horse for the Martin Pipe and we went wrong but he is a good horse and it's brilliant.
"His lack of experience was my big worry. He was novicey - he wandered around up the straight and gave me a bit of a fright - but I am absolutely thrilled.
"Winning the Gold Cup was something else and we had six winners last year. To level that, is brilliant, and it's unbelievable to be in the position I am in, with the owners and staff that I have. It's a big team effort and we will enjoy it.
"I can't believe it - six winners in Cheltenham! It just shows the horses we have in Ireland. Willie and myself are bouncing along, then Henry [de Bromhead] and Pat Kelly.
"If it was called off now, I would be having a good week!"
Brown Advisory & Merriebelle Stable Plate (Handicap Chase)
£105,000 added, 5yo plus, 2m 4f 166y, Class 1
22 ran
Going: Soft, Heavy in places
Pos
D
Horse SP
Jockey Weight
Trainer
Age
1st
The Storyteller (IRE) 5/1f
D N Russell
11-4
G Elliott
7
2nd
1&frac34
Splash of Ginge 25/1
Jamie Bargary (3)
10-8
N A Twiston-Davies
10
3rd
5
King's Odyssey (IRE) 14/1
Adam Wedge
10-10
Evan Williams
9
4th
1
Ballyalton (IRE) 16/1
T J O'Brien
10-9
Ian Williams
11
5th
&frac34
King's Socks (FR) 7/1
T Scudamore
10-11
D Pipe
6
6th
1&frac14
Guitar Pete (IRE) 10/1
Ryan Day (3)
10-10
N G Richards
8
7th
9
Pougne Bobbi (FR) 16/1
J McGrath
10-11
N J Henderson
7
8th
3&frac14
Midnight Shot 50/1
Jonathan Burke
10-11
C E Longsdon
8
9th
&frac34
Shanahan's Turn (IRE) 50/1
Paul O'Brien (5)
10-8
C L Tizzard
10
10th
1&frac14
Last Goodbye (IRE) 8/1
S W Flanagan
11-6
Miss E Doyle
7
11th
6
Traffic Fluide (FR) 16/1
Joshua Moore
11-2
G L Moore
8
12th
6
Romain De Senam (FR) 20/1
Sam Twiston-Davies
10-13
P F Nicholls
6
13th
10
Ultragold (FR) 66/1
Harry Cobden
10-13
C L Tizzard
10
14th
16
Ballybolley (IRE) 40/1
D A Jacob
11-4
N A Twiston-Davies
9
15th
10
Village Vic (IRE) 33/1
R Johnson
11-12
P J Hobbs
11
16th
nk
Quite By Chance 33/1
P J Brennan
11-0
C L Tizzard
9
17th
17
Mercian Prince (IRE) 25/1
Jack Quinlan
11-1
Miss Amy Murphy
7
Also Ran: Oldgrangewood , Viconte Du Noyer (FR) , Movewiththetimes (IRE) , Drumcliff (IRE) , Willie Boy (IRE)
NR
Go Conquer (IRE)
Aidan Coleman
11-7
Jonjo O'Neill
9
NR
Tully East (IRE)
D F O'Regan
11-5
A Fleming
8
A late decision to run Splash Of Ginge nearly yielded a bumper dividend for connections.
The admirable 10-year-old went down by a length and three-quarters to The Storyteller, who was 5/1 favourite.
"It's heartbreaking but at the same time we are so proud of him," said owner John Neild. "There's not much more we can say and I almost treat that like we have won.
"I thought he's left his race behind in the
BetVictor Gold Cup
, when the ground was so testing here in November. But with the soft ground today we decided we had better run and we were just beaten by a better horse. 
"That's it now for the season and we'll be back here in November to try and win the BetVictor again. The handicapper surely can't change his mark because he just keeps running so consistently."
Jockey Jamie Bargary, who would have lost his claim if winning, added: "It went very smoothly the whole way and he has tried his hardest for me after the last. I was thinking on the way in if there was anything I could have done differently but I don't think there is. He has run his heart out and that was it.
"He was tight at the second last but it didn't really stop my momentum. He kept going, picked up at the back of the last and was as brave as a lion. Good Cheltenham rides don't come along too often, so you have to enjoy them even though I was beaten."

Byrne Group Plate Previous Results
2017-WINNER-ROAD TO RESPECT 6-10-13 Owner-Giggingstown House Stud; Trainer-Noel Meade IRE; Jockey-Bryan Cooper; SP-14/1
2ND-Baron Alco 6-11-00 Owner-John Stone; Trainer-Gary Moore; Jockey-Jamie Moore; SP-10/1
3RD-Bouvreuil 6-10-13 Owner-J P McManus; Trainer-Paul Nicholls; Jockey-Sam Twiston-Davies; SP-10/1
4TH-Thomas Crapper 10-10-01 Owner-apisukcom; Trainer-Robin Dickin; Jockey-Charlie Poste; SP-7/1
24 ran, Time-5m 8.90s; Dist-6, 1¾, 2¾ 5/1 Fav Diamond King (PU)
2016-WINNER-EMPIRE OF DIRT 9-10-11 Owner-Gigginstown House Stud; Trainer-Colm Murphy IRE; Jockey-Bryan Cooper; SP-16/1
2ND-Tango De Juilley 8-11-01 Owner-Muhammed Nadeem Khan; Trainer-Venetia Williams; Jockey-Jack Kennedy; SP-33/1
3RD-Kings Palace 8-11-05 Owner-Drew, George & Johnson Family; Trainer-David Pipe; Jockey-Tom Scudamore; SP-11/1
4TH-Full Shift 7-10-04 Owner-J P McManus; Trainer-Nicky Henderson; Jockey-Mark Walsh; SP-7/1
22 ran, Time-5m 13.10s; Dist-4, 1¼, 2½ 11/2 Joint-Favs Johns Spirit (PU) & Stilletto (Fell)
2015-WINNER-DARNA 9-10-11 Owner-Julie & David Martin; Trainer-Kim Bailey; Jockey-David Bass; SP-33/1
2ND-Monetaire 9-10-09 Owner-Allan Stennett; Trainer-David Pipe; Jockey-Tom Scudamore; SP-11/2 Fav
3RD-Rawnaq 8-10-12 Owner-Kevin John Smith; Trainer-Matthew Smith IRE; Jockey-Andrew Lynch; SP-25/1
4TH-Buywise 8-11-03 Owner-T Hywel Jones; Trainer-Evan Williams; Jockey-Paul Moloney; SP-15/1
23 ran, Time-5m 12.00s; Dist-1¼, 1½, nk
2014-WINNER-BALLYNAGOUR 8-10-09 Owner-Allan Stennett; Trainer-David Pipe; Jockey-Tom Scudamore; SP-12/1
2ND-Colour Squadron 8-11-01 Owner-J P McManus; Trainer-Philip Hobbs; Jockey-Tony McCoy; SP-5/1 Fav
3RD-Tatenen 10-10-09 Owner- The Stewart Family; Trainer-Richard Rowe; Jockey-Andrew Thornton; SP-33/1
4TH-Johns Spirit 7-11-03 Owner-Christopher Johnston; Trainer-Jonjo O'Neill; Jockey-Richie McLernon; SP-9/1
23 ran, Time-4m 59.34s; Dist-8, 6, 1½
2013-WINNER-CARRICKBOY 9-10-05 Owner-Tevor Hemmings; Trainer-Venetia Williams; Jockey-Liam Treadwell; SP-50/1
2ND-Vino Griego 8-11-00 Owner-Chris Stedman; Trainer-Gary Moore; Jockey-Jamie Moore; SP-11/1
3RD-Tartak 10-10-03 Owner- Power Panels Electrical Systems Ltd; Trainer-Tim Vaughan; Jockey-Richard Johnson; SP-20/1
4TH-Hunt Ball 8-11-12 Owner-Anthony Knott; Trainer-Keiran Burke; Jockey-Nick Scholfield; SP-8/1
22 ran, Time-5m 21.50s; Dist-1½, 12, 6 7/2 Fav Ballynagour (8th)
2012-WINNER-SALUT FLO 7-10-10 Owner-Allan Stennett; Trainer-David Pipe; Jockey-Tom Scudamore; SP-9/2 Fav
2ND-The Cockney Mackem 6-10-01 Owner-Mills & Mason Partnership; Trainer-Nigel Twiston-Davies; Jockey-Sam Twiston-Davies SP-10/1
3RD-Glam Gerry 8-9-10 Owner-Barry Connell; Trainer-Colm Murphy IRE; Jockey-Brian Hayes; SP-33/1
4TH-Divers 8-11-01 Owner-Let's Live Racing; Trainer-Ferdy Murphy; Jockey-A P McCoy; SP-8/1
22 ran, Time-5m 11.52s, Dist-6, 4½, shd
2011-WINNER-HOLMWOOD LEGEND 10-10-06 Owner-Brian Derrick; Trainer-Pat Rodford; Jockey- Keiran Burke; SP-25/1
2ND-Aimigayle 8-10-06 Owner-Pete Mercer; Trainer-Suzy Smith; Jockey-Colin Bolger; SP-25/1
3RD-Beautiful Sound 9-10-06 Owner-Gigginstown House Stud; Trainer-Gordon Elliott IRE; Jockey-Jason Maguire; SP-9/2 Fav
4TH-Consigliere 8-11-10 Owner-Elder Scouller; Trainer-David Pipe; Jockey-Tom Scudamore; SP-20/1
20 ran, Time-5m 18.17s, Dist-3½, 1¾ , 5
2010-WINNER-GREAT ENDEAVOUR 6-10-01 Owner-David Johnson; Trainer-Martin Pipe; Jockey-Danny Cook; SP-18/1
2ND-Sunnyhillboy 7-10-00 Owner-J P McManus; Trainer-Jonjo O'Neill; Jockey-Richie McLernon; SP-6/1 Fav
3RD-From Dawn To Dusk 11-10-03 Owner-Charles Lloyd-Baker; Trainer-Philip Hobbs; Jockey-Richard Johnson; SP-20/1
4TH-Mister McGoldrick 13-10-11 Owner-Richard Longley; Trainer-Sue Smith; Jockey-Jason Maguire; SP-33/1 24 ran, Time-5m 8.30s, Dist-1¼, ¾, 3½
2009-WINNER-SOMETHING WELLS 8-10-07 Owner-Favourites Racing XVIII; Trainer-Venetia Williams; Jockey-William Biddick; SP-33/1
2ND-Ping Pong Sivola 6-10-00Owner-Jean Yeomans; Trainer-Venetia Williams; Jockey-Liam Treadwell; SP-13/2 Fav
3RD-Notable D'Estruval 8-10-07 Owner-P J McCarthy; Trainer-Arthur Moore IRE; Jockey-Davy Russell; SP-8/1
4TH-Three Mirrors 9-11-01 Owner-Sean Murphy; Trainer-Ferdy Murphy; Jockey-Graham Lee; SP-9/1 23 ran, Time-5m 17.70s, Dist-¾, 18, 2¾
2008-WINNER-MISTER MCGOLDRICK 11-11-07 Owner-Richard Longley; Trainer-Sue Smith; Jockey-Dominic Elsworth; SP-66/1
2ND-Gwanako 5-10-12 Owner-The Stewart Family; Trainer-Paul Nicholls; Jockey-Ruby Walsh; SP-9/1
3RD-Fundamentalist 10-11-10 Onwer-Colin Cornes; Trainer-Nigel Twiston-Davies; Jockey-Paddy Brennan; SP-28/1
4TH-Bible Lord 7-10-12 Owner-Martin Tedham; Trainer-Andrew Turnell; Jockey-Mark Grant; SP-6/1 22 ran, Time-5m 9.40s, Dist 13, 11, 4½ 5/2 Fav Don't Push It (Fell 2 out)
2007-WINNER-IDOLE FIRST 8-10-07 Owner-D and J Racing; Trainer-Venetia Williams; Jockey-Alan O'Keeffe; SP-12/1
2ND-Palarshan 9-10-05 Owner-Summer Wellesley; Trainer-Henry Daly; Jockey-Richard Johnson; SP-28/1
3RD-Mariah Rollins 9-10-07 Owner-Paul Murphy; Trainer-Nicky Henderson; Jockey-Mick Fitzgerald; SP-20/1
4TH-Le Volfoni 6-11-02 Owner-A Banks; Trainer-Paul Nicholls; Jockey-Joe Tizzard; SP-16/1
23 ran, Time-5m 11.40s, Dist-4, 1¼, hd 7/2 Fav Opera Mundi (19th)
2006-WINNER-NON SO 8-11-03 Owner-ROA Dawn Run Partnership; Trainer-Nicky Henderson; Jockey-Mick Fitzgerald; SP-14/1
2ND-Kelrev 8-11-01 Owner-Len Jakeman, Flintham, King & Roberts; Trainer-Venetia Williams; Jockey-Sam Thomas; SP-50/1
3RD-Graphic Approach 8-11-06 Owner-Mr & Mrs Peter Orton; Trainer-Charles Egerton; Jockey-Tony McCoy; SP-11/1
4TH-Roman Ark 8-10-12 Owner-Richard Collins; Trainer-Malcolm Jefferson; Jockey-Graham Lee; SP-33/1
24 ran, Time-5m 05.20s, Dist-9, 7, hd 5/1 Fav Ross River (Fell)
2005-WINNER-LIBERTHINE 6-10-01 Owner-Robert Waley-Cohen; Trainer-Nicky Henderson; Jockey-Mr Sam Waley-Cohen; SP-25/1
2ND-Banker Count 13-10-12 Owner-Mrs Hector Brown; Trainer-Venetia Williams; Jockey-Sam Thomas; SP-16/1
3RD-Simply Gifted 10-11-01 Owner-Steve Hammond; Trainer-Jonjo O'Neill; Jockey-Tony McCoy; SP-14/1
4TH-Brooklyn Breeze 8-11-00 Owner-Ashleybank Investments Limited; Trainer-Len Lungo; Jockey-Tony Dobbin; SP-9/2 Fav 22 ran, Time-5m 15.60s, Dist-7, 3, 2
2004-WINNER-TIKRAM 7-10-00 Owner-Mike Charlton and Rodger Sargent; Trainer-Gary Moore; Jockey-Timmy Murphy; SP- 12/1
2ND-Iznogoud 8-10-03 Owner-Country Stores/Avalon Surfacing; Trainer-Martin Pipe; Jockey-Tony McCoy; SP-9/2 Fav
3RD-Fondmort 8-11-12 Owner-Bill Brown; Trainer-Nicky Henderson; Jockey-Mick Fitzgerald; SP-9/1
4TH-Kelrev 6-9-11 Owner-Len Jakeman, Flintham, King and Roberts; Trainer-Venetia Williams; Jockey-Sam Thomas; SP-16/1 16 ran, Time-4m 59.80s; Dist-2.5, 1.5, 2
2003-WINNER-YOUNG SPARTACUS 10-10-09 Owner-Bart Hellyer; Trainer-Henry Daly; Jockey-Richard Johnson; SP-16/1
2ND-Fondmort 7-10-13 Owner-Bill Brown; Trainer-Nicky Henderson; Jockey-Mick Fitzgerald SP-11/2
3RD-Scots Grey 8-9-07 Owner-Henry Ponsonby; Trainer-Nicky Henderson; Jockey-Mr Andrew Tinkler; SP-16/1
4TH-Cregg House 8-9-09 Owner-Kathleen Kennedy; Trainer-Paddy Mullins IRE; Jockey-Robert Power; SP-25/1
19 ran, Time-5m 5.00s; Dist-4, 4, 33 5/1 Fav Go Roger Go (UR)
2002-WINNER-BLOWING WIND 9-10-09 Owner-Peter Deal; Trainer-Martin Pipe; Jockey-Ruby Walsh; SP-25/1
2ND-Lady Cricket 8-11-12 Owner-David Johnson; Trainer-Martin Pipe; Jockey-Tony McCoy; SP-5/2 Fav
3RD-Its Time For A Win 10-10-00 Owner-John Kenny; Trainer-Willie Mullins IRE; Jockey-David Casey; SP-16/1
4TH-Strong Run 9-10-00 Owner-Michael D McGrath; Trainer-Noel Meade IRE; Jockey-Carl Llewellyn; SP-14/1
21 ran, Time-5m 22.30s; Dist-1.25, 1.25, 1
2001 - No Race (Foot and Mouth Disease)
2000-WINNER-DARK STRANGER 9-10-03 Owner-Terry Neill; Trainer-Martin Pipe; Jockey-Richard Johnson; SP-14/1
2ND-Native Charm 8-11-00 Owner-Pell-Mell Partners; Trainer-Charlie Morlock; Jockey-Jimmy McCarthy; SP-13/2 Fav
3RD-Inn At The Top 8-10-08 Owner-Sylvia Blakely; Trainer-Jim Turner; Jockey-Robbie Supple; SP-7/1
4TH-Sir Dante 9-10-07 Owner-Peter Wilby; Trainer-Richard Rowe; Jockey-Barry Fenton; SP-10/1
18 ran, Time-4m 49.60s, Dist-7, 1, 3
1999-WINNER-MAJADOU 5-11-00 Owner-Chris, Basil & Rosie Batterham II; Trainer-Martin Pipe; Jockey-Tony McCoy; SP-7/4 Fav
2ND-King Of Sparta 6-10-00 Owner-Mrs Richard Tice; Trainer-Jonny Portman; Jockey-Chris Maude; SP-33/1
3RD-Wayward King 7-11-01 Owner-Fieldspring Racing; Trainer-Ron Hodges; Jockey-Richard Dunwoody; SP-25/1
4TH-The Outback Way 9-10-12 Owner-Mrs B Grainger, S Bell & D Boocock; Trainer-Venetia Williams; Jockey-Ruby Walsh; SP-10/1 18 ran, Time-5m 9.8s, Dist-16, nk, nk
1998-WINNER-SUPER COIN 10-10-0 Owner-George Brookes; Trainer-Richard Lee; Jockey-Norman Williamson; SP-7/1
2ND-Sparky Gayle 8-10-09 Owner-Ray and Anita Anderson Green; Trainer-Colin Parker; Jockey-Brian Storey; SP-3/1 Fav
3RD-Monnaie Forte 8-10-0 Owner & Trainer-James Adam; Jockey-Brendan Powell; SP-5/1
14 ran, Time-4m 58.8s, Dist-2,1.5
1997-WINNER-TERAO 11-10-07 Owner-Brian Kilpatrick; Trainer-Martin Pipe; Jockey-Timmy Murphy; SP-20/1
2ND-All The Aces 10-10-11 Owner-J P McManus; Trainer-Jonjo O'Neill; Jockey-Charlie Swan; SP-14/1
3RD-Air Shot 7-11-07 Owner-Mrs Peter Prowting; Trainer-David Nicholson; Jockey-Richard Johnson; SP-15/2
13 ran, Time-5m 1.2s, Dist-1.25, hd 100/30 Fav As Du Trefle (6th)
1996-WINNER-OLD BRIDGE 8-9-07 Owner-K C B Mackenzie; Trainer-Andrew Turnell; Jockey-Gary Crone; SP-14/1
2ND-Call It A Day 6-10-01 Owner-Jane Lane; Trainer-David Nicholson; Jockey-Charlie Swan;SP-9/2
3RD-Postage Stamp 9-10-00 Owner-Paddy O'Donnell; Trainer-Ferdy Murphy; Jockey-Lorcan Wyer; SP-20/1
13 ran, Time-5m 12.5s, Dist-.5, 6 100/30 Fav Big Matt (6th)
Brown Advisory & Merriebelle Stables Roll Of Honour
(Brown Advisory & Merriebelle Stables Plate 2015-, Byrne Group Plate 2010-2014, Freddie Williams Festival Plate in 2009, Racing Post Plate 2006-2008, Mildmay of Flete Handicap Chase 1951-2005)
Year Winner Age/Wt Jockey Trainer Owner SP Ran
1995 Kadi 6-10-04 Norman Williamson David Nicholson Jim Brown 11/2 12
1994 Elfast 11-11-04 Graham McCourt John Webber John Webber 8/1 18
1993 Sacre D'Or 8-11-00 Graham McCourt Nigel Tinkler Isobel Wright 7/1 11
1992 Elfast 9-11-00 Martin Lynch John Webber John Webber 10/1 19
1991 Foyle Fisherman 12-11-00 Eamon Murphy Josh Gifford J N Hutchinson 33/1 15
1990 New Halen 9-9-07 Eamon Tierney Paul James Sally Siviter 66/1 14
1989 Paddyboro 11-10-07 Richard Rowe Josh Gifford Captain F Tyrwhitt-Drake 9/2 10
1988 Smart Tar 7-10-02 Carl Llewellyn Mark Wilkinson Hermione Courage 11/1 15
1987 Gee-A 8-9-10 Miss Gee Armytage Geoff Hubbard Geoff Hubbard 33/1 18
1986 The Tsarevich 10-11-05 John White Nicky Henderson Major Ivan Straker 8/1 16
1985 The Tsarevich 9-11-07 John White Nicky Henderson Mrs Judy Henty 5/1F 16
1984 Half Free 8-11-06 Richard Linley Fred Winter Sheikh Ali Abu Khamsin 16/1 16
1983 Mr Peapock 7-9-07 Leslie Bloomfield Trevor Hallett Mrs B Collins 20/1 15
1982 Doubleuagain 8-10-00 Frank Berry Andy Geraghty IRE P McBennett 11/1 13
1981 Political Pop 7-10-00 Robert Earnshaw Michael Dickinson Mrs A Starkie 15/8F 12
1980 Snowshill Sailor 8-10-04 Andy Turnell Bob Turnell Snowshill Farms and Stud Ltd 8/1 14
1979 Brawny Scot 9-10-00 Ridley Lamb George Fairbairn Mrs M Corrie 10/1 15
1978 King Or Country 7-10-09 Paul Leach David Barons Brook Hire Ltd 7/1 16
1977 Uncle Bing 8-12-05 John Francome Richard Head Mrs J Mildmay-White 9/2 7
1976 Broncho II 7-11-01 Michael Dickinson Tony Dickinson Frank Tyldesley 7/2 14
1975 Summerville 9-10-13 Andy Turnell Bob Turnell Jim Joel 4/1 13
1974 Garnishee 10-10-10 David Mould Tom Jones James Goldsmith 9/2 7
1973 Vulgan Town 7-10-00 Johnnie Haine Toby Balding Brigadier-General Preston Gilbride 9/2 15
1972 Mocharabuice 9-10-07 Graham Thorner Tim Forster Mrs Plum Carew Pole 11/2 17
1971 Hound Tor 7-10-02 Macer Gifford Guy Harwood John Tilling 14/1 10
1970 Verona Forest 7-11-00 Gerry Scott Neville Crump Lord Cadogan 25/1 19
1969 Specify 7-11-02 Bob Davies Denis Rayson F W Rogers 5/1 8
1968 Merry Court 7-10-03 Josh Gifford Bobby Renton Lurline Brotherton 20/1 14
1967 French March 7-9-09 Mr Ben Hanbury Tom Hanbury Mrs Tom Hanbury 25/1 14
1966 Tibidabo 6-10-04 Jeff King Arthur Freeman Mrs A M Gibson 7/1 12
1965 Snaigow 6-10-03 Johnny Lehane Verly Bewicke Lord Cadogan 100/6 15
1964 Take Plenty 8-10-01 Ron Vibert Tim Forster Hugh Summer 100/9 12
1963 Milo 8-10-04 Josh Gifford Herbert Blagrave Herbert Blagrave 11/2 19
1962 Spring Greeting 7-10-06 Johnny Lehane Verly Bewicke Brigadier A E V Brumell 100/8 19
1961 Malting Barley 6-10-04 Owen McNally Toby Balding Bruce Turner 5/1 8
1960 Devon Customer 8-10-04 Joe Guest Syd Bowler Lady Gunter 100/7 12
1959 Siracusa 6-10-12 Jumbo Wilkinson Bobby Renton Mrs E Truelove 9/4F 12
1958 Caesar's Helm 7-11-06 Fred Winter Bobby Renton Jim Joel 9/2 14
1957 Madras 7-10-02 Johnny Bullock Michael Marsh Michael Marsh 100/7 12
1956 Pondapatarri 7-11-00 Rene Emery George Beeby Late Lord Bicester 100/6 21
1955 Mont Tremblant 9-12-07 Dave Dick Fulke Walwyn Dorothy Paget 11/2F 19
1954 Tudor Line 9-10-12 George Slack Bobby Renton Mrs E Truelove 11/4 11
1953 Sy Oui 8-10-03 Fred Winter Ryan Price P Hatvany 100/8 17
1952 Portarlington 7-10-08 Ken Mullins Willie Stephenson Willie Stephenson 8/1 10
1951DH Slender 9-10-11 Fred Winter Ryan Price W Harris 7/1 9
1951DH Canford 9-12-02 Glen Kelly Ivor Anthony Mrs E du Pont Weir 100/8 9