Investec Coronation Cup


(In commemoration of St Nicholas Abbey)

Group 1, Epsom
£385,500 added, 4yo plus,
1m 4f 10y, Class 1
Saturday 7th June 2014
1 Cirrus Des Aigles 10-11F
2 Flintshire 4-1
3 Ambivalent 13-2
NR: Battalion (IRE) 7 ran Distances: 2l, 2¼l, 3¼l
TIME 2m 34.86s (slow by 0.16s)
Cirrus Des Aigles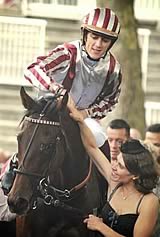 A classy win by a classy horse. Cirrus Des Aigles romps home in the Coronation Cup.
Cirrus Des Aigles won one from his first ten and didn't land his first Grade 1 until he'd had nearly 40 starts.
Jockey Christophe Soumillon dismounted soon after the finishing line as Cirrus Des Aigles appeared to be lame.
Corine Barande-Barbe: "How you say in English? A hat-trick? "He was a little lame after the post. He is better now. Nothing serious happened. I am not worried."
Christophe Soumillon saluted the crowd after partnering the remarkable Cirrus Des Aigles to a smooth victory in the Investec Coronation Cup at Epsom.
Corine Barande-Barbe's wonderful eight-year-old was winning at the highest level for the sixth time and recording the 21st success of his stellar career.
Soumillon settled him in fourth and appeared to have everything covered two furlongs out, but Andre Fabre's Flintshire still posed a threat. The veteran pulled out plenty when challenged, however, and was a comfortable two-length winner as the 10-11 favourite.
Ambivalent, who led for most of the way, stayed on for third place.
Unfortunately Soumillon jumped off on passing the post, feeling his mount had gone lame.
The jockey said: "When he changed legs he did something he never does really. When he passed the post he didn't really feel right. Hopefully it isn't anything too bad. H e's an amazing horse."
Cirrus Des Aigles was trotted up and down on the track before returning to the winner's enclosure seemingly more sound.
Barande-Barbe said: " He was a a bit lame on passing the post but is a bit better now, nothing really serious has happened, but you don't like to see it when a horse is lame.
"When you touch it you can see nothing, neither can the vet. Maybe he missed a step, I don't know. I'm not really worried but I prefer to be able to say tomorrow that he is OK.
"He's very proud of himself and you can usually tell when something is wrong with him, he always shows you, that is what he did in Hong Kong. In the morning if he has a little hole (in his tendon) I will be able to tell when I touch it, he doesn't show it now.
"I think he's a fighter because he changed his distance (from his last race) and he has travelled to England and raced on a track that goes up and down, but he did it very well. That's his third Group One in a row. What do you call it? A hat-trick, so I'm very proud.
"He won't go to Royal Ascot, that will come too soon, his next race will be hopefully the Grand Prix de Saint-Cloud."
Teddy Grimthorpe, racing manager to Flintshire's owner Khalid Abdullah, said: "It was his first run since the Arc and we're very happy with that. He's going to get better and this could be the start of a very interesting season for him. He won't go to Ascot, but could go for the Grand Prix de Saint-Cloud."
Roger Varian said of third home Ambivalent: "That was another really respectable run to finish just behind two very good boys."


The Investec Coronation Cup
(In Commemoration Of St Nicholas Abbey)
£385,500 added, 4yo plus, 1m 4f 10y, Class 1
7 ran
Going: Good


Horse
Trainer
Jockey
Weight
SP
Distance
1

Cirrus Des Aigles
Mme C Barbe
C Soumillon
9st 0lbs
10 - 11
Winner
2

Flintshire
A Fabre
M Guyon
9st 0lbs
4 - 1
2 lengths
3

Ambivalent
R Varian
Andrea Atzeni
8st 11lbs
13 - 2
2 1/4 lengths
4

Empoli
P Schiergen
A de Vries
9st 0lbs
12 - 1
3 1/4 lengths
5

Talent
R M Beckett
Jim Crowley
8st 11lbs
9 - 1
3 lengths
6

Beacon Lady
W J Knight
Oisin Murphy
8st 11lbs
40 - 1
1 1/2 length
7

Joshua Tree
E A L Dunlop
R L Moore
9st 0lbs
16 - 1
8 lengths
NR

Battalion
W J Haggas
S De Sousa
9st 0lbs
-