Angus McNae's Racing UK Blog

Wednesday 24th December 2014

Three for 2014 and an each-way Christmas double
Another year on is drawing to a close and it is a year that has received wide acclaim from industry insiders. Indeed as an industry we have always been good at praising ourselves. This is probably a good thing because while self-praise on a personal level is worthless as an industry we need to accentuate the positives because nobody else is going to do it for us.
I do not have an exhaustive list of big 2014 moments - I have not backed enough winners for that to occur, but there are three points I would like to touch on.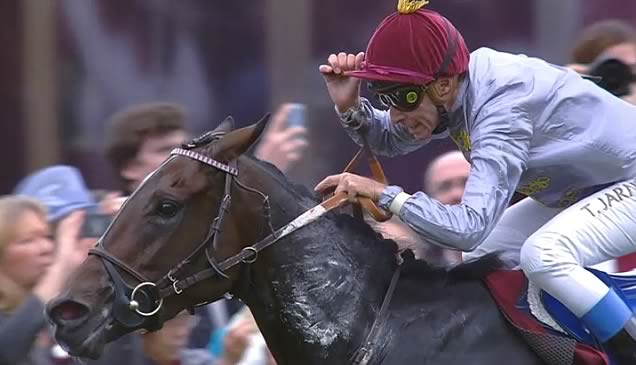 Tremendous Treve:
My number one moment of 2014 was the success of Treve in the Prix de l'Arc de Triomphe in October. This was quite simply the greatest training performance I have ever witnessed.
After a literally crippling defeat at Royal Ascot Criquette Head-Maarek took charge of the situation, asking owner Al Shaqab if she could do things her way. She rehabilitated Treve, replaced Frankie Dettori with Thierry Jarnet and masterminded a comeback of epic sporting proportions.
Magnificent Moore:
As Treve passed the line in front in the Arc a disconsolate Dettori received a sympathetic word and an arm around the shoulder from Ryan Moore. An act of compassion from a classy guy, who this year showed the world that he is the best.
Quite simply this was the year that Ryan Moore stood up and proved that he is the best international jockey around and as an industry we should be very proud of his achievements.
Wins in the Dubai Sheema Classic, the Cox Plate, Melbourne Cup and 16 other Group One victories speak for themselves. Moore doesn't like to speak for himself, but his actions speak louder than words and we are lucky that daily during the summer we can watch the best jockey in the world strutting his stuff on our tracks.
Peerless Kingman highlights need for sectionals:
Many people have cited Kingman as being the horse of the year and who am I to disagree? His bright turn of foot was an awesome weapon, which he used to great effect against his own age group and against his elders in the Sussex Stakes. He was, however, important to the game in terms of advancing punditry to a higher level.
When he won his maiden at Newmarket James Willoughby highlighted live on just what he had achieved on the clock, he analysed the sectionals and saw this horse's potential.
Many, including connections, sought to pour cold water on this analysis preferring the dubious evidence of their eyes. They, of course, were wrong and James was right. There is no better example of the power of sectionals than that, and no better example of he barriers that are in place to prevent their widespread use.
Boxing Day each-way double:
Boxing Day is always a busy day for me. Armed with Turkey sandwiches, I always head to the studios to hold the fort and deal with all that happens away from Kempton. That effectively means I have five meetings to cover. I always leave full of turkey feeling somewhat spaced out, but it has become something of a Christmas routine that I really enjoy.
A few winners will of course make it even better, and this year I am having an each-way double at Kempton. The two horses involved are not taking part in the big races, which I think could all go to the favourites, namely Saphir du Rheu, Faugheen and Silviniaco Conti.
First up I like Generous Ransom in the 1.25. He looked like a fledgling chaser, who is going places when he won at Sandown last time out.
This was the first time he had a chance to show his ability as first time over fences he slipped up and second time in a decent race at Leicester he was asked to race over an inadequate two miles. Now he gets his second chance over fences at two and a half miles and I expect him to improve on what he achieved last time.
His jumping could be slicker, but with that experience at Sandown under his belt I would expect him to take another step forward. He should get the each-way double rolling nicely.
Secondly I believe we should be with A Good Skin in the last at Kempton (3.45). This horse is running for the first time in a handicap and could be well treated. That is the crux of his chance for he has not achieved a standard yet that would be required to win a race of this nature. Off 123, however, he should show improvement.
He actually ran well at Ludlow last time when fourth in a competitive event and he was not submitted to a tough time when it was clear he could not win. He is well bred in that he is a close relation of the very useful Cousin Vinny, the 2008 Cheltenham Bumper winner, and I firmly believe there is plenty more to come from this horse.
There you have it. Two for Boxing Day and both at 8/1. Couple them up in an each-way double for some more Christmas fun.
Seasons Greetings to you all folks.
Angus McNae's Boxing Day tips:
1.25 Kempton: Generous Ransom
3.45 Kempton: A Good Skin