Qatar Prix de l'Arc de Triomphe

Grade 1, Longchamp 15:30
€4,800,000 added,
3yo plus,
1m 4f, Class 1
Sunday 5th October 2014

1st Treve 11/1
2nd Flintshire 16/1
3rd Taghrooda 9/2F
4th Kingston Hill 25/1
15 ran Distances: 2l, 1¼l, ¾l
TIME 2m 26.05s (fast by 4.45s)
Treve wins the Group 1 Prix de l'Arc de Triomphe at Longchamp for the second successive year
An unbelievable training performance from Criquette Head-Maarek
Flintshire second, Taghrooda third, Kingston Hill fourth, Dolniya fifth
Treve retired after her historic second win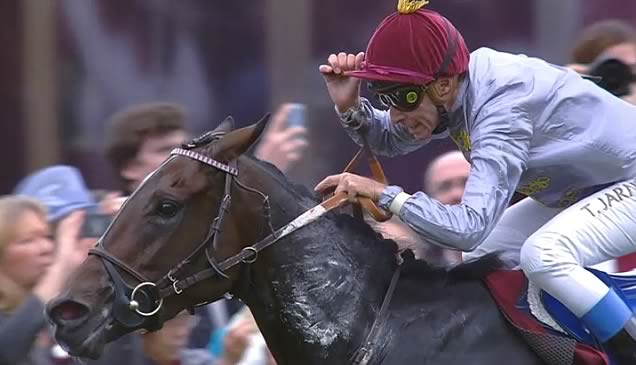 Back to back wins for Treve and Thierry Jarnet
Trainer Criquette Head-Maarek says this Arc means more than last year's win. "I've heard so many things but Treve proved she's back."
"Treve is amazing, she is a dream for a trainer. She is a very special horse."
The filly was a stunning winner of Europe's premier middle-distance contest 12 months ago, but had endured a largely forgettable four-year-old campaign prior to her return to Paris.
However, with Thierry Jarnet in the saddle once again, Treve travelled powerfully into the straight towards the far rail and when the jockey pushed the button as the gap came, she showed her stunning acceleration to seal a fantastic victory.
Treve became the first horse since the Vincent O'Brien-trained Alleged in 1977 and 1978 to win back-to-back Arcs.
Harry Herbert, racing advisor to Sheikh Joaan's Al Shaqab operation, the sponsors of the race, revealed Treve would now be retired.
He said: "Her work earlier this week gave Criquette confidence that she might just do this, but to do it how she's done it against a top-class field, to spreadeagle them two years running - it's absolutely phenomenal.
"It's one of the great training performances. We all know it's not easy to bring a filly back in her four-year-old year and to have the knocks along the way, there's been issues along the way. And for Qatar - she carries the flag of a nation with her.
"It was a remarkable performance, a brilliant ride and we don't see animals like this very often. She'll be retired now, for sure. She has nothing more to prove. She's proved to a few doubters that she is back and as brilliant as ever.
"I think now it's off to the Sheikh's stud farm in Normandy and deciding who will be the lucky husband, or husband number one!
"To be involved with something like this is fantastic, especially as she has come back from adversity. I don't think we can quite believe what we have just seen."
"For me, she's a very special horse and Sheikh Joaan was so nice with me because he could have lost faith. After the Vermeille I told him 'please don't rule her out. Let's run in the Arc and see (what happens)'. She's proved it. She is a dream for a trainer."
Andre Fabre's Flintshire was best of the rest in second, ahead of Oaks and King George heroine Taghrooda and St Leger winner Kingston Hill.
Lord Grimthorpe reported that Flintshire could run next in the Breeders Cup Turf, as many speculated pre-race.
Roger Varian was thrilled with the performance of
Kingston Hill
, who is known to prefer softer ground.
He said: "He's run a blinder from that draw and on that ground - I know I bang on about the ground but it was probably not his favourite.
"Andrea [Atzeni] thought he was feeling the ground today. It's his fifth run on it this year and he's not really got his toe in.
"But there were a lot of good horses behind him, he was beaten by a champion and a couple of other stars. He will come back next year hopefully and have another go.
"I wouldn't 100 per cent rule the Champion Stakes out. It was only his fifth run of the year and he takes his racing well so if it got testing we'll see, we'll get him home first."
Rider Paul Hanagan said of Taghrooda, who was quickly led away to the stables by John Gosden: "It was a bit tricky being drawn 15, as I had to use her to make up the ground. She has run a fantastic race. I had to get after her, just to get a good position, and then all of a sudden I just saw this flash on my inside. She's some horse, that Treve."
Qatar Prix De L'Arc De Triomphe (Group 1)
£4,166,666 added, 3yo plus, 1m 4f, Class 1
20 ran
Going: Good
Pos
Dist
Horse
Age
Wgt
Trainer Jockey
1 (3)
Treve (FR) 144/10
4
9-2
Mme C Head-Maarek
T Jarnet
2 (4)
2
Flintshire 21
4
9-5
A Fabre
M Guyon
3(15)
1¼
Taghrooda 11/2F
3
8-8
J H M Gosden
P Hanagan
4 (20)
¾
Kingston Hill 30/1
3
8-11
R Varian
Andrea Atzeni
5 (5)
nk
Dolniya (FR) 18/1
3
8-8
A de Royer-Dupre
C Soumillon
6 (12)
nk
Harp Star (JPN) 7/1
3
8-8
H Matsuda
Y Kawada
7 (9)
hd
Prince Gibraltar (FR) 29/1
3
8-11 v1
J C Rouget
J B Eyquem
8 (14)
shd
Just A Way (JPN) 8/1
5
9-5
N Sugai
Yuichi Fukunaga
9 (6)
¾
Ruler Of The World (IRE) 17/1
4
9-5 b
A P O'Brien
L Dettori
10 (7)
nse
Al Kazeem 91/1
6
9-5
R Charlton
James Doyle
11 (1)
¾
Avenir Certain (FR) 6/1
3
8-8
J C Rouget
C P Lemaire
12 (16)
nse
Siljan's Saga (FR) 129/1
4
9-2
J P Gauvin
P C Boudot
13 (8)
1
Tapestry (IRE) 16/1
3
8-8
A P O'Brien
R L Moore
14 (2)
hd
Gold Ship (JPN) 12/1
5
9-5 v1
N Sugai
N Yokoyama
15 (18)
1½
Chicquita (IRE) 45/1
4
9-2
A P O'Brien
J P O'Brien
16 (13)
nse
Spiritjim (FR) 48/1
4
9-5
P Bary
S Pasquier
17 (10)
¾
Ectot 68/10
3
8-11
E Lellouche
G Benoist
18 (19)
shd
Ivanhowe (GER) 26/1
4
9-5
J Carvalho
William Buick
19 (17)
2
Free Port Lux 74/1
3
8-11
F Head
M Barzalona
20 (11)
9
Montviron (FR) 153/1
3
8-11
E Lellouche
C Stefan