Angus McNae's Racing UK Blog

Friday 16th June 2017

Five Horses to Lay at Royal Ascot
The royal meeting is almost upon us and it is once again time for me to find five horses to oppose at the meeting.
This year there are a number of short-priced good things that look very solid and it would be completely disingenuous of me to put up Churchill, Winter and the like as lays just because they are short prices.
However, looking outside the box does give us a chance of finding a few to oppose at this year's meeting. Let's start with the first race of the meeting. 
1 RIBCHESTER (Queen Anne Stakes)
Ribchester looks a lay at 1.8 in the win market on the exchanges. This is something of a reluctant lay because I respect this horse's ability. He ran a big speed figure when winning the Lockinge and the visual impression he created was a good one. However, he had to run very hard that day and there is a possibility that he could recoil from that big effort. More pertinently, I have a concern about the ground. Looking at his career record his best performances have come with some ease in the surface. In fact he has never raced on ground with firm in the description. He may be perfectly fine on really quick summer going but we have no evidence of this fact and, after all, he is an odds-on shot. Of course, this theory also depends on the ground being quick and there not being an overreaction by the track in terms of watering to the recent warm conditions. His keen going nature bothers me too. He made all in the Lockinge with his pacemaker fluffing his lines and then under a good ride made all, but making all at Ascot on the straight course is very tough and if he is asked to settle behind a pacemaker will he actually relax properly? Enough worries and doubts to make him a lay at 1.8. 
Lady Aurelia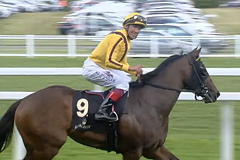 2. LADY AURELIA (King's Stand Stakes)
Lady Aurelia is surrounded by the usual hype and unfailing confidence of Wesley Ward. However much he wants her to win, the facts are that winning a King's Stand is much tougher than routing two-year-old fillies in the Queen Mary as she did last year. Let's face it, last year Lady Aurelia looked like a teenager among infants. Stronger, bigger, faster and much better than her own sex over five furlongs against her peers is how we should look at her. Now she is a year older, taking on all ages and sexes and as such the task for her is now so much harder. Yes, she should be favourite, but she is not the good thing she was last year. It was easy for her to blow away smaller, slower, and weaker opponents last year. Now she has to show she has improved a good deal to put away a very good field of all-age sprinters. It is perhaps the case that she had all the aces in her hand last year. That is not the case this time and she must be laid in the win market on the exchanges.
3. BARNEY ROY (St James's Palace Stakes)
You can make whatever excuse you want for Barney Roy in the 2,000 Guineas but it does not alter the result nor will it change the result of the St James Palace Stakes which is completely at the mercy of Churchill. At 9-4 Barney Roy has to be a lay. I like the horse because he is talented, has a great attitude and has posted two good speed figures. However, in the realms of Group One miling he takes too long to get going. His big, long, raking stride catches the eye but it makes him more of a galloper than a quickener and if you can't quicken you can't beat Churchill. The modest gallop and getting lost in the Dip was blamed for his defeat in the Guineas. Plausible enough if you want to make excuses, but top class milers are well balanced and can quicken. He lacked those attributes at Newmarket and I believe he will come up short again. He should be laid in the St James Palace Stakes at around 9-4. 
4. HARRY ANGEL (Commonwealth Cup)
Harry Angel could win the Commonwealth Cup if he can beat Caravaggio and Blue Point. I don't think he can beat either of them, so he is a lay in the win market at 4-1. Yes, he was impressive at Haydock last time out, but he was well and truly put in his place by Blue Point on his previous outing at Ascot. I see no reason why he will turn the form around, let alone beat the brilliant Caravaggio. What's more, it's my opinion that when Blue Point put him away at Ascot he hung and curled up in defeat. It was different at Haydock when he made all and got his own way. It is very hard to make all at Ascot and if he tries to do that he will simply have a target on his back. His keen going nature means he cannot really be restrained and thus his one dimensional nature - and possible need to dominate - will play against him with Caravaggio and Blue Point in opposition. Lay him at 4-1 on the exchanges.
5. FRONTIERSMAN (Hardwicke Stakes)
Should be opposed in the win market on the exchanges. Don't get me wrong, I like the horse. Impressive at Newmarket and then a superb second at Epsom in the Coronation Cup to Highland Reel, he is worthy of a place in the field but as with many Godolphin horses this is surely a case of too much too soon in his fledgling career. His run at Epsom was a very good one but there is every chance that run took him to the brink of his physical ability and that could have left mental scars that he is not ready to deal with. A step forward from that run seems unlikely. Indeed, regression would seem a much more likely. He has already been asked to run through the pain barrier and now he is being asked to smash that barrier again. A big ask and one that may be beyond him. After all, few horses can do that unless of course they possess the perfect racing blood of Galileo.