Queen Mary Stakes

Group 2, Ascot 15:05
£110,000 added,
2yo only,
5f, Class 1  
Wednesday 15th June 2016

1 Lady Aurelia 2/1f
2 Al Johrah 9/2
3 Clem Fandango 16/1
17 ran Distances: 7l, 2½l, ½l
TIME 1m 0.14s (slow by 1.14s)
Wow! A sensational Lady Aurelia lands the Queen Mary under Frankie Dettori
Lady Aurelia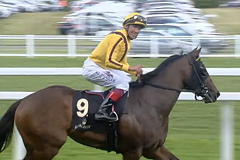 Trainer Wesley Ward gained his third success in the Queen Mary Stakes following the victory of the well-backed 2/1 favourite Lady Aurelia in the second race on day two of the Royal meeting.

Ward has an envious record in the race following the victories of Jealous Again in the 2009 renewal and Acapulco in last year's contest with Lady Aurelia adding her name to that list in devastating fashion.

The daughter of Scat Daddy, who also sired Caravaggio to win yesterday's Coventry Stakes, was always travelling prominently under Frankie Dettori and spread-eagled the field at the two furlong pole, displaying a potent turn of foot to quicken clear of her rivals. The two-year-old galloped all the way to the line to register a facile seven-length victory.

Ward said: "She is an amazing filly. I kept professing about her and you need it to come true so thank God she lived up to it. She is a special, is very sound and should have a big future. We're very excited about her.

"The ground was a little bit of a question mark for me but her greatness came out today. I thought she could overcome the ground and she did. Frankie gave her a beautiful ride so we are all smiles. Frankie is a lovely guy and an extremely talented guy.

"I'm fortunate for all the success I have had. I'm getting a bigger pool of two-year-olds to choose from and I am able to narrow it down to the better ones I have to have the opportunity to come here. Fortunately, the cream rises to the top by the time I come here so I am able to bring a better quality horse over here and this filly is just tremendous.

"There is nothing like Royal Ascot. I have been fortunate to win a couple of Breeders' Cup races but to win here stands above everything."

Ward also suggested the filly's immediate future lies in Europe. He commented: "We will probably keep her based over here, I need to talk to the owners. It all depends on where her next start will be but that hopefully will be the Molecomb Stakes (Qatar Goodwood Festival) and then onto the Prix Morny, I just need to see if the owners agree. We probably won't go to the Nunthorpe with this filly. I'd like to space her races out. There is nothing in the United States on the grass for a filly like her at the moment."

Following Tepin's victory in the Queen Anne Stakes, Ward also believed that other trainers would now follow his lead and bring more horses to the Royal meeting. He remarked: "The greatest horses in the world are competing here. Tepin highlighted how competitive we could be. Royal Ascot will be a worldwide event with American horses hopefully coming here after Tepin's victory."

"It was breathtaking from the top," said Dettori.

"To win a sprint at Royal Ascot by seven lengths - I have never seen anything like it, especially from a two-year-old.
"I was going some very good splits and when we got to the furlong and a half I asked her to go and she found another gear. I was completely shocked.

"She was a rocket and she relaxed so well - Wesley Ward is a genius!

"She is a lovely filly and well done to Wesley. He is a master with these sprinters."

"With the weight allowance in the Nunthorpe Stakes (at York - Acapulco, last year's winner and stablemate of Lady Aurelia, finished second in the 2015 running), she'd surely take all the beating."
Queen Mary Stakes
£110,000 added, 2yo only, 5f, Class 3
17 ran
Going: Soft
Pos
Dr
D
Horse SP
Jockey Weight
Trainer
Age
1st
(14)
Lady Aurelia (USA) 2/1f
L Dettori
9-0
Wesley Ward
2
2nd
(8)
7
Al Johrah 9/2
G Benoist
9-0
H F Devin
2
3rd
(1)
2&frac12
Clem Fandango (FR) 16/1
P Makin
9-0
K Dalgleish
2
4th
(9)
&frac12
Kocollada (IRE) 16/1
J P Spencer
9-0
R A Fahey
2
5th
(7)
hd
Simmie (IRE) 100/1
P J Dobbs
9-0
S Kirk
2
6th
(15)
2&frac14
Barroche (IRE) 14/1
A Kirby
9-0
C G Cox
2
7th
(4)
1&frac12
Stormy Clouds (IRE) 33/1
S M Levey
9-0
R Hannon
2
8th
(5)
nse
Roly Poly (USA) 8/1
R L Moore
9-0
A P O'Brien
2
9th
(2)
3&frac14
Madam Dancealot (IRE) 25/1
P J Smullen
9-0
J Tuite
2
10th
(3)
hd
Kachess 13/2
R Kingscote
9-0
Tom Dascombe
2
11th
(13)
hd
Quench Dolly 100/1
Michael J M Murphy
9-0
J Gallagher
2
12th
(6)
2&frac14
Reeh (IRE) 33/1
P Hanagan
9-0
J H M Gosden
2
13th
(16)
1&frac12
Jule In The Crown 20/1
S De Sousa
9-0
M R Channon
2
14th
(12)
&frac34
Camargue 12/1
W Buick
9-0
M Johnston
2
15th
(17)
1&frac12
Vona (IRE) 25/1
J Garritty
9-0
R A Fahey
2
16th
(10)
&frac12
Spiaggia (IRE) 25/1
T Piccone
9-0
F Chappet
2
17th
(11)
4
Katrine (IRE) 33/1
J Fanning
9-0
M Johnston
2

JOHRAH NOT DISGRACED AS LADY BLASTS TO VICTORY

Harry Herbert, racing manager to Al Shaqab and the head of Highclere Racing, has been involved with some exceptional horses, but he was not about to stint his praise for Lady Aurelia.

The Wesley Ward-trained raider from America had just sprinted clear of her 16 rivals to win the Queen Mary Stakes by no less than seven lengths, leaving the runner-up, Al Shaqab's Al Johrah, in her vapour trail. In third, a further two and a half lengths back, was Clem Fandango.

Asked for his view of the race, Herbert said: "Our filly has run a fantastic race, but the winner put up the best performance by a two-year-old filly I've ever seen. I cannot believe what I have just seen - it was quite remarkable.

"Our filly has beaten the rest fair and square, but was clearly second best. In racing we don't see performances like that very often. Gregory Benoist [who rode Al Johrah] just said to me he couldn't quite believe what was happening up front. He said I knew I had the rest beaten, but . .

"I'm pleased for Henri Devin that our filly ran so well for him with his first runner at Royal Ascot. I'm sure she will get further, but we'll look at where the winner is likely to go - and avoid at all costs."

Devin, who trained Physiocrate to finish second in last year's Prix de Diane (French Oaks) trains three horses for Al Shaqab. He said of Al Johrah: "I thought she ran really well and was beaten by a champion. I'm very happy with her - she's as good a two-year-old as I train, and certainly the fastest.

"She should get further and was accelerating all the way to the post today, and she acts on any ground. The others might not act as well as her on soft, but she will go on quicker ground.

"We'll see how she comes out of this, but the Prix Morny would be her big target, and maybe we will come back here later in the year."

FANDANGO FOR NEWBURY NEXT?

Clem Fandango, who came home third, delighted her trainer Keith Dalgleish. "She had a nice clean run through the race. The winner looked special but I am delighted with her run. The first looked very special indeed but we are not a million miles from the second so it was a great run.

"She is in the Super Sprint at Newbury (July 16) off eight stone so that might be a possibility."

Phillip Makin, rider of the Elzaam filly, added: "She ran very well, I was really pleased with her. She handled the ground and came home well. I think we have all bumped into a bit of a superstar in the winner."

Richard Fahey, trainer of the fourth home Kocollada, said of his filly's performance: "She ran a good race but the winner went so quick she never got a chance. I think the winner is a freak. We ran well though so I am pleased."