Qatar Prix de l'Arc de Triomphe

Grade 1, Longchamp 14:55
€4,800,000 added,
3yo plus,
1m 4f, Class 1  
Sunday 4th October 2015
1 Golden Horn 9/2
2 Flintshire 20/1
3 New Bay 5/1
4 Treve Evs
NR: Meleagros (IRE)
17 ran Distances: 2l, nk, nse
TIME 2m 27.23s (fast by 3.27s)
The Derby winner Golden Horn wins the Arc for John Gosden and Frankie Dettori, Flintshire 2nd and New Bay edged out Treve for third.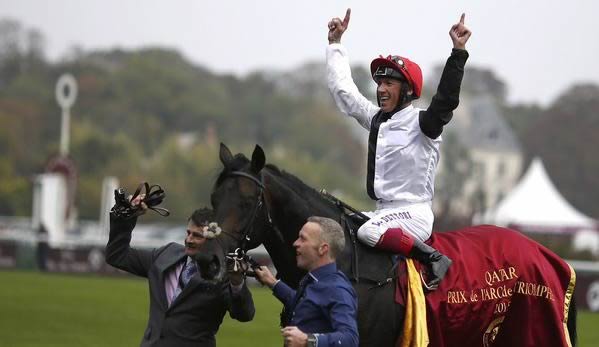 John Gosden's Derby hero and subsequent winner of the Coral-Eclipse and Irish Champion Stakes had a wide draw to overcome, but Dettori gradually angled his way across the track and into an ideal position, tracking the pacemaking Shahah.
Golden Horn came under pressure early in the straight and the packed grandstand erupted as Criquette Head-Maarek's wonder mare Treve, bidding to become the first horse in history to win the Arc three times, arrived on the outside seemingly full of running.
However, her trademark late burst failed to materialise once push came to shove and Golden Horn galloped all the way to the line, passing the post clear under a jubilant Dettori.
Flintshire filled the runner-up spot for the second successive year, with Treve edged out for third by New Bay.
Gosden, claiming his first Arc victory, said: "It's great to win the Arc in France and the Derby in England - that's what it's about.
"When you're drawn wide, if you stay wide for a long time, you can run your own little race and not be bothered by anyone and then slot across.
"It was perfect as we sat behind the pacemaker and then kicked because as Frankie says, if you don't kick at a certain time here they come like arrows at your back.
"I think (Dettori and Golden Horn) help each other. I keep saying he's a better horse coming from off the pace and he was today."
Golden Horn will head for stallion duties next season - but could have one more run this season.
Gosden said: "He retires to stud and the owner is quite keen on the Breeders' Cup. It gives us one day short of a month, he's got a great constitution and he travels well.
"If he's in good order next week, there's no reason why he can't go there."
Dettori said: "I really believed in the horse. He put a great Arc to bed like a superstar. I was going that fast in the last 300 (metres) I thought it was impossible for another horse to pass me. It was an amazing performance.
"I've been scratching my head all week. Everyone was determined to make me sit behind and I said 'Why? We've got the best horse. Let me get him up there and show the world how good he is'.
"The only blip he had was at York, but his record is unbelievable. He's probably the best horse I've ridden."
Owner Anthony Oppenheimer said: "It's very exciting. He was magnificently ridden and has just a wonderful trainer in John Gosden. He's such an understanding horseman and I can rest easily knowing he's in complete control.
"As for the future, we'll let the horse tell us whether we run again. There are the two races (Champion Stakes at Ascot and Breeders' Cup) to think about. This might have taken a bit out of him, though, so we'll see.
"He will definitely not race on next season. He is due to stand at Darley and I will retain a half-share. I'm very proud - he's a wonderful, wonderful horse."
Teddy Grimthorpe, racing manager to Khalid Abdullah, owner of Flintshire and New Bay, said: "Both our horses ran really well. We are pleased with them and will go away and make a plan for both."
Coral make Golden Horn the 4-5 favourite for the Breeders' Cup Turf at Keeneland, while
RaceBets quote Gosden's ace at 2-1 in company with Flintshire.
Qatar Prix De L'Arc De Triomphe
€4,800,000 added, 3yo plus, 1m 4f, Class 1
17 ran
Going: Good
| POS (DR) | DIST | HORSE SP | WGT | JOCKEY | TRAINER | AGE |
| --- | --- | --- | --- | --- | --- | --- |
| 1 (14) | | GOLDEN HORN 26/5 | 8-11 | Frankie Dettori | John Gosden | 3 |
| 2 (11) | 2 | FLINTSHIRE 186/10 | 9-5 | Maxime Guyon | A Fabre | 5 |
| 3 (5) | nk | NEW BAY 48/10 | 8-11 | Vincent Cheminaud | A Fabre | 3 |
| 4 (8) | nse | TREVE 9/10F | 9-2 | Thierry Jarnet | Mme C Head-Maarek | 5 |
| 5 (4) | 1½ | ERUPT 29/1 | 8-11 | Stephane Pasquier | F-H Graffard | 3 |
| 6 (12) | nk | FREE EAGLE 168/10 | 9-5 | Pat Smullen | D K Weld | 4 |
| 7 (10) | snk | PRINCE GIBRALTAR 42/1 | 9-5 | Fabrice Veron | J-C Rouget | 4 |
| 8 (7) | snk | SILJAN´S SAGA 108/1 | 9-2 | Pierre-Charles Boudot | J-P Gauvin | 5 |
| 9 (15) | ½ | FOUND 28/1 | 8-8 | Ryan Moore | A P O´Brien | 3 |
| 10 (17) | hd | SILVERWAVE 100/1 | 8-11 | James Doyle | Alain Couetil | 3 |
| 11 (1) | 2 | MANATEE 59/1 | 9-5 | Mickael Barzalona | A Fabre | 4 |
| 12 (18) | ¾ | SPIRITJIM 148/1 | 9-5 | Andrea Atzeni | Alain Couetil | 5 |
| 13 (13) | 4 | DOLNIYA 27/1 | 9-2 | Christophe Soumillon | A De Royer-Dupre | 4 |
| 14 (6) | ¾ | FRINE 77/1 | 9-2 | Olivier Peslier | C Laffon-Parias | 5 |
| 15 (3) | nk | EAGLE TOP 46/1 | 9-5 | William Buick | John Gosden | 4 |
| 16 (9) | 15 | TAPESTRY 57/1 | 9-2 | J P O'Brien | A P O´Brien | 4 |
| 17 (2) | dist | SHAHAH 120/1 | 8-11 | Gregory Benoist | A Fabre | 3 |
| NR | 1-1 154 | MELEAGROS | 9-5 | NON RUNNER | Alain Couetil | 6 |