Stobart Rail Northumberland Plate

Heritage Handicap,
Newcastle 15:30
£150,000 added, 3yo plus,
2m 56y, Class 2  
Saturday 1st July 2017
1 Higher Power 11/2
2 Natural Scenery 7/1
3 Flymetothestars 11/4F
4 Lord George 17/2
20 ran Distances: ½l, nk, ¾l
Time: 3m 35.37s (slow by 8.37s)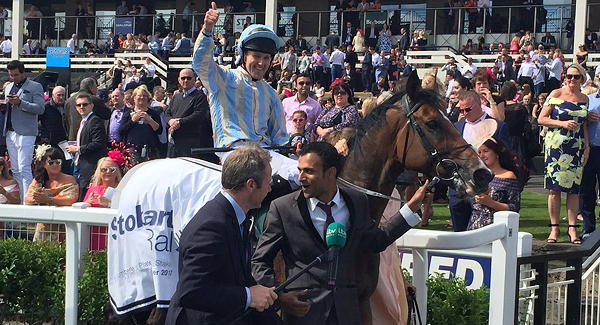 Trainer James Fanshawe and jockey Tom Queally combined to win the Diamond Jubilee Stakes at Royal Ascot with The Tin Man, but at the other end of the scale, Higher Power saw out every yard of the extended two-mile trip to land the Pitmen's Derby.
The 20-strong field was reduced by one as the stalls opened as something was amiss with Maleficent Queen and she was pulled up after just a couple of strides. 
My Reward set out in front but with well over a mile and a quarter to run, Paul Hanagan pushed on aboard Champagne Champ, clearly wanting to set more of a testing pace. 
He was still in front turning for home but there were plenty of challengers in behind, not least Higher Power (11-2), who was travelling best of all. 
Favourite Flymetothestars briefly looked like going with the winner, but just could not up the pace as Queally set sail for home, with Natural Scenery putting up the best challenge to finish second for Josephine Gordon. 
Flymetothestars was third, with Lord George back in fourth. 
Queally said: "It was a great performance. It was a team effort and it's great when it all comes off. Moments like this are important. It's a handicap that I've not had on my CV, so it's nice from my point of view. 
"Just to be hitting these Saturday winners, it makes people take notice, and I hope James and I can reap the rewards." 
Fanshawe, who won the Northumberland Plate with Bold Gait in 1995, said: "It's brilliant. It's fantastic. My sister owns and bred him so it's great for all the family. 
"He's a classy horse and he stays well. To win this race you have to have a bit of class. We were thinking about the Gold Cup but the ground at Ascot was too firm, so we came here as it's a nice prize to win. 
"We've got a great team back at home and I'm really grateful to them."
Stobart Rail Northumberland Plate
(Heritage Handicap)
£150,000 added, 3yo plus, 2m 56y, Class 2
20 ran
Going: AW - Standard
Pos
Dr
D
Horse SP
Jockey Weight
Trainer
Age
1st
(13)
Higher Power 11/2
T P Queally
9-9
J R Fanshawe
5
2nd
(10)
&frac12
Natural Scenery 7/1
Josephine Gordon
9-5
S bin Suroor
4
3rd
(8)
nk
Flymetothestars 11/4f
L Morris
9-2
Sir Mark Prescott
4
4th
(17)
&frac34
Lord George (IRE) 17/2
George Wood (3)
8-12
J R Fanshawe
4
5th
(18)
nk
My Reward 28/1
D Allan
8-9
T D Easterby
5
6th
(6)
&frac34
Sir Chauvelin 25/1
P Mulrennan
9-0
J S Goldie
5
6th
(19)
d.h
Sam Missile (IRE) 25/1
Daniel Muscutt
8-8
J R Fanshawe
4
8th
(15)
nk
Cosmelli (ITY) 100/1
T Eaves
9-1
Miss Gay Kelleway
4
9th
(20)
1
Clever Cookie 33/1
D Tudhope
9-10
P D Niven
9
10th
(12)
&frac12
Gavlar 40/1
Callum Shepherd (3)
8-9
W J Knight
6
11th
(4)
nk
Good Run (FR) 20/1
F M Berry
9-0
S bin Suroor
4
12th
(11)
nk
Seamour (IRE) 6/1
B A Curtis
9-5
B Ellison
6
13th
(9)
nk
Yorkidding 33/1
J Fanning
9-1
M Johnston
5
14th
(2)
1
Champagne Champ 25/1
P Hanagan
8-9
B R Millman
5
15th
(7)
2&frac14
Suegioo (FR) 25/1
T Hamilton
9-2
R A Fahey
8
16th
(16)
2&frac12
Winterlude (IRE) 66/1
D Nolan
9-6
Jennie Candlish
7
17th
(5)
2
Jaameh (IRE) (ex5) 12/1
Dane O'Neill
9-0
M Johnston
4
18th
(14)
9
Hot Beat (IRE) 25/1
M Harley
8-12
D M Simcock
5
19th
(1)
1
Corton Lad 100/1
Rowan Scott (5)
8-8
K Dalgleish
7
Also Ran: Maleficent Queen