Coolmore Nunthorpe Stakes

Group 1, York 15:40
£265,000 added,
2yo plus,
5f, Class 1
Friday 22nd August 2014
1 Sole Power 11/4F
2 Stepper Point 20/1
3 Extortionist 14/1
NR: Borderlescott, Pearl Secret
13 ran Distances: ½l, shd, ½l
TIME 57.92s (slow by 0.42s)
Richard Hughes gives a masterclass on board the talented Sole Power to win the Nunthorpe and land some hefty bets
Frankie Dettori: "He had to switch the horse 3 or 4 times. Sprints happen so quick you seldom see a horse do that and win."
"I thought we'd got it, I was looking for the line, saying where is it?" Willie Muir, trainer of Stepper Point, twice second to Sole Power
Richard Hughes squeezed Sole Power through the eye of a needle to claim his latest Group One success in the Coolmore Nunthorpe Stakes at York.
Four years ago, Eddie Lynam's gelding claimed the same race as a 100-1 chance, but after he successfully defended his title in the King's Stand at Royal Ascot, he was the 11-4 favourite this time.
Hughes had to make a dramatic move to switch Sole Power as he had nowhere to go with just over a furlong left, but they dived through a gap to pinch the race from Stepper Point, eventually scoring by a half-length margin. Extortionist was third, another short head back.
As expected, the fleet-footed Take Cover broke smartly and attempted to repeat his recent front-running success at Goodwood, but he could not sustain the gallop.
Moviesta and Stepper Point were duelling up front, and Extortionist was beginning a late charge, but Sole Power's turn of foot was simply far too good.
It means, after the feats of Slade Power, that Lynam and the Power family have won all four British Group One sprints so far this season.
Hughes said: "He's brilliant, he's made for me. When I was 14 or 15 I dreamed about riding horses like this, and doing it like that."
Lynam added: "Two weeks ago, he had American ringworm, we had to get him right for it and we had only 10 days to train him.
"He's a super horse, a horse of a lifetime, it's just the way he does it. He was about 97 points lighter than he was four years ago!
"We haven't run him in Ireland for a good few years. There's a race on Irish Champions Weekend and we'd like to support it. We'll give him a blow-out in Longchamp in the Prix de L'Abbaye, keep him ticking over, and then Hong Kong. I'd love another go at that."
Stepper Point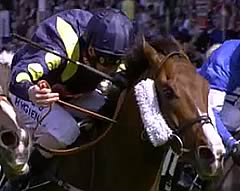 Trainer William Muir said of the gallant Stepper Point: "I know how good he is, but he's always overlooked. We know what he likes and doesn't like, but we keep running him and he always runs his race.
"Sole Power is the best sprinter in Europe, we just can't beat him - we're not far behind him, but I thought we'd beaten him today. I don't know where we'll go next."
Olly Stevens said of Extortionist: "He's very good. The rain yesterday was no help as he wants it rattling fast and I'm just glad we got so close to the winner. He'll be a real horse next year as it's so hard for three-year-olds, the programme and weight-for-age scale is all against them.
"We might try six next. He's in at Haydock and the Ascot race."
Coolmore Nunthorpe Stakes
(Group 1) (British Champions Series)
£265,000 added, 2yo plus, 5f, Class 1
13 ran
Going: Good