Duke Of York Clipper Logistics Stakes

Group 2, York 15:15
£110,000 added,
3yo plus,
6f, Class 1  
Wednesday 13th May 2015
1 Glass Office 40/1
2 Mattmu 14/1
3 Jack Dexter 18/1
15 ran Distances: hd, nk, hd
TIME 1m 10.65s (slow by 0.65s)
Glass Office wins the Duke of York Stakes!
Runner-up Mattmu has run "an absolute corker" says Nick Luck
Jack Dexter got the better of a bunch finish for the minor placings to take 3rd.

Glass Office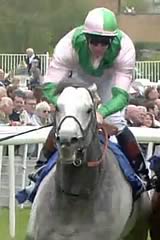 Glass Office came with a well-timed late run to get the better of a tight finish and claim a surprise victory on the Knavesmire.
The keen-going Muthmir quickly hit the front in the hands of Paul Hanagan and was soon tracked by confirmed front-runner Astaire and French raider Gammarth.
Despite racing with the choke out, the William Haggas-trained Muthmir maintained his position until being passed late in the day by Astaire, Caspar Netscher and Mattmu.
David Simcock's Glass Office looked to have plenty to do approaching the two-furlong pole, with more horses in front of him rather than behind. However, the 40-1 shot found an extra gear for Jim Crowley to foil Mattmu, the sole three-year-old runner in Group Two six-furlong event, by a head.
Crowley said: "I got shuffled back early on and we just had to work our way into it.
"To be honest, he had been off the track for such a long time before Newmarket we were hoping he would improve.
"David Simcock has done a fantastic job to get him back after such a long lay-off. It was a great performance."
Simcock said: "Glass Office was entitled to improve for his first run in 16 months. We were hopeful of going to Dubai last year, but he got struck into coming out of the stalls and hurt himself quite badly and had the year off.
"I don't care how much work I could have put into him, he was never going to be ready first time. It was just a question of getting him back on track and getting a run into him and the freshness out of him. He actually ran very well in the Palace House over a trip far too sharp.
"He will go to Ascot now, then to the July Cup. It is a set pattern. I am pretty sure he will come on again."
Tim Easterby was thrilled with the effort of Mattmu, and feels there will be more to come on softer ground.
He said: "He is a very good horse and when you get a good horse you always expect a good run, but we are still a bit ground dependent. He run a super race and we weren't expecting too much - he is a 7lb better horse on soft ground.
"He will go to the three-year-old race at Ascot (Commonwealth Cup) if it is good or good to soft, if it is fast ground he won't go anywhere. The Haydock sprint at the end of the year would come to mind as he would be a bit more mature."
Jack Dexter was third for Jim Goldie, who said: "We knew we had a bad draw after watching the previous race, so we decided to come across and give him a chance.
"The low numbers appear to have no chance and with a better draw he would have gone even closer to the winner.
"We went straight and we tracked him, but couldn't make up the ground. He is in the King's Stand at Royal Ascot. He has run a stormer and I'm delighted with him."
Duke Of York Clipper Logistics Stakes (Group 2)
£110,000 added, 3yo plus, 6f, Class 1
15 ran
Going: Good
Pos
Draw
Dist
Horse SP
Jockey Weight
Trainer
Age
1st
(7)
Glass Office 40/1
Jim Crowley
9-8
D M Simcock
5
2nd
(12)
hd
Mattmu 14/1
D Allan
9-1
T D Easterby
3
3rd
(2)
nk
Jack Dexter 18/1
F Lynch
9-8
J S Goldie
6
4th
(4)
hd
Caspar Netscher 25/1
A Mullen
9-11
D M Simcock
6
5th
(5)
nk
Muthmir (IRE) 9/2
P Hanagan
9-8
W J Haggas
5
6th
(9)
nse
Astaire (IRE) 7/1
J P Spencer
9-8
K A Ryan
4
7th
(11)
1&frac14
Lightning Moon (IRE) 4/1f
W Buick
9-8
Ed Walker
4
8th
(3)
hd
Gathering Power (IRE) 20/1
K Fallon
9-5
E Lynam
5
9th
(10)
nk
Aetna 25/1
Graham Gibbons
9-5
M W Easterby
5
10th
(13)
1
Musical Comedy 20/1
R L Moore
9-8
R Hannon
4
11th
(1)
1&frac34
Justice Day (IRE) 16/1
J F Egan
9-8
D R C Elsworth
4
12th
(6)
&frac12
Line Of Reason (IRE) 40/1
P Mulrennan
9-8
P T Midgley
5
13th
(8)
6
Gammarth (FR) 33/1
L Dettori
9-8
H A Pantall
7
14th
(15)
11
Lucky Kristale 14/1
T P Queally
9-5
G G Margarson
4
15th
(14)
4
Naadirr (IRE) 9/2
M Harley
9-8
M Botti
4