Willie Mullins Stable Visit

Monday 22nd February 2021

Willie Mullins today insisted Al Boum Photo would deserve to be considered among the greatest winners of the Cheltenham Gold Cup if he triumphs in the Blue Riband race for a third time next month.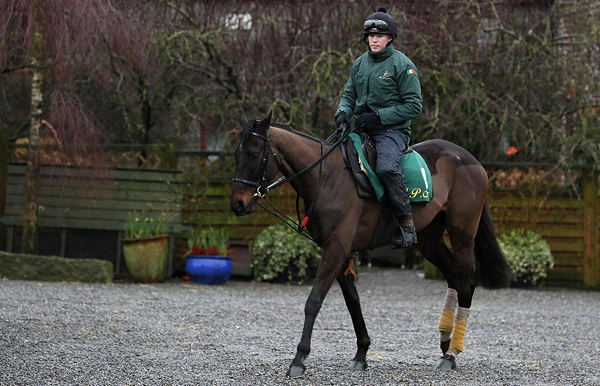 Al Boum Photo
Best Mate is the only other horse this century to achieve the feat and while Mullins is the most successful trainer of all-time at The Festival™ supporting WellChild with 72 winners, his stable star's rise to the top is remarkable given that he had never trained a Gold Cup winner until 2019.
Prior to Al Boum Photo's first success, the Cheltenham Gold Cup was one of the few major prizes to have eluded Mullins, who had trained the runner-up on no fewer than six occasions.
Asked how it would feel to win the most prestigious steeplechase of them all for a third time, Mullins compared it to the great Arkle's achievements in 1964, 1965 and 1966.
He explained: "It would be extraordinary - we never dreamed of it. Two years ago I had given up on the dream (of winning one Gold Cup) and now it's unbelievable to be on the brink of an Arkle.
"He is easy to train, that's the thing about him. When you see him in a field he's unremarkable, but he stands out when he's on his own. He's always looking over a hedge to see what's going on but when amongst the horses he's just 'Ordinary Joe'.
"I think it's a great three-way partnership. There's Paul (jockey, Paul Townend), the Donnellys (owners, Joe and Marie Donnelly) and the horse. They stuck by Paul after Punchestown and they got their reward. I'd hate to have to change jockeys at this stage but who knows by the fourth day of Cheltenham what will happen."
Speaking at a virtual press conference, Mullins said he understands why some have refused to put Al Boum Photo in the same bracket as other multiple Cheltenham Gold Cup winning horses.
He added: "He hasn't advertised himself really during the year but that is the way we have done it. It's hard to say that is by mistake - he missed Leopardstown because of the ground and we ended up going to Tramore – I have stuck with that plan.
"The fact is he could be going for his fourth win at Cheltenham (Al Boum Photo fell two fences out when in contention in the race now known as the Brown Advisory Novices' Chase in 2018) and is a real Cheltenham horse. Probably the fact of that fall and his subsequent run that year at Punchestown didn't show him off in the best light.
"He obviously has an engine and if he is able to go back and do it three times then I think can sit up there with any of them. That is something we will worry about if he is able to do it."

Mullins said it had always been the plan for the nine year old to follow the exact same route to Cheltenham as he did in 2019 and 2020 by making the Grade Three Savills New Year's Day Chase at Tramore his only other start.
The Closutton trainer said: "He is in great shape and worked well last week. He has a big bit of work coming up this week. He is uncomplicated and very nice to train – little did I think when we bought or when he ran out at Punchestown or when he had the mishap with Ruby at Cheltenham that we would be in this position. He has a funny back history but here he is – a double Gold Cup winner going for his third. We are very privileged to have him.
"We think he is in a good position and any time Paul has ridden him he has been happy with him. I am happy with what I am seeing. There are no negatives at this time and there have been no setbacks. The only surprising thing was that I thought I had him straighter for Tramore but when I analysed it all out, he had such a long break from last year's Gold Cup and no spring campaign as such. It was a long time back to Tramore and he probably should have had one more piece of work before but he got through it and we learnt from it. He is in great shape going to Cheltenham this year."
Speaking of potential rivals this year, Mullins added: "I think you have to take both A Plus Tard and Champ seriously. Both are stayers. A Plus Tard is bred to stay and Champ proved that he stayed all day last year. The two have both put in huge performances as their prep run."
Of his other Cheltenham Gold Cup contenders, Mullins added: "We have Kemboy in there and also Melon. Looking at his replays replay you'd think possibly Melon would go to the Ryanair but we have plenty in that so we've got a few discussions."

Willie Mullins: His 72 winners at The Festival™ supporting WellChild
1995 (1)
Tourist Attraction - Sky Bet Supreme Novices' Hurdle
1996 (1)
Wither Or Which - Weatherbys Champion Bumper
1997 (1)
Florida Pearl - Weatherbys Champion Bumper
1998 (2)
Florida Pearl – Brown Advisory Novices' Chase
Alexander Banquet - Weatherbys Champion Bumper
2000 (1)
Joe Cullen - Weatherbys Champion Bumper
2002 (1)
Scolardy - JCB Triumph Hurdle
2004 (1)
Rule Supreme – Brown Advisory Novices' Chase
2005 (1)
Missed That - Weatherbys Champion Bumper
2007 (1)
Ebaziyan - Sky Bet Supreme Novices' Hurdle
2008 (2)
Fiveforthree - Ballymore Novices' Hurdle
Cousin Vinny - Weatherbys Champion Bumper
2009 (3)
Quevega - Close Brothers Mares' Hurdle
Mikael D'Haguenet - Ballymore Novices' Hurdle
Cooldine – Brown Advisory Novices' Chase
2010 (2)
Quevega - Close Brothers Mares' Hurdle
Thousand Stars - County Handicap Hurdle
2011 (4)
Hurricane Fly - Unibet Champion Hurdle
Quevega - Close Brothers Mares' Hurdle
Final Approach - County Handicap Hurdle
Sir Des Champs - Martin Pipe Conditional Jockeys Handicap Hurdle
2012 (3)
Quevega - Close Brothers Mares' Hurdle
Champagne Fever - Weatherbys Champion Bumper
Sir Des Champs - Marsh Novices' Chase
2013 (5)
Champagne Fever - Sky Bet Supreme Novices' Hurdle
Hurricane Fly - Unibet Champion Hurdle
Quevega - Close Brothers Mares' Hurdle
Back In Focus - National Hunt Chase
Briar Hill - Weatherbys Champion Bumper
2014 (4)
Vautour - Sky Bet Supreme Novices' Hurdle
Quevega - Close Brothers Mares' Hurdle
Faugheen - Ballymore Novices' Hurdle
Don Poli - Martin Pipe Conditional Jockeys Handicap Hurdle
2015 (8)
Douvan - Sky Bet Supreme Novices' Hurdle
Un De Sceaux – Sporting Life Arkle Chase
Faugheen - Unibet Champion Hurdle
Glens Melody - Close Brothers Mares' Hurdle
Don Poli - RSA Insurance Novices' Chase
Vautour - Marsh Novices' Chase
Wicklow Brave - County Handicap Hurdle
Killultagh Vic - Martin Pipe Conditional Jockeys Handicap Hudle
2016 (7)
Douvan - Racing Post Arkle Chase
Annie Power - Unibet Champion Hurdle
Vroum Vroum Mag - Close Brothers Mares' Hurdle
Yorkhill - Ballymore Novices' Hurdle
Black Hercules - Marsh Novices' Chase
Vautour - Ryanair Chase
Limini - Daylesford Mares' Novices' Hurdle
2017 (6)
Yorkhill - Marsh Novices' Chase
Un De Sceaux - Ryanair Chase
Nichols Canyon - Paddy Power Stayers' Hurdle
Let's Dance - Daylesford Mares' Novices' Hurdle
Arctic Fire - County Handicap Hurdle
Penhill – Albert Bartlett Novices' Hurdle
2018 (7)
Footpad - Racing Post Arkle
Benie Des Dieux - Close Brothers Mares' Hurdle
Rathvinden - National Hunt Chase
Bleu Berry - Coral Cup
Relegate - Weatherbys Champion Bumper
Penhill – Paddy Power Stayers' Hurdle
Laurina - Daylesford Mares' Novices' Hurdle
2019 (4)
Klassical Dream - Sky Bet Supreme Novices' Hurdle
Duc De Genievres - Racing Post Arkle
Eglantine Du Seuil - Daylesford Mares' Novices' Hurdle
Al Boum Photo - WellChild Cheltenham Gold Cup
2020 (7)
Ferny Hollow - Weatherbys Champion Bumper
Min - Ryanair Chase
Concertista - Daylesford Mares' Novices' Hurdle
Burning Victory - JCB Triumph Hurdle
Saint Roi - County Handicap Hurdle
Monkfish - Albert Bartlett Novices' Hurdle
Al Boum Photo – WellChild Cheltenham Gold Cup

Leading Trainers of all time at The Festival™ supporting WellChild
72 wins - Willie Mullins IRE (1995-present)
68 - Nicky Henderson (1985-present)
46 - Paul Nicholls (1999-present)
40 - Fulke Walwyn (1946-86)
34 - Martin Pipe (1981-2006)
Willie Mullins – record in the WellChild Cheltenham Gold Cup
1999 
3 Florida Pearl Richard Dunwoody 5/2F
2000 
2 Florida Pearl Paul Carberry 9/2
2002 
6 Alexander Banquet Barry Geraghty 12/1
11 Florida Pearl Conor O'Dwyer 10/1
2004 
8 Alexander Banquet Ruby Walsh 80/1
2006 
2 Hedgehunter Ruby Walsh 16/1
2010 
5 Cooldine Paul Townend 10/1
2011 
PU Kempes A P McCoy 9/1
2012 
9 The Midnight Club Paul Townend 100/1
2013 
2 Sir Des Champs A P McCoy 4/1
2014 
2 On His Own David Casey 16/1
2015 
2 Djakadam Ruby Walsh 10/1
5 On His Own Mr Patrick Mullins 33/1
10 Boston Bob Paul Townend 33/1
2016 
2 Djakadam Ruby Walsh 9/2
3 Don Poli Davy Russell 9/2
2016 
8 On His Own Mr Patrick Mullins 50/1
2017 
4 Djakadam Ruby Walsh 3/1F
2018 
5 Djakadam Mr Patrick Mullins 25/1
F Total Recall David Mullins 14/1
F Bachasson Danny Mullins 33/1
PU Killultagh Vic Paul Townend 8/1
2019 
1 Al Boum Photo Paul Towend 12/1
F Invitation Only Mr Patrick Mullins 33/1
PU Bellshill Ruby Walsh 9/1
UR Kemboy David Mullins 8/1
2020 
1 Al Boum Photo Paul Towend 100/30 Fav
6 Real Steel Brian Hughes 50/1
7 Kemboy Mr Patrick Mullins 8/1