Grand National News

Right Place, Right Time for the Grand National
Wednesday 2nd December 2015

Titanbet.co.uk are excited about the later start time announced for the 2016 Grand National and are gearing up for their record betting day on horse racing.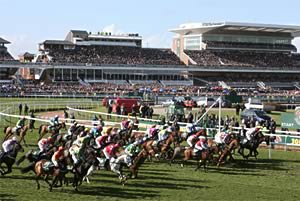 Aintree have confirmed the world's most famous steeplechase will be run at 5.15pm next year, in a bid to further boost viewing figures.
Almost nine million viewers tuned in to Channel 4 at the traditional time of 4.15pm last year, to watch Many Clouds gallop to victory in thrilling style, but starting an hour later should be even bigger and better say Titanbet.co.uk.
"We are excited by the changes and expect the 2016 Crabbie's Grand National to deliver our record turnover on a race," said UK Sports Manager for Titanbet.co.uk, Russell Yershon.
"Starting at 5.15pm makes sense as the Saturday afternoon football is over and everyone can concentrate on this huge global sporting event.
"What a day punters will have on April 11. After they have enjoyed a bet on the 3pm Football matches, they will be focused on picking the winner of the Grand National and can enjoy the thrill of 40 horses competing over the world famous Grand National course.
"We've already seen lots of interest in the ante-post betting and have shorted up Many Clouds to 16-1 favourite from 20-1 as he bids to become the first horse since Red Rum in 1974 to follow up and just imagine how much interest there will be on the day.
"We can't wait"