The Crabbie's Grand National

Grade 3 Handicap,
Aintree 16:15
£1,000,000 total prize fund,
7yo plus, 4m 3f 110y,
Class 1  

Saturday 11th April 2015

1 Many Clouds 25/1
2 Saint Are 25/1
3 Monbeg Dude 40/1
4 Alvarado 20/1
5 Shutthefrontdoor 6/1F
6 Royale Knight 25/1
NR: Carlito Brigante (IRE)
39 ran Distances: 1¾l, 6l, 3½l
TIME 8m 56.80s (fast by 7.20s)
Many Clouds wins the Crabbie's Grand National to give Leighton Aspell a second successive victory in the race
Successful aboard Pineau De Re 12 months ago, Leighton Aspell was never too far off the pace and Many Clouds, winner of the Hennessy Gold Cup at Newbury earlier in the season and sixth in the Cheltenham Gold Cup, jumped with aplomb throughout.
For a long way it appeared Shutthefrontdoor could provide Tony McCoy with a fairytale second National triumph before his retirement, but he eventually weakened into fifth place, and though Many Clouds tired from the elbow, he had enough in the tank to hold off Saint Are.
The first two home were both 25-1 shots, with Monbeg Dude (40-1) third and Alvarado (20-1) fourth.
Aspell said: "It was wonderful and we will certainly celebrate tonight. I asked some big questions, but he dug deep.
"We really refreshed and recharged his battery, and I tried to conserve energy. He is all heart - all season he has had hard races. Win lose or draw, that's the best ride I have had in the National. I just hoped his battery life lasted out and it did."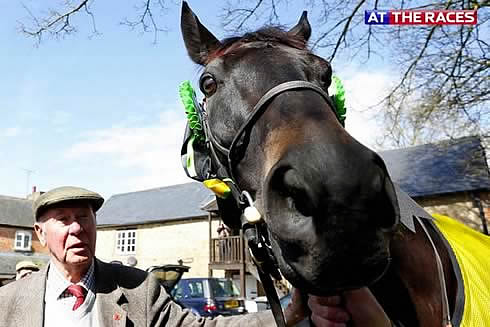 Trevor Hemmings & Many Clouds

The win was a third in the National for owner Trevor Hemmings after Hedgehunter (2005) and Ballabriggs (2011).
Sherwood said: "I can't believe it, it was some spin. All I wanted was the horse to come back in one piece. He was foot-perfect and didn't make a mistake. I thought it was a year too soon, but he was fit and healthy and it was Trevor's decision - he must get all the credit.
"The horse has been unbelievable all season, he has blossomed all year - he just got out of bed the wrong way in the Gold Cup. I didn't show him any National fences on purpose, I thought he had just gone over the top before the Gold Cup.
"I didn't see my horse come back in, so I was a bit worried, but I gather he was just a bit wobbly and he's OK. Jumping the last I couldn't watch. I watched the race on my own and the poor people beside me - I lost it completely!
"I still don't know what happened in the Gold Cup. He definitely didn't run his race, nothing against the winner (Coneygree). I've done nothing with this horse since Cheltenham. He hasn't seen a National fence. I didn't think it was the right thing to do. He's done two quiet bits of work and that's all I've done with him.
"It gave me a bit more confidence this week when (Silviniaco Conti) ran so well and Holywell didn't run badly, so the Gold Cup form was working out. Luckily this year there's an extra week from Cheltenham to Aintree, which has made a huge difference.
"I'm going to really enjoy this one - I'm in cloud cuckoo land!
Hemmings added: "Seriously, it was incredible. You come to the National and you dream that you win it. When a third comes along, that is something special. It is a wonderful, wonderful feeling.
"For years and years this race has captured my heart. What a wonderful feeling, you can't express it. Thank you Oliver Sherwood, thank you Leighton and all the staff, and, of course, Aintree."

The Crabbie's Grand National
Grade 3, £1,000,000 Total Prize Fund. Four miles, three and a half furlongs.
39 ran
Going: Good to Soft, Good in places
1) MANY CLOUDS (IRE) (Trevor Hemmings) Oliver Sherwood 8-11-09 Leighton Aspell 25/1
2) SAINT ARE (FR) (David Fox) Tom George tp9-10-06 Paddy Brennan 25/1
3) MONBEG DUDE (IRE) (Oydunow) Michael Scudamore 10-10-07 Liam Treadwell 40/1
4) ALVARADO (IRE) (Willian & Angela Rucker) Fergal O'Brien 10-10-03 Paul Moloney 20/1
5) SHUTTHEFRONTDOOR (IRE) (J P McManus) Jonjo O'Neill 8-11-02 A P McCoy 6/1 Fav
6) ROYALE KNIGHT (Chris Stedman & R Corsan) Dr Richard Newland 9-10-02 Brendan Powell
7) TRANQUIL SEA (IRE) (Jean & Clemmie Shipp) Warren Greatrex t13-10-05 Gavin Sheehan
8) CAUSE OF CAUSES (USA) (J P McManus) Gordon Elliott IRE tp7-10-09 Paul Carberry
9) SOLL (Derrick Mossop) David Pipe tb10-10-02 Tom Scudamore
10) CHANCE DU ROY (FR) (Daphne Du Pre) Philip Hobbs p11-10-04 Tom O'Brien
11) MON PARRAIN (FR) (John & Barbara Cotton) Paul Nicholls tb9-10-11 Sean Bowen
12) PINEAU DE RE (FR) (John Provan) Dr Richard Newland 12-11-00 Daryl Jacob
13) OWEGA STAR (IRE) (Anthony & Siobhan Callan) Peter Fahey IRE t8-10-03 Robert Power
14) SPRING HEELED (IRE) (Dr Ronan Lambe) Jim Culloty IRE p8-10-12 Nick Scholfield
15) OSCAR TIME (IRE) (Robert Waley-Cohen) Robert Waley-Cohen 14-10-05 Mr Sam Waley-Cohen
16) FIRST LIEUTENANT (IRE) (Gigginstown House Stud) Mouse Morris IRE tp10-11-03 Ms Nina Carberry
17) ROCKY CREEK (IRE) (The Johnson & Stewart Families) Paul Nicholls 9-11-03 Sam Twiston-Davies
18) NIGHT IN MILAN (IRE) (Richard Collins) Keith Reveley b9-10-09 James Reveley
19) DOLATULO (FR) (Chasemore Farm) Warren Greatrex tp8-10-11 Dougie Costello
FELL 1) ELY BROWN (IRE) (Countrywide Vehicle Rentals Taxi Hire) Charlie Longsdon p10-10-02 Brian Hughes
FELL 1) GAS LINE BOY (IRE) (Mick Fitzgerald Racing Club) Philip Hobbs 9-10-04 James Best
UR 1) AL CO (FR) (F Lloyd) Peter Bowen 10-10-08 Denis O'Regan
UR 3) RUBI LIGHT (FR) (Bill Hennessy) Robert Hennessy IRE t10-10-09 Andrew Lynch
PU BEF 4) CORRIN WOOD (IRE) (Dermot Hanafin, Robert Rose, Ian Whitfield) Donald McCain 8-10-07 David Casey
FELL 5) UNIONISTE (FR) (John Hales) Paul Nicholls p7-11-06 Noel Fehily
FELL 6) b (FR) (Fergus Wilson) Richard Chotard FR tb12-10-05 (inc 2lb ow) David Cottin
FELL 8) BALTHAZAR KING (IRE) (The Brushmakers) Philip Hobbs 11-11-02 Richard Johnson
HAMP & UR 8) BALLYCASEY (IRE) (Susannah Ricci) Willie Mullins IRE 8-10-13 Ruby Walsh
PU BEF 19) COURT BY SURPRISE (IRE) (Nick Mustoe) Emma Lavelle 10-10-03 Richie McLernon
PU BEF 25) ACROSS THE BAY (IRE) (Scotch Piper Syndicate) Donald McCain tb11-10-06 Henry Brooke
PU BEF 25) SUPER DUTY (IRE) (Brannon, Dick, Hernon & Holden) Ian Williams 9-10-04 Will Kennedy
PU BEF 25) LORD WINDERMERE (IRE) (Dr Ronan Lambe) Jim Culloty IRE v9-11-10 Brian O'Connell
FELL 26) THE RAINBOW HUNTER (May We Never Be Found Partnership) Kim Bailey 11-10-07 David Bass
FELL 26) THE DRUIDS NEPHEW (IRE) (The Stonehenge Druids) Neil Mulholland p8-10-9 Aidan Coleman
PU BEF 27) REBEL REBELLION (IRE) (Woodhouse, Sutton & Dobson) Paul Nicholls tb10-10-12 Ryan Mahon
FELL 28) PORTRAIT KING (IRE) (Marie Davis) Maurice Phelan IRE p10-10-03 Davy Condon
PU BEF 29) GODSMEJUDGE (IRE) (Favourites Racing) Alan King 9-10-08 Wayne Hutchinson
PU BEF 29) WYCK HILL (IRE) (J P McManus) David Bridgwater t11-10-04 Tom Cannon
PU BEF 29) BOB FORD (IRE) (The JJ Partnership) Rebecca Curtis h8-10-04 Paul Townend

39 ran
STAMINA NO PROBLEM FOR RUNNER-UP SAINT ARE
Making his first appearance in the Crabbie's Grand National,
Saint Are
delighted his connections with a strong performance in second.
Trainer Tom George said of his 25/1 shot: "We're absolutely delighted with him, stamina is clearly not a problem for him, he's still bouncing around and fresh as paint. I'm very proud of him, he's run a great race and God willing we'll be back next year."
Jockey Paddy Brennan was similarly impressed with the runner-up's effort, adding: "He's run an absolute blinder. I really fancied him. He's been brilliantly trained by Tom George – he's really made this horse. We'll be back."
Michael Scudamore, trainer of the former Welsh National winner Monbeg Dude, who finished a further six lengths back in third, said: "I'm so proud of him. He's done for us – we're only a small team and he's won the Welsh National and been third here and all his other placed efforts. It just means an awful lot to be lucky enough to have one like him. He's been a great flag-bearer."
There was a sense of deja vu for trainer Fergal O'Brien, jockey Paul Moloney and owners William and Angela Rucker, who welcomed Alvarado back into the fourth spot for the second year running, extending the owners' and jockey's record to seven consecutive top four finishes in the race.
Fergal O'Brien said: "It was another consistent run and it's really lucky for the Ruckers and for Paul Moloney – that's seven years in a row they've been in the first four. We're delighted with him – he's given his heart and soul again. There's no hard luck stories in the National, we're really pleased but he just baulked a little at the Canal Turn and Paul said he had to get him back into his rhythm but he's run home really strongly."
A P McCoy, who finished fifth on Shutthefrontdoor: "He ran very well and I have no excuses – he just ran out of gas."

Nina Carberry, First Lieutentant, 16th: "The first two fences he made mistakes and that got him out of the race, which gave him no chance after that, but he jumped around grand."
James Reveley, Night In Milan, 18th: "Great spin, just didn't get home – he was knackered two out and I had to ease off him."
Nick Scholfield, Spring Heeled, 14th: "He got round. He's given me a good ride. At the same time he probably didn't like the hustle and bustle of the race. There's a nice handicap in him."
Robbie Power, Owega Star, 13th: "I got a great spin; he jumped real well. He was flat out early on but when we got away on the second circuit he started travelling into the race and jumped well. I got wiped out bypassing the Canal Turn; it's very tight when you bypass the Canal Turn and I got sandwiched and knocked out of the race."
Brendan Powell, Royale Knight, 6th: "That was brilliant. Obviously this is the first ride I have had because Battle Group didn't jump off last year. He jumped brilliantly, travelled well, just those slightly better-class horses found that little extra between the second-last and the last."
Sam Twiston-Davies, Rocky Creek, 17th: He pulled a shoe off. He was beaten too far out to say it was his genuine running, but he was on and off the bridle and uncomfy from an early stage.
Ruby Walsh, Ballycasey, hampered and unseated at 8: "I'm fine. I just got brought down."
Aidan Coleman, The Druids Nephew, fell 26th: "He just got in a bit deep, running really well, travelled like a dream, I'm absolutely gutted.
Gavin Sheehan, Tranquil Sea, 7th: "Brilliant. He's good as gold. That's the problem with a horse that tried that hard, he put his heart into it and obviously got a little bit tired after. But there was a good team around who put ice-cold water on him and he wasn't long coming back and pricking his ears. He loved that out there, and so did I – I was loving it because he was loving it; if he wasn't, I wouldn't have liked it. He jumped from fence to fence and gave me a really good spin."
Paul Carberry, who was 8th on Cause Of Causes: "He ran well, but was outpaced early on and may have been a bit flat after winning at Cheltenham."
Sean Bowen, 11th on Mon Parrain: "I finished midway down the field, but he jumped well and gave me a great first spin over the fences. I enjoyed it very much."
Tom O'Brien, 10th on Chance Du Roy: "I was flat out all the way, but he's a legend and did what he could.
Daryl Jacob, 12th on Pineau De Re: "He ran another belter and jumped class, but just didn't have the legs."
Noel Fehily, who fell at the fifth fence on Unioniste: "He jumped the first couple very well, but rubbed the fifth and went down."
Andrew Lynch, who fell at the 3rd on Rubi Light: "We didn't get very far."
David Cottin, who fell at Becher's Brook on the first circuit with River Choice: "He went down on his knees and then onto his nose. I was in a good position at the time and enjoyed myself to that point."
Brian O'Connell, who pulled up Lord Windermere before the 25th: "He gave me a good spin around, but didn't travel through the early doors. He was adequate over the fences, but didn't take to them that well."
Wayne Hutchinson, who pulled up Godsmejudge before the 29th: "I had a fantastic ride from him – he jumped great and travelled away lovely, but he faded out of it and when he wasn't going to be in the money I looked after him. He gave me a lovely ride."
Will Kennedy, who pulled up before the 25th on Super Duty: "He took to it, but after a mile, and by then it was too late and I was too far behind. I wouldn't mind bringing him back here again."
Dougie Costello, who finished 19th and last on Dolatulo: "He gave me a good ride and the fences jumped really well. I was four or five lengths off the winner going out for the final time, but I was in my comfort zone and couldn't go any quicker. He gave me a great spin."
Tom Cannon, pulled up before the 29th on Wyck Hill: "He gave me a good ride. He crept into it after the first circuit, but just didn't have the legs to stay with them towards the end."
Henry Brooke, who pulled up before the 25th on Across The Bay: "It was great, he travelled away grand, it's just that last year was his year. I don't know what they are going to do with him next year, I think that might be the last time you see him in the National. He gave me a great spin, he enjoyed himself and I pulled him up when he got tired – I wouldn't want to see him on the floor or anything like that. I had a great ride."