---
Racing Post Arkle Chase

Grade 1, Cheltenham 14:10
£175,000 added,
5yo plus,
1m 7f 199y, Class 1  
Tuesday 14th March 2017
1 Altior 1/4F
2 Cloudy Dream 12/1
3 Ordinary World 25/1
9 ran Distances: 6l, 9l, 7l
Time: 3m 55.50s (slow by 3.50s)
Awesome Altior makes it a record-breaking six Arkles for trainer Nicky Henderson
Altior clears the final fence


© Julian Herbert/PA Wire/PA Images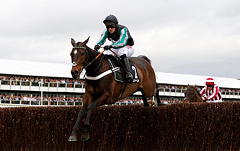 Altior's triumph took trainer Nicky Henderson's tally of Festival wins to 56. The 1/4 favourite jumped and galloped strongly to pass the post six lengths ahead of second-placed Cloudy Dream.

It was Henderson's sixth win in the Racing Post Arkle, and takes him ahead of Tom Dreaper to become the most successful trainer in the race's history.

"That was the one that we had to win - it's good to get that over with," he said. "Just to have one [winner] on the first day takes an awful lot of pressure off us all, to be honest with you.

"I feel sorry for Kim Bailey's horse [Charbel, who fell at the second-last fence] and hope he's ok - he was running a great race and we were upsides him at the time. We've met before - he led us over the last at Sandown and Altior did what he did then [Altior beat Charbel by six lengths in the Racing Post Henry VIII Novices' Chase], but Charbel was running a mighty race today. But Altior's done nothing wrong himself.

"Altior is lovely, a hugely talented horse. He has been pretty perfect all year. Again his jumping there was accurate. He has got such scope and, at times, it was getting exuberant. You have to be careful around here doing that. He was great.

"His life is still in front of him - it is only his first season over fences and hopefully Douvan will do his job [and win the Betway Queen Mother Champion Chase tomorrow] and then we can all meet up next year. There is so much to look forward to.

"I don't know whether Altior will run again this season - there's no reason why he shouldn't, but maybe the Sandown race. He wouldn't go to Aintree - it's two and half miles and I don't think he needs that."

Altior has maintained his 100% success rate at The Festival, having won the Sky Bet Supreme Novices' Hurdle at the meeting last year.
The Racing Post Arkle Challenge Trophy Chase
£175,000 added, 5yo plus, 1m 7f 199y, Class 1
9 ran
Going: Good to Soft
Pos
D
Horse SP
Jockey Weight
Trainer
Age
1st
Altior (IRE) 1/4f
Nico de Boinville
11-4
N J Henderson
7
2nd
6
Cloudy Dream (IRE) 12/1
B Hughes
11-4
J M Jefferson
7
3rd
9
Ordinary World (IRE) 25/1
D N Russell
11-4
H de Bromhead
7
4th
7
Royal Caviar (IRE) 6/1
R Walsh
11-4
W P Mullins
9
5th
1
Forest Bihan (FR) 12/1
Aidan Coleman
11-4
B Ellison
6
6th
4
Some Plan (IRE) 20/1
D J Mullins
11-4
H de Bromhead
9
7th
20
A Hare Breath (IRE) 25/1
R Johnson
11-4
B Pauling
9
PU
Three Stars (IRE) 66/1
R M Power
11-4
H de Bromhead
7
F
Charbel (IRE) 9/1
D Bass
11-4
K C Bailey
6
JEFFERSON DREAMING BIG WITH CLOUDY
Trainer Malcolm Jefferson was delighted with 12/1 shot Cloudy Dream, who finished an excellent second.
Settled in midfield early on in the two-mile contest by jockey Brian Hughes, Cloudy Dream travelled strongly into contention approaching the home turn and stuck on gamely in the closing stages to finish sixlengths behind Altior, who found plenty for pressure in the home straight to win. Ordinary World (25/1), trained by Henry de Bromhead, was a further nine lengths back in third.

A delighted Jefferson suggested the ground was an important factor today, commenting: "He is a better horse in the spring with better ground. He won his first two novice chases and then he went a little bit lighter on us. Once January came, he has just turned and really thrived.

"Altior's a real good two-miler, I think my lad will get two and a half miles quite easily, maybe even three miles one day. I didn't think we would win but I thought he would run a big race and he has done that."

As for future plans, Jefferson suggested the Grade One Merseyrail Manifesto Novices' Chase over two miles and four furlongs at Aintree's Randox Health Grand National Festival will be next on the gelding's agenda, adding: "He will either go to Aintree or Ayr but Trevor [Hemmings, owner] will want to go to Aintree so that is where we'll go."

Brian Hughes was similarly delighted with the seven-year-old son of Cloudings performance and said: "The winner is obviously a very good horse but our lad has stepped up massively and we thought he would on the better ground.

"Malcolm had him in good form and thought he was in the form of his life coming into this race.

"The winner's a very good horse and I know Charbel fell at the second last but I would have got by him anyway and my lad galloped to the line so I couldn't ask for any more.

"He won his first two starts race over fences and then he ran twice on deep ground and I knew he wasn't 100% in himself the last time he ran at Doncaster so today I've got no complaints - he's run well."
WORLD NO ORDINARY HORSE

Ordinary World showed that his progressive form since graduating to fences, after two years hurdling, was no fluke when coming home third at 25/1.

Having been placed second in his last two outings over fences at graded level, following a win in a beginners chase, it wasn't unexpected that the son of Milan should occupy a place in the enclosure on form but which one was the question.

Trainer Henry de Bromhead was nonetheless delighted with his charge's third-place and said: "Any time you get in here (The Festival winner's enclosure) you have to be pleased. I am delighted with the race; he ran really well."
THE RACING POST ARKLE CHALLENGE TROPHY CHASE
Previous Results
2016-WINNER-DOUVAN 6-11-04 Owner-Susannah Ricci; Trainer-Willie Mullins IRE; Jockey-Ruby Walsh; SP-1/4 Fav
2ND-Sizing John 6-11-04 Owner-Ann & Alan Potts Partnership; Trainer-Henry De Bromhead IRE; Jockey-Johnny Burke; SP-9/1
3RD-Fox Norton 6-11-04 Owner-B Dunn; Trainer-Neil Mulholland; Jockey-Richard Johnson; SP-33/1
7 ran, Time-3m 48.60s Dist-7, 33⁄4
2015-WINNER-UN DE SCEAUX 7-11-04 Owner-Edward O'Connell; Trainer-Willie Mullins IRE; Jockey-Ruby Walsh; SP-4/6 Fav
2ND-God's Own 7-11-04 Owner-Crossed Fingers Partnership; Trainer-Tom George; Jockey-Paddy Brennan; SP-33/1
3RD-Josses Hill 7-11-04 Owner-Alan Spence; Trainer-Nicky Henderson; Jockey-Barry Geraghty; SP-12/1
11 ran, Time-3m 51.40s Dist-6, 2
2014-WINNER-WESTERN WARHORSE 6-11-04 Owner-Roger Brookhouse; Trainer-David Pipe; Jockey-Tom Scudamore; SP-33/1
2ND-Champagne Fever 7-11-04 Owner-Susannah Ricci; Trainer-Willie Mullins IRE; Jockey-Ruby Walsh; SP-11/4 Jt-Fav
3RD-Trifolium 7-11-04 Owner-Gigginstown House Stud; Trainer-Charles Byrnes IRE; Jockey-Bryan Cooper; SP-11/4 Jt-Fav
9 ran, Time-3m 47.04s Dist-hd, 4
2013-WINNER-SIMONSIG 7-11-07 Owner-Ronnie Bartlett; Trainer-Nicky Henderson; Jockey-Barry Geraghty; SP-8/15 Fav
2ND-Baily Green 7-11-07 Owner-Adam Scott; Trainer-Mouse Morris IRE; Jockey-David Casey; SP-33/1
3RD-His Excellency 5-11-07 Owner-Jo Tracey; Trainer-David Pipe; Jockey-Tom Scudamore; SP-80/1
7 ran, Time 4m 1.64s Dist-2¼, 13
2012-WINNER-SPRINTER SACRE 7-11-07 Owner-Caroline Mould; Trainer-Nicky Henderson; Jockey-Barry Geraghty; SP-8/11 Fav
2ND-Cue Card 6-11-07 Owner-Jean Bishop; Trainer-Colin Tizzard; Jockey-Joe Tizzard; SP-13/2
3RD-Menorah 7-11-07 Owner-Diana Whateley; Trainer-Philip Hobbs; Jockey-Richard Johnson; SP-10/1
6 ran, Time 3m 51.10s Dist-7, 22
2011-WINNER-CAPTAIN CHRIS 7-11-07 Owner-Diana Whateley; Trainer-Philip Hobbs; Jockey-Richard Johnson; SP-6/1 2ND-Finian's Rainbow 8-11-07 Owner-Michael Buckley; Trainer-Nicky Henderson; Jockey-Barry Geraghty; SP-7/2 3RD-Realt Dubh 7-11-07 Owner-Des Sharkey; Trainer-Noel Meade IRE; Jockey-Paul Carberry; SP-17/2
10 ran, Time 3m 51.68s Dist-2 3⁄4, 6 11/4 Fav Medermit (4th)
2010-WINNER-SIZING EUROPE 6-11-07 Owner-Ann & Alan Potts Partnership; Trainer-Henry de Bromhead IRE; Jockey-Andrew Lynch; SP-6/1 2ND-Somersby 6-11-07 Owner-Camilla Radford; Trainer-Henrietta Knight; Jockey-Robert Thornton; SP-4/1 3RD-Osana 8-11-07 Owner-Thomas Barr; Trainer-Edward O'Grady IRE; Jockey-Andrew McNamara; SP-14/1 12 ran, Time-3m 52.60s Dist-•, 1 • 5/2 Fav Captain Cee Bee (8th)
2009-WINNER-FORPADYDEPLASTERER 7-11-07 Owner-Goat Racing Syndicate; Trainer-Tom Cooper IRE; Jockey-Barry Geraghty; SP-8/1
2ND-Kalahari King 8-11-07 Owner-Mrs J Morgan; Trainer-Ferdy Murphy; Jockey-Graham Lee; SP-8/1
3RD-Planet Of Sound 7-11-07 Owner-Charles Lloyd-Baker; Trainer-Philip Hobbs; Jockey-Richard Johnson; SP-10/1
17 ran, Time-4m 1.00s Dist-sh, 5 4/1 Fav Tatenan (Fell)
2008-WINNER-TIDAL BAY 7-11-07 Owner-Andrea & Graham Wylie; Trainer-Howard Johnson; Jockey-Denis O'Regan; SP-6/1
2ND-Kruguyrova 5-11-00 Owner-Ronald Brimacombe; Trainer-Charles Egerton; Jockey-Tony McCoy; SP-9/1
3RD-Noland 7-11-07 Owner-John Hales; Trainer-Paul Nicholls; Jockey-Ruby Walsh; SP-7/4 Fav
14 ran, Time-4m 3.40s Dist- 13, 1½
2007-WINNER-MY WAY DE SOLZEN 7-11-07 Owner-Ben Winfield, A Longman, J Wright & C Fenton; Trainer-Alan King; Jockey-Robert Thornton; SP-7/2
2ND-Fair Along 5-11-02 Owner-Alan Peterson; Trainer-Philip Hobbs; Jockey-Richard Johnson; SP-100/30 Fav
3RD-Jack The Giant 5-11-02 Owner-Hanbury Syndicate; Trainer-Nicky Henderson; Jockey-Mick Fitzgerald; SP-14/1
13 ran, Time-3m 51.70s Dist-5, 1
2006-WINNER-VOY POR USTEDES 5-11-02 Owner-Sir Robert Ogden; Trainer-Alan King; Jockey-Robert Thornton; SP-15/2
2ND-Monet's Garden 8-11-07 Owner-David Wesley Yates; Trainer-Nicky Richards; Jockey-Tony Dobbin; SP-8/1
3RD-Foreman 8-11-07 Owner-J P McManus; Trainer-Thierry Doumen FR; Jockey-Tony McCoy; SP-5/1
14 ran, Time-3m 52.30s Dist-1¼, 4 9/2 Fav Racing Demon (7th)
2005-WINNER-CONTRABAND 7-11-07 Owner-David Johnson; Trainer-Martin Pipe; Jockey-Timmy Murphy; SP-7/1
2ND-Ashley Brook 7-11-07 Owner-Elizabeth Ellis; Trainer-Kevin Bishop; Jockey-Paddy Brennan; SP-20/1
3RD-River City 8-11-07 Owner-Mrs S Rowley-Williams & Partners; Trainer-Noel Chance; Jockey-Tom Doyle; SP- 10/1 19 ran, Time-3m 53.10s Dist-1, 4 11/4 Fav War Of Attrition (7th)
2004-WINNER-WELL CHIEF 5-11-03 Owner-David Johnson; Trainer-Martin Pipe; Jockey-Tony McCoy; SP-9/1
2ND-Kicking King 6-11-07 Owner-Conor Clarkson; Trainer-Tom Taaffe IRE; Jockey-Barry Geraghty; SP-7/2
3RD-Le Duc 5-11-03 Owner-Judy Stewart; Trainer-Paul Nicholls; Jockey-Joe Tizzard; SP-25/1
16 ran, Time-3m 55.80s Dist-1, 7 5/2 Fav Thisthatantother (f)
2003-WINNER-AZERTYUIOP 6-11-08 Owner-John & Lisa Hales; Trainer-Paul Nicholls; Jockey-Ruby Walsh; SP-5/4 Fav
2ND-Impek 7-11-08 Owner-Jim Lewis; Trainer-Henrietta Knight; Jockey-Jim Culloty; SP-6/1
3RD-Isio 7-11-08 Owner-Sir Peter & Lady Gibbings; Trainer-Nicky Henderson; Jockey-Mick FitzGerald; SP-10/1
9 ran, Time-3m 56.70s Dist-11, 1
2002-WINNER-MOSCOW FLYER 8-11-08 Owner-Brian Kearney; Trainer-Jessica Harrington IRE; Jockey-Barry Geraghty; SP-11/2
2ND-Seebald 7-11-08 Owner-The Macca and Growler Partnership; Trainer-Martin Pipe; Jockey-Tony McCoy; SP-5/2 Fav
3RD-Armaturk 5-11-03 Owner-Barry Marshall; Trainer-Paul Nicholls; Jockey-Timmy Murphy; SP-8/1
12 ran, Time-3m 50.50s Dist-4, 13
2001 - Cancelled
2000-WINNER-TIUTCHEV 7-11-08 Owner-The Liars Poker Partnership; Trainer-Nicky Henderson; Jockey-Mick FitzGerald; SP-8/1
2ND-Cenkos 6-11-08 Owner-Judy Stewart; Trainer-Oliver Sherwood; Jockey-David Casey; SP-10/1
3RD-Decoupage 8-11-08 Owner-Decoupage Partnership; Trainer-Charles Egerton; Jockey-Norman Williamson; SP-7/4 Fav 12 ran, Time-3m 46.5s Dist-8, 8
1999-WINNER-FLAGSHIP UBERALLES 5-11-00 Owner-Elizabeth Gutner & Michael Krysztofiak Racing; Trainer-Paul Nicholls; Jockey-Joe Tizzard; SP-11/1
2ND-Tresor De Mai 5-11-00 Owner-Joe Moran; Trainer-Martin Pipe; Jockey-Richard Dunwoody; SP-14/1
3RD-Nipper Reed 9-11-8 Owner-Graham Piper; Trainer-Rod Simpson; Jockey-Adrian Maguire; SP-10/1
14 ran, Time-3m 58.1s Dist-2½, 14 4/1 Fav His Song (5th)
1998-WINNER-CHAMPLEVE 5-11-00 Owner-David Johnson; Trainer-Martin Pipe; Jockey-Tony McCoy; SP-13/2
2ND-Hill Society 6-11-08 Owner-Pat Garvey; Trainer-Noel Meade IRE; Jockey- Richard Dunwoody; SP-8/1
3RD-Mandys Mantino 8-11-08 Owner-John Plackett ; Trainer-Josh Gifford; Jockey-Philip Hide; SP-25/1
16 ran Time-3m 55.1s Dist-sh, 1½ 11/2 Fav Kadastrof (10th)
1997-WINNER-OR ROYAL 6-11-08 Owner-David Johnson; Trainer-Martin Pipe; Jockey-Tony McCoy; SP-11/2
2ND-Squire Silk 8-11-08 Owner-Robert Ogden; Trainer-Andrew Turnell; Jockey-Jamie Osborne; SP-11/2
3RD-Celibate 6-11-08 Owner-Stamford Bridge Partnership; Trainer-Charlie Mann; Jockey-Jamie Railton; SP-13/2
9 ran Time-3m 52.5s Dist-½, 6 11/10 Fav Mulligan (f)
1996-WINNER-VENTANA CANYON 7-11-08 Owner-Philip Myerscough; Trainer-Edward O'Grady IRE; Jockey-Richard Dunwoody; SP-7/1
2ND-Arctic Kinsman 8-11-08 Owner-Rosie Hambro and D Milne; Trainer-Nigel Twiston-Davies; Jockey-Carl Llewellyn; SP-13/2
3RD-Super Coin 8-11-08 Owner-George and Joan Brookes; Trainer-Richard Lee; Jockey-Pat McLoughlin; SP-66/1 16 ran, Time-4m 0.5s Dist-20, 8 7/2 Fav Draborgie (p.u.)
THE RACING POST ARKLE CHASE ROLL OF HONOUR
(The Irish Independent Arkle Chase 2000-2011, Guinness Arkle Chase 1994-99, Waterford Crystal Arkle Chase 1991-93, no sponsor 1969-90, Cotswold Chase before 1969)

Year Winner Age/Wt Jockey Trainer Owner SP Ran
1995 Klairon Davis 6-11-08 Francis Woods Arthur Moore IRE Chris Jones 7/2F 11
1994 Nakir 6-11-08 Jamie Osborne Simon Christian Jim Lewis 9/1 10
1993 Travado 7-11-08 Jamie Osborne Nicky Henderson Mrs Michael Ennever 5/1 8
1992 Young Pokey 7-11-08 Jamie Osborne Oliver Sherwood Maurice Oberstein 4/1 11
1991 Remittance Man 7-11-08 Richard Dunwoody Nicky Henderson Jim Collins 85/40 F 14
1990 Comandante 8-11-08 Peter Hobbs Josh Gifford Maurice Pinto 9/2 14
1989 Waterloo Boy 6-11-08 Richard Dunwoody David Nicholson Michael Deeley 20/1 14
1988 Danish Flight 9-11-08 Mark Dwyer Jimmy FitzGerald A F Budge (Equine) Ltd 11/2 12
1987 Gala's Image 7-11-08 Richard Linley Mercy Rimell Sheikh Ali Abu Khamsin 25/1 19
1986 Oregon Trail 6-11-08 Ronnie Beggan Simon Christian Henry Ponsonby 14/1 14
1985 Boreen Prince 8-11-08 Niall Madden Andrew McNamara IRE William Lenehan 15/2 16
1984 Bobsline 8-11-08 Frank Berry Francis Flood IRE R H Kelsey 5/4F 8
1983 Ryeman 6-11-08 Alan Brown Peter Easterby D Slater 16/1 16
1982 The Brockshee 7-11-08 Tommy Carberry Arthur Moore IRE T Murray 12/1 19
1981 Clayside 7-11-08 Alan Brown Peter Easterby Mrs D Grant 5/2F 13
1980 Anaglogs Daughter 7-11-08 Tommy Carberry Bill Durkan IRE A Durkan 9/4 9
1979 Chinrullah 7-11-08 Dessie Hughes Mick O'Toole IRE Mrs R Eastwood 10/11F 8
1978 Alverton 8-11-08 Graham Thorner Peter Easterby Snailwell Stud Co Ltd 5/2 12
1977 Tip The Wink 7-11-08 Dessie Hughes Pat Taylor Michael Simmonds 15/2 10
1976 Roaring Wind 8-11-08 Reg Crank Roy Cambidge S Jones 11/1 16
1975 Broncho II 6-11-11 Colin Tinkler Tony Dickinson Frank Tyldesely 8/1 12
1974 Canasta Lad 8-11-11 Jeff King Peter Bailey Mrs R Hague 2/1F 10
1973 Denys Adventure 8-12-01 Graham Thorner Tim Forster Mrs Robert Henriques 8/1 10
1972 Pendil 7-12-01 Richard Pitman Fred Winter Mrs C Kinney 10/11F 10
1971 Alpheus 6-11-08 Eddie Wright Tom Dreaper IRE Lord Donoughmore 15/1 11
1970 Soloning 5-11-00 Paul Kelleway Fred Winter Mrs C E Thornton 4/1 13
1969 Chatham 5-11-00 Terry Biddlecombe Fred Rimell C Knott 10/1 10
1968 The Hustler 6-11-12 Barry Brogan Earl Jones Mrs D E Crouch 20/1 11
1967 Arctic Stream 7-12-02 Ben Hannon P Rooney IRE J A Duffy 8/1 9
1966 Arctic Sunset 6-12-06 George Milburn Ken Oliver J R McNair 3/1 9
1965 Flyingbolt 6-12-04 Pat Taaffe Tom Dreaper IRE Mrs Jean Wilkinson 4/9F 13
1964 Greektown 8-11-08 Michael Scudamore Willie Stephenson Lionel Ensten 13/2 16
1963 Ben Stack 6-12-01 Pat Taaffe Tom Dreaper IRE Duchess of Westminster 13/8F 17
1962 Prudent Barney 8-12-01 Johnny East Bobby Renton Lurline Brotherton 20/1 9
1961 Mountcashel King 6-12-04 Pat Taaffe Tom Dreaper IRE John Glyn 2/5F 12
1960 Mazurka 6-11-12 Ron Harrison Ron Smyth Mrs Chris Barnes 10/1 25
1959 Flame Gun 8-12-04 Fred Winter Charlie Mallon Michael Sobell 7/2 14
1958 Fortria 6-12-01 Tom Taaffe Tom Dreaper IRE A Craigie 7/2 17
1957 Ballyatom 5-11-04 Mr Bob McCreery George Beeby David Evans-Bevan 8/1 13
1956 Sir Ken 9-12-03 Tim Molony Willie Stephenson Maurice Kingsley 5/4F 17
1955 Manuscrit 5-11-00 Johnny Bullock Fulke Walwyn Mme Peggy Hennessy 10/1 20
1954 Armorial III 5-11-05 Rene Emery Fulke Walwyn Mrs M de Pret-Roose 7/2F 17
1953 Bramble Tudor 5-11-12 Tim Molony Stewart Wight Lord Joicey 11/4 9
1952 Nautical Print 5-11-00 Tommy Cusack Gerry Wilson Lt Col J F Harrison 6/1 15
1951 Red Steel 5-11-00 Dick Francis Frank Cundell Hugh Sumner 4/1F 15
1950 High Level 5-11-04 Johnny Bullock Fred Rimell T E Ward 9/2 14
1949 Grand Refrain 5-11-05 Glen Kelly Bobby Norris Lord Abergavenny 9/4F 12
1948 Top Cash 6-12-05 Glen Kelly Bobby Norris Lord Abergavenny 3/1 9
1947 No race (abandoned due to snow and frost)
1946 Bright Penny 6-11-12 Glen Kelly Bobby Norris Lord Penrhyn 5/1 15