---
Albert Bartlett Novices' Hurdle

Grade 1, Cheltenham 14:50
£125,000 added,
4yo plus,
2m 7f 213yds, Class 1  
Friday 16th March 2018
Kilbricken Storm takes it for Colin Tizzard and Harry Cobden
1 Kilbricken Storm 33/1
2 OK Corral 16/1
3 Santini 11/4F
20 ran Distances: 3l, 1½l, 1½l
Time: 6m 13.60s (slow by 32.60s)
Kilbricken Storm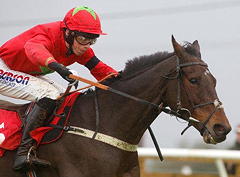 Trainer
Colin Tizzard
registered his sixth victory at The Festival overall and first of 2018 with Kilbricken Storm's 33/1 success over three miles.
Ridden by Harry Cobden, the seven-year-old son of Oscar quickened up well after the final flight to master long-time leader Fabulous Saga, who faded rapidly out of contention thereafter, to score by three lengths.
Nicky Henderson's OK Corral (16/1) stayed on well to finish second, with stable companion Santini, the well-supported 11/4 favourite, a further half-length back in third.
A delighted Tizzard said: "It was a smashing performance from Kilbricken Storm.
"He has had pus in his foot - his shoe off and on - and it's unreal to win like that - it didn't stop him! 
"He was a 20-grander at the sales. I went to the sales last night and horses were making so much money, I was thinking that we weren't going to have a winner here, and the next one has won. It's what National Hunt racing is for and it's fantastic.
"He had a bit of a dirty nose a week after he ran in the Challow but I never knew he was going to be that good even when he was dead right.
"He just appeared to travel really well. He was fifth or sixth and moved into it. Then we were waiting for the cavalry to come and they didn't. 
Albert Bartlett Novices' Hurdle
(Registered As The Spa Novices' Hurdle) (Grade 1)
£125,000 added, 4yo plus, 2m 7f 213yds, Class 1
20 ran
Going: Soft, Heavy in places
Pos
D
Horse SP
Jockey Weight
Trainer
Age
1st
Kilbricken Storm (IRE) 33/1
Harry Cobden
11-5
C L Tizzard
7
2nd
3
Ok Corral (IRE) 16/1
B J Geraghty
11-5
N J Henderson
8
3rd
1&frac12
Santini 11/4f
Nico de Boinville
11-5
N J Henderson
6
4th
1&frac12
Ballyward (IRE) 20/1
P Townend
11-5
W P Mullins
6
5th
1&frac34
Tower Bridge (IRE) 33/1
J J Slevin
11-5
Joseph P O'Brien
5
6th
2&frac34
Robin Waters (FR) 50/1
Harry Skelton
11-5
D Skelton
5
7th
1&frac14
Fabulous Saga (FR) 20/1
D E Mullins
11-5
W P Mullins
6
8th
14
Dortmund Park (FR) 12/1
D N Russell
11-5
G Elliott
5
9th
13
Chris's Dream (IRE) 6/1
M P Walsh
11-5
H de Bromhead
6
10th
2&frac34
Poetic Rhythm (IRE) 10/1
P J Brennan
11-5
F O'Brien
7
11th
9
Real Steel (FR) 33/1
D J Mullins
11-5
W P Mullins
5
12th
3
Enniscoffey Oscar (IRE) 25/1
L P Aspell
11-5
Miss E C Lavelle
6
13th
hd
Paisley Park (IRE) 33/1
Nick Scholfield
11-5
Miss E C Lavelle
6
PU
Beyond The Law (IRE) 50/1
R M Power
11-5
M F Morris
6
PU
Calett Mad (FR) 16/1
D A Jacob
11-5
N A Twiston-Davies
6
PU
Chef Des Obeaux (FR) 6/1
N D Fehily
11-5
N J Henderson
6
PU
Crucial Role 66/1
R Johnson
11-5
H D Daly
6
PU
Mr Whipped (IRE) 16/1
J McGrath
11-5
N J Henderson
5
PU
Mulcahys Hill (IRE) 50/1
A P Heskin
11-5
W Greatrex
6
PU
Talkischeap (IRE) 25/1
Wayne Hutchinson
11-5
A King
6
Nicky Henderson trained the second and third horses home. OK Corral finished second at 16/1 under Barry Geraghty, beaten three lengths, while third-placed Santini (Nico de Boinville) was the 11/4 favourite. 
Henderson said: "They are two great, big chasers for next year and they have run great; they've just got stuck a bit [in the soft going], but there you go - everyone's getting stuck a bit. 
"The worse bit of the ground is on the run-in from the last. They were trying to make up ground there - they had a couple of lengths to find and they were trying their hearts out, but they just couldn't get their feet out of the ground."
Asked what that might mean for Might Bite, his Timico Cheltenham Gold Cup favourite, he replied: "The only thing is that this [the Gold Cup] is the first chase of the day and there is a fresh strip of ground and you have to get on it, no doubt about that. There's a big field for the race, though."
Barry Geraghty said of OK Corral: "They went very fast. My horse was always going in his own pace and he kept going. He's a real old-fashioned stayer."
Nico De Boinville, who rode Santini, said: "He ran well but he wouldn't have wanted that ground at all - it is bottomless, horrible."

PREVIOUS RESULTS
2017-WINNER-PENHILL 6-11-05 Owner-Tony Bloom; Trainer-Willie Mullins IRE; Jockey-Paul Townend; SP-16/1
2ND-Monalee 6-11-05 Owner-Barry Maloney; Trainer-Henry de Bromhead IRE; Jockey-David Mullins; SP-8/1
3RD-Wholestone 6-11-05 Owner-Simon Munir & Isaac Souede; Jockey-Daryl Jacob; SP-13/2
15 ran, Time-5m 49.90s; Dist-3 13/8 Fav Death Duty (UR)
2016-WINNER-UNOWHATIMEANHARRY 8-11-05 Owner-Harry Fry Racing Club; Trainer-Harry Fry; Jockey; Noel Fehily; SP-11/1
2ND-Fagan 6-11-05 Owner-Ronnie Bartlett; Trainer-Gordon Elliott IRE; Jockey-Davy Russell; SP-33/1
3RD-Champers On Ice 6-11-05 Owner-Prof Caroline Tisdall & Bryan Drew; Trainer-David Pipe; Jockey-Tom Scudamore; SP-20/1
19 ran, Time-5m 48.10s; Dist-1¼, 1½ 7/2 Fav Shantou Village (PU)
2015-WINNER-MARTELLO TOWER 7-11-07 Owner-Barry Connell; Trainer-Mags Mullins IRE; Jockey-Adrian Heskin; SP-14/1
2ND-Milsean 6-11-07 Owner-Gigginstown House Stud; Trainer-Willie Mullins IRE; Jockey-Danny Mullins; SP-33/1
3RD-No More Heroes 6-11-07 Owner-Gigginstown House Stud; Trainer-Gordon Elliott IRE; Jockey-Bryan Cooper; SP-6/1
19 ran, Time-6m 0.30s; Dist-½, 1 5/2 Fav Black Hercules (7th)
2014-WINNER-VERY WOOD 5-11-07 Owner-Gigginstown House Stud; Trainer-Noel Meade IRE; Jockey-Paul Carberry; SP-33/1
2ND-Deputy Dan 6-11-07 Owner-Tim Syder; Trainer-Oliver Sherwood; Jockey-Leighton Aspell; SP-10/1
3RD-Apache Jack 6-11-07 Owner-Mrs Pat Sloan; Trainer-Dessie Hughes IRE; Jockey-Barry Geraghty; SP-20/1
18 ran, Time-5m 50.70s; Dist-4½, sh 2/1 Fav Briar Hill (Fell)
2013-WINNER-AT FISHERS CROSS 6-11-07 Owner-J P McManus; Trainer- Rebecca Curtis; Jockey-A P McCoy; SP-11/8 Fav
2ND-African Gold 5-11-07 Owner- Ron Bauer; Trainer-Nigel Twiston-Davies; Jockey-Sam Twiston-Davies; SP-9/2
3RD-Inish Island 7-11-07 Owner- Susan, Hazel F& Patrick Flanagan; Trainer-Willie Mullins IRE; Jockey-Ruby Walsh; SP-13/2
13 ran, Time-6m 40.10s; Dist-4½, nose
2012-WINNER-BRINDISI BREEZE 6-11-07 Owner-Sandy Seymour; Trainer-Lucinda Russell; Jockey-Campbell Gillies; SP-7/1
2ND-Boston Bob 7-11-07 Owner-Andrea & Graham Wylie; Trainer-Willie Mullins IRE; Jockey-Ruby Walsh; SP-6/5 Fav
3RD-Grand Vision 6-11-07 Owner-Terry Warner; Trainer-Colin Tizzard; Jockey-Tom O'Brien; SP-25/1 20 ran, Time-5m 47.20s; Dist-2, 1¼
2011-WINNER-BOBS WORTH 6-11-07 Owner-The Not Afraid Partnership; Trainer-Nicky Henderson; Jockey-Barry Geraghty; SP-15/8 Fav
2ND-Mossley 5-11-07 Owner-Michael Buckley; Trainer-Nicky Henderson; Jockey-A P McCoy; SP-12/1
3RD-Court In Motion 6-11-07 Owner-Nick Mustoe; Trainer-Emma Lavelle; Jockey-Jack Doyle; SP-9/1
18 ran, Time-5m 42.20s; Dist-21⁄4, 6
2010-WINNER-BERTIES DREAM 7-11-07 Owner-Half A Keg Syndicate; Trainer-Paul Gilligan IRE; Jockey-Andrew Lynch; SP-33/1
2ND-Najaf 5-110-7 Owner-The Johnson & Stewart Families; Trainer-Paul Nicholls; Jockey-Timmy Murphy; SP-25/1
3RD-Kennel Hill Owner-Peter & Lisa Hall; Trainer-Keith Goldsworthy; Jockey-Jason Maguire; SP-66/1
19 ran, Time-5m 55.60s; Dist-6, 8 100/30 Fav Tell Massini (PU)

2009-WINNER-WEAPON'S AMNESTY 6-11-07 Owner-Gigginstown House Stud; Trainer Charles Byrnes IRE; Jockey-Davy Russell; SP-8/1
2ND-Pride Of Dulcote 6-11-07 Owner-Angela Yeoman; Trainer-Paul Nicholls; Jockey-Ruby Walsh; SP-3/1 Fav
3RD-The Midnight Club 8-11-07 Owner-C C R Racing Syndicate; Trainer-Willie Mullins IRE; Jockey-Emmet Mullins; SP-14/1
17 ran, Time-5m 59.90s; Dist-½, 2
2008-WINNER-NENUPHAR COLLONGES 7-11-07 Owner-Top Brass Partnership; Trainer-Alan King; Jockey-Robert Thornton; SP-9/1
2ND-Liskennett 5-11-00 Owner- Patrick Pierce; Trainer-Charles Byrnes IRE; Jockey-Niall Madden; SP-16/1
3RD-The Tother One 7-11-07 Owner-Graham Roach; Trainer-Paul Nicholls; Jockey-Sam Thomas; SP-9/2 Jt Fav
18 ran, Time-6m 0.20s; Dist-2¾, ½ 9/2 Jt Fav Carruthers (11th)
2007-WINNER-WICHITA LINEMAN 6-11-07 Owner-J P McManus; Trainer-Jonjo O'Neill; Jockey-Tony McCoy; SP-11/8 Fav
2ND-Air Force One 5-11-07 Owner-Brian Walsh (Co Kildare); Trainer-Charlie Mann; Jockey-Noel Fehily; SP-25/1
3RD-Itsa Legend 8-11-07 Owner-The We're A Legend Partnership; Trainer-The We're A Legend Partnership; SP-100/1
20 ran Time-5m 43.60s; Dist-12, 6
2006-WINNER-BLACK JACK KETCHUM 7-11-07 Owner-Gay Smith; Trainer-Jonjo O'Neill; Jockey-Tony McCoy; SP-Evens Fav
2ND-Powerstation 6-11-07 Owner-Fat Frog Syndicate; Trainer-Charles Byrnes IRE; Jockey-Davy Russell; SP-9/1
3RD-Travino 7-11-07 Owner-P Kilroy; Trainer-Mags Mullins IRE; Jockey-Barry Geraghty 6/1
19 ran Time-5m 43.6s; Dist-12,6
2005-WINNER-MOULIN RICHE 4-11-00 Owner-Elite Racing Club; Trainer-Alan King; Jockey-Robert Thornton; SP-9/1
2ND-Faasel 4-11-00 Owner-Jim Ennis; Trainer-Nicky Richards; Jockey-Tony Dobbin; SP-7/1
3RD-Akilak 4-11-00 Owner-Andrea & Graham Wylie; Trainer-Howard Johnson; Jockey-Graham Lee; SP-7/2 Fav
23 ran. Time-4m 3.60s; Dist-hd, 8