---
St James's Place Foxhunter Chase

Cheltenham 16:10
£45,000 added,
5yo plus, 3m 2f 70y,
Class 2  
Friday 16th March 2018

Pacha Du Polder wins the Foxhunter under Harriet Tucker
1 Pacha Du Polder 25/1
2 Top Wood 50/1
3 Barel Of Laughs 14/1
3 Cousin Pete 66/1
24 ran Distances: nk, 3¼l, dht
Time: 7m 17.30s (slow by 40.30s)
Harriet Tucker, 22, rode her first winner at The Festival on only her second ride under Rules when landing the St James's Place Foxhunter Chase on
Pacha Du Polder
.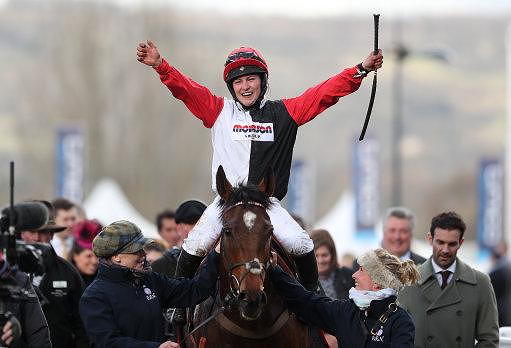 It was the horse's second success in the race, having won under Bryony Frost last year.
Tucker, from Frome in Somerset, joined Nicholls as a groom two years ago, and has been getting experience this season while riding on the point-to-point circuit, principally for trainer Rose Loxton, who also works for Nicholls.
The winning rider said: "It's like a dream - I cannot believe it. It really is a shock. Coming here this morning I thought it would be amazing to come in the first 10. I just won the Foxhunter! Walking out the weighing room I thought, 'God, I'm riding in the Foxhunter, this is mad'. To win it is amazing.
"I tried to get on the inner and keep a straight line - five out I thought 'Gee, I'm still going okay', but a loose horse was bothering me and I tried going wide of it and then ducking back in. Going to the bottom of the hill I thought, 'No way, there's more to come', and at the second-last there was even more! He just kept going and finding more.
"I started riding in points when I was 18, trained my own pointer last year while working at Paul's, and this year I've been riding for Rose. I've had five rides pointing this year and they've all won, so I'm having an amazing season.
"My shoulder half dislocates when I lift it too high, and coming to the second-last it did that and I had to push it back in. After that I couldn't slap him down the shoulder and had to just keep pushing and hoping no one would get past me. 
"I have wanted an operation on the shoulder, and now they might give me one." 
Sam Davies-Thomas, an assistant to trainer Dan Skelton, and who rode the neck runner-up Top Wood, said: "He gave me a great spin and was in a bit more control than I was, but he gave me a great spin and was just beaten by a better horse.
"He showed what Kelly [Morgan, the trainer of Top Wood] can do, and while I admitted to her that I was gutted to be beaten she told me I wasn't allowed to say that."
The St James's Place Foxhunter Chase
£45,000 added, 5yo plus, 3m 2f 70y, Class 2
24 ran
Going: Soft, Heavy in places
Pos
D
Horse SP
Jockey Weight
Trainer
Age
1st
Pacha Du Polder (FR) 25/1
Miss H C Tucker
12-0
P F Nicholls
11
2nd
nk
Top Wood (FR) 50/1
Mr S Davies-Thomas
12-0
Miss K Morgan
11
3rd
3&frac14
Barel Of Laughs (IRE) 14/1
Mr Alex Edwards
12-0
Philip Rowley
12
3rd
d.h
Cousin Pete 66/1
Mr N Phillips
12-0
Mrs Brown
10
5th
hd
Caid Du Berlais (FR) 12/1
Mr W Biddick
12-0
Mrs R Loxton
9
6th
3
Grand Vision (IRE) 14/1
Mr B O'Neill
12-0
C L Tizzard
12
7th
&frac12
Balnaslow (IRE) 28/1
Mr Derek O'Connor
12-0
G J Mckeever
11
8th
9
Burning Ambition (IRE) 4/1f
Mr J J Codd
12-0
Pierce Power
7
9th
1&frac34
On The Fring14/1e (IRE)
Ms N Carberry
12-0
E Bolger
13
10th
4
Unioniste (FR) 12/1
Mr D Maxwell
12-0
P F Nicholls
10
11th
3&frac12
Volnay De Thaix (FR) 33/1
Mr J Andrews
12-0
Stuart Morris
9
12th
16
Sir Jack Yeats (IRE) 20/1
Mr James King
12-0
Richard Spencer
7
13th
1
Virak (FR) 14/1
Mr L Williams
12-0
P F Nicholls
9
14th
63
Shotavodka (IRE) 33/1
Mr H F Nugent
12-0
Miss H Brookshaw
12
15th
38
Warden Hill (IRE) 100/1
Mr T Chatfeild-Roberts
12-0
Mrs H Connors
10
Also Ran: Foxrock (IRE) , Minella For Value (IRE) , Premier Portrait (IRE) , Saddlers Encore (IRE) , Shantou Magic (IRE) , Vincitore (FR) , Wells De Lune (FR) , Wonderful Charm (FR) , Young Hurricane (IRE)
Foxhunter Chase Past Results
2017-WINNER-PACHA DU POLDER 10-12-00 Owner-The Stewart Family; Trainer-Paul Nicholls; Jockey-Miss Bryony Frost; SP-16/1
2ND-Wonderful Charm 9-12-00 Owner-Robin Geffen & Sir John Ritblat; Trainer-Paul Nicholls; Jockey-Ms Katie Walsh; SP-7/2
3RD-Barel Of Laughs 11-12-00 Owner-Mrs Peter Andrews; Trainer-Philip Rowley; Jockey-Mr Alex Edwards; SP-100/1
23 ran, Time-6m 42.80s, Dist-nk, nk 11/8 Fav On The Fringe (4th)
2016-WINNER-ON THE FRINGE 11-12-00 Owner-J P McManus; Trainer-Enda Bolger IRE; Jockey-Ms Nina Carberry; SP-13/8 Fav
2ND-Marito 10-12-00 Owner-James Marley/Samuel Downey; Trainer-Colin McBratney IRE; Jockey-Mr Noel McParlan; SP-14/1
3RD- Paint The Clouds 11-12-00 Owner-Peter Deal & Jill & Robin Eynon; Trainer-Warren Greatrex; Jockey-Mr Sam Waley-Cohen; SP-9/2
24 ran, Time-6m 53.70s, Dist-nk, 1
2015-WINNER-ON THE FRINGE 10-12-00 Owner-J P McManus; Trainer-Enda Bolger IRE; Jockey-Ms Nina Carberry; SP-6/1
2ND-Following Dreams 8-12-00 Owner-D J Ralph & Mrs S M Rimell; Trainer-Alastair Ralph; Jockey-Mr Sam Drinkwater 50/1
3RD-Paint The Clouds 10-12-00 Owner-Peter Deal & Jill & Robin Eynon; Trainer-Warren Greatrex; Jockey-Mr Sam Waley-Cohen; SP-11/4 Fav
24 ran, Time-6m 59.80s, Dist-17, nk
2014-WINNER-TAMMYS HILL 9-12-00 Owner-Patrick Smyth; Trainer-Liam Lennon IRE; Jockey-Mr James Smyth; SP-15/2
2ND-Carsonstown Boy 10-12-00 Owner-J T Monaghan; Trainer-Colin McBratney IRE; Jockey-Mr Noel McPharlan; SP-40/1
3RD-On The Fringe 9-12-00 Owner-J P McManus; Trainer-Enda Bolger IRE; Jockey-Ms Nina Carberry; SP-11/2
24 ran, Time-6m 50.50s, Dist, 3¼, 1¾
2013-WINNER-SALSIFY 8-12-00 Owner-Joan Sweeney; Trainer-Rodger Sweeney IRE; Jockey-Mr Colman Sweeney; SP-2/1 Fav
2ND-Divine Intavention 9-12-00 Owner-H Wilson; Trainer-Fran Moller; Jockey-Mr Mark Wall; SP-50/1
3RD-Cottage Oak 10-12-00 Owner-R J Hewitt; Trainer-John O'Shea; Jockey-Mr Paddy Gerety; SP-9/1
23 ran, Time-7m 15.50s, Dist, 20, nk
2012-WINNER-SALSIFY 7-12-00 Owner-Joan Sweeney; Trainer-Rodger Sweeney IRE; Jockey-Mr Colman Sweeney; SP-7/1
2ND-Chapoturgeon 8-12-00 Owner-David Johnson & Paul Nicholls; Trainer-Richard Barber; Jockey-Mr Jack Barber;
SP-3/1 Fav
3RD-Oscar Delta 9-12-00 Owner-Karen O'Driscoll; Trainer-Jimmy Mangan IRE; Jockey-Mr Damien Murphy; SP-28/1
22 ran, Time-6m 44.40s, Dist-1, 11
2011-WINNER-ZEMSKY 8-12-00 Owner-Ronnie Bartlett; Trainer-Ian Ferguson IRE; Jockey- Mr Derek O'Connor; SP-33/1
2ND Mid Div And Creep 11-11-07 Owner-Mrs K Exall; Trainer-Alan Hill; Jockey-Ms Gina Andrews; SP-100/1
3RD Oscar Delta 8-12-00 Owner-Karen O'Driscoll; Trainer-Jimmy Mangan IRE; Jockey-Mr Damien Murphy; SP-25/1
24 ran, Time-6m 37.20s, Dist 17, 2 3/1 Jt Favs On The Fringe (4th), Baby Run (UR)
2010-WINNER-BABY RUN 10-12-00 Owner-John Goodman; Trainer-Nigel Twiston-Davies; Jockey-Mr Sam Twiston-Davies; SP-9/2 Jt Fav 2ND Kilty Storm 11-12-00 Owner-Sean Lucey; Trainer-Roger McGrath IRE; Jockey-Mr Declan Queally; SP-16/1 3RD Reach For The Top 9-12-00 Owner-Mike Tuckey; Trainer-Mike Tuckey; Jockey-Mr Ben Tuckey; SP-66/1
24 ran, Time-6m 56.00s, Dist-5, 7 9/2 Jt Fav Roulez Cool (BD)
2009-WINNER-CAPPA BLEU 7-12-00 Owner-William & Angela Rucker; Trainer-Sheila Crow; Jockey-Mr Richard Burton; SP-11/2
2ND Turthen 8-12-00 Owner-Charles Fox; Trainer-Charles Fox; Jockey-Miss Charlotte Tizzard; SP-25/1
3RD Baby Run 9-12-00 Owner-Nigel Twiston-Davies; Trainer-Nigel Twiston-Davies; Jockey-Mr Sam Twiston-Davies; SP14/1
24 ran, Time-6m 54.30s, Dist-12, ½ 7/2 Fav Juveigneur (12th)
2008-WINNER-AMICELLI 9-12-00 Owner-Lord Daresbury; Trainer-Cherry Coward; Jockey-Mr Oliver Greenall; SP-33/1
2ND Bon Accord 8-12-00 Owner-I R Mann; Trainer-Alan Hill; Jockey-Mr James Tudor; SP-15/2
3RD Arctic Times 12-12-00 Owner-Trevor Hemmings; Trainer-Eugene O'Sullivan IRE; Jockey-Mr Damien Murphy; SP-40/1
23 ran, Time-7m 1.20s, Dist-6, 1½ 5/1 Fav Agus A Vic (PU)
2007-WINNER-DROMBEAG 9-12-00 Owner-J P McManus; Trainer-Jonjo O'Neill; Jockey-Mr J T McNamara; SP-20/1
2ND Whyso Mayo 10-12-00 Owner-Kathleen O'Driscoll; Trainer-Ray Hurley IRE; Jockey-Mr Damien Murphy; SP-2/1 Fav
3RD Ned Kelly 11-12-00 Owner-Sue Magnier; Trainer-Edward O'Grady IRE; Jockey-Mr Kevin Power; SP-20/1
24 ran, Time-6m 46.60s, Dist-½, 15
2006-WINNER-WHYSO MAYO 9-12-00 Owner-Kathleen O'Driscoll; Trainer-Ray Hurley IRE; Jockey-Mr Damien Murphy; SP-20/1
2ND First Down Jets 9-12-00 Owner-J B O'Mahoney' Trainer-Liam Burke; Jockey-Mr Colman Sweeney; SP-66/1
3RD Joe Blake 11-12-00 Owner-Ronnie Bartlett; Trainer-Ian Ferguson IRE; Jockey-Mr Mark O'Hare; SP-14/1
24 ran, Time-6m 42.70s, Dist-1, 1.25 11/4 Fav Harbour Pilot (PU)
2005-WINNER-SLEEPING NIGHT 9-12-00 Owner-David & F A Jackson; Trainer-Paul Nicholls: Jockey-Mr Colman Sweeney; SP-7/2 Fav
2ND Foly Pleasant 11-12-00 Owner-Nick Shutts; Trainer-Nick Shutts; Jockey-Mr Richard Burton: SP-20/1
3RD Placid Man 11-12-00 Owner-Tim Jones and Partners; Trainer-Alex Embiricos; Jockey-Alex Embiricos; SP-14/1 24 ran, Time-6m 50.3s, Dist-.75, 11
2004-WINNER-EARTHMOVER 13-12-00 Owner-Roger Penny; Trainer-Paul Nicholls; Jockey-Miss Rilly Goschen; SP-14/1
2ND Never Compromise 9-12-00 Owner-Dermot Desmond; Trainer-Ted Walsh IRE; Jockey-Mr Alan Crowe; SP-9/2
3RD County Derry 11-12-00 Owner-G T Lever; Trainer-Jeremy Scott; Jockey-Mr Neil Harris; SP-16/1
24 ran, Time-6m 57.10s, Dist-4, 12 3/1 Fav Lord Atterbury (PU)
2003-WINNER-KINGSCLIFF 6-12-00 Owner-Arnold Sendell; Trainer-Sally Alner; Jockey-Mr Richard Young; SP-11/4 Fav
2ND Bright Approach 10-12-00 Owner-John Burridge; Trainer-Ollie Bush; Jockey-Miss Polly Gundry; SP-20/1
3RD Last Option 11-12-00 Owner-Robin Tate; Trainer-Robin Tate; Jockey-Mrs Fiona Needham; SP-16/1
24 ran, Time-6m 49.50s, Dist-2.5, .5
2002-WINNER-LAST OPTION 10-12-00 Owner/Trainer-Robin Tate; Jockey-Mrs Fiona Needham; SP-20/1
2ND-Gunner Welburn 10-12-00 Owner-William Ritson; Trainer-Caroline Bailey; Jockey-Mr Rowan Cope; SP-8/1
3RD-Torduff Express 11-12-00 Owner-Two Plus Two; Trainer-Paul Nicholls; Jockey-Miss Polly Gundry; SP-10/1
20 ran, Time-7m 1.60s, Dist-.5, .5 11/4 Fav Horus (PU)
2001-Race Cancelled
2000-WINNER-CAVALERO 11-12-00 Owner-John Manners; Trainer-John Manners; Jockey-Mr Alex Charles-Jones; SP-16/1
2ND-Real Value 9-12-00 Owner-Alan Cowing; Trainer-Di Grissell; Jockey-Mr Ben Hitchcott; SP-8/1
3RD-Trade Dispute 8-12-00 Owner-Grant Tuer; Trainer-Edwin Tuer; Jockey-Mr Grant Tuer; SP-9/1
24 ran, Time-6m 36.60s, Dist-.75, 1.25 3/1 Fav Mighty Moss (5th)
1999-WINNER-CASTLE MANE 7-12-00 Owner-Charles Dixey; Trainer-Caroline Bailey; Jockey-Mr Ben Pollock; SP- 9/2
2ND-Elegant Lord 11-12-00 Owner-J P McManus; Trainer-Enda Bolger IRE; Jockey-Mr Philip Fenton; SP-3/1 Fav
3RD-Last Option 7-12-00 Owner-Robin Tate; Trainer-Robin Tate; Jockey-Mrs Fiona Needham; SP-20/1 24 ran, Time-6m 50.7s; Dist-13, 1.75
1998-WINNER-EARTHMOVER 7-12-00 Owner-Roger Penny; Trainer-Richard Barber; Jockey-Mr Joe Tizzard; SP-3/1
2ND-Stay In Touch 8-12-00 Owner-Barry Brazier; Trainer-John Costello IRE; Jockey-Mr Dermot Costello; SP- 10/1
3RD-Flashing Steel 13-12-00 Owner-Charles Haughey; Trainer-John Mulhern IRE; Jockey-Mr Philip Fenton;
SP-33/1
11 ran, Time-6m 46s, Dist-18, 5 5/4 Fav Elegant Lord (5th)
1997-WINNER-FANTUS 10-12-00 Owner-John Keighley; Trainer-Richard Barber; Jockey-Mr Tim Mitchell; SP-10/1
2ND-Cab On Target 11-12-00 Owner-N Hurst; Trainer-Mary Reveley; Jockey-Mr Stephen Swiers; SP-4/1 Fav
3RD-What A Hand 9-12-00 Owner-F A Bonsal; Trainer-Edward O'Grady IRE; Jockey-Mr Philip Fenton; SP- 6/1
18 ran, Time-6m 44.5s, Dist-1.75, 11
1996-WINNER-ELEGANT LORD 8-12-00 Owner-J P McManus; Trainer-Enda Bolger IRE; Jockey-Mr Enda Bolger;
SP-3/1 Fav
2ND-Cool Dawn 8-12-00 Owner-Dido Harding; Trainer-Robert Alner; Jockey-Miss Dido Harding; SP-9/2
3RD-Kerry Orchid 8-12-00 Owner-Peter Curling; Trainer-Edward O'Grady IRE; Jockey-Mr Philip Fenton; SP- 12/1
17 ran, Time-6m 51.0s, Dist-6,7
1995-WINNER-FANTUS 8-12-00 Owner-John Keighley; Trainer-Richard Barber; Jockey-Miss Polly Curling; SP-8/1
2ND-Holland House 9-12-00 Owner-Edward Knight; Trainer-Patrick Chamings; Jockey-Mr Charlie Vigors; SP- 50/1
3RD-Elegant Lord 7-12-00 Owner-J P McManus; Trainer-Enda Bolger IRE; Jockey-Mr Tony Martin; SP-13/8 Fav
13 ran, Time-7m 7.7s, Dist-20, 8
St James's Place Foxhunter Chase Roll Of Honour
(CGA Foxhunter Chase 2013-2014, Christie's Foxhunter Chase 1979-2012, 1974-1978 no sponsor, 1972-73 ASun Alliance and London@ Foxhunter Challenge Cup)

Year Winner Age/Wt Jockey Trainer Owner SP Ran
1994 Double Silk 10-12-00 Mr Ron Treloggen Reg Wilkins Reg Wilkins 2/5F 5
1993 Double Silk 9-12-00 Mr Ron Treloggen Reg Wilkins Reg Wilkins 12/1 18
1992 Rushing Wild 7-12-00 Mr Justin Farthing Richard Barber John Keighley 9/1 24
1991 Lovely Citizen 8-12-00 Mr Willie O'Sullivan Eugene M O'Sullivan IRE Eugene J O'Sullivan 14/1 18
1990 Call Collect 9-12-00 Mr Ray Martin John Parkes James Clements 7/4F 15
1989 Three Counties 12-12-00 Miss Katie Rimell Mercy Rimell Katie Rimell 6/1 16
1988 Certain Light 10-12-00 Mr Paul Hacking Jean Campbell Jean Campbell 10/1 9
1987 Observe 11-12-00 Mr Charlie Brooks Fred Winter R Bott (Wigmore St) Ltd 14/1 14
1986 Attitude Adjuster 6-12-00 Mr Ted Walsh Mouse Morris IRE Sue Magnier 10/1 14
1985 Elmboy 7-12-00 Mr Alan Hill Norman Mawle Norman Mawle 10/1 17
1984 Venture To Cognac 11-12-00 Mr Oliver Sherwood Fred Winter Nat Sherwood 7/1 21
1983 Eliogarty 8-12-00 Miss Caroline Beasley Barry Kelly IRE Caroline Beasley 3/1F 16
1982 The Drunken Duck 9-12-00 Mr Brod Munro-Wilson Brod Munro-Wilson Brod Munro-Wilson 12/1 19
1981 Grittar 8-12-00 Mr Dick Saunders Frank Gilman Frank Gilman 12/1 17
1980 Rolls Rambler 9-12-00 Mr Oliver Sherwood Fred Winter B Braziel 9/4 7
1979 Spartan Missile 7-12-00 Mr John Thorne John Thorne John Thorne 9/4F 10
1978 Timmie's Battle 7-12-00 Mr Peter Greenall Arthur Stephenson G Deverell 7/2 17
1977 Long Lane 9-11-11 Mr Richard Shepherd Richard Shepherd Richard Shepherd 9/4F 16
1976 False Note 10-11-09 Mr Bryan Smart John Horton John Horton 11/4F 16
1975 Real Rascal 12-11-10 Mr George Hyatt Barbara Surman Barbara Surman 8/1 16
1974 Corrie Burn 8-12-00 Mr Ian Williams George Fairbairn Joanna Fairbairn 20/1 16
1973 Bullocks Horn 10-12-00 Lord Oaksey Bob Turnell Mrs E Barker 5/1 20
1972 Credit Call 8-12-00 Mr Chris Collins Arthur Stephenson Chris Collins 7/4F 9
1971 Hope Again 9-11-07 Mr Richard Smith Denis Windell Denis Windell 16/1 18
1970 Highworth 11-11-07 Mr R H Woodhouse R H Woodhouse R H Woodhouse 15/2 13
1969 Queens Guide 8-11-07 Mr G Wade Willie Wade Willie Wade 10/1 10
1968 Bright Beach 8-11-11 Mr Charlie Macmillan Geordie Dun Geordie Dun 5/1 12
1967 Mulbarton 11-12-00 Mr Nick Gaselee I H Pattullo I H Pattullo EvsF 13
1966 Straight Lady 10-11-07 Mr Richard Shepherd William Shepherd William Shepherd 100/8 21
1965 Woodside Terrace 12-11-07 Mr R Woodhouse R Woodhouse R Woodhouse 33/1 19
1964 Freddie 7-11-07 Mr Alan Mactaggart Reg Tweedie Reg Tweedie 1/3F 10
1963 Grand Morn II 9-12-00 Mr R Bloomfield G Shepheard G Shepheard 15/2 20
1962 Colledge Master12-12-00 Mr Laurie Morgan Laurie Morgan Laurie Morgan 9/2 17
1961 Colledge Master11-12-00 Mr Laurie Morgan Laurie Morgan Laurie Morgan 7/2 17
1960 Whinstone Hill 11-12-00 Mr Bobby Brewis Bobby Brewis Bobby Brewis 11/8F 15
1959 Some Baby 10-12-00 Mr John Thorne Tim Rootes Tim Rootes 100/8 15
1958 Whinstone Hill 9-12-00 Mr Bobby Brewis Bobby Brewis Bobby Brewis 7/1 16
1957 The Callant 9-12-00 Mr John Scott-Aiton Stewart Wight C D Scott 10/11F 9
1956 The Callant 8-12-00 Mr John Scott-Aiton Stewart Wight C D Scott 11/8F 17
1955 Abandoned (snow)
1954 Happymint 9-12-00 Mr Danny Moralee Stewart Wight Danny Moralee 7/1 21
1953 DH Dunboy II 9-12-00 Mr Charlie Scott P Bruce Miss P Bruce 3/1F 22
1953 DH Merry 13-12-00 Mr Gay Kindersley Alec Kerr John Baillie 100/7 22
1952 Parasol II 7-12-00 Mr Ivor Kerwood A Walton A Walton 8/1 19
1951 Halloween 6-12-00 Mr Dickie Smalley Bill Wightman Captain Dick Smalley 11/8F 26
1950 Greenwood 13-12-00 Mr John Stuart-Evans J T Evans J T Evans 100/7 25
1949 Abandoned (frost)
1948 State Control 8-12-00 Mr Harry Llewellyn Harry Llewellyn Harry Llewellyn 7/2F 38
1947 Lucky Purchase 9-12-00 Mr John Nichols Sidney Banks Sidney Banks 7/1 26
1946 Iloilo 9-12-00 Mr Harry Freeman-Jackson Harry Freeman-Jackson Mrs Harry Freeman-Jackson 6/1 16