---
Glenfarclas Cross Country Chase

Cheltenham 16:10
£65,000 added, 5yo plus,
3m 6f 37y, Class 2  
Wednesday 14th March 2018
Tiger Roll makes it a Festival three-timer!
1 Tiger Roll 7/1
2 Urgent De Gregaine 12/1
3 The Last Samuri 11/4F
16 ran Distances: 2l, 11l, 4½l
Time: 8m 51.60s (slow by 47.60s)
Tiger Roll's Glenfarclas Cross Country Chase victory was the third at The Festival for the Gordon Elliott-trained eight-year-old, but a first for jockey Keith Donoghue.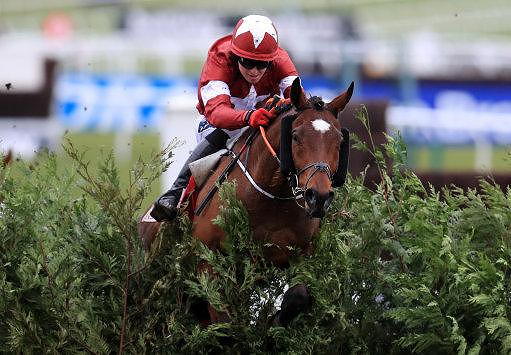 Always towards the head of affairs, the eight-year-old was settled just behind the pacesetting Beeves and his only real moment of danger was when another stable companion, Bless The Wings, fell early on and nearly brought him down.
His jockey Keith Donoghue took time out of the saddle not too long ago with weight problems, but could always count on the support of Elliott and has been rewarded with a first Festival winner.
Sent off at 7-1,Tiger Roll took up the running before entering the racecourse proper and while French challenger Urgent De Gregaine threw down a good challenge, he could only close to within two lengths. The Last Samuri did his Grand National chances no harm by finishing third.
Donoghue said: "That was brilliant. He jumped brilliant the whole way and travelled well.
"I thought he would win, my only worry was the ground.
"He comes alive round here - he loves it.
"If it wasn't for Gordon I wouldn't be standing here as I struggle with my weight."
O'Leary said: "This is a family pet now. He loved it.
"He hates everywhere else, but he loves Cheltenham. I wish I had a few more like him.
"He's a little rat of a thing, but he's the heart of a lion."
Elliott said: "He is a good horse and he has been very lucky for us. To win three races at Cheltenham is brilliant. He has been a great servant so I am absolutely thrilled and delighted. I'm delighted for Keith Donoghue as he had to lose 7lb to ride the horse. Today was his day.
"He is in the National so we will see and I will talk to Eddie and Michael (O'Leary). It's another winner here and that will keep them going for a while. It would be the Irish National, if any, as that is more prize money.
"He will definitely be back here next year as he is still a young horse. I don't know what it is about here, but it is brilliant. It is just different horses for courses."
Of Cause of Causes, he said: "Jamie (Codd) said he was flat out. I was worried about the ground and it never happened today. He is a bit sore so we will see how is."
Glenfarclas Cross Country Chase
(Cross Country Chase)
£65,000 added, 5yo plus, 3m 6f 37y, Class 2
16 ran
Going: Soft, Heavy in places
Pos
D
Horse SP
Jockey Weight
Trainer
Age
1st
Tiger Roll (IRE) 7/1
K M Donoghue
11-4
G Elliott
8
2nd
2
Urgent De Gregaine (FR) 12/1
Felix de Giles
11-4
E Clayeux
10
3rd
11
The Last Samuri (IRE) 11/4f
David Bass
11-4
K C Bailey
10
4th
4&frac12
Auvergnat (FR) 10/1
M P Walsh
11-4
E Bolger
8
5th
nk
Chic Name (FR) 100/1
Jonathan Burke
11-4
Richard Hobson
6
6th
25
Josies Orders (IRE) 7/1
Ms N Carberry
11-4
E Bolger
10
7th
1&frac12
Beeves (IRE) 50/1
Sean Quinlan
11-4
Jennie Candlish
11
PU
Cantlow (IRE) 25/1
D J McInerney
11-4
E Bolger
13
PU
Cause Of Causes (USA) 10/3
Mr J J Codd
11-4
G Elliott
10
PU
Federici 66/1
W T Kennedy
11-4
D McCain Jnr
9
PU
Hurricane Darwin (IRE) 25/1
D F O'Regan
11-4
A Fleming
8
PU
Saint Are (FR) 33/1
A P Heskin
11-4
T R George
12
PU
Urumqi (FR) 33/1
J Plouganou
11-4
D Cottin
7
PU
Vicomte Du Seuil (FR) 50/1
Charlie Deutsch
11-4
E Clayeux
9
PU
Belamix Dor (FR) 100/1
T Beaurain
11-4
P Quinton
7
F
Bless The Wings (IRE) 9/1
D N Russell
11-4
G Elliott
13
The Truth Or Dare 10-year-old, Urgent De Gregaine, justified the boat ride over from France when he came home two lengths adrift of the winner.
Urgent De Gregaine has proved himself a master of the unusual race as he was second in this seasons Velka Pardubicka and having run in cross-country races in his native land.
Felix de Giles, who rode the 12/1 chance said: "He gave me a lovely spin round and jumped very well. 
"We managed to get the rail nearly everywhere but we were just beaten by a better horse."
Kim Bailey, who trains locally, was pleased with his
Randox Health Grand National
hope, The Last Samuri, who was sent off the 11/4 favourite for the Glenfarclas Cross Country Chase, and finished third.
Bailey said: "I am delighted - it was always going to be a National prep.
"It is a bit different to carrying top-weight in a handicap."
The Last Samuri didn't come into the winner's enclosure and Bailey explained: "The horse always gets very tired afterwards. He is a horse that is marked out by the vets in all of his races.
"The vets are very happy with him - I am quite used to it now."
PAST RESULTS
2017-WINNER-CAUSE OF CAUSES 9-11-04 Owner-J P McManus; Trainer-Gordon Elliott IRE; Jockey-Mr Jamie Codd; SP-4/1
2ND-Bless The Wings 12-11-04 Owner-Adrian Butler/S O'Connor; Trainer-Gordon Elliott IRE; Jockey-Davy Russell; SP-10/1
3RD-Cantlow 12-11-04 Owner-J P McManus; Trainer-Enda Bolger IRE; Jockey-Adrian Heskin; SP-9/4 Fav
16 ran, Time-8m 12.30s, Dist-9, 1¼
2016-WINNER-JOSIES ORDERS 8-11-04 Owner-J P McManus; Trainer-Enda Bolger IRE; Jockey-Ms Nina Carberry; SP-15/8 Fav
2ND- Bless The Wings 11-11-04 Owner-Adrian Butler/S P O'Connor; Trainer-Gordon Elliott IRE; Jockey-Mr Jamie Codd; SP- 33/1
3RD- Quantitativeeasing 11-11-04 Owner-J P McManus; Trainer-Enda Bolger IRE; Jockey-Mark Walsh; SP-9/1
16 ran, Time-8m 11.00s, Dist-1, 1¼, 5 (original) Josies Orders awarded the race on August 25, 2016 when Any Currency disqualified.
2015-WINNER-RIVAGE D'OR 10-10-10 Owner-Gigginstown House Stud; Trainer-Tony Martin IRE; Jockey-Davy Russell; SP-16/1
2ND-Any Currency 12-11-11 Owner-Cash Is King; Trainer-Martin Keighley; Jockey-Aidan Coleman; SP-7/1
3RD-Uncle Junior 14-11-09 Owner-Mrs M McMahion; Trainer-Willie Mullins IRE; Jockey-Mr Patrick Mullins; SP-20/1
4TH-Dogora 6-10-10 Owner-Susannah Ricci; Trainer-Willie Mullins IRE; Jockey-Ms Katie Walsh; SP-20/1
16 ran, Time-8m 23.80s, Dist-2¼, 1, 2 9/2 Fav Toutancarmont (ran out)
2014-WINNER-BALTHAZAR KING 10-11-12 Owner-The Brushmakers; Trainer-Philip Hobbs; Jockey-Richard Johnson; SP-4/1
2ND-Any Currency 11-10-08 Owner-Cash Is King; Trainer-Martin Keighley; Jockey-Ian Popham; SP-10/1
3RD-Big Shu 9-11-09 Owner- Hugh Duffy, Richard Robinson & Caroline Woods; Trainer-Peter Maher IRE; Jockey- Paul Carberry; SP-3/1
Fav
4TH-Duke Of Lucca 9-10-10 Owner-Lesley Field; Trainer-Philip Hobbs; Jockey-Tom O'Brien; SP-25/1
16 ran, Time-8m 19.20s, Dist-sh, 3, 5
2013-WINNER-BIG SHU 8-10-05 Owner-Hugh Duffy, Richard Robinson & Caroline Woods; Trainer-Peter Maher IRE; Jockey-Barry Cash;
SP-14/1
2ND-Shakervilz 10-10-00 Owner-Wicklow Bloodstock Limited; Trainer-Willie Mullins IRE; Jockey-Ms Katie Walsh; SP-20/1
3RD-Outlaw Pete 9-10-09 Owner-J P McManus; Trainer-John Halley IRE; Jockey- Mr Josh Halley; SP-6/1
4TH-Bostons Angel 9-11-00 Owner- Elder Scouller; Trainer-Jessica Harrington IRE; Jockey-Robbie Power; SP-9/1
16 ran, Time-8m 44.70s, Dist-4, 10, 1¼ 9/4 Fav Arabella Boy (7th)
2012-WINNER-BALTHAZAR KING 8-10-09 Owner-The Brushmakers; Trainer-Philip Hobbs; Jockey-Richard Johnson; SP-11/2
2ND-A New Story 14-10-06 Owner-Storey's Over Syndicate; Trainer-Michael Hourigan IRE; Jockey-Adrian Heskin; SP-20/1
3RD-Wedger Pardy 11-9-08 Owner-Lord Leigh; Trainer-Kim Bailey; Jockey-Miss Jacqueline Coward; SP-33/1
4TH-Sizing Australia 10-11-01 Owner-Ann & Alan Potts Partnership; Trainer-Henry de Bromhead IRE; Jockey-Andrew Lynch; SP-5/1
16 ran, Time-7m 51.70s, Dist-hd, 5, 2½ 100/30 Fav Scotsirish (PU)
2011-WINNER-SIZING AUSTRALIA 9-10-09 Owner-Ann & Alan Potts Partnership; Trainer-Henry De Bromhead IRE; Jockey-Andrew Lynch; SP-13/2
2ND-Garde Champetre 12-11-12 Owner-J P McManus; Trainer-Edna Bolger IRE; Jockey-Miss Nina Carberry; SP-5/1
3RD-A New Story 13-10-05 Owner-Storey's Over Syndicate; Trainer-Michael Hourigan IRE; Jockey-Adrian Heskin; SP-12/1
15 ran, Time-8m 6.22s, Dist 1 ¼, 1 9/2 Fav Maljimar (4th)
2010-WINNER-A NEW STORY 12-9-07 Owner-Storey's Over Syndicate; Trainer-Michael Hourigan IRE; Jockey-Adrian Heskin; SP33/1 2ND-L'Ami 11-11-04 Owner-J P McManus; Trainer-Enda Bolger IRE; Jockey-Mr J T McNamara; SP-4/1 3RD-Lacdoudal 11-9-12 Owner-Carol Skan; Trainer-Philip Hobbs; Jockey-Rhys Flint; SP-28/1 4TH-Another Jewel 8-10-00 Owner-F Magee; Trainer-Denis Murphy IRE; Jockey-Davy Condon; SP-16/1 16 ran, Time-8m 18.00s, Dist-2½ , 2¾ , nk 7/4 Fav Garde Champetre (5th)
2009-WINNER-GARDE CHAMPETRE 10-11-12 Owner-J P McManus; Trainer-Enda Bolger IRE; Jockey-Miss Nina Carberry; SP-7/2
2ND-L'Ami 10-11-08 Owner-J P McManus; Trainer-Enda Bolger IRE; Jockey-Mr J T McNamara; SP-7/4 Fav
3RD-Drombeag 11-10-07 Owner-J P McManus; Trainer-Enda Bolger IRE; Jockey-Robert Power; SP-7/1
4TH-A New Story 11-9-11 Owner-Storey's Over Syndicate; Trainer-Michael Hourigan IRE; Jockey-Jack Doyle; SP-14/1 16 ran, Time-8m 47.54s, Dist-1¾, 14, 24
2008-WINNER-GARDE CHAMPETRE 9-10-13 Owner-J P McManus; Trainer-Enda Bolger IRE; Jockey-Miss Nina Carberry; SP-4/1
2ND-Native Jack 14-10-12 Owner-Gerard Burke/Robert Bagnall/N O'Farrell/K Sexton; Trainer-Philip Rothwell IRE; Jockey-Davy Russell; SP-40/1
3RD-A New Story 10-10-08 Owner-Storey's Over Syndicate; Trainer-Michael Hourigan IRE; Jockey-Andrew McNamara; SP-20/1
4TH-Freneys Well 8-10-05 Owner-J P McManus; Trainer-Enda Bolger IRE; Jockey-Mr G Mangan (7); SP-25/1 16 ran, Time-8m 39.52s; Dist-10, 1½ , 4½ 5/2 Fav Wonderkid (6th)
2007-WINNER-HEADS ONTHE GROUND 10-10-02 Owner-J P McManus; Trainer-Enda Bolger IRE; Jockey-Miss Nina Carberry; SP-5/2 Fav
2ND-Silver Birch 10-11-00 Owner-Brian Walsh; Trainer-Gordon Elliott IRE; Jockey-Jason Maguire; SP-14/1
3RD-Le Duc 8-10-10 Owner-The Stewart Family; Trainer-Paul Nicholls; Jockey-Sam Thomas; SP-8/1
4TH-Spot Thedifference 14-11-12 Owner-J P McManus; Trainer-Enda Bolger IRE; Jockey-Mr J T McNamara; SP-6/1
16 ran, Time-8m 43.80s, Dist-3½, 12, 5
2006-WINNER-NATIVE JACK 12-10-08 Owner-Gerard Burke/R J Bagnall/N O'Farrell/K Sexton; Trainer-Philip Rothwell IRE; Jockey-Davy Russell; SP-7/2 Jt Fav
2ND-Spot Thedifference 13-11-12 Owner-J P McManus; Trainer-Enda Bolger IRE; Jockey-Mr J T McNamara; SP-12/1
3RD-Buauiltes And Fadas 11-9-11 Owner-J P McManus; Trainer-Enda Bolger IRE; Jockey-Miss Nina Carberry; SP-6/1
4TH-Il De Boitron 8-10-06 Owner-Clonakilty Racing Club; Trainer-Thomas O'Leary IRE; Jockey-Andrew McNamara; SP-100/1
16 ran, Time-8m 30.10s, Dist-2, 5, 5 7/2 Jt Fav Good Step (6th)
2005-WINNER-SPOT THEDIFFERENCE 12-11-12 Owner-J P McManus; Trainer-Enda Bolger IRE; Jockey-Mr J T McNamara; SP-4/1
2ND-Luzcadou 12-10-13 Owner-A G Chappell; Trainer-Ferdy Murphy; Jockey-Alan O'Keeffe; SP-22/1
3RD-Mrs Be 9-9-12 Owner-J H Burridge; Trainer-Grant Cann; Jockey-Miss Polly Gundry; SP-20/1
4TH-Lord Noelie 12-11-08 Owner-Executive Racing; Trainer-Bridget Nicholls; Jockey-Jason Maguire; SP-14/1
16 ran, Time-8m 44.00s, Dist-2.5, 6, .75 100/30 Fav Comanche War Paint (Fell)