---
Martin Pipe Handicap Hurdle

(Conditional Jockeys)
Cheltenham 16:50
£70,000 added, 4yo plus,
2m 4f 110y, Class 2  
Friday 16th March 2018

Another Festival winner for Gordon Elliott as Blow By Blow wins
1 Blow By Blow 11/1
2 Discorama 33/1
3 Early Doors 9/1
4 Sire Du Berlais 10/1
23 ran NR: Amour De Nuit Distances: 5l, 1¼l, 1¼l
Time: 5m 22.20s (slow by 35.20s)
Blow By Blow's impressive victory in the Martin Pipe Conditional Jockeys' Handicap Hurdle may have been trainer Gordon Elliott's eighth success of The Festival 2018 and owner Michael O'Leary (Gigginstown House Stud)'s seventh, but it was a first Festival win for jockey Donagh Meyler.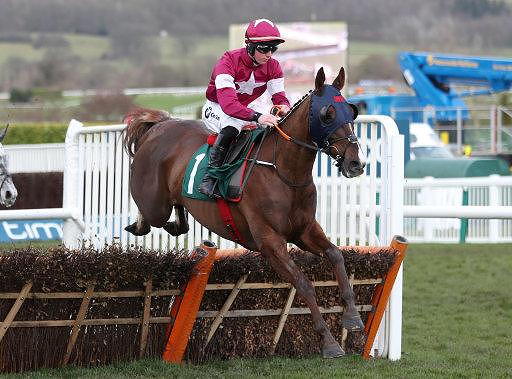 Seven-year-old Blow By Blow was in front all the way and won by five lengths at odds of 11/1.
The 22-year-old, who works for Elliott one day a week and for Tony Martin three days a week, said: "To be fair, the horse has a Grade One win under his belt [in a bumper at the Punchestown Festival in 2016] and proper form. He was in his comfort zone all the way today. They came to me at the second-last and he found again. It's brilliant - I'm stuck for a few words!
"I thought he would have an each-way chance, but I didn't think I would ever ride a winner round Cheltenham, and here we are. I've had a few rides here when I was claiming five and seven pounds. I grew up watching the likes of Ruby and Davy coming up the hill here and riding the back of the sofa, but to win here is brilliant.
"I grew up hunting in Kilkenny and doing a bit of pony racing - it gives Irish lads a great start."
Blow By Blow's owner Michael O'Leary commented: "This horse has gradually improved and improved, but we thought his ground had gone today. It was a remarkable ride by Donagh Meyler; the last thing you do here is go from the front all the way around! We expected him to blow up at the top of the hill."
Asked how he felt about his seven winners this week, which has won him the NetJets Leading Owner Award, he said: "It's absolutely surreal. If I had had two or three winners it would have been a fantastic week. I didn't think we'd have any today, given we had three yesterday and five for the week [before today]. There's going to be a terrible run of luck coming - we'll have a blank next year and for the next two or three years! So we are going to enjoy this. It's been a phenomenal week."
He discussed the tremendous success of trainer Gordon Elliott, saying: "It is the most remarkable story in the training ranks in either Ireland or England. He has come from nowhere. He drove his own van; he made his name by bringing bad horses over to Ayr to win races. He has come from nowhere in a remarkably short period of time. 
"He learnt at the feet of the master over here, Martin Pipe, and he was well taught. Martin revolutionised training here over many years; clearly Gordon picked it up and he and Willie are doing in Ireland what Martin did here for many years - they are dominating the game in Ireland and increasingly they are dominating the game in England too. They have been fortunate - they have a lot of very good owners and staff."

Martin Pipe Conditional Jockeys' Handicap Hurdle
£70,000 added, 4yo plus, 2m 4f 110y, Class 2
23 ran
Going: Soft, Heavy in places
Pos
Dist
Horse SP
Jockey Weight
Trainer
Age
1st
Blow By Blow (IRE) 11/1
D Meyler
11-10
G Elliott
7
2nd
5
Discorama (FR) 33/1
D Robinson
11-2
P Nolan
5
3rd
1&frac14
Early Doors (FR) 9/1
J J Slevin
11-8
Joseph P O'Brien
5
4th
1&frac14
Sire Du Berlais (FR) 10/1
D J McInerney
11-10
G Elliott
6
5th
1&frac12
Diese Des Bieffes (FR) 17/2
James Bowen
11-3
N J Henderson
5
6th
&frac34
Lough Derg Spirit (IRE) 20/1
Ned Curtis
11-3
N J Henderson
6
7th
&frac12
Dream Berry (FR) 33/1
Jonjo O'Neill (3)
11-9
Jonjo O'Neill
7
8th
hd
Brillare Momento (IRE) 25/1
Harry Stock (3)
11-5
M Keighley
7
9th
1&frac34
Tommy Rapper (IRE) 25/1
Bridget Andrews
11-6
D Skelton
7
10th
1
Mr Big Shot (IRE) 14/1
Michael Heard
11-4
D Pipe
7
11th
4
Carter Mckay 12/1
Jamie Bargary
11-4
W P Mullins
7
12th
2&frac12
Flawless Escape 13/2f
Jonathan Moore
11-3
G Elliott
5
13th
3&frac34
Brave Eagle (IRE) 20/1
Alan Doyle (5)
11-2
N J Henderson
6
14th
2&frac12
No Hassle Hoff (IRE) 33/1
Fergus Gregory (3)
11-6
D Skelton
6
15th
1&frac14
Coeur de Lion 33/1
Kevin Dowling (5)
11-5
A King
5
16th
&frac34
Delire D'Estruval (FR) 50/1
Richard Patrick
11-4
B Pauling
5
17th
&frac12
Brelan D'As (FR) 50/1
Bryony Frost
11-6
P F Nicholls
7
18th
&frac12
Arthington 80/1
Daniel Sansom (3)
11-3
J W Mullins
5
19th
1&frac14
Melrose Boy (FR) 12/1
Kieron Edgar
11-3
H Fry
6
20th
4
Flaxen Flare (IRE) 50/1
C Gethings
11-9
G Elliott
9
21st
3&frac12
Deal D'Estruval (FR) 7/1
L P Gilligan (5)
11-2
W P Mullins
5
22nd
18
Burrows Saint (FR) 16/1
Lizzie Kelly
11-3
W P Mullins
5
PU
Poppy Kay 66/1
Sean Houlihan
11-2
P J Hobbs
8
NR
Amour de Nuit (IRE)
Stan Sheppard
11-3
P F Nicholls
8

Martin Pipe Conditional Jockeys' Handicap Hurdle Previous Results
2017-WINNER-CHAMPAGNE CLASSIC 6-11-03 Owner-Gigginstown House Stud; Trainer-Gordon Elliott IRE; Jockey-J J Slevin; SP-12/1
2ND-Verni 8-11-00 Owner-Paul & Clare Rooney; Trainer-Philip Hobbs; Jockey-Thomas Cheeseman; SP-25/1
3RD-Runfordave 5-11-05 Owner-Pat Sloan; Trainer-Gordon Elliott IRE; Jockey-Donagh Meyler; SP-9/1
4TH-Coo Star Sivola 5-11-03 Owner-Babbit Racing; Trainer-Nick Williams; Jockey-Lizzie Kelly; SP-13/2
23 ran, Time-4m 55.90s; Dist-2¼, 1¼, ½ 9/2 Fav Battleford (8th)
2016-WINNER-IBIS DU RHEU 5-11-07 Owner-John Hales; Trainer-Paul Nicholls; Jockey-Jack Sherwood; SP-14/1
2ND-Flying Angel 5-11-06 Owner-R J Renton; Trainer-Nigel Twiston-Davies; Jockey-Ryan Hatch; SP-8/1
3RD-Sky Khan 7-11-03 Owner-The Ormello Way; Trainer-Lucinda Russell; Jockey-Derek Fox; SP-50/1
4TH-Tully East 6-11-08 Owner-Barry Connell; Trainer-Alan Fleming IRE; Jockey-Shane Shortall; SP-50/1
24 ran, Time-4m 51.70s; Dist-1¼, 1¼, 6 9/4 Fav Squouateur (7th)
2015-WINNER-KILLULTAGH VIC 6-11-01 Owner-Rose Boyd/B Anderson/Mrs M Armstrong; Trainer-Willie Mullins IRE; Jockey-Luke
Dempsey; SP-7/1
2ND-Noble Endeavour 6-11-06 Owner-Chris Jones; Trainer-Gordon Elliott IRE; Jockey-Kevin Sexton; SP-14/1
3RD-Roi Des Francs 6-11-05 Owner-Gigginstown House Stud; Trainer-Willie Mullins IRE; Jockey-David Mullins; SP-3/1 Fav
4TH-Kauto Grand Mogol 7-11-01 Owner-J C Delamere/D McCorkell/H Catherwood; Trainer-Liz Doyle IRE; Jockey-Jody McGarvey; SP-33/1
21 ran, Time-5m 3.10s; Dist-hd, 4½, 6
2014-WINNER-DON POLI 5-11-05 Owner-Gigginstown House Stud; Trainer-Willie Mullins IRE; Jockey-Mikey Fogarty; SP-12/1
2ND-Thomas Crapper 7-10-05 Owner-apis.uk.com; Trainer-Robin Dickin; Jockey-Joseph Palmowski; SP-10/1
3RD-Caid Du Berlais 5-11-05 Owner-Donlon, Doyle, MacDonald & C Barber; Trainer-Paul Nicholls; Jockey-Harry Derham; SP-9/1
4TH-Urbain De Sivola 6-10-06 Owner-Chris Giles; Trainer-Paul Nicholls; Jockey-Andrias Guerin; SP-33/1
24 ran, Time-4m 48.58s, Dist-4½, 1¼, 1¾ 9/2 Fav Full Shift (11th)
2013-WINNER-SALUBRIOUS 6-11-05 Owner-The Johnson & Stewart Families; Trainer-Paul Nicholls; Jockey-Harry Derham; SP-16/1
2ND-Nagpur 7-11-00 Owner-Miss S Douglas-Pennant; Trainer-Venetia Williams; Jockey-Tom Cannon; SP-33/1
3RD-Double Ross 7-11-06 Owner-Options O Syndicate; Trainer-Nigel Twiston-Davies; Jockey-Adam Wedge; SP-14/1
4TH-Make Your Mark 6-10-08 Owner-Gigginstown House Stud; Trainer-Willie Mullins IRE; Jockey-Declan Lavery; SP-8/1
23 ran, Time-5m 18.60s, Dist-7, 1, 3¾ 9/4 Fav Gevrey Chambertin (PU)
2012-WINNER-ATTAGLANCE 6-11-03 Owner-H Young, G Eifert, R Snyder; Trainer-Malcolm Jefferson; Jockey-Harry Haynes; SP-20/1
2ND-Toner D'Oudairies 5-11-01 Owner-Gigginstown House Stud; Trainer-Gordon Elliott IRE; Jockey-Keith Donoghue; SP-7/1
3RD-Oscar Nominee 5-10-13 Owner-Michael Buckley; Trainer-Nicky Henderson; Jockey-David Bass; SP-10/1
4TH-Make A Track 6-10-12 Owner-Gigginstown House Stud; Trainer-Charlie Swan IRE; Jockey-Ben Dalton
24 ran, Time-4m 51.6s, Dist-nk, nk, 1½ 9/2 Fav Bourne (9th)
2011-WINNER-SIR DES CHAMPS 5-11-03 Owner-Gigginstown House Stud; Trainer-Willie Mullins IRE; Jocket-Emmet Mullins; SP-9/2 Fav
2ND-Son Of Flicka 7-11-06 Owner-Twenty Four Seven Recruitment; Trainer-Donald McCain; Jockey-Henry Brooke; SP-28/1
3RD-First Point 8-11-07 Owner-The Third Pheasant Inn Partnership; Trainer-Nicky Henderson; Jockey-David Bass; SP-20/1
4TH-Indian Daudaie 4-11-03 Owner-Timeform Betfair Racing Club & Clive Smith; Trainer-Paul Nicholls; Jockey- James Cowley; SP-25/1
23 ran, Time-4m 55.22s; Dist- ½, 2, 4
2010-WINNER-PAUSE AND CLAUSE 6-11-10 Owner-Robert Cohen; Trainer-Emma Lavelle; Jockey-Johnny Farrelly; SP-14/1
2ND-Radium 5-11-04 Owner-Simon Munir; Trainer-Nicky Henderson; Jockey-Harry Skelton; SP-14/1
3RD-Clova Island 7-11-00 Owner-Mrs Peter Prowting; Trainer-Philip Hobbs; Jockey-Giles Hawkins; SP-14/1
4TH-Peveril 6-11-03 Owner-Trevor Hemmings; Trainer-Nicky Henderson; Jockey-David Bass; SP-5/1 24 ran, Time-5m 5.25s; Dist-3¼, 1¼, 2¾ 9/2 Fav Ashkazar (7th)
2009-WINNER-ANDYTOWN 6-11-02 Owner-Richard & Lizzie Kelvin Hughes; Trainer-Nicky Henderson; Jockey-Felix de Giles; SP-25/1
2ND-Midnight Chase 7-11-00 Owner-Lady Clarke; Trainer-Neil Mulholland; Jockey-Michael O'Connor; SP-100/1
3RD-Big Eared Fran 6-11-02 Owner-Thomas Barr; Trainer-David Pipe; Jockey-Johnny Farrelly; SP-7/2 Fav
4TH-Font 6-10-11 Owner-Mr & Mrs R Nevison & Mr & Mrs Ged Mason; Trainer-Paul Nicholls; Jockey-Harry Skelton; SP-14/1 23 ran, Time-4m 58.52s; Dist-9, 7, 2