---
Pertemps Network Final

Handicap Hurdle
Cheltenham 14:10
£95,000 added, 5yo plus,
2m 7f 213y, Class 1
Thursday 15th March 2018
Gordon Elliott is responsible for the first two horses across the line
1 Delta Work 6/1
2 Glenloe 9/2F
3 Connetable 33/1
4 Taj Balandabad 40/1
23 ran NR: Shantou Bob Distances: nse, 2¾l, 2½l
Time: 6m 9.50s (slow by 28.50s)
Trainer
Gordon Elliott
registered a 34/1 double in the first two races on day three of the Cheltenham Festival following Delta Work's nose success over stable companion Glenloe.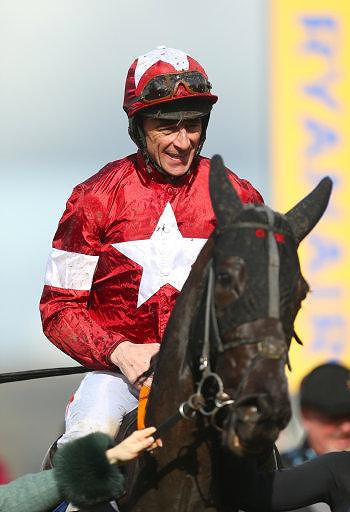 Backed into 6/1 from 9/1, the five-year-old son of Network, ridden by Davy Russell, edged a titanic tussle with Glenloe (9/2 favourite), partnered by Barry Geraghty, up the Cheltenham hill to provide Elliott and owners Gigginstown House Stud with a quickfire double following
Shattered Love
's success in the G1
JLT Novices' Chase
.
Elliott, registering his fifth victory of the week and 19th overall at The Festival, commented: "It has been great day and the horses are flying. I think Glenloe was a bit unlucky because he missed the last and, had he jumped it, he probably would have won.
"To have the first and second in a race like that is unbelievable. I am very lucky with the staff I have along with the owners and the horses.
"Tuesday I thought it was going to be one of them weeks. But to have five winners now - I can't believe it.
"It was a great ride by Davy but I trained both horses so I didn't care which way the photo went!
"The horses are rolling on nicely now so I'm delighted."
Winning owner Michael O'Leary said: "I thought that we had probably lost it on the bob of heads but at least it was Gordon one and two, so I think he was the one who was most relaxed about the outcome.

"Delta Work has improved and had a light weight, so he had a chance but he needed luck in running. Davy had him in a lovely position the whole way round - he was tracking in mid-division. I thought that he was cut out of it just after the last but he had enough horse under him to go again.

"It was a great finish with two master jockeys going hammer and tongs, a terrific finish. Davy is a master jockey and is terrific in these handicaps. He rides Cheltenham brilliantly and is worth a couple of pounds around here."
Pertemps Network Final (Listed Handicap Hurdle)
£95,000 added, 5yo plus, 2m 7f 213y, Class 1
23 ran
Going: Soft, Heavy in places
Pos
D
Horse SP
Jockey Weight
Trainer
Age
1st
Delta Work (FR) 6/1
D N Russell
10-10
G Elliott
5
2nd
nse
Glenloe (IRE) 9/2f
B J Geraghty
10-8
G Elliott
7
3rd
2&frac34
Connetable (FR) 33/1
Harry Cobden
10-7
P F Nicholls
6
4th
2&frac12
Taj Badalandabad (IRE) 40/1
T Scudamore
10-9
D Pipe
8
5th
2&frac34
Who Dares Wins (IRE) 14/1
Wayne Hutchinson
11-6
A King
6
6th
hd
A Great View (IRE) 12/1
Jody McGarvey
10-6
D Cullen
7
7th
&frac12
Whataknight 33/1
N D Fehily
10-9
H Fry
9
8th
2&frac14
Prime Venture (IRE) 40/1
Adam Wedge
10-12
Evan Williams
7
9th
2&frac12
The Mighty Don (IRE) 33/1
L P Aspell
10-8
N J Gifford
6
10th
2&frac14
Wait For Me (FR) 25/1
T J O'Brien
10-13
P J Hobbs
8
11th
2
Theo's Charm (IRE) 33/1
Tom Cannon
10-9
N J Gifford
8
12th
&frac34
Louis' Vac Pouch (IRE) 10/1
R Johnson
11-2
P J Hobbs
6
13th
nk
Kansas City Chief (IRE) 25/1
Sam Twiston-Davies
10-8
N P Mulholland
9
14th
s.h
Thomas Campbell 20/1
James Bowen (3)
11-12
N J Henderson
6
15th
hd
Mine Now (IRE) 25/1
Mr R Deegan (5)
11-2
Peter Fahey
10
16th
&frac34
Lovenormoney (IRE) 22/1
A Tinkler
10-13
W Greatrex
7
17th
14
Protek Des Flos (FR) 14/1
Aidan Coleman
10-8
N J Henderson
6
18th
2&frac14
Dell' Arca (IRE) 50/1
Michael Heard (5)
11-2
D Pipe
9
19th
3
Sort It Out (IRE) 10/1
M P Walsh
10-12
E P Harty
9
20th
5
Boite (IRE) 33/1
G Sheehan
11-5
W Greatrex
8
21st
18
Sykes (IRE) 28/1
Matt Griffiths
10-13
Nicky Martin
9
22nd
29
Dadsintrouble (IRE) 40/1
Alan Johns
10-7
Tim Vaughan
8
PU
Forza Milan (IRE)
Killian Moore (3)
10-9
Jonjo O'Neill
6
NR
Shantou Bob (IRE)
Thomas Greatrex (7)
11-2
W Greatrex
10
There was a 1-2 for trainer Gordon Elliott when Delta Work beat Glenloe (9/2 favourite) in a photo, by a nose.
Barry Geraghty, rider of the runner-up, believes there could be better to come from the seven-year-old.
"He is a big baby and just looked around - there's a lot to look at in Cheltenham," said Geraghty. "I was shoving him at the final flight but I knew that he wasn't looking, so I left him, he flicked over it and lost a bit of momentum. The winner battled really well and I wasn't getting past him. He ran a good race."
Third-placed Connetable may have been a 33/1 shot but his good run was not a total surprise to trainer Paul Nicholls.
"He could have just done with a bit of company in front and he ran a great race," said Nicholls. "He wasn't beaten far at Musselburgh two runs ago and Harry (Cobden) said we wouldn't be far away today. I thought we might need to go up a couple of pounds to get in today so I then ran him at Chepstow and he was terrible. He was never going and I don't know why. He's been a bit in and out.
"I don't know what we'll do now but I think he'll go back over fences next season. He's already won a chase and we could aim him at the Welsh National. He stays forever and likes this ground."
Harry Cobden, rider of Connetable, said: "He ran really well. We went a nice steady gallop all the way. I wanted to save a bit for the hill and he quickened up really well. He has run a blinder, pinged the last and really was only beaten by two better handicapped horses."
Tom Scudamore, jockey of fourth-placed Taj Badalandabad (40/1), said: "He ran a tremendous race. He will make a very nice chaser."
Previous Results
PERTEMPS FINAL (HANDICAP HURDLE)
2017-WINNER-PRESENTING PERCY 6-11-11 Owner-Philip Reynolds; Trainer-Pat Kelly IRE; Jockey-Davy Russell; SP-11/1
2ND-Barney Dawn 7-11-08 Owner-Paul & Clare Rooney; Trainer-Fergal O'Brien; Jockey-Paddy Brennan; SP-16/1
3RD-Jury Duty 6-11-10 Owner-Sideways Syndicate; Trainer-Gordon Elliott IRE; Jockey-Jack Kennedy; SP-9/1
4TH-The Tourard Man 11-10-09 Owner-Mr & Mrs F Bell, N Farrell, A Marsh; Trainer-Alan King; Jockey-Kevin Dowling; SP-66/1
24 ran, Time-5m 49.40s; Dist-3¾, 2, 4½ 8/1 Fav Impulsive Star (21st)
2016-MALL DINI 6-10-11 Owner-Philip Reynolds; Trainer-Patrick Kelly IRE; Jockey-Davy Russell; SP-14/1
2ND-Arpege D'Alene 6-11-04 Owner-Mrs & Mrs P Barber & Potensis Bloodstock Ltd; Trainer-Paul Nicholls; Jockey-Sean Bowen; SP-14/1
3RD-If In Doubt 8-11-04 Owner-J P McManus; Trainer-Philip Hobbs; Jockey-Richard Johnson; SP-10/1
4TH-Taglietelle 7-11-09 Owner-Olduvai Syndicate; Trainer-Gordon Elliott IRE; Jockey-Jack Kennedy; SP-14/1
24 ran, Time-5m 49.20s; Dist-¾, hd, 1½ 11/2 Fav Leave At Dawn (9th)
2015-WINNER-CALL THE COPS 6-10-12 Owner-Matt & Laura Morgan; Trainer-Nicky Henderson; Jockey-Andrew Tinkler; SP-9/1
2ND-Unique De Cotte 7-10-09 Owner-J P McManus; Trainer-David Pipe; Jockey-Tom Scudamore; SP-14/1
3RD-The Tourad Man 9-10-09 Owner-Mr & Mrs B Fell, N Farrell, A Marsh; Trainer-Alan King; Jockey-Wayne Hutchinson; SP-20/1
4TH-Henryville 7-11-09 Owner-R P B Michaelson & E M Thornton; Trainer-Harry Fry; Jockey-Mr Will Biddick; SP-50/1
23 ran, Time-5m 41.1s; Dist-1¾, ¾, nk 15/2 Fav Regal Encore (7th)
2014-WINNER-FINGAL BAY 8-11-12 Owner-Carol Skan; Trainer-Philip Hobbs; Jockey-Richard Johnson; SP-9/2 Fav
2ND-Southfield Theatre 6-11-11 Owner-Angela Yeoman; Trainer-Paul Nicholls; Jockey-Daryl Jacob; SP-20/1
3RD-Pineau De Re 11-11-04 Owner-John Provan; Trainer-Dr Richard Newland; Jockey-Sam Twiston-Davies; SP-33/1
4TH-Trustan Times 8-11-08 Owner- Ian & Peter Armitage; Trainer-Tim Easterby; Jockey-Ryan Mania; SP-33/1
23 ran, Time- 5m 49.40s; Dist-nose, nk, nk
2013-WINNER-HOLYWELL 6-11-04 Owner-Gay Smith; Trainer-Jonjo O'Neill; Jockey-Richie McLernon; SP-25/1
2ND-Captain Sunshine 7-11-01 Owner-Mrs Julien Turner; Trainer-Emma Lavelle; Jockey-Paddy Brennan; SP-11/1
3RD-Jetson 8-11-01 Owner-G McGrath; Trainer-Jessica Harrington IRE; Jockey-Robbie Power; SP-10/1
4TH-Shutthefrontdoor 6-11-08 Owner-J P McManus; Trainer-Jonjo O'Neill; Jockey-A P McCoy; SP-6/1
24 ran, Time- 5m 59.92s; Dist-1½, ½, 1¼ 4/1 Fav Sam Winner (18th)
2012-WINNER-CAPE TRIBULATION 8-10-11 Owner-J David Abell; Trainer-Malcolm Jefferson; Jockey-Denis O'Regan; SP-14/1
2ND-Catch Me 10-10-09 Owner-J P McManus; Trainer-Edward O'Grady IRE; Jockey-A P McCoy; SP-14/1
3RD-Cantlow 7-10 d-08 Owner-R V Shaw; Trainer-Paul Webber; Jockey-Dominic Elsworth; SP-33/1
4TH-Houblon Des Obeaux 5-10-09 Owner-Mrs Julian Blackwell; Trainer-Venetia Williams; Jockey-Aidan Coleman; SP-33/1
24 ran, Time-5m 44.30s; Dist-¾, 1¼ 1¾ 11/2 Fav Our Father (15th)
2011-WINNER-BUENA VISTA 10-10-03 Owner-Matt Archer & the late Jean Broardhurst; Trainer-David Pipe; Jockey-Conor O'Farrell; SP-20/1
2ND-Son Amix 5-10-06 Owner-Whitechurch Stud Syndicate; Trainer-Tom Cooper; Jockey-Paul Carberry; SP-16/1
3RD-Sivota 7-10-07 Owner-Second Go Syndicate; Trainer-Willie Mullins IRE; Jockey-Ruby Walsh; SP-9/1
4TH-Knockara Beau 8-11-12 Owner-W F Trueman; Trainer-George Charlton; Jockey-Jan Faltejsek; SP-33/1
23 ran, Time-5m 40.10s; Dist-4, hd, 10 6/1 Fav Chartreux (13th)
2010-WINNER-BUENA VISTA 9-10-01 Owner-Matt Archer & the late Jean Broardhurst; Trainer-David Pipe; Jockey-Hadden Frost; SP-16/1 2ND-Prince Erik 6-10-08 Owner-Dr Ronan Lambe; Trainer-Dermot Weld IRE; Jockey-Robbie Power; SP-16/1 3RD-Chamirey 7-10-04; Owner-Sir Robert Ogden; Trainer-Alan King; Jockey-Wayne Hutchinson; SP-28/1 4TH-Cross Kennon 6-10-03 Owner-P & Mrs G Clarke; Trainer-Jennie Candlish; Jockey-Alan Keeffe; SP-16/1 24 ran, Time-5m 49.10s, Dist-5, hd, 1½ 11/4 Fav Alfie Sherrin (12th)
2009-KAYF ARAMIS 7-10-05 Owner-Isobel Phipps Coltman; Trainer-Venetia Williams; Jockey-Aidan Coleman; SP-16/1
2ND-Buena Vista 8-10-09 Owner-Matt Archer & the late Jean Broadhurst; Trainer-David Pipe; Jockey-Tom Scudamore; SP-10/1
3RD-Pennek 6-10-11; Owner-H D Read; Trainer-Alan King; Jockey-Robert Thornton; SP-9/1
4TH-The Sliotar 8-10-00 Owner-Roger Brookhouse; Trainer-David Pipe; Jockey-Danny Cook; SP-33/1 22 ran, Time-6m 2.70s, Dist-2, nk, 1¼ 7/1 Fav Ballydub (12th)
2008-WINNER-BALLYFITZ 8-10-08 Owner-Fred & Wayne Mills; Trainer-Nigel Twiston-Davies; Jockey-Paddy Brennan; SP-18/1
2ND-Miko De Beauchene 8-10-08 Owner-Andrew Wiles; Trainer-Robert & Sally Alner; Jockey-Robert Walford; SP-7/1 Jt Fav
3RD-According To Pete 7-10-06 Owner-P Nelson; Trainer-Malcolm Jefferson; Jockey-Fergus King; SP-33/1
4TH-Mobaasher 5-11-01 Owner-Seasons Holidays; Trainer-Paul Nicholls; Jockey-Ruby Walsh; SP-12/1 24 ran, Time-6m 2.13s; Dist-3, 2¼, nk 7/1 Jt Fav Robin Du Bois (8th)
2007-WINNER-OSCAR PARK 8-10-09 Owner-George Ward; Trainer-David Arbuthnot; Jockey-Tom Doyle; SP-14/1
2ND-Material World 9-10-09 Owner-Southern Bloodstock; Trainer-Suzy Smith; Jockey-Colin Bolger; SP-14/1
3RD-Adamant Approach 13-10-13 Owner-Greenstar Syndicate; Trainer-Willie Mullins IRE; Jockey-Paddy Mullins; SP-16/1
4TH-Mistanoora 8-10-00 Owner-Nigel Twiston Davies; Trainer-Nigel Twiston-Davies; Jockey-Tony Evans; SP-33/1
24 ran, Time-5m 46.20s, Dist-½, 3½, ½ 13/2 Fav Kadoun (18th)
2006-WINNER-KADOUN 9-11-07 Owner-J P McManus; Trainer-Michael O'Brien IRE; Jockey-Tom Ryan; SP-50/1
2ND-Hordago 6-10-02 Owner-S Braddish; Trainer-Eric McNamara IRE; Jockey-Brian Byrnes; SP-10/1
3RD-Oodachee 7-11-05 Owner-Modreeny Syndicate; Trainer-Charlie Swan; Jockey-David Casey; SP-10/1
4TH-Liberman 8-10-08 Owner-David Johnson; Trainer-Martin Pipe; Jockey-Jamie Mackay; SP-20/1
24 ran, Time-5m 46.90s, Dist-1.5, 3.5, 1.25 4/1 Oulart (8th)
2005-WINNER-OULART 6-10-02 Owner-Ged Pierse; Trainer-Dessie Hughes IRE; Jockey-Paul Carberry; SP-10/1
2ND-Mioche D'Estruval 5-10-00 Owner-Joe Moran; Trainer-Martin Pipe; Jockey-Tom Scudamore; SP-66/1
3RD Quick 5-11-00 Owner-Kinsford Champagne Partnership; Trainer-Martin Pipe; Jockey-Andrew Glassonbury; SP-50/1
4TH-Touch Closer 8-10-07 Owner-Vicky Scott; Trainer-Vicky Scott; Jockey-Mick Fitzgerald; SP-66/1
22 ran, Time-5m 52.90s, Dist-2, 4, 1.25 7/2 Fav Ravenswood (15th)
2004-WINNER-CREON 9-10-00 Owner-J P McManus; Trainer-Jonjo O'Neill; Jockey-Timmy Murphy; SP-50/1
2ND-G V A Ireland 6-10-05 Owner-Donal O'Buachalla; Trainer-Francis Flood IRE; Jockey-Fran Flood; SP-14/1
3RD-Alexanderthegreat 6-11-06 Owner-The Irish Connection; Trainer-Paul Nicholls 6-11-06; Jockey-Ruby Walsh 25/1
4TH-His Nibs 7-10-08 Owner-John Galvanoni; Trainer-Venetia Williams; Jockey-Richard Johnson; SP-25/1
24 ran, Time-6m 16.30s; Dist-.5, 1, .5 4/1 Fav Keepatem (7th)
2003-WINNER-INCHING CLOSER 6-11-02 Owner-Nicola Spence; Trainer-Jonjo O'Neill; Jockey-Barry Geraghty; SP-6/1 Fav
2ND Royal Emperor 7-11-06 Owner-Widdop Wanderers; Trainer-Sue Smith; Jockey-Dominic Elsworth; SP-14/1
3RD Tribal Venture 5-10-06 Owner-Network Training III; Trainer-Ferdy Murphy; Jockey-Davy Russell; SP-33/1
4TH Ravenswood 6-11-03 Owner-David Johnson; Trainer-Martin Pipe; Jockey-Tom Scudamore; SP-7/1
24 ran, Time-6m 21.00s; Dist-sh, 12, 1.75
2002-WINNER-FREETOWN 6-11-02 Owner-Susan Blumberg and S Nairn; Trainer-Len Lungo; Jockey-Tony Dobbin; SP-20/1
2ND-Surprising 7-10-04 Owner-Martin St Quinton; Trainer-Philip Hobbs; Jockey-Richard Johnson; SP-12/1
3RD-Montreal 5-10-07 Owner-David Johnson; Trainer-Martin Pipe; Jockey-Ruby Walsh; SP-25/1
4TH-Native Emperor 6-10-09 Owner-Exors of the late Robert Hitchins; Trainer-Jonjo O'Neill; Jockey-Liam Cooper; SP-10/1 24 ran, Time-6m 16.780s; Dist-4, hd, 5 7/2 Fav Calladine (14th)
2001 - No Race (Foot and Mouth Disease)
2000-WINNER-RUBHAHUNISH 9-11-02 Owner-Lone Star Racing Partnership; Trainer-Nigel Twiston-Davies; Jockey-Carl Llewellyn; SP-8/1
2ND-Take Five 7-10-00 Owner-J P McManus; Trainer-John Kiely IRE; Jockey-Norman Williamson; SP-7/1
3RD-Font Romeu 7-10-06 Owner-Pond House Gold; Trainer-Martin Pipe; Jockey-Barry Fenton; SP-14/1
4TH-Darapour 6-10-04 Owner-J P McManus; Trainer-Aidan O'Brien IRE; Jockey-Charlie Swan; SP-4/1Fav
24 ran, Time 6m 3.40s Dist-3.5, 3, sh
1999-WINNER-GENEROSA 6-10-01 Owner-Trish Hyde; Trainer-John Hassett IRE; Jockey-Norman Williamson; SP-12/1
2ND-Melody Maid 7-10-03 Owner-R Parish, B Griffiths, G Rogers, R Newman; Trainer-Nicky Henderson; Jockey-Mick Fitzgerald; SP-12/1
3RD-Galant Moss 5-10-07 Owner-Chris, Basil & Rosie Batterham II; Trainer-Martin Pipe; Jockey-Tony McCoy; SP-3/1 Fav
4TH-Shannon Gale 7-10-00 Owner-J P McManus; Trainer-Christy Roche IRE; Jockey-Fran Berry; SP-7/1
24 ran, Time 6m 17.9s Dist-5,1.25,1
1998-WINNER-UNSINKABLE BOXER 9-10-12 Owner-Paul Green; Trainer- Martin Pipe; Jockey-Tony McCoy; SP-5/2 Fav
2ND-Tompetoo 7-10-09 Owner-Pettifer Pettifer Ltd; Trainer-Nigel Twiston Davies; Jockey-Carl Llewellyn; SP-9/2
3RD-Spendid 6-10-10 Owner-Mrs Adair Catherwood; Trainer-David Nicholson; Jockey-Adrian Maguire; SP-12/1
4TH-Metastasio 6-10-10 Owner-F Mallon; Trainer-Gerry McArdle IRE; Jockey-Harry Rogers; SP-14/1
24 ran, Time 6m 12.2s Dist-4, .75, 2
1997-WINNER-PHARANEAR 7-11-09 Owner-Stainless Threaded Fasteners Ltd; Trainer-David Nicholson; Jockey-Mr Robert Thornton; SP-14/1
2ND-Yahmi 7-10-13 Owner-Wally Sturt; Trainer-Jim Old; Jockey-Jamie Osborne; SP-7/2 Fav
3RD-Danjing 5-10-11 Owner-Knight Hawks Partnership; Trainer-Martin Pipe; Jockey-Tony McCoy; SP-33/1
4TH-Haile Derring 7-10-06 Owner-Mrs V Stockdale; Trainer-Nigel Twiston-Davies; Jockey-Tom Jenks; SP-9/1 24 ran, Time-6m 24.2s, Dist-2, 5, 1
PERTEMPS FINAL (HANDICAP HURDLE) ROLL OF HONOUR
(Pertemps Final since 2002, Ladbrokes Casinos Final 2001-2000, Stakis Casinos Final 1999, Unicoin Homes Gold Card Handicap Hurdle 1998, Hamlet Extra Mild Cigars Gold Card Final 1997, Hamlet Cigars Gold Card Handicap Hurdle Final 1996 & 1994, Astec Vodafone Gold Card (Final) 1995, American Express Gold Card Final 1993, Coral Golden Final 1978-1992, Joe Coral Golden Hurdle Final 1974-78)
Year Winner Age/Wt Jockey Trainer Owner SP Ran
1996 Great Easeby 6-10-01 Richard McGrath Wilf Storey David Batey 7/1 24
1995 Miracle Man 7-10-11 Peter Hobbs Colin Weedon Patrick Evans 9/2F 23
1994 Tindari 6-10-09 Paul Williams Malcolm Jefferson Yorkshire Racing Club Owners Group 20/1 32
1993 Fissure Seal 7-11-04 Charlie Swan Harry de Bromhead IRE Delton Syndicate 14/1 22
1992 My View 8-10-04 Jason Titley Michael Purcell IRE Mrs Seamus Purcell 33/1 31
1991 Danny Connors 7-10-12 Mark Dwyer Jonjo O'Neill J P McManus 9/1 29
1990 Henry Mann 7-11-09 Tony Mulholland Simon Christian Lynn Wilson 20/1 27
1989 Rogers Princess 7-10-00 Shaun Keightley Martin Tate R C Smith 8/1JF 27
1988 Pragada 5-11-00 Richard Rowe Josh Gifford Mrs M G L McGlone 16/1 29
1987 Taberna Lord 6-11-05 Luke Harvey Jim Wilson R Jackson 10/1 31
1986 Motivator 6-10-07 Graham McCourt Mick Ryan Terry Ramsden 15/2F 31
1985 Von Trappe 8-10-06 Richard Dunwoody Michael Oliver P Clarke 12/1 30
1984 Canio 7-10-09 John Francome Ron Hodges David Ladhams 20/1 31
1983 Forgive N'Forget 6-11-06 Mark Dwyer Jimmy FitzGerald T Kilroe Ltd 5/2F 23
1982 Tall Order 8-10-02 Andy Stringer Louis Foster Louis Foster 15/1 31
1981 Willie Wumpkins 13-10-08 Mr Jim Wilson Jane Pilkington Jane Pilkington 13/2 20
1980 Willie Wumpkins 12-10-07 Mr Jim Wilson Jane Pilkington Jane Pilkington 10/1 19
1979 Willie Wumpkins 11-10-04 Mr Jim Wilson Jane Pilkington Jane Pilkington 25/1 22
1978 Water Colour 9-10-01 Kevin Whyte Martin Tate J Soles 11/1 23
1977 Outpoint 7-11-03 Pat O'Brien Fred Winter Mrs G Abecassis 10/1 27
1976 Good Prospect 7-11-10 Richard Evans John Edwards T Dudley 10/1 17
1975 Saffron Cake 6-10-07 Eddie Wright Les Kennard P Haynes 13/1 24
1974 Kastrup 7-10-03 Graham Thorner David Barons Austin Darlington 10/1 22