---
Randox Health County Handicap Hurdle

Grade 3, Cheltenham 14:10
£95,000 added, 5yo plus,
2m 1f, Class 1  
Friday 16th March 2018
Mohaayed wins for Dan Skelton and Bridget Andrews
1 Mohaayed 33/1
2 Remiluc 50/1
3 Whiskey Sour 7/1
4 Chesterfield 16/1
24 ran NR: Brahms De Clermont, I Shot The Sheriff, Krugermac
Distances: 2¾l, ¾l, 1½l Time: 4m 18.00s (slow by 24.00s)
Conditional jockey Bridget Andrews became the second female professional to win a race at The Festival when 33/1 outsider Mohaayed won in great style.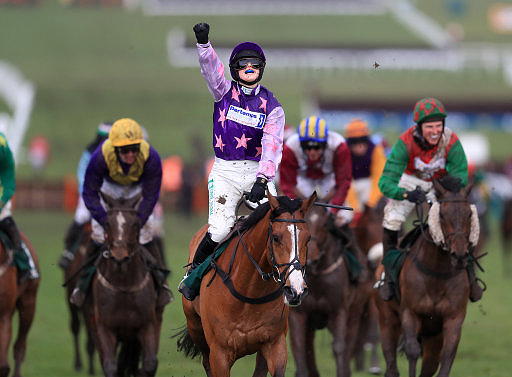 She follows Lizzie Kelly, who won Tuesday's
Ultima Handicap Chase
on
Coo Star Sivola
, but Andrews' delight was shared not only by fans of women jockeys, but also by her jockey boyfriend, Harry Skelton, the brother of Dan Skelton who trains Mohaayed. Harry was the first to congratulate his girlfriend on pulling up after the race with a passionate hug and kisses. He subsequently leapt on his brother in the winner's enclosure, bringing a dramatic halt to a live TV broadcast.
You would never have guessed that Harry had missed out on a winner, having opted to ride Spiritofthegames, who dead-heated for fifth.
Mohaayed beat Remiluc (50/1) and Whiskey Sour (7/1), with Chesterfield (16/1) in fourth, winning by two and three-quarters of a length and three-quarters of a length.
Bridget said: "Unbelievable. I thought Mohaayed had no chance in the ground and obviously Harry went against him and chose Spiritofthegames who I was a little bit gutted to not be on. But amazing.
"That's my best moment in racing by a million per cent. Harry got off of Mohaayed to ride Spiritofthegames because of the ground. My horse has given me a dream ride and Harry actually gave me a shout coming down the hill to take a pull and go steady.
"Mohaayed has galloped all the way to the line and I can't believe he has handled the ground to be honest. He has got some really good form in the book - he got close to The New One a couple of times - so we knew he could do it.
"I said sorry to Harry when we pulled up. I had ridden Spiritofthegames the last twice and he ran a great race in the Betfair Hurdle. He had to go with him today because of the ground."
Harry Skelton commented: "I looked up and just prayed that she would hold on. It is magic, every jockey's dream - she now knows what it feels like to ride a winner at The Festival."
Nick Skelton, father to Dan and Harry, remarked: "It is brilliant. She has given the horse a great ride. It is a team effort and Bridget is part of the family - with a bit of luck Harry will marry her if he has got any sense."
Their parents were present today, and their father Simon, a talented amateur rider who won Aintree's Fox Hunters' Chase in 1988 on Newnham, said: "That was amazing - it was fantastic when Gina won, but to get them both into the no.1 spot here at The Festival is unbelievable. The treble would be even better, and Jack has a chance.
"I was watching Bridget all the way and thought she had little chance - she's ridden Spiritofthegames the last twice and I thought she might be on him. Harry had the choice and it worked out for Bridget. There are plenty of British amateurs and women riders who can do the job, as has been proved again today."
Vincent O'Brien County Handicap Hurdle (Grade 3)
£95,000 added, 5yo plus, 2m 1f, Class 1
24 ran
Going: Soft, Heavy in places
Pos
D
Horse SP
Jockey Weight
Trainer
Age
1st
Mohaayed 33/1
Bridget Andrews (3)
10-11
D Skelton
6
2nd
2&frac34
Remiluc (FR) 50/1
Harry Reed (5)
11-2
C Gordon
9
3rd
&frac34
Whiskey Sour (IRE) 7/1
D J Mullins
10-13
W P Mullins
5
4th
1&frac12
Chesterfield (IRE) 16/1
Daniel Sansom (5)
10-12
J W Mullins
8
5th
&frac12
Lagostovegas (IRE) 20/1
D E Mullins
11-4
W P Mullins
6
5th
d.h
Spiritofthegames (IRE) 12/1
Harry Skelton
10-11
D Skelton
6
7th
7
Brelade 25/1
M A Enright
10-13
G Elliott
6
8th
1
A Hare Breath (IRE) 20/1
D A Jacob
11-3
B Pauling
10
9th
1&frac14
Moon Racer (IRE) 20/1
T Scudamore
11-0
D Pipe
9
10th
&frac12
Sternrubin (GER) 40/1
R Johnson
11-1
P J Hobbs
7
11th
1&frac34
Ben Dundee (IRE) 12/1
D N Russell
10-11
G Elliott
6
12th
1&frac12
William H Bonney 16/1
Wayne Hutchinson
10-5
A King
7
13th
hd
Meri Devie (FR) 12/1
P Townend
10-13
W P Mullins
5
14th
&frac34
Bleu Et Rouge (FR) 10/1
B J Geraghty
11-12
W P Mullins
7
15th
2&frac34
Le Richebourg (FR) 33/1
M P Walsh
11-3
Joseph P O'Brien
5
16th
4&frac12
Flying Tiger (IRE) 6/1f
N D Fehily
10-12
Nick Williams
5
17th
11
Ivanovich Gorbatov (IRE) 25/1
J J Slevin (3)
11-6
Joseph P O'Brien
6
18th
3&frac12
All Set To Go (IRE) 100/1
Jamie Bargary (3)
10-12
Kevin Frost
7
19th
19
Duca De Thaix (FR) 10/1
J W Kennedy
10-8
G Elliott
5
PU
Jenkins (IRE) 33/1
James Bowen (3)
11-9
N J Henderson
6
PU
Tigris River (IRE) 50/1
Jody McGarvey
11-5
Joseph P O'Brien
7
PU
Divin Bere (FR) 33/1
Sam Twiston-Davies
10-13
P F Nicholls
5
PU
Smaoineamh Alainn (IRE) 16/1
James Best
10-9
R Walford
6
UR
Sandsend (FR) 11/1
Ms K Walsh
11-3
W P Mullins
5
NR
Brahms De Clermont (FR)
Harry Cobden
10-7
P F Nicholls
7
NR
I Shot The Sheriff (IRE)
Non Runner
10-4
F O'Brien
11
NR
Krugermac (IRE)
J E Moore
10-0
G L Moore
7
Trainer Chris Gordon was left wondering what might have been following Remiluc's 50/1 second over two miles.
Always prominent, the nine-year-old son of Mister Sacha could not match the finishing kick of Dan Skelton's Mohaayed (33/1) under Bridget Andrews, registering her first Cheltenham Festival winner, who scored by two and three-quarter lengths.
Gordon said: "Remiluc has been a great horse. He has been campaigned honestly all the way through the season. 
"He was racing off 144 and I was a little bit insulted by his price at 50/1 as every time we seem to run him, he runs his race.
"Harry [Reed] gave him a smashing ride as he always does. He is a genuine and honest horse. We are a little disappointed of course, but that's part of it - we're thrilled to be here."
Reedsaid: "Remiluc has run a brilliant race. Fair play to Chris, this horse has had plenty of hard runs this season, but he has just shown again how hard and genuine he is.
"He goes really well in the ground and we just thought we'd take our chance as we had a Festival with soft ground.
"He has been running well all season and he is just run into another one here. He has run his race and he was very unlucky.
"There were no hard luck stories, he ran his race and that was that - he's very genuine."
Willie Mullins, trainer of the third home 7/1 shot Whiskey Sour, said: "Whiskey Sour ran a cracker."
David Mullins, rider of Whiskey Sour, said: "He ran an absolute cracker for a pony."

Vincent O'Brien County Handicap Hurdle Previous Results
2017-WINNER-ARCTIC FIRE 8-11-12 Owner-Wicklow Bloodstock (Ireland) Ltd; Trainer-Willie Mullins IRE; Jockey-Paul Townend; SP- 20/1
2ND-L'Ami Serge 7-11-06 Owner-Simon Munir & Isaac Souede; Trainer-Nicky Henderson; Jockey-Daryl Jacob; SP-25/1
3RD-Ozzie The Oscar 6-10-03 Owner-Bradley Partnership; Trainer-Philip Hobbs; Jockey-Tom O'Brien; SP-50/1
4TH-Air Horse One 6-10-08 Owner-The Dons; Trainer-Harry Fry; Jockey-Noel Fehily; SP-10/1
25 ran, Time-4m 0.00s; Dist-nk, nk, 2 5/1 Fav Ivanovich Gorbatov (6th)
2016-WINNER-SUPERB STORY 5-10-12 Owner-A Holt, J Robinson, A Taylor & S Miller; Trainer-Dan Skelton; Jockey-Harry Skelton; SP-8/1
2ND-Fethard Player 9-11-02 Owner-William Treacy; Trainer-William Treacy IRE; Jockey-David Mullins; SP-33/1
3RD-Sternrubin 5-11-02 Owner-Terry Warner; Trainer-Philip Hobbs; Jockey-Tom O'Brien; SP-33/1
4TH-Wait For Me 6-10-13 Owner-Andrew Cohen; Trainer-Philip Hobbs; Jockey-Richard Johnson; SP-7/1 Joint-Fav
26 ran, Time-3m 55.50s; Dist-2½, 3½, hd 7/1 Joint-Fav Great Field (PU)
2015-WINNER-WICKLOW BRAVE 6-11-04 Owner-Wicklow Bloodstock Ltd; Trainer-Willie Mullins IRE; Jockey-Paul Townend; SP-25/1
2ND-Sort It Out 6-11-00 Owner-J P McManus; Trainer-Edward Harty IRE; Jockey-Niall Madden; SP-17/2
3RD-Quick Jack 6-10-11 Owner-John Breslin; Trainer-Tony Martin IRE; Jockey-Shane Shortall; SP-8/1
4TH-Max Dynamite 5-11-03 Owner-Susannah Ricci; Trainer-Willie Mullins IRE; Jockey-Ruby Walsh; SP-14/1
24 ran, Time-4m 5.70s; Dist-8, 1¼, 1½ 7/1 Fav Princely Conn (13th)
2014-WINNER-LAC FONTANA 5-10-11 Owner-Potensis Limited; Trainer-Paul Nicholls; Jockey-Daryl Jacob; SP-11/1
2ND-Arctic Fire 5-10-13 Owner-Wicklow Bloodstock Limited; Trainer-Willie Mullins IRE; Jockey-David Casey; SP-7/1
3RD-Montbazon 7-10-12 Owner-David Sewell; Trainer-Alan King; Jockey-Robert Thornton; SP-20/1
4TH-Diakali 7-10-12 Owner- Wicklow Bloodstock Limited; Trainer-Willie Mullins IRE; Jockey-Danny Mullins; SP-25/1
28 ran, Time- 3m 58.49s; Dist-½, 1, 3¼ 5/1 Fav Cheltenhian (PU)
2013-WINNER-TED VEALE 6-10-06 Owner-John Breslin; Trainer-Tony Martin IRE; Jockey-Bryan Cooper; SP-10/1
2ND-Tennis Cap 6-10-13 Owner-Violet O'Leary; Trainer-Willie Mullins IRE; Jockey-David Casey; SP-11/1
3RD-Manyriverstocross 8-10-07 Owner-Mrs M C Sweeney; Trainer-Alan King; Jockey-Wayne Hutchinson; SP-25/1
4TH-Shadow Catcher 5-10-10 Owner-Mrs P Sloan; Trainer-Gordon Elliott IRE; Jockey-Davy Condon; SP-16/1
28 ran, Time- 4m 16.09s; Dist-1½, 4½, 3½ 8/1 Joint Favs Ifandbutwhynot (9th) & Cotton Mill (Fell)
2012-WINNER-ALDERWOOD 8-11-01 Owner-J P McManus; Trainer-Tom Mullins IRE; Jockey-A P McCoy; SP-20/1
2ND-Edgardo Sol 5-10-06 Owner-Axom XXXII; Trainer-Paul Nicholls; Jockey-Harry Derham; SP-25/1
3RD-Sailors Warn 5-11-05 Owner-Patrick Wilmott; Trainer-Edward O'Grady IRE; Jockey-Andrew Lynch; SP-16/1
4TH-Plan A 5-10-13 Owner-Liam Mulryan; Trainer-Gordon Elliott IRE; Jockey-Paul Carberry; SP-20/1
26 ran, Time-3m 59.00s; Dist-¾,, hd, 1¼ 11/2 Fav Citizenship (14th)
2011-WINNER-FINAL APPROACH 5-10-12 Owner-Douglas Taylor; Trainer-Willie Mullins IRE; Jockey-Ruby Walsh; SP-10/1
2ND-Get Me Out Of Here 7-11-07 Owner-J P McManus; Trainer-Jonjo O'Neill; Jockey-Tony McCoy; SP-7/1
3RD-Nearby 7-11-01 Owner-Andy Ash; Trainer-Philip Hobbs; Jockey-Chris Davies; SP-66/1
4TH-Cockney Trucker 9-10-07 Owner-Mrs Karola Vann; Trainer-Philip Hobbs; Jockey-Richard Johnson; SP-33/1
26 ran, Time-3m 54.77s; Dist-nse, 1½, ½ 6/`1 Fav Alarazi (15th)
2010-WINNER-THOUSAND STARS 6-10-05 Owner-Hammer & Trowel Syndicate; Trainer-Willie Mullins IRE; Jockey-Miss Katie Walsh; SP-20/1
2ND-Arcalis 10-10-07 Owner-Andrea & Graham Wylie; Trainer-Howard Johnson; Jockey-Denis O'Regan; SP-33/1
3RD-Dee Ee Williams 7-10-09 Owner-Tullamore Dew; Trainer-Nick Gifford; Jockey-Liam Treadwell; SP-20/1
4TH-Zanir 6-10-06 Owner-Power Panels Electrical Systems Ltd; Trainer-Tom George; Jockey-Paddy Brennan; SP-50/1 28 ran, Time-4m 2.66s; Dist-3, 1¼, 1¾ 7/1 Fav Tito Bustillo (23rd)
2009-WINNER-AMERICAN TRILOGY 5-11-00 Owner-Fulton, Donlon, KIlduff & Scott-MacDonald; Trainer-Paul Nicholls; Jockey-Ruby Walsh; SP-20/1
2ND-Stradbrook 7-10-01 Owner-J P McManus; Trainer-Jonjo O'Neill; Jockey-Richard McLernon; SP-66/1
3RD-Cockney Trucker 7-10-09 Owner-Karola Vann; Trainer-Philip Hobbs; Jockey-Richard Johnson; SP-17/2
4TH-Nortonthorpe Lad 7-10-10 Owner-Don Jenkins; Trainer-Alison Thorpe; Jockey-Daryl Jacob; SP-50/1 27 ran, Time-4m 5.2s; Dist-11, 3¼, ½ 7/2 Fav Dave's Dream (6th)
2008-WINNER-SILVER JARO 5-10-13 Owner-Miss M A Masterson; Trainer-Tom Hogan IRE; Jockey-Noel Fehily; SP-50/1
2ND-Psycho 7-10-12 Owner-C H McClure; Trainer-Tony Martin IRE; Jockey-Paul Carberry; SP-5/1 Fav
3RD-French Saulaie 7-11-03 Owner-Carol Skan; Trainer-Philip Hobbs; Jockey-Richard Johnson; SP-40/1
4TH-Rio De Janeiro 7-10-08 Owner-Fraser Miller Racing; Trainer-Emma Lavelle; Jockey-Paul Moloney; SP-66/1 22 ran, Time-4m 9.40s; Dist-3/4, 2¼, ½
2007-WINNER-PEDROBOB 9-10-00 Owner-Barry Connell; Trainer-Tony Mullins IRE; Jockey-Philip Carberry; SP-12/1
2ND-Ouninpohja 6-10-00 Owner-Maggie Findlay; Trainer-Paul Nicholls; Jockey-Ruby Walsh; SP-11/2
3RD-Premier Dane 5-10-00 Owner-Jim Ennis; Trainer-Nicky Richards; Jockey-Brian Harding; SP-100/1
4TH-Kawagino 7-10-00 Owner-K Pike; Trainer-Seamus Mullins; Jockey-Wayne Kavanagh; SP-20/1
28 ran, Time-3m 53.90s, Dist 1, nk, ¾ 3/1 Fav Fair Along (25th)
2006-WINNER-DESERT QUEST 6-10-10 Owner-Maggie Findlay; Trainer-Paul Nicholls; Jockey-Ruby Walsh; SP-4/1 Jt Fav
2ND-Noble Request 5-10-11 Owner-Karola Vann; Trainer-Philip Hobbs; Jockey-Richard Johnson; SP-25/1
3RD-Adamant Approach 12-10-06 Owner-Greenstar Syndicate; Trainer-Willie Mullins IRE; Jockey-Richard Kiely; SP-50/1
4TH-Pirate Flagship 7-10-01 Owner-Mark & Tessa Woodhouse; Trainer-Paul Nicholls; Jockey-Paddy Brennan; SP-10/1
29 ran, Time-3m 52.70s, Dist-2.5, 3.5, 1 4/1 Jt Fav Studmaster (10th)
2005-WINNER-FONTANESI 5-10-00 Owner-David Johnson; Trainer-Martin Pipe; Jockey-Timmy Murphy; SP-16/1
2ND-Stance 6-10-00 Owner-N J Jones; Trainer-Gary Moore; Jockey-David Casey; SP-11/1
3RD-Borora 6-10-00 Owner-Mrs E M Clarke; Trainer-Richard Lee; Jockey-Tom Doyle; SP-200/1
4TH-Grande Jete 8-10-02 Owner-Lee Westwood, A Chandler & Jeremy Hindley; Trainer-Nicky Henderson; Jockey- Mick Fitzgerald; SP-14/1
30 ran, Time-4m 1.30s, Dist-2, 2, 1.5
2004-WINNER-SPORAZENE 5-10-13 Owner-Ged Mason & David Jackson; Trainer-Paul Nicholls; Jockey-Ruby Walsh; SP- 7/1 Jt Fav
2ND-Hawadeth 9-9-07 Owner-Nicky Viney; Trainer-Victor Dartnall; Jockey-Mr Tom Malone; SP-50/1
3RD-Copeland 9-10-01 Owner-Professor David and Mrs Heather Silk; Trainer-Martin Pipe; Jockey-Jamie Moore; SP- 25/1
4TH-Balapour 6-10-00 Owner-Rita Shah; Trainer-Oliver Brady IRE; Jockey-Carl Llewellyn; SP-12/1
23 ran, Time-4m 3.70s, Dist-.5, 1.5, nk 7/1 Jt Fav Harchibald (5th)
2003-WINNER-SPIRIT LEADER 7-11-07 Owner-Dil Thompson; Trainer-Jessica Harrington IRE; Jockey-Barry Geraghty; SP-10/1
2ND-Balapour 5-10-00 Owner-Rita Shah; Trainer-Oliver Brady IRE; Jockey-Martin Mooney; SP-25/1
3RD-Through The Rye 7-10-09 Owner-Nice To See You Euro-Racing); Trainer-Edwin Tuer; Jockey-Graham Lee; SP-66/1
4TH-Non So 5-11-05 Owner-ROA Dawn Run Partnership; Trainer-Nicky Henderson; Jockey-Mick FitzgGerald; SP-10/128 ran, Time-3m 58.60s, Dist-nk, shd, 5 5/1 Fav Mise Rafturai (PU)
2002-WINNER-ROOSTER BOOSTER 8-11-01 Owner-Terry Warner; Trainer-Philip Hobbs; Jockey-Richard Johnson; SP-8/1
2ND-The Gatherer 8-10-06 Owner-J P McManus; Trainer-Arthur Moore IRE; Jockey-Conor O'Dwyer; SP-12/1
3RD-Ben Ewar 8-10-01 Owner-Tony Richards; Trainer-Ken Cunningham-Brown; Jockey-Barry Fenton; SP-50/1
4TH-Benbyas 5-10-00 Owner-C H Stephenson & Partners; Trainer-Les Eyre; Jockey-Timmy Murphy; SP-12/1
21 ran, Time-4m 5.90s, Dist-1.25, .5, 7 2/1 Fav Polar Red (13th)
2001 - No Race (Foot and Mouth Disease)
2000-WINNER-MASTER TERN 5-10-03 Owner-J P McManus; Trainer-Jonjo O'Neill; Jockey-Tony Dobbin; SP-9/2 Fav
2ND Danegold 8-10-02 Owner-Circular Distributors Ltd; Trainer-Mick Channon; Jockey-Timmy Murphy; SP-25/1
3RD Spokesman 6-10-02 Owner-Theresa McCoubrey; Trainer-Christy Roche IRE Jockey-Paul Moloney; SP-10/1
4TH Auetaler 6-11-09 Owner-The Anfield Hombres; Trainer-Martin Pipe; Jockey-Rodi Greene; SP-12/1
21 ran, Time-3m 51.30s Dist-nk, 1, 1
1999-WINNER-SIR TALBOT 5-10-00 Owner-Wally Sturt; Trainer-Jim Old; Jockey-Timmy Murphy; SP-10/1
2ND-Decoupage 7-10-13 Owner-James Dean; Trainer-Charlie Egerton; Jockey-Norman Williamson; SP-100/30 Fav
3RD-Toto Toscato 5-11-05 Owner-Hilda Clarke; Trainer-David Nicholson; Jockey-Richard Johnson; SP-25/1
4TH-Sadler's Realm 6-9-09 Owner-B D Racing; Trainer-Philip Hobbs; Jockey-Robert Widger; SP-25/1
28 ran, Time- 3m 57.8s Dist-6, 10
1998-WINNER-BLOWING WIND 5-11-08 Owner-Peter Deal; Trainer-Martin Pipe; Jockey-Tony McCoy; SP-15/8 Fav
2ND-Advocat 8-10-05 Owner-The High Street Racing Syndicate; Trainer-Noel Meade IRE; Jockey-Paul Carberry; SP-12/1
3RD-Bless Me Sister 9-10-02 Owner-Bray Partners; Trainer-Richard Rowe; Jockey-Darren O'Sullivan; SP-33/1
4TH-Barna Boy 10-11-06 Owner-Lynn Wilson; Trainer-Nicky Henderson; Jockey-Mick FitzGerald;
SP-14/1 27 ran, Time- 3m 54.3s Dist-1.75, 2.5
1997-WINNER-BARNA BOY 9-10-12 Owner-Lynn Wilson; Trainer-Nicky Henderson; Jockey-Richard Dunwoody; SP-14/1
2ND-Carlito Brigante 5-10-00 Owner-Lady Carole Bamford; Trainer-Paul Webber; Jockey-Jamie Osborne; SP-13/2
3RD-Penny A Day 7-11-08 Owner-Ian Good; Trainer-Mary Reveley; Jockey-Peter Niven; SP-15/2
4TH-Black Queen 6-10-04 Owner-Heinz Pollmeier; Trainer-John Kiely IRE; Jockey-A J O'Brien;
SP-12/1 20 ran, Time-3m 58.9s, Dist-1, 3, 1 7/2 Fav Tidjani (5th)
1996-WINNER-STAR RAGE 6-10-00 Owner-David Abell; Trainer-Jimmy Harris; Jockey-Dean Gallagher; SP-14/1
2ND-Romancer 5-11-03 Owner-Matt Archer & Jean Broadhurst; Trainer-Nigel Twiston-Davies; Jockey-Carl Llewellyn; SP-8/1
3RD-Non Vintage 5-10-13 Owner-A Mann and Mrs T Mann; Trainer-Michael Chapman; Jockey-Billy Worthington; SP-33/1
4TH-Cheryl's Lad 6-11-05 Owner-Elaine Baines; Trainer-Nicky Henderson; Jockey-John Kavanagh; SP-5/1 Fav
28 ran, Time-4m 0.8s, Dist-3, 3.5, 2.5
Vincent O'Brien County Handicap Hurdle Roll Of Honour
(Vincent O'Brien County Handicap Hurdle since 1995, County Handicap Hurdle 1990-1994, Racegoers Club County Handicap Hurdle 1989, County Handicap Hurdle before 1989)
Year Winner Age/Wt Jockey Trainer Owner SP Ran
1995 Home Counties 6-10-12 Jimmy Moffatt Dudley Moffatt Roxy Cinemas (Dalton) Ltd 14/1 23
1994 Dizzy 6-10-00 Tony Dobbin Peter Monteith Lt Col Willie Monteith 12/1 24
1993 Thumbs Up 7-10-02 Richard Dunwoody Nicky Henderson Michael Buckley 16/1 21
1992 Dusty Miller 6-10-06 Jamie Osborne Simon Sherwood Watership Down Racing 9/1 27
1991 Winnie The Witch 7-9-08 David Bridgwater Ken Bridgwater Paddocks Thoroughbred Racing 33/1 26
1990 Moody Man 5-11-02 Peter Hobbs Philip Hobbs James Burley 9/1 20
1989 Willsford 6-10-08 Michael Bowlby Jenny Pitman Arnie Kaplan 11/1 21
1988 Cashew King 5-10-04 Trevor Wall Bryan McMahon Peter Moss 9/1 24
1987 Neblin 8-11-00 Richard Guest Toby Balding Skipper Leather 14/1 24
1986 Jobroke 6-10-03 Jonjo O'Neill Peter Easterby Lt Col Dick Warden 6/1F 29
1985 Floyd 5-10-05 Colin Brown David Elsworth Mike Walsh 5/2F 27
1984 Hill's Guard 5-10-11 Andy Stringer Andy Scott G Shie 6/1 19
1983 Robin Wonder 5-10-03 Jim Davies David Elsworth Anthony Hunt 10/1 29
1982 Path Of Peace 6-10-06 Jonjo O'Neill Chris Thornton Louise Gold 4/1 23
1981 Staplestown 6-10-07 Tommy Ryan Edward O'Grady IRE Mrs I O'Sullivan 11/2F 25
1980 Prince Of Bermuda 5-10-00 Steve Knight Bob Turnell J Harnett 9/1 18
1979 Monte Ceco 6-10-12 Colin Tinkler Fred Rimell J Saunders Jones 6/1 20
1978 No race (Abandoned because of snow)
1977 Kilcoleman 5-10-07 Tommy Kinane Billy Boyers IRE P Clarke 14/1 26
1976 Java Fox 6-10-01 Mr George Jones Roy Cambidge J Caddick 16/1 13
1975 No race (Course waterlogged)
1974 True Song 5-11-02 Gary Old Donald Underwood Mrs J Underwood 14/1 20
1973 Current Romance 7-10-07 David Nicholson Frenchie Nicholson R Warmington 20/1 31
1972 Cold Day 6-10-08 Ron Hyett Katie Gaze Katie Gaze 15/1 25
1971 Carry Off 7-10-01 David Goulding Nigel Angus A M Picken 25/1 24
1970 Khan 6-9-11 Lord Petersham Miss Delmer Harty IRE Lord Petersham 100/8 32
1969 Gay Knight 5-10-03 Aly Branford Les Kennard L E Withers 100/7 27
1968 Jolly Signal 6-10-11 Jimmy Uttley Earl Jones Mrs D Crouch 6/1 16
1967 Cool Alibi 5-10-09 Roddy Reid Rodney Bower H A Moore 20/1 28
1966 Roaring Twenties 6-11-02 George Milburn Ken Oliver Mrs A L G Ogilvy 10/1 16
1965 Mayfair Bill 6-10-04 Andy Turnell Bob Turnell Jim Joel 33/1 19
1964 Icy Wonder 5-10-02 Jeff King Vernon Cross F J Hunt 11/2 17
1963 Bahrain 6-10-06 Tommy Carberry Dan Moore IRE Ted Sturman 11/2 19
1962 Sky Pink 5-10-11 Fred Winter Ryan Price Gerry Judd 100/8 20
1961 Most Unusual 6-10-07 Josh Gifford Bill Ransom Bill Ransom 100/7 23
1960 Albergo 6-12-05 Doug Page Clem Magnier IRE Mrs Clem Magnier 7/4F 26
1959 Approval 13-11-02 Derek Leslie Syd Mercer Syd Mercer 10/1 20
1958 Friendly Boy 6-10-05 Liam Brennan Joe Osborne IRE Mrs V Vanden Bergh 3/1F 18
1957 Flaming East 8-10-05 Peter Pickford Ricky Vallance Mrs Ricky Vallance 100/6 19
1956 Pommel 9-10-11 Steve Boddy Jack C Waugh Peter Shepherd 100/7 18
1955 No race (Abandoned because of snow)
1954 Bold Baby 8-12-00 Paddy Powell Michael Dawson IRE Michael Dawson 13/8F 14
1953 Teapot II 8-12-07 Pat Taaffe Clem Magnier IRE Mrs C Magnier 4/1 16
1952 Ballymacan 5-10-12 Bryan Marshall Neville Crump H D Waddington 100/7 21
1951 Southwick 7-10-03 George Spann J Whiting Sonny Hall 100/7 21
1950 Blue Raleigh 7-10-00 Jimmy Power Bobby Renton Lurline Brotherton 25/1 19
1949 No race (Abandoned because of frost)
1948 Cape Light 5-11-01 Joe Maguire Ivor Anthony Sir Humphrey de Trafford 2/1F 21
1947 No race (Abandoned because of snow and frost)
1946 Vidi 5-11-10 Don Butchers Reg Hobbs A E Saunders 6/1 2