Dubai Duty Free Shergar Cup

Saturday 9th August 2014
A most thrilling Dubai Duty Free Shergar Cup, just won by Europe & Peslier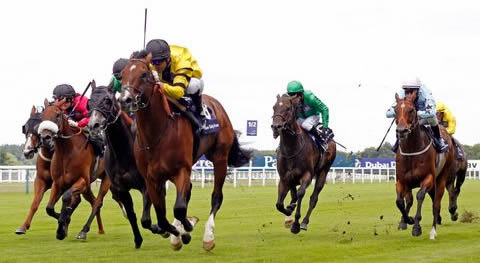 Canadian Emma-Jayne Wilson, who just failed to win the Silver Saddle for top jockey despite two wins and a close second and saw her team, The Girls, lose by one point in the Dubai Duty Free Shergar Cup, said: "I can't describe how happy I am today. It has been an absolutely magnificent day and I hope everybody out there, including all the girls here today, enjoyed it.
Emma-Jayne Wilson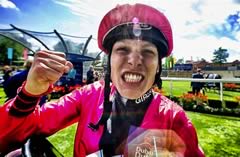 "So close but that is what horseracing is all about – a good fight to the finish keeps the crowd cheering and I hope everybody had as much fun as I did.

"I could not have asked for more. To be beaten by one point when we were rank outsiders was just magnificent. The girls are just as good as the boys, even though we have been beaten by one point.

"I hope we showcased that enough today. I feel really privileged to have the success I have had at Ascot today."

The Girls' team captain has a flight back home at 8pm tonight.

Her colleague Hayley Turner added: "How much fun was that? It's been fantastic. It was such a shame to miss out by just one point but there is always next year hopefully."

Olivier Peslier, who did not have a ride in the last, won the Silver Saddle with 42 points to Wilson's 40.

European team captain Frankie Dettori may have scored only three points for one fifth place, but they were vital ones as he, Frenchman Olivier Peslier and Dutchman Adrie De Vries hung on to beat The Girls 69-68.

"What a captain," he said. "Three points. Different class, eh? Thank goodness for the other two. But in truth we did have the most experienced team. And we just had to beat those girls.

"Olivier has been my good friend for more than 20 years. Just a wonderful natural jockey, cooler than a cucumber when it mattered, as cool as an iceberg.

"Adrie is so talented and as nice a guy as you will meet, and a world class jockey, even if he isn't so well known here as Olivier.

"But that's the great thing about the Shergar Cup, it gives people a chance to see these top riders. It's great fun for us and I hope is great fun to watch."

Dettori singled out for praise the European team mascot, seven-year-old Oliver Dixon, a member of Ascot's Colts And Fillies junior club. "We couldn't have done it without him," he smiled.

FINAL TEAM POINTS:
EUR: 69
GIRLS: 68
GBI: 52
ROW: 51

INDIVIDUAL POINTS:
Olivier Peslier (EUR): 42
Emma-Jayne Wilson (GIRLS): 40
Craig Williams (ROW): 25
Adrie de Vries (EUR): 24
Tom Queally (GBI): 22
Steffi Hofer (GIRLS): 18
Jimmy Fortune (GBI): 15
Richard Hughes (GBI): 15
S'manga Khumalo (ROW): 15
Yuichi Fukunaga (ROW): 11
Hayley Turner (GIRLS): 10
Frankie Dettori (EUR): 3