Dubai Duty Free Shergar Cup

Saturday 8th August 2015

Sammy Jo Bell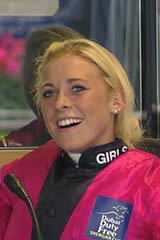 Northern Irish apprentice Sammy Jo Bell wins the Silver Saddle & Shergar Cup as part The Girls team at Ascot
FINAL TEAM SCORES
THE GIRLS: 80
GREAT BRITAIN & IRELAND: 67
REST OF THE WORD: 66
EUROPE: 27
ALISTAIR HAGGIS SILVER SADDLE
Sammy Jo Bell GIRLS - 35
Kerrin McEvoy ROW - 30
Jamie Spencer GBI - 30
Blake Shinn ROW - 24
Emma-Jayne Wilson GIRLS - 23
Hayley Turner GIRLS - 22
Graham Lee GBI - 20
Pat Smullen GBI - 17
Olivier Peslier EUR - 13
Yutaka Take ROW - 12
Vincent Cheminaud EUR - 11
Adrie de Vries EUR - 3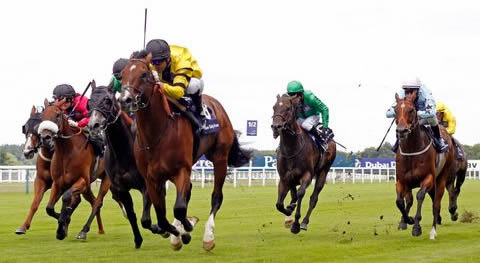 The Girls team comprising of Emma-Jayne Wilson, Hayley Turner and Sammy Jo Bell made history by winning the Dubai Duty Free Shergar Cup for the first time at Ascot, with Bell also landing the Alastair Haggis Silver Saddle.

Wilson, who captained the winning team, couldn't disguise her delight after the final race, the Dubai Duty Free Shergar Cup Sprint, in which she finished fourth on Primrose Valley.

Turner finished second on Squats in the same race, a length and a quarter behind eventual winner Moonraker, and this was enough to give The Girls 80 points and victory in the Dubai Duty Free Shergar Cup, 13 points ahead of nearest rivals Great Britain & Ireland, who finished on 67 points.
Emma-Jayne Wilson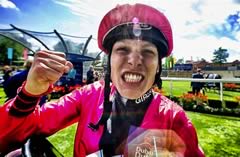 "It's an amazing feeling - just amazing," said Wilson.

"I've got champagne all over me but that's exactly what I wanted at the beginning of the day. I'm so glad to have ridden a winner and, although my horse in the last race didn't quite get the trip, it was enough to win.

"We did it, we nailed it - we got the job done!"

"It's a team effort. Sammy had an absolute rockstar day - I know how she feels right now - and we pulled it all together. Hayley got the job done and we got the points on the board in last race."

Turner, who was riding in her ninth Dubai Duty Free Shergar Cup, was delighted to have finally lifted the trophy.

"We've finally done it!" said the jockey.

"It's just brilliant. I've been riding in this for a while now and this is definitely the highlight.

"I keep saying it but Cathy (Gannon) is at home watching and she has worked really hard to get on the team and it's been taken off her at the last minute. I've got to hand it to Sammy Jo though - she's done so well today and deserved to have landed the Silver Saddle."

Wilson wanted to pay tribute to the late Alastair Haggis, who worked tirelessly on the Dubai Duty Shergar Cup and first came up with the idea of having an all-female team.

"Alistair Haggis was instrumental on the first year I came and I rode against Hayley. It brings tears to my eyes to see the trophy - he would have wanted this and this is for him." the Canadian added.

Wilson also won the ride of the day accolade for her performance on Missed Call in the Dubai Duty Free Shergar Cup Challenge.

SUPERSUB BELL RINGS UP THE SCORE

Sammy-Jo Bell proved a super-sub in the Ole-Gunnar Solskjaer class as she not only won the Alistair Haggis Silver Saddle for the day's leading rider but also helped The Girls team to victory for the first time.

Bell accrued 35 points for two victories and a fourth, putting her clear of Kerrin McEvoy and Jamie Spencer on 30 points. The Girls team - Bell, Emma-Jayne Wilson and Hayley Turner - had 80 points, with Great Britain & Ireland second on 67 points.

Bell was called up at late notice, replacing injured Cathy Gannon earlier in the week. The 24-year-old from Ballyclare, Co Antrim, has been with Richard Fahey for more than two years. She claims 3lb and is currently second in the apprentices' table to Cam Hardie.

"I got the call on Wednesday to say that Cathy wouldn't make it for today and would I like to take her place," she said. "I admit I was a bit nervous coming into today, because I wasn't just riding for myself, I was on a team, and wanted to ride my best for the girls.

"Someone like Emma-Jayne is an inspiration and Hayley is always helpful on a day-to-day basis. The atmosphere and team spirit between us was terrific, we went through the tactics together to get the best out of our horses. But once we jumped from the stalls, it was just normal race-riding, doing what we do every day.

"This was the best day of my career. I can't believe the opportunity I was given and to ride two winners and win the Silver Saddle was just amazing."

Ironically, the only rider who could have denied Bell her accolade, Kerrin McEvoy, was riding a horse trained by Fahey, Grandad's World. "I was curled up in a little ball almost scared to look at the TV," she said. "I was just watching that one horse all the way. I knew he had to be in the first three to beat me and though I'd have liked Richard to have had a winner today, secretly I didn't want it to be this one.

"Then I realised he was fading and I had a chance, and I wanted the team to win as well, so I was screaming and yelling for Emma-Jayne and Hayley, because I wanted the girls to win as well.

"The season has been going well, so thanks to the trainers and owners who have put me up and give me chances and my agent who has done a great job. I feel on top of the world, just amazing."

Bell will be back to the reality of the day job tomorrow, riding out at Fahey's Musley Bank. The trainer, one of the shrewdest judges of a horse or a rider, rates his protege highly. "She's a great girl," he said. "I'm delighted with her and for her. She's got a good racing brain on her, which you don't find all the time.

"She's a very good horsewoman and is a very good worker. Makes no difference to me that she's a girl; if someone works hard and are capable I'm happy. She's a clever girl and deserves all she gets."

LOSING TEAMS GRACEFUL IN DEFEAT

Jamie Spencer, who rode a double and captained the Great Britain & Ireland team into second position with 67 points, declared: "There is a good crowd here and everyone is happy.

"The Girls rode well - it is a good platform and Sammy Jo (Bell) excelled. She was cool on the Appleby horse - I went around her and she didn't panic, holding her position. Richard Fahey told me that he has the best jockey in the world at the moment and he gets half fees - so he wins even when he is not winning!

"Any day is nice when you have a couple of winners. It is always nice to win here and Ascot is a lucky track for me."

Kerrin McEvoy, having his first rides in Britain since 2008 as the Rest of the World captain, said after his team finished third with 66 points: "It has been a fantastic day - we tried our best and it was nice to be part of it. There has been a nice fun atmosphere at Ascot.

"I am just really pleased to be back riding in England again - it has been a long time in coming. I got a winner so I cannot complain and I also had a few other ones who ran well. Well done to the Girls."

Blake Shinn, another Australian on the Rest of the World team, added after riding for the first time in England: "It was an unbelievable experience and I loved the track and the competition.

"Although I didn't get a winner, my horses ran to their marks all day. Hopefully, one day, I can come back again to England."

Olivier Peslier, captain of the European team which trailed in last after winning last year's competition, remarked: "Not this year. The big thing is that all the people are very happy. A lot of people have come to Ascot today and enjoyed themselves."